The Irish Story Easter Rising 1916 Archive
ORIGINALLY POSTED AS AN ARTICLE HERE.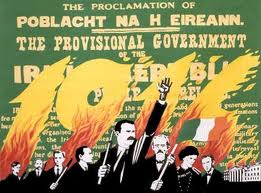 This is an archive of Irish Story articles on the 1916 Rising from 2010 and 2011, including articles, interview and book reviews. Look out for more contributions on the Rising here in 2012.
Articles
A good place to start is here –
* An Overview of the Easter Rising – laying out the need-to-know facts.
This article by John Dorney,
* 'Slaves or Freemen', Sean McDermott, the IRB and the psychology of the Easter Rising, tries to delve into IRB thinking about nationalism and revolution before the rebellion.
A series of 'Today in Irish History' posts look at some of the the week's events;
*Cathal Brennan's article –A TV pageant – the Rising commemorations in 1966 – looks at the public marking of the Rising 50 years later.
Interviews
Book Reviews