---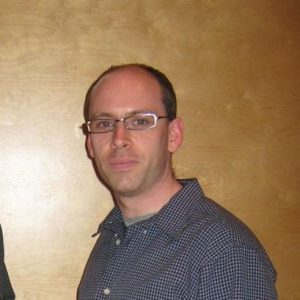 John Dorney is an independent historian and chief editor and writer of the Irish Story website.
He was born in Dublin in August 1980 and grew up in the southern suburb of Rathfarnham. He studied history and politics in University College Dublin and completed a Masters Thesis on the 16th century Irish chieftain Florence McCarthy entitled, Florence MacCarthy and the conquest of Gaelic Munster, 1560-1640.
Intrigued by an Irish language memorial near his home that is dedicated to a republican militant assassinated in the Irish Civil War, he began researching the period surrounding Irish independence and partition in 1916-23 in 2006. He is particularly interested in the specifics of this often murky period in Dublin.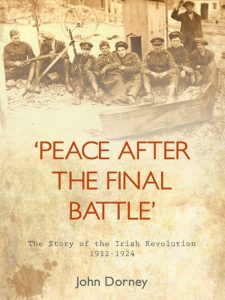 In 2010, he completed a Masters in Journalism and media studies at Griffith College Dublin, including the thesis, A Symbolic Battle – Media Framing and the Basque Festivals of 2009, on the rival mentalities and representations of the Basque Country.
He authored three ebooks in the Story of series that were published 2009-10 (The Story of the Easter Rising, The Story of the Irish War of Independence and The Story of the Irish Civil War). He also participated in the research and writing of Peter Paul Galligan, One of the Most Dangerous men in the Rebel Movement in 2011 and in 2013 authored the short book on the History of Griffith Barracks and Richmond Bridewell, published by Griffith College.
In 2014 his first full length print book, Peace After the Final Battle, the Story of the Irish Revolution was published by New Island Press. Peace after the Final Battle was described in the Dublin Review of Books as
comprehensive, but also succinct, accessible and well-organised. His approach is straightforward, his writing direct and factual, the analysis balanced and sensible. He does not allow an overdose of detail to get in the way of narrative drive. Yet while not overly complex, his account is not simplistic.
Eamon Delaney, writing in the Irish Independent wrote that
There will be many books on the Irish independence movement in the run-up to the 1916 centenary, and beyond, but it would be hard to do better than this as a succinct and clear assessment of the events and forces of those years.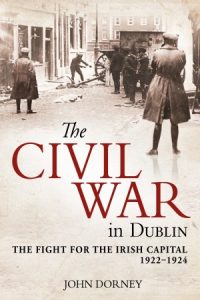 In 2017, Dorney's second book, The Irish Civil War in Dublin, the fight for the Irish capital 1922-1924 was published by Merrion Press.
In the Irish Independent review it was described by Eamon Delaney as,
[An] excellent account… he condenses much disparate material in a succinct and direct way that is both unflinching and fair.
In the Sunday Business Post, Dermot Bolger said it was
a well researched and chilling book, this is the ultimate prophylactic against any nostalgia for that period.
While Michael Mannion writing for An Phoblacht opined that
this very readable and highly informative book should be of interest to readers in all parts of the country.
You can contact John at [email protected]