Perspectives on the Easter Rising, Part II – Combat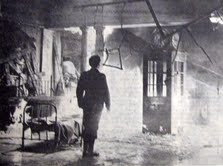 In this second part of our audio feature on 1916, John Dorney talks to historians Padraig Yeates and Fearghal McGarry about the reality on the ground of the Easter Rising. Part I is here.
  Listen to Perspectives on 1916, Part 2
Here we talk about what fighting in the Easter Rising actually meant.
Padraig Yeates talks about the initial reaction of civilians – ranging from bemusement to hostility to viewing the battle as a good opportunity for looting. many civilians got killed simply out of curiosity, having turned up to watch the fighting.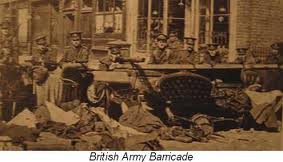 Fearghal McGarry talks about the  fighting in Easter Week.  In a previous interview he made the point that many rebels saw no combat in 1916. Here goes into the theatrical elements of the fighting -the Volunteers going out o their way to portray themselves as regular army – a claim rubbished by their opponents.
The Easter Rising, with its 'stand up fighting' he argues was much easier to celebrate than the 'dirty war' that was the War of Independence.
We also detail the fighting at Mount Street, where one platoon of Volunteers inflicted over 200 casualities on the attacking Sherwood Forester regiment. For all the talk of chivalrous fight in 1916, it was civilians who suffered most. We also talk about who was responsible for the widespread killing of civilians.
Fearghal makes the point that it was the British who were responsible for the atrocities that we know about, such as the killing of 15 civilians on North King Street and the shooting of civilians in Portobello Barracks as well as the indiscriminate use of 'area fire' weapons like artillery and heavy machine guns. But both he and Padraig also make the point that the clumsiness of the British military was as much a product of their shock and disorientation at the Rising as any malice.
---
The Contributors
Padraig Yeates has written, Lockout: Dublin 1913, the history of the great Dublin strike of that year. He is currently public relations consultant to the trade union Siptu. Listen to previous interview with him here and here. He has also written, "Dublin a City in Wartime", which will be published in late 2011.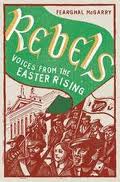 Dr Fearghal McGarry is a senior lecturer in Modern History at Queens University Belfast. He has written a series of books on Irish republicanism including; Irish Politics and the Spanish Civil War, Frank Ryan, Eoin O'Duffy a Self Made Hero and The Rising, Ireland Easter 1916 and edited the collection, Republicanism in Modern Ireland.
His latest book Rebels, due out in September 2011, uses eyewitness testimoney of the Rising from the Bureau of military history to re-tell the story of the rebellion.
Listen to Fearghal talk about his new book here;
Podcast: Play in new window | Download