Report: The Latest Online Release of Military Service Pension Files
A report on a briefing on the latest releases of the Military Service Pension Collection. By John Dorney
The Military Service Pensions Collection at the Irish Military Archives have just announced the latest online release of pension files from the Irish revolutionary era. This is the eighth such release.
The Military Service Pension (MSP) files may sound, to the uninitiated, like reams of unexciting administrative paperwork from a century ago. In fact, beyond the staid name, the MSP Collection offers a remarkable, perhaps unparalleled insight, into the Irish nationalist struggle of 1916-1923.
The MSP Collection offers a remarkable, perhaps unparalleled, insight, into the Irish nationalist struggle of 1916-1923.
The Bureau of Military History (BMH), an oral history project that was released to the public in 2009, containing the recollection of republican veterans of the revolutionary period, is a great source. But the Pension files offer an incomparably richer insight into the dramatic events of century ago.
Whereas in the Bureau, witness accounts were often misremembered, or tailored to suit the time when they were collected (the 1940s and 50s), the MSP files document, at any rate to a much greater extent, what each Volunteer, Cumman na mBan activist and National Army soldier actually did in the years of conflict.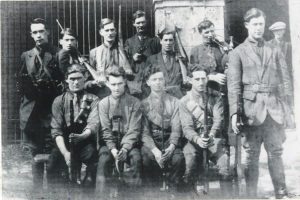 Applicants had to give a sworn statement as to their activities, backed up by two referees, and, when pensions were extended in the 1930s to anti-Treaty veterans, were also subjected to an interview in which their testimony was examined.
Not only is the reliability of the Pension files arguably better than many other sources, but their breadth also enables us to get a remarkably detailed granular picture of the Irish revolution. The MSP files, for instance, enabled The Irish Story to check the identity, background and circumstances of death of almost all the National Army soldiers recorded in the monument at Glasnevin cemetery.
The pensions are a remarkable source for taboo topics such as violence against women and other unsavoury aspects of the revolutionary era.
The Pension files were also invaluable in compiling lists of Civil War casualties in Dublin, Tipperary and Cork, which simply could not have been done otherwise.
As well as pension files, the collection also includes IRA Brigade activity reports and membership rolls of each and every IRA and Cumman na mBan unit. Those so inclined can now track down the strength of composition of almost every republican company.
Some highlights from the latest releases, presented by the archivists at the Military Archives, demonstrate the remarkable diversity of voices contained in the collection.
The head archivist of the collection, Cecile Gordon spoke of several of the hundreds of women whose pension applications have just been made public. Lillie 'Leamy' O'Shea for instance, of Summerhill, Dublin, hid an arms dump in her grocery shop, acted as a Justice for a Republican Court and also allowed her shop to be used at a meeting place for Michael Collins' intelligence hit unit or 'Squad'.
Cork women Margaret and Mary Bowles were members of Cumman na mBan but were also, effectively if not in name, members of the IRA, not only maintaining an arms dump, including bombs and machine guns, but helping to plan several attacks on British and then Free State forces. One of them, on one occasion, herself shot an ex-soldier who had attacked her in the street.
Bridget O'Reilly of Donegal was on the receiving end of a severe beating by Free State soldiers after her arrest during the Civil War, as a result of which she later required an operation on her uterus. Her case is an insight, incidentally, into the Pensions' ability to open a window onto taboo topics such as violence against women.
The MSP collection in fact lifts the lid on many such stories. Sheila McDonald of Kenmare, for instance, had her home blown up by Free State forces in the Civil War, while Mary O'Sullivan of Tralee, picked up weapons from the bodies of National Army soldiers killed in the town and later washed the corpses of those republicans killed in the Ballyseedy massacre of March 1923.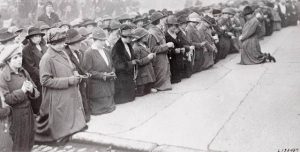 Nor is the MSP simply a chronicle of republican victimhood. The newly released files contain testimony, as archivist Sam McGrath explained, on the Ellis Quarry shootings in Cork, which took place just before the truce of July 1921, in which four unarmed British soldiers were seized and killed by the IRA.
Richard Casey in his Pension application stated 'I regret to say that I witnessed the shooting of those poor fellows.'
Archivist Michael Keane highlighted the cases of the victims of the Saltmills explosion in Wexford in 1920 in which five IRA members were killed and 9 injured when the bombs they were making exploded on contact with a lit candle. One of the injured was denied a wound pension as he was too ill to travel, in 1925, to a medical examination in Dublin.
Keane also outlined some of the many and varied testimonies of Northern republicans contained in the MSP collection. Northerners such as Patrick Shiels outlined how he attempted to defend Catholic areas of Derry city during intense sectarian rioting in June of 1920 that left 20 people dead. Roger McCorley and Thomas Flynn of Belfast, similarly testified on how in that city, they had to contend with the 'Orange mob' and what McCorley described as the 'Reprisal gang' in the police.
It was surprising to see here, given the more or less overtly sectarian nature of the conflict in the North, that three of newly released pension files are of Northern Protestant Republicans, who, in the words of one of them, Robert Graham, kept alive 'the frail chain of the United Irishmen'. It was indeed, it seems, a frail chain.
Graham told the Pensions Board that he found himself in danger not only from Protestant extremists due to his republicanism, but also, as a Protestant, in Catholic areas where his IRA affiliations were not known.
The latest releases include many untold stories, such as those of Northern Protestant Republicans, IRA Volunteers in Britain,and those who later became fascists and communists.
Another applicant, Robert Haskin, was a former Orangeman and another, Charles McCaull Stewart, was a worker at Harland and Wolfe shipyards in Belfast, from where Catholic workers were driven out in 1920. The latter provided intelligence for the IRA and upon discovery, joined an IRA unit in Sligo and then Mayo, only to be interned by the Irish Free State during the Civil War over the Treaty.
Similarly archivist Robert McEvoy gave an outline of the pension applications of Scottish IRA Volunteers who attempted to rescue Sligo IRA officer Frank Carty from a prison van in Glasgow in 1921. Without the pension collections such stories would have remained forgotten and inaccessible. As would the files of 71 Manchester IRA Volunteers, whose pension applications were outlined by Sam McGrath.
The most recent releases also contain the files of many figures who figured prominently in radical Irish politics in subsequent decades. Among them, as Sam McGrath explained, are Sean Murray, who went on to head the Communist Party of Ireland, and Stephen Hayes, who as IRA Chief of Staff in the 1940s was arrested by his own comrades and just escaped being shot as an alleged government spy.
Also present are the files of Timothy Coughlan, who was one of an IRA party that assassinated Free State minister Kevin O'Higgins in 1927 and who was in turn shot dead by a Garda Special Branch agent Sean Harling in 1928. Harling's IRA pension file, remarkably, is also contained in the latest MSP release. As is that of Tom Hyde, who was killed in 1937, fighting not in Ireland, but in Spain, for the Francoists during the Spanish Civil War.
Another, Sean Keating of Cork, after his release from Ballykinler internment camp, emigrated to the US, where in time he became a senior politician in the Democratic Party, Deputy Mayor of New York city and was ultimately appointed by President John F Kennedy, to be director of the US Postal Service, with 90,000 employees.
The Irish Revolution produced thousands of individual stories that are waiting to be told. And the Military Service Pensions Collection provides an unmatched access to them.