Southern Troubles – An interview with Brian Hanley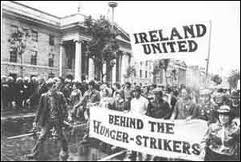 John Dorney caught up with historian Brian Hanley recently at the National Library of Ireland to discuss his latest research project – the impact of the Northern Ireland conflict on the Republic of Ireland.
Click on the links below to listen.
Brian discusses how southern attitudes towards the north evolved over the period from 1969 to the 1990s.
Among the points of interest are;
That there was was a widespread upsurge in nationalist feeling in the south in the early years of the Troubles but that it quickly subsided, being replaced in some quarters with a certain hostility to northern nationalists.
That the Irish government believed that British withdrawal was imminent in the mid 1970s and prepared a plan for  dealing within a sectarian civil war in the north.
That the H-Block protest period was in large part an outlet of protest for disaffected working class youth in the south.
The evolution of northern republican attitudes towards the 'Free State'.
The bomb attacks of loyalist paramilitaries in the south, and suspicion of British forces' collusion, particularly in the 1974 Dublin and Monaghan bombings.
(There's a certain amount of background noise from the cafe, clinking of cups and so forth, but perhaps it adds to the atmosphere.)
Dr. Brian Hanley is the author of; The IRA  A Documentary History, 1919-2005, The IRA: 1926-1936, and with Scott Millar, The Lost Revolution, The Story of the Official IRA and the Workers' Party. He teaches History at the University of Liverpool.
Listen to our previous interviews with Brian Hanley here –
The Rise and Fall of Fianna Fail
Podcast: Play in new window | Download