Belfast Republicans and the Treaty Split of 1922 – Part 1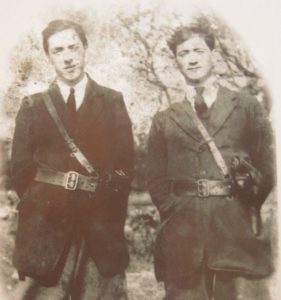 By Kieran Glennon
Just as in the rest of Ireland, the Irish Republican Army (IRA) in Belfast was split by the Anglo-Irish Treaty.
Perhaps surprisingly, many of the IRA in the city sided with the pro-Treaty General Headquarters (GHQ) of the organisation. Writing to Minister for Defence Richard Mulcahy in September 1922, Séamus Woods, O/C of the IRA's 3rd Northern Division, claimed that "I feel personally responsible for holding over 90% of the Division with GHQ…"[1]
But was this really the case? In fact, a detailed look at how the Belfast IRA lined up after the Treaty split reveals a division among Belfast Republicans just as fraught as anywhere else in the country.
 Reactions to the Treaty
At first, the leadership of the 3rd Northern Division, including its then O/C Joe McKelvey, accepted the Treaty.
At a céilí held in Clones the night after it was signed, Eoin O'Duffy, who had been Truce Liaison Officer for the north, met McKelvey, Frank Aiken of the 4th Northern Division, Seán MacEoin of the 1st Midlands Division (whose area of operations included Fermanagh) and other senior northern IRA commanders. Aiken recalled:
The Belfast IRA initially accepted IRA GHQ's endorsement of the Treaty only with specific and listed conditions relating to the North and to partition.
"O'Duffy assured us, with great vehemence, that the signing of the Treaty was only a trick; that he would never take that oath and that no one would [be] asked to take it. He told us that it had been signed with the approval of GHQ in order to get arms to continue the fight."[2]
Veteran Belfast Republican Denis McCullough was one of the internees released after the signing of the Treaty; just before Christmas 1921, he met the 3rd Northern's senior officers:
"I asked each man to state his final views … Each man stated, in turn, that we had no alternative but to accept the Treaty. Joe McKelvey gave it as his firm opinion that we could not stand up against open and unrestricted war for even two months, though he thought that the 3rd Northern Division was one of the best armed Divisions in Ireland. On hearing these opinions which – after the long discussions – agreed with those I had formed, I advised that we declare our adherence to the Treaty, subject to certain 'reservations' and 'assurances' to which I thought the six northern partitioned counties were entitled."[3]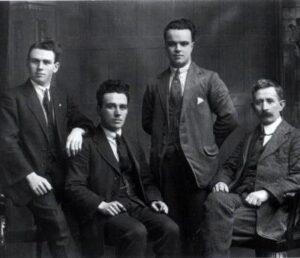 On St Stephen's night, McKelvey and McCullough met Michael Collins at the Gresham Hotel in Dublin. They set out a number of conditions under which they were prepared to accept the Treaty.
These amounted to an acknowledgment that partition was a reality on the ground, but an insistence that its discriminatory effects on the northern Catholic minority be ameliorated and that efforts would be made by the Dublin government to end it in the short term:
" Securing guarantees that no further concessions, financial or statutory, be given to the Ulster Parliament to enable them to entrench themselves and so stereotype Partition.
 Minority safeguards. Redistribution of seats [in the Parliament of Northern Ireland] in order to secure some measure of just representation in proportion to population.
To procure from the Government of Ireland a direction as to the policy – both civil and military – to be pursued by our people in N.E. Ulster.
To define the relations – both civil and military – between our people in N.E. Ulster and the Irish Government in order to secure a community of mind and effort.
To decide as to whether the economic pressure against N.E. Ulster be maintained until they adopt a correct attitude towards Ireland, and to decide definitely its purpose.
To obtain an opinion as to what attitude N.E. Ulster nationalists should adopt towards the N.E. Ulster Parliament – whether abstention or otherwise, etc. and what is to be the logical outcome and conclusion of the refusal of public bodies in its area to submit to its jurisdiction."[4]
According to McCullough, "Collins said he considered our requirements fair, and assured us that there would be no question that what we required could be conceded and assured."[5]
Less than two weeks later, the Second Dáil voted by a narrow margin to approve the Treaty.
The Dáil included six TDs representing northern constituencies; of these, only Eoin Mac Neill, an Antrim native, was originally from the north but he, like the other five, had been parachuted in by the Sinn Féin leadership to contest a very winnable seat in a majority-nationalist constituency. Four of the six – Mac Neill, Collins, Arthur Griffith and Seán Milroy – voted in favour of the Treaty while the other two, Éamon de Valera and Seán O'Mahony, opposed it.
There were three other TDs with roots in the north but representing southern constituencies: Ernest Blythe also from Antrim and Patrick McCartan from Tyrone both voted for the Treaty, but Seán MacEntee from Belfast voted against.
The split: two 3rd Northern Divisions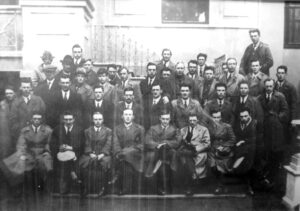 On 1st February 1922, possibly with an eye towards strengthening the relationship between GHQ and the 3rd Northern, Woods was appointed Deputy to O'Duffy, newly-promoted as Chief of Staff. He moved to Dublin to take up his new role at Beggars Bush barracks, headquarters of the just-formed National (or Free State) Army.[6]
Senior anti-Treaty figures in the IRA called an Army Convention to be held on 26th March; their intention was to re-assert the IRA's allegiance to the Republic and remove it from the control of the Dáil, instead making it answerable only to its own elected Executive.
By then, McKelvey's stance on the Treaty had changed, from initial acceptance at Christmas 1921 to opposition.
After the IRA Convention of March 26, 1922, the IRA split over the Treaty, with the anti-Treaty faction electing their own 'Executive' in place of IRA GHQ.
As a member of the IRB Supreme Council, he may have been swayed by arguments against the Treaty advanced by IRA/IRB leaders like Liam Lynch, O/C of the powerful 1st Southern Division and also a Supreme Council member. More concretely, two of the conditions accepted by Collins at Christmas 1921 had clearly been broken by his signing of the first Craig-Collins Pact at the end of January 1922 – as well as effectively recognising the Unionist government of Northern Ireland, this also discontinued the Belfast Boycott instituted by the Dáil in August 1920.
Despite its prohibition by the Provisional Government, the Convention went ahead. It did so against a backdrop of escalating violence in Belfast – only two days earlier, the horrific killings of the McMahon family had shocked public opinion in Ireland, Britain and the wider world. An interim Executive was elected but at a subsequent Convention held on 9th April, it was replaced by a new Executive of sixteen members, of whom McKelvey secured the fourth-highest number of votes.[7]
Also among the delegates at the initial Convention was Roger McCorley, O/C of the Belfast Brigade – his initial instinct was to align with the Executive:
"… certain promises of aid were made by way of making more arms and ammunition available in the north. This seemed to clinch the matter insofar as I was concerned since we were finding it very difficult to get supplies of ammunition to continue the defence of nationalist areas in Belfast … When the Convention ended I went back to my hotel and had a discussion with some of my fellow delegates. I told them I felt most unhappy about the whole position but that unless GHQ would make at least as good an offer of supplies as had been made by the Executive which had been set up by the Convention, I would have no option but to advise the Belfast Brigade that they should support the Executive."[8]
But at a meeting in Beggars Bush barracks, facilitated by Woods and held the following day, O'Duffy put in a bid for the loyalty of the Belfast Brigade which changed McCorley's mind:
"General Duffy [sic] then brought up the subject of our attendance at the Convention and I informed him that since we had been offered arms and ammunition by the Executive that I intended to support them and would advise Belfast accordingly. He told me that GHQ would be better placed to provide the arms and ammunition which we required than the Executive would be. He said that they had the markets of the world open to them … He then made me a definite promise that the GHQ would provide all the necessary supplies within a very short space of time.

I told him that if that were so I would be in a position to advise the Belfast Brigade to support GHQ with whom my personal sympathies lay … on the following day the majority of delegates agreed to give their support to GHQ."[9]
Following McKelvey's elevation to the Executive, there was now a vacancy for O/C of the 3rd Northern. At a Divisional Council meeting held on 9th April, consisting of the Divisional Staff and the three Brigade O/Cs, Woods was elected as McKelvey's replacement.[10]
A majority of the Belfast IRA leadership remained loyal to GHQ, in return for promsies or arms and financial support, but a sizable faction under Joe McKelvey sided with the anti-Treaty IRA Executive.
It was probably no coincidence that this Divisional Council meeting was held on the same day that McKelvey was elected to the Executive. It appears to have been a pre-emptive strike on the part of GHQ to copper-fasten the loyalty of the 3rd Northern – the previous month, Charlie Daly, another anti-Treaty member of the IRB Supreme Council, had been dismissed as O/C of the 2nd Northern Division by O'Duffy and replaced by the more compliant Tom Morris.
But in parallel, McKelvey was making his own succession arrangements. He first appointed Pat Thornbury, who had replaced Woods as Adjutant of the 3rd Northern when the latter was promoted to GHQ:
"Q: And at the time of the split you were appointed Divisional O/C?

A: No. I was Adjutant before the split.

Q: When Joe McKelvey left for the Four Courts you were appointed Divisional O/C?

A: I was.

Q: About April or May 1922?

A: Yes."[11]
McKelvey then turned to Michael Carolan who as well as being an IRA officer, had in January 1920 achieved the unique historical distinction of being the first – and only – Sinn Féin member of Belfast Corporation to be elected from the Shankill ward: "… Michael Carolan reported to me in Belfast and handed over to me a signed order from Jos. McKelvey C/S GHQ Four Courts Dublin appointing him Divisional Adjutant. He acted in this capacity for a time before returning to Dublin."[12]
William Ward was also installed:
"At [the] re-organisation of Republican forces, I was appointed Vice Brigade C.O. by the late Joe McKelvey, and about ten days later was made Brigade C.O. by [the] same officer. By his (Div. Commd. J. McKelvey) orders I organised an active service unit to operate in Belfast against both [the] Orange element and [the] English in [the] North regardless of [the] Treaty."[13]
As was the case in other divisions of the IRA, those who identified with the anti-Treaty Executive did so for a number of reasons – some adhered to Republican ideology in opposing the Treaty, some simply followed the lead of their commanding officer from a sense of personal loyalty, in this case, to McKelvey.
By April 1922 there were two competing Third Northern IRA Divisions in Belfast.One pro-GHQ and the other pro-Executive.
With two competing hierarchies in place in Belfast, it then fell to the rank and file to decide where their allegiances lay – this was done by ballots held at company level:
"There were votes taken in the Company on the question of pro-Treaty or anti-Treaty – whether they were going to be loyal to GHQ, or the Executive. They were taking orders from O'Duffy and Mulcahy, and there is no doubt they were antagonistic."[14]
At the time of the Truce in July 1921, the IRA's Belfast Brigade had 1,073 members. Recruitment thereafter was at such a high level that the number of battalions had to be doubled from two to four and while records relating to the 3rd and 4th Battalions are extremely limited, we know that at least 270 more joined the IRA.
Ignoring those who had been killed or were in prison, it would appear that at the initial split in March-April 1922, 62% of the now-enlarged Belfast IRA opted for loyalty to GHQ and 38% for loyalty to the Executive. However, these allegiances would fluctuate over the following months. As both sides of the split were fundamentally opposed to the Treaty, they will be referred to hereafter as the pro-GHQ and pro-Executive Belfast Brigades.[15]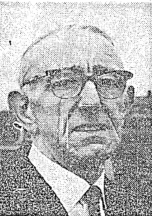 Before the Truce, High Corvin had been Quartermaster of the 1st Battalion in Belfast – he now became Divisional Quartermaster for one of the two formations calling themselves the 3rd Northern Division:
"There was a time in Belfast, after the signing of the Treaty, there were two actual organisations … O'Neill still called himself Brigade O/C in the city and we addressed our letters to the Brigade O/C, Free State Troops in Belfast. O'Neill took umbrage at that."[16]
Before long, there would be more than umbrage being taken.
The split becomes violent
In the late spring of 1922, the pro- and anti- sides of the Treaty divide in the IRA in Dublin devised a joint plan to attack the Unionist Government of Northern Ireland. This was to become known as the "Northern Offensive." In preparation for this campaign, each side sent material to their respective Belfast Brigades: for example, Ward "Arranged shipment of bombs from Four Courts in May 1922 to Belfast."[17] Meanwhile, the pro-Treaty faction sent arms and ammunition to the pro-GHQ Brigade in Belfast – these were, of course, only distributed to their own units in the city.
As well as fighting Northern Ireland and loyalist forces, the rival Belfast IRA factions also carried out raids on each others' arms dumps and kidnapping of each others' members.
The offensive, launched in May, was a dismal failure. Inside the north, the 2nd and 3rd Northern failed to coordinate their attacks, while a last-minute countermanding order was sent from Beggars Bush barracks to IRA divisions along the border, instructing them not to take part.[18]
Suffering from the same shortage of weapons which had plagued the Belfast IRA throughout 'the Pogrom', but deprived of access to those sent to the pro-GHQ Brigade from the south, the pro-Executive Brigade fell back on older methods of arming themselves – but with disastrous consequences:
"The first operation carried out by the Executive forces in this area was the shooting and disarming of two [Ulster] Special [Constable]s in Millfield on 31 May. They did this without giving us any warning which resulted in the deaths of eleven Catholics and the wounding of several others including the Divisional Vice Comdt. [McCorley], as we were not prepared for the defence of the district owing to the arrival of a large reprisal party. This had a very bad effect on the morale of the Catholic civilians as well as the Army, as upwards of one hundred Catholic families cleared out of Carrick Hill district and went to Glasgow and elsewhere, while Boyd St and California St were burned out, the RC [Catholic] occupants being forced to flee for their lives."[19]
One of those killed was George McCaughey, a pro-Executive member attempting to escape from the scene of the attack, who was "riddled by Lewis gun fire."[20]
This attack in Millfield came less than a week after the killing of Unionist Party MP William Twadell, in response to which the Unionist government invoked the internment provisions of the Special Powers Act.
There was also a violent response on the streets – as well as running amok in Millfield on the night of the attack, the Royal Ulster Constabulary (RUC), Specials and loyalist paramilitaries began an onslaught on nationalist areas across Belfast that was sustained throughout June: the pro-GHQ 3rd Northern's Operations Report for that month contained an addendum, consisting of fifty-five typewritten pages, detailing these attacks.[21]
Isolated with no support from outside the city, with its initial rather feeble series of attacks on RUC and Specials' barracks having been easily repulsed and faced by this new level of police aggression, the pro-GHQ Brigade sought to maintain some momentum in their offensive by switching to a campaign of arson against unionist-owned businesses in and around Belfast's city centre. The same Operations Report for June listed eighty-six such premises that were targeted.[22]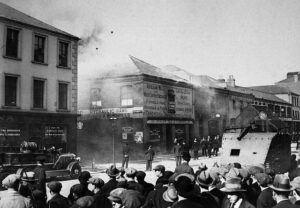 With all this going on, both factions of the Belfast IRA might have been expected to prioritise defence of nationalist areas. Instead, they were soon at each other's throats – on 12th June:
"A raid for money was made on Hughes Bakery, Springfield Rd. The manager Mr Devine who resisted was shot dead. No money was got. This affair caused widespread horror, as Mr Devine was a respected Catholic man employed by a Catholic firm. Some persons suspected of complicity in the Devine murder were arrested by our troops. These suspects were members of the Executive forces. As a reprisal for same, the Executive arrested the Vice Comdt, Adjt, and I.O. of the 1st Battalion, also Captain of 'C' Coy and I.O. of 'B' Coy 1st Battalion. Our men were detained for two hours. This act almost lead [sic] to bloodshed, as our troops were forced to take precautionary aggressive measures in the event of the officers not being released."[23]
The hostage-taking and hostage-liberating was mutual – in the 1930s, Thornbury told the Military Service Pensions (MSP) Board that "You have examples in Belfast of our men being arrested by that party and being rescued by force of arms in the streets."[24]
Despite having received arms from the south, the pro-GHQ Brigade were not above raiding their rivals' arms dumps – nor were the pro-Executive Brigade averse to retaliating:
"During the Civil War period, it was necessary to protect these dumps by force of arms against the then members of the Free State forces. The bomb factory, belonging to the Free State forces and situated in this company's area, guarded by anti-Executive men, had to be raided; the guard of five men were disarmed and the machines, bombs, explosives, etc. were removed by motor transport."[25]
Relations between the two factions reached a nadir towards the end of June after the pro-GHQ side were accused of having robbed the proceeds of a pro-Executive bank robbery. Séamus Timoney, O/C of the pro-GHQ 2nd Battalion, reported:
"[Chuck] Burns O/C of Executive A.S.U. came to me at 1 p.m. and enquired if I knew anything re a bag of money he left in a house in Katherine [sic] Street. I said 'No' and asked him what he meant. He told me he held up a bank at 12-30 p.m. and brought a bag containing a sum of money uncounted by him to 4 Katherine Street. He left it there unguarded for some time, and on returning the bag was missing. I again assured him I knew nothing about it but that I would make enquiries.
At 2 p.m. Jim Rice, Batt. O/C Executive, came to me and asked similar and when answered he said 'We carried out a necessary reprisal over there.' I enquired what the reprisal was and he answered 'You will know soon enough.'"[26]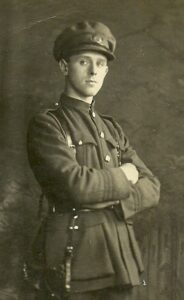 Shortly afterwards, Timoney received a report from his B Company across the river in Ballymacarrett:
"At 1-30 p.m. today, 24th June, Lieut. Ryan reported that the dump of No. 3 Post had been raided by Executive Forces and 4 rifles and 2 revolvers taken … with Lieut. Ryan  proceeded to the stand [sic – Strand?] where we were told the house in which the arms were stored. I with Lieut. Ryan and four men rushed the house and overpowered the guard. In the struggle a shot went off from the guard's gun … I withdrew my party having got an understanding from the Executive Capt. that the arms would be returned to me.

I immediately went to Ballymacarrett and gave orders to turn out the company and rushed the house. Having all arrangements made two men were detailed off to relieve the guard then on, with the end in view of finding out how many Executive men were on the guard. On going towards the house they were twice fired at … resulting in the two men having to turn back. Meantime, Capt. of Executive Company came to me accompanied by a man named Ward whom he termed as Brigade Commandant.

This man, Ward, said he had given an order for all aggressive action to cease and all arms to be returned, latterly the arms were returned by the people who took them."[27]
So four days before the shelling of the Four Courts began, shots were being fired between the two factions of the IRA in Belfast. No wonder that a couple of days later, a still-fuming Timoney complained in another report:
"The Executive forces in our area are composed of men who were court-martialled for drunkenness and other offences and put out of the I.R.A. These men recruited from the civilian population several desperadoes, who are there merely for the sake of getting a gun for a hold up and serve their own purposes. Only six I.R.A. men turned over to the Executive forces from our Battalion. Some of these men admitted they joined the Executive forces for financial reasons."[28]
Curiously, Timoney also attributed to the pro-Executive Brigade three of the arson attacks included in the pro-GHQ 3rd Northern's Operations Report for June – in relation to one of those, he said "This caused great indignation amongst the Catholic residents of the locality, as this firm employed a large number of Catholics." It seemed that in his view, an action was good arson if done by the pro-GHQ side but bad arson if done by the pro-Executive faction.[29]
Moving south: the Civil War
On 28th June, the Provisional Government opened fire on the anti-Treaty stronghold at Dublin's Four Courts, marking the start of the Civil War.
On the outbreak of Civil War in the south, a party of pro-Executive Belfast IRA members moved southwards to aid the republicans and ended up fighting a skirmish with Frank Aiken's Fourth Northern IRA Division at Dundalk.
When the attack on the Four Courts began, Oscar Traynor, O/C of the Dublin Brigade, sent an appeal for assistance to anti-Treaty IRA units around the country: "Night of 29th June I received a despatch from you on behalf of ???[illegible] HQ Staff, owing to regular staff being cut off and in Four Courts – ordering relief column to be sent armed to Dublin."[30]
Thornbury took personal charge of a column of thirty Belfast men, but they could not get through to Dublin:
"When the Civil War started were you in Dublin?

A: I got a letter from the O/C Dublin Brigade – Oscar Traynor – to bring some Belfast men down, as many as I could.

Q: Did you do so?

A: I brought them as far as Dundalk. We found the road blocked there, and no trains. We held a meeting of the officers and I went back to Belfast and told the men to be 'on the ready' to meet me."[31]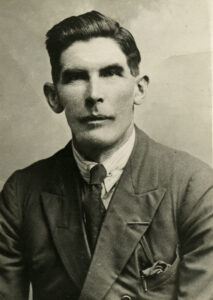 Seán McNally was Quartermaster of this pro-Executive column, which he said returned to Belfast on 10th July.[32] Both Thornbury and McNally were coy about the real reason for the column leaving Louth – while there, they had ended up in another shooting match with other IRA men, this time members of Aiken's then-neutral 4th Northern Division, whose Divisional Adjutant John McCoy later recounted:
"I and a few other officers from the Military Barracks were returning unarmed to Dundalk from Blackrock by car when we were suddenly confronted by men armed with revolvers who held us up … a number of armed men were up on a telegraph pole and were cutting all the telephone and telegraph wires on the main road leading from Belfast to Dublin. The man in charge of this party, whose name was Byrne [sic – Burns], known as 'Chuck', came to us after we had stopped our car and he told me that as he knew me, I and the others could proceed on our way.

I asked him why he was cutting communications in our area and he replied that he was a soldier of the Republic and that he was engaged in a war against the enemies of the Republic. I told him that we were not enemies of the Republic and that we could not allow him or others to carry out acts of war in our divisional area. He then told me and the others to clear off or that he might change his mind and make us prisoners. I told him then that we would go but that it would be better if he and his men were outside our divisional area when we returned. He said then, 'You will get a hot reception from us if you come back.'"[33]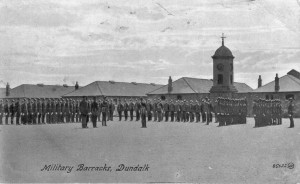 McCoy went to the barracks in Dundalk to gather more men before returning to deal with the Belfast men:
"They were again up on the poles cutting wires and had a barricade across the road near where they were operating. We drove the car at the barricade in the hope that it would crash through but it stuck. The Byrne crowd had a large motor lorry with them and when we crashed into the barricade they opened fire on us. I told my men to fire on their lorry and thus prevent them getting on it and so escaping.

About half of the crowd got away on the lorry in Dunleer direction. Our Crossley tender then arrived and it was sent on to follow the men on the lorry. Of the men who did not get away on the lorry, we captured fifteen and the Crossley tender overtook the lorry going into the town of Dunleer and a running fight ensued in which 'Chuck' Byrne got shot through the body and he was taken by our men to Ardee hospital."[34]
The pro-Executive members who had stayed in Belfast fared little better. A Royal Ulster Constabulary report in mid-July indicated that pro-Executive activists had been chased out of the New Lodge area by residents, having gone there to mount a sectarian attack – the locals clearly had no appetite for whatever mayhem they were planning:
"I have to report that I have received information that on the evening of the 12th inst. gunmen assembled in Annadale St which runs from Lepper St to the Antrim Rd to fire on the parade dispersing from Carlisle Circus after the Orange procession came home. The lower end of Lepper St is R.C. and it was in this end that men mobilised. They were strangers stated to be from Cromac St quarter. As soon as the residents knew they were in place they told the men to clear off or that they would send for the police and military. The men had to clear. I am informed that one of them was a man named Connolly from 95 Joy St who has a brother interned."[35]
One of the members of the Louth column, Charlie Stewart, after returning to Belfast then went south again in August 1922. He became a member of the East Mayo Active Service Unit on the anti-Treaty side and fought with it in the Civil War until he was wounded in May or June 1923. Returning to Belfast for a second time, he was interned. Later, his IRA pension application noted: "I was in the unique position of being one of the only two Protestants serving in the IRA in the North and the only one from the Northern Division to serve the Republic to the end."[36]
Meanwhile, the pro-Executive leadership in Belfast was gradually whittled away: Thornbury was captured and interned in October 1922, while his replacement, Corvin, suffered the same fate in April 1923.
By the time of his arrest, Thornbury was no longer O/C of 3rd Northern Division, as the anti-Treaty IRA leadership had downgraded its status: "… some period about September, I suppose, when orders from Headquarters were to organise the unit as one Brigade, on account of the smallness of numbers after the split."[37]
The Treaty split in Belfast was every bit as debilitating and just as bitter as in the rest of Ireland and even the shared experience of internment did not provide a common cause to unite the two elements of the Belfast IRA.
Even the shared experience of internment on the Argenta did not provide a common cause to unite the two elements of the Belfast IRA – in captivity, they remained at bitter loggerheads with violence always likely to erupt: "Once put on board, the men were divided by their warders into 'pro-Treaty' and 'anti-Treaty' groups to ease anticipated tensions."[38]
The northern IRA, especially in Belfast, operated under conditions very different from those south of the border. Nevertheless, this analysis has shown that the Treaty split in the city was every bit as debilitating and just as bitter as in the rest of Ireland. Part 2 of this article will examine the fluctuating fortunes of the pro-GHQ Belfast Brigade and will quantify the impact of the split on the main Republican organisations – the IRA, Na Fianna and Cumann na mBan.
References
[1] O/C 3rd Northern Division to GHQ, 21st September 1922, Richard Mulcahy papers, UCD Archives Department (UCDAD), P7/B/287.
[2] Memoir, undated, Frank Aiken papers, UCDAD, P104/1308.
[3] Statement of Mr Denis McCullough, McCullough papers, National Library of Ireland (NLI), Ms 31,653. See also Denis McCullough statement, Bureau of Military History (BMH), Military Archives (MA), WS0636.
[4] Typewritten memo, untitled and undated, McCullough papers, NLI, Ms 31,653. The memo is annotated in McCullough's handwriting, stating that it is a copy of the document agreed by him, McKelvey, Woods and Crumney which was given to Collins at the meeting in the Gresham Hotel. Clause 2 has an addendum in handwriting other than McCullough's [possibly either McKelvey's or Woods'?] which states: "Also military protection."
[5] McCullough statement, McCullough papers, NLI, Ms 31,653.
[6] Séamus Woods, Pensions & Awards files, Military Service Pensions Collection (MSPC), MA, 24SP11139.
[7] Florence O'Donoghue, No Other Law (Dublin, Anvil Books, 1986), p224.
[8] Roger McCorley statement, BMH, MA, WS0389.
[9] Ibid.
[10] O/C 3rd Northern Division to GHQ, 27th July 1922, Mulcahy papers, UCDAD, P7/B/77. The 3rd Northern Division consisted of the Belfast, Antrim and East Down Brigades.
[11] Interview with Advisory Committee, 24th April 1937 in Patrick Thornbury, Pensions & Awards files, MSPC, MA, MSP34REF07497.
[12] Patrick Thornbury to MSP Board, 24th April 1937 in Michael Carolan, Pensions & Awards files, MSPC, MA, MSP34REF20261.
[13] William Ward to Michael Carolan, 22nd May 1935, ibid.
[14] MSP Assessor interview with Patrick Thornbury & Hugh Corvin, 1st May 1937, ibid.
[15] Nominal Rolls, 3rd Northern Division, 1st Brigade, MSPC, MA, MSPC/RO/402-406A. The estimated percentages are based on the numbers listed as "Executive Forces" on 1st July 1922 in the nominal rolls – the remainder are assumed to be "pro-GHQ" at this point. The absence of nominal rolls for all of the 3rd Battalion and nearly all of the 4th Battalion means the figure of 270 post-Truce recruits is hugely under-stated. In addition, in November 1926, a group of nine former 3rd Northern officers reviewed a list of applicants under the 1924 Military Service Pensions Act to determine who had or hadn't served in the pre-Truce IRA; of those who they said had, 32 were not in the nominal rolls – these are included in the total; see Special Investigation of Six County Cases, MSPC, MA, SPG10 A2. Finally, Belfast-based recipients of 1917-21 campaign medals who are not mentioned in any other list are assumed to have had pre-Truce service; medal awards can be searched by county at: http://mspcsearch.militaryarchives.ie/search.aspx
[16] MSP Assessor interview with Patrick Thornbury & Hugh Corvin, 1st May 1937, in Michael Carolan, Pensions & Awards files, MSPC, MA, MSP34REF20261.
[17] William Ward to Michael Carolan, 22nd May 1935, ibid..
[18] Daniel Kelly statement, BMH, MA, WS1004; John McCoy statement, BMH, MA, WS0492.
[19] 2nd Battalion Operations Report to O/C No. 1 [Belfast] Brigade, 26th June 1922, Mulcahy papers, UCDAD, P7/B/77.
[20] George McCaughey, Pensions & Awards files, MSPC, MA, DP8007.
[21] Adjutant 3rd Northern Division to Chief of Staff, 7th July 1922, Mulcahy papers, UCDAD, P7/B/77.
[22] Ibid.
[23] Operations carried out by Executive Forces, ibid.
[24] MSP Assessor interview with Patrick Thornbury & Hugh Corvin, in Michael Carolan, Pensions & Awards files, MSPC, MA, MSP34REF20261.
[25] P. Gilmore to MSP Board, 7th January 1937, in Nominal Roll of 3rd Northern Division, No. 1 Brigade, 4th Battalion, MSPC, MA, RO-406. The bomb factory referred to had been set up in Arizona St, Andersonstown, prior to the Truce.
[26] O/C 2nd Battalion to O/C No. 1 Brigade, 24th June 1922, in Internment of Henry Crofton, Joy St, Belfast, Public Record Office of Northern Ireland (PRONI), HA/5/961A. The Belfast News-Letter of 26th June reported that "a young man employed by a firm of fishmongers in Belfast was held up after leaving the markets branch of the Northern Bank. The thieves took £7 from their victim and escaped among the crowd which had gathered." This may well have been the "bank robbery" that began this chain of events.
[27] Ibid.
[28] 2nd Battalion Operations Report to O/C No. 1 Brigade, 26th June 1922, Mulcahy papers, UCDAD, P7/B/77.
[29] Ibid.
[30] William Ward to Michael Carolan, 22nd May 1935, in Michael Carolan, Pensions & Awards files, MSPC, MA, MSP34REF20261.
[31] Appearance at Advisory Committee, 24th April 1937 in Patrick Thornbury, Pensions & Awards files, MSPC, MA, MSP34REF07497.
[32] Undated memo to MSP Board in Seán McNally, Pensions & Awards files, MSPC, MA, MSP34REF61252.
[33] John McCoy statement, BMH, MA, WS0492. My thanks to Paddy Mulroe for providing me with this reference.
[34] Ibid.
[35] Connolly, Charles, Joy St, Belfast, PRONI, HA/5/2100. Connolly was named by Timoney in one of his reports as being captain of the pro-Executive company in the Market area, referred to here as "Cromac St quarter."
[36] Statement to Advisory Committee, 17th July 1936 in Charles McCaull Stewart, Pensions & Awards files, MSPC, MA, MSP34REF10918.
[37] Appearance at Advisory Committee, 24th April 1937, Patrick Thornbury, Pensions & Awards files, MSPC, MA, MSP34REF07497.
[38] Denise Kleinrichert, Republican Internment and the Prison Ship Argenta 1922 (Dublin, Irish Academic Press, 2001), p126.