'A faithful soldier of the Republic': The story of Jinny Shanahan
By John Dorney
In 1916, during the Easter insurrection in Dublin city, a young Irish Citizen Army woman was one of party of 60 men and women who took over Dublin City Hall.
She watched her commander Sean Connolly die in front of her and she was herself taken prisoner and marched off to Kilmainham Gaol.
Jane 'Jinny' Shanahan was born in Dublin in 1897. She was a rank and file activist in the labour movement, the Citizen Army and later an unaffiliated republican.
Jane Jinny Shanahan was rank and file labour and republican activist throughout the Irish revolution.
Her story is very interesting from a number of angles. First; she was a female revolutionary in the Irish Citizen Army from 1913 to 1923, fought in the Easter Rising and afterwards – all the way through the War of Independence and Civil War.
She kept company with the most prominent republican socialist women of the era, notably her close friend and comrade Helena Molony but also Kathleen Lynn, Winnie Carney and others.
The second angle seems almost equally interesting from a personal perspective; she lived with her father until her early death at the age of just 39 in 1936. She died from kidney disease. Like her comrades Helena Molony and Kathleen Lynn, her lonely post-revolutionary life and early death may have been a symptom of the disappointment of many women republicans with the newly independent Irish state.
Joining the Citizen Army
Jane Shanahan is rumoured to have worked in Jacob's Biscuit Factory prior to joining the Irish revolutionary movement and in her military pension her job is stated as 'forewoman'.[1]
She was a member of the Women Worker's Union and it is likely she met Helena Molony and others there.
By 1915 she was employed directly by the union in the sewing room of the Irish Workers Cooperative in Liberty Hall.[2] The idea of the cooperative was to give employment to the female workers in lieu of strike pay.According to Ruan O'Donnell, 'Jinny Shanahan headed the venture, which produced children's underclothing and workmen's shirts'.[3]
Jinny Shanahan joined the Citizen Army in 1913 after working first for the Women Workers' Union.
She joined the Irish Citizen Army in 1913, either during or shortly after the great Lockout of 1913, in which the Citizen Army was founded by James Larkin and James Connolly to protect workers' pickets from the police.[4]
The Citizen Army was dedicated both to Irish independence and to a 'Workers' Republic', which was a vaguely defined socialist goal. It was also committed to equality of citizenship for all men and women. Prior to 1918, only property-owning men and no women had the right to vote – or about 15% of the adult population of Ireland.
Unlike the Irish Volunteers, the nationalist militia formed around the same time as the Citizen Army, women were admitted as equal members to the Citizen Army. The Volunteers had a women's auxiliary Cumann na mBan, but it was explicitly subservient to the male organisation, at least in its early years.
In the Citizen Army on the other hand, Helena Molony recalled, 'it would never occur to them [the British] of course that there were women soldiers. Actually the women in the Citizen Army were not first aiders they did military work, except where it suited them to be first aiders. Even before the Russian Army had women soldiers the Citizen Army had them.'[5]
In practice though, in the Citizen Army (ICA) most women, including Jinny Shanahan, did act as medics rather than fighters, but some did also carried arms during the Rising of 1916 and used them in anger, notably Margaret Skinnider and Constance Markievizc.
Jinny Shanahan's initial OC (Officer Commanding) in the ICA was James O'Neill of Malahide. She states that from 1913 to 1916 she 'helped in reorganising ICA [after Lockout] and in procuring and secreting arms'.
Preparing for the Rising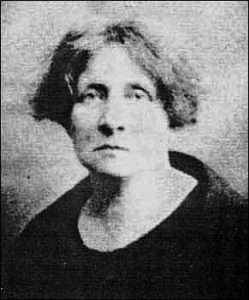 Helena Molony wrote in a letter of reference for Jinny's pension that she, 'was active in Citizen Army in 1915-16, the officer next in command to myself'. 'The command of the women's section was to large extent in her hands.' She also helped in training new recruits.
She was also close to the heart of the small closed group that planned the insurrection of Easter 1916. Helena Molony wrote that Jinny Shanahan was 'In charge of 31 Eden Quay 'where the Provisional Government met'.
The 'Provisional Government' refers to the 1916 Rising's leaders reference to themselves as the Provisional Government of the Irish Republic proclaimed in Easter Week. Before the Rising they were referred to as the 'military council' a secret group including James Connolly, Patrick Pearse, Tom Clarke, Sean McDermot and others.
Shanahan was in charge of the safe house on Dublin's Eden Quay where the Rising's leaders met.
That Jinny Shanahan was responsible for the safe house where they met shows that she was a highly trusted individual.
This would mean that unlike many rank and file Volunteers or Citizen Army members, she knew that an armed uprising was imminent. Jinny herself told the military pension board in 1935, 'I was on duty for six weeks before the Rising at 31 Eden Quay where the provisional government met. I was there all day all the time, often until 1 am. '
In early 1916 the police raided the Worker's Republic newspaper to seize the paper as a result of James Connolly's 'seditious articles'[6]. According to Helena Molony;
'Jinny Shanahan and I were there. I always carried a revolver. [James] Connolly was in a little office between the shop and the printing place. Jinny went to him while I held up the police with the revolver and said "you can't seize the paper." Then Connolly came out and drew his revolver. The officer said 'we have come to seize the newspaper'. Connolly said, "you can't" "But I have my orders" the policeman said. "You drop it or I'll drop you" Connolly said.' The Police backed down.[7]
Just prior to the Rising, she and Helena Molony decamped to the trade union headquarters at Liberty Hall where James Connolly planned to assemble the Citizen Army.
Helena Molony recalled, that at Liberty Hall 'For the last fortnight before the Rising, myself and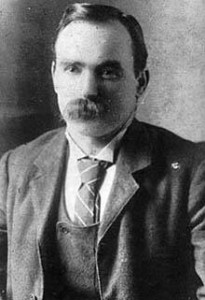 Jinny Shanahan were actually sleeping at night under a pile of men's coats.'[8] Jinny herself however, told the military pension that she was in Liberty Hall only from Good Friday to Easter Sunday.
For a nerve racking day, it appeared as if the Rising was not going ahead after all, as the Volunteers' leader Eoin MacNeill (who had never been in on the plan and was only told about it on Good Friday) attempted at the last minute to call it off.
However by Easter Monday, Connolly and the other conspirators managed to get word to units loyal to them that the rebellion was going ahead that day. The ICA assembled at Liberty Hall and marched out to seize different spots around the city. Jinny Shanahan was sent with Helena Molony and Kathleen Lynn, along with roughly 50 other ICA men and 10 women to attack Dublin Castle, the seat of British government in Ireland.
The Rising: Dublin Castle and City Hall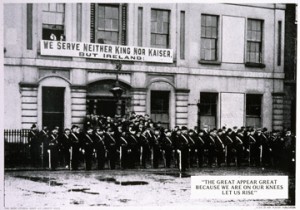 Dublin Castle was, unknown to the insurgents, in fact lightly defended by 25 British troops, but after shooting a policeman who tried to stop them entering, Sean Connolly and his Citizen Army unit, when they came under fire from the small British garrison there, decided instead to occupy the adjacent City Hall, the centre of Dublin's municipal government.
Jinny told the military pension board in 1935 that she 'Went with Sean Connolly to Dublin Castle. Kathleen Lynn arrived later by car at City Hall with First Aid equipment.' But the 'Castle Gate was closed. I arrived at 12 noon but we had City Hall occupied by one o'clock'. She was second in command of the women's section after Kathleen Lynn, who 'brought me up on the roof' of City Hall.
Jinny Shanahan acted as a medic in City Hall but witnessed some of the week's fiercest fighting.
According to Jinny, British troops were not their only problem, scuffles broke out in the street with a 'hostile crowd' composed of the 'women of soldiers' i.e. the wives of local men serving in the British Army. Sean Connolly was wounded in the hand, which Jinny had to bandage.
City Hall was soon one of the first sites of intense combat that week. First, about 200 British troops from the Royal Barracks, many of them Irishmen from the Dublin Fusiliers, arrived at the Ship Street barracks of the Castle and opened a steady fire on the rebels in City Hall.
According to Jinny, 'At about six o'clock [Monday April 24] there was a big attack by British troops on City Hall'. By the evening of Monday April 24th another 200 British troops had arrived and launched a determined assault on the building. Fierce fighting ensued in which many of the British troops were killed or injured. According to Neil Richardson, 100 men from the Reserve Cavalry Division took part in the first wave of the attack on City Hall and at least 20 were killed and wounded in the first attack and more thereafter. [9]
Helena Molony, who was beside Jinny Shanahan on the roof of City Hall, from where the Citizen Army fighters were firing recalled, 'there was a young British soldier killed on Ship Street. I could see him lying wounded. I can remember saying to Jinny Shanahan, 'I wonder should we do something for him?' But [Sean] Connolly said 'his own lads will come for him'.[10]
Shortly afterwards, Sean Connolly himself was shot and mortally wounded. Jinny told the pension board in 1935; 'We were only about three quarters of hour in action when Sean was wounded in the lung and it proved to be fatal'. 'He was wounded in the hand but he put his men in position around the roof and he was going around to cover all the approaches to the Castle [when] a sniper in the Clock Tower got Sean and he only lived five minutes'. Helena Molony remembered Connolly's young brother Matt crying as he watched his brother die.
Intense firing continued and casualties on the roof began to mount. According to Jinny, '
A man named O'Reilly took his [Sean Connolly's] place. We had three men slightly wounded and we managed to dress them up and put them back in position. But one of them was badly wounded and we had to get him off the roof through the skylight and put him in the care of the women below.'
Eventually, under cover of machine gun fire and grenades, the British troops broke into City Hall with bayonets fixed, according to Helena Molony shouting 'Surrender in the name of the King'.
Molony related,
'Apparently, according to Jinny'… troops came in and 'it would never occur to them of course that there were women soldiers. Actually the women in the Citizen Army were not first aiders they did military work, except where it suited them to be first aiders. Even before the Russian Army had women soldiers the Citizen Army had them. The British officers thought these girls had been taken prisoner by the rebels. They asked them "did they do anything to you?" Were they kind to you?". "how many are up there?" Jinny Shanahan answered quick enough, "No they didn't do anything to us. There are hundreds upstairs, they have big guns and everything."
The British were temporarily delayed from storming the roof as a result of Jinny's deception.
But when the last twelve ICA men from the roof were finally captured and brought down from the roof one said 'hullo Jinny are you alright?". The officer looked at her, angry at how he had been fooled by this girl'. 'I thought that was something Napoleon would have decorated her for,' Molony quipped.[11]
Jinny herself testified that she was arrested and taken to Ship Street Barracks and then Kilmainham Gaol but that she was held for only a week. She stated that she was released the day ICA second in command Michael Mallin was executed, which was on 8 May 1916.
Her friend and comrade Helena Moloney was one of only five women who were imprisoned in England after the Rising.
Post Rising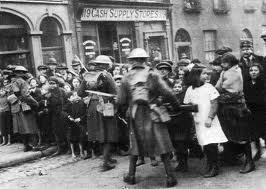 In 1917, while many of the Rising's leaders were still in prison, Jinny was involved in publicity and propaganda work for the republican movement.
She and Helena Molony (who was released in December 1916) hoisted tricolours in 1917 on military positions held in the city in Easter Week and posted the rebel Proclamation of the Republic throughout city. She also took part in the funeral of Thomas Ashe, who died on hunger strike in September 1917.
Her pension statement says she did 'detective duty' afterwards, but this, it turns out in interview with the pension board, only amounted to hiding documents for the movement. She remained a Citizen Army member, her OC throughout this period being Richard McCormick.
During the 'Black and Tan time', she 'often cared for wounded men' in Dublin after ambushes, but 'I did not throw any bombs'.
In 1920 she helped to enforce the Belfast Boycott, by which in response to attacks on Catholics in the north, firms were forbidden for doing business with Belfast. Jinny stated that she used her union contacts for the Republican labour department, to get tobacco manufacturers to boycott Belfast.
In contrast to the Rising, Jinny's role in the War of Independence (1919-21) was much more of an auxiliary than an active fighter. She stated before the pensions board that during the 'Black and Tan time', 'I often cared for wounded men' in Dublin after ambushes, but 'I did not throw any bombs'.
'Guns were sometimes hidden in my garden, but I never carried guns or explosives myself. She taught first aid to the mainstream women's republican group Cumann na mBan but was never a member. She remained in the ICA throughout.
Lily Brennan states that Jinny 'was in Kilmainham jail with me after the Rising' and after was a 'Willing worker for the Republican cause'. 'Her home was used to shelter IRA men and used for dispatches', which 'at height of Black and Tan terror was no small thing'.
During this time, Jinny stated her 'house was raided and broken up' by British forces looking for suspects, arms or papers.
Civil War period June 28 1922-May 1923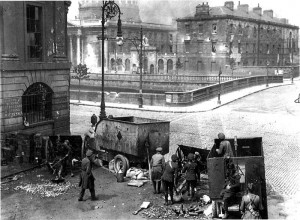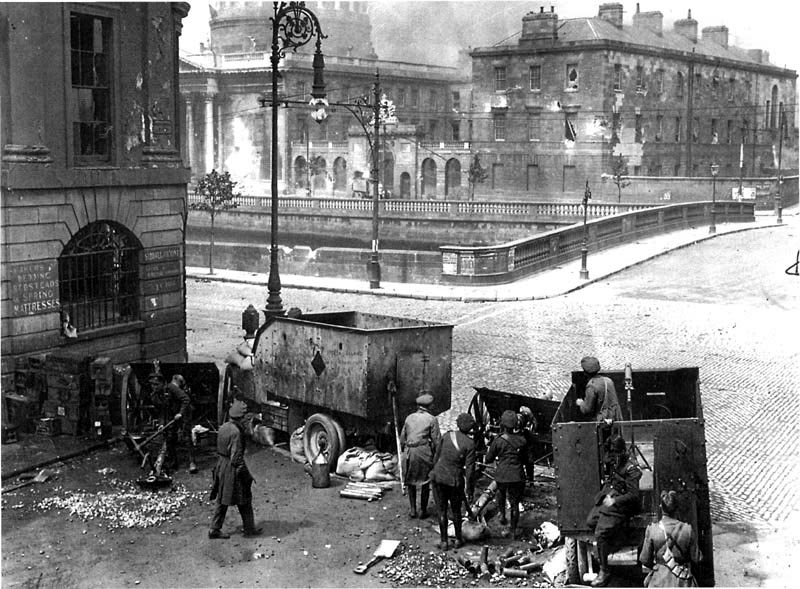 Like most of the radical republican women, including Helena Molony and Kathleen Lynn and like most of what remained of the Citizen Army, Jinny Shanahan took the anti-Treaty side in the Civil War of 1922 1923.
The war began when pro-Treaty or Free State forces opened fire on the anti-Treaty IRA stronghold in the Four Courts in central Dublin on June 28 1922.
Jinny told the pension board in 1935 that she was mobilised by Lily Brennan (who had also been in City Hall in 1916 and Kilmainham Gaol thereafter) the day fighting broke out at the Four Courts. They went to the Sinn Fein office in Suffolk Street where she was in charge of medical supplies and 'did a few dispatches'.
The Four Courts fell in two days and within a week Free State forces had driven the anti-Treaty IRA (and some Citizen Army fighters) from central Dublin.
In the Civil War Jinny took the anti-Treaty side and worked in underground republican field hospitals.
After fighting ceased Jinny and Lilly Brennan opened a field hospital secretly in Cullenswood House, Ranelagh under Dr Kathleen Lynn and moved wounded anti-Treaty fighters there who were wanted by the authorities. Jinny stated that 'if they were caught they would have been executed. I was in charge of the hospital and got them removed from the city hospitals.' They secretly treated fourteen men at Cullenswood, where the improvised hospital lasted for two months.
Afterwards, Jinny came under suspicion from the Free State authorities and her house was raided in a so called 'sit down raid' This was where CID detectives would take over a house for a day and arrest anyone who called. Jinny stated;
'The Free Staters raided me about three weeks after hospital closed down. It was a sit down raid. [The board asked] 'Anybody who knocked got arrested?' [Jinny answered] Yes but they got nobody, my father removed the signs [which told republican activists on the run that the house was safe]. I was not at home.'
Like many Irish Civil War stories, Jinny's was tinged with a sense of personal animosity and betrayal. She knew the detective who was hunting her. She told the pension board, 'I heard Mark Byrne was looking for me and cleared off. He came twice again and I just missed him'.
She did some intelligence work afterwards with an IRA officer named Sean Noonan, but unlike many female activists during the Civil War, she was never arrested. Her house was on one occasion used as a meeting place for the anti-Treaty IRA Army Council in 1923.
Later life and death

Jinny Shanahan had fought for a fully independent Ireland, for equality for women and for a better life for workers. Instead by 1924, she found herself on the losing side of a Civil War between rival Irish nationalists, in a conservative Catholic state that was deeply suspicious of the radical republican women who had helped to bring it into existence.
Jinny seems to have spent the post-revolutionary years caring for her elderly father, who was in poor health. She never married and lived with her father and brother at 51 Larkfield Grove in the Dublin suburb of Kimmage. Her friend and comrade Helena Molony lived just a few doors away at 71 Larkfield Grove.
Jinny Shanahan seems to have spent the post-revolutionary years caring for her elderly father, who was in poor health.
In 1934, after Eamon de Valera and Fianna Fail came to power, anti-Treaty veterans of the Civil War period were entitled to apply for military pensions. It was also the de Valera government that opened the military pension to female activists. It seems that Helena tried to secure one for Jinny, who by this time was in poor health. Her claim seems to have been forgotten until late in 1935 when she wrote again to the pension board asking if her claim had been overlooked.
In November 1935 she was brought before the board to give a sworn statement on her activities during the revolutionary years.
The interview was sometimes testy, one board member asking why her interview contradicted some details in her application: Question 'did you fill out this form yourself?' In fact it is likely that Helena Molony filled out much of it for her.
Two months later, at the age of just 39 Jinny was dead. Helena Molony wrote to the military pensions board in January 1936, stating that she lodged a claim 'and her friends do not know at present quite where her claim stands. 'She died quite suddenly and unexpectedly last week, although in failing health for some years and she left an aged father who was almost wholly dependent on her'.
'I am making this request as her officer, deeming it as I do my duty to help wind up her affairs in a way most advantageous to this faithful soldier of the Republic.'
Jinny died from 'chronic neuritis and ueramia' [disease of kidneys].
She was posthumously granted a pension of £27 per annum 1934-1937 in November 1936. Two years pension was back-dated and paid to her 82 year old father. It was a sad and unworthy end.
Like many female activists of that era she might have been forgotten completely had she not been the great aunt of singer and song writer Damian Dempsey. He told the Irish Independent in 2016, 'I was searching online to see if any of my ancestors had been involved in the Rising, when my father said, 'Look for your great grandfather's sister, Jennie Shanahan. She was active in 1916' and when he found Helena Molony's account of Jinny Shanahan in City Hall, 'as I read about her, the hairs on the back of my head stood up'. He dedicated a song 'Aunt Jennie' to her on his album 'Rising'. [12]
A recent television programme 'Who Do You Think You Are?' on the Irish national broadcaster RTE, featured Damian Dempsey exploring his family history. Dempsey expressed the opinion that Jinny was a casualty of 'de Valera's Ireland'; conservative and patriarchal. Perhaps. Some radical women did feel betrayed by the conservative reality of the Irish state.
But enlisting Civil War divisions to serve a modern agenda does not really advance our understanding of the times of the revolutionaries themselves. Most women republicans, including Jinny Shanahan took the anti-Treaty side in 1922 and its was only de Valera's government Fianna Fail that opened military pensions to them as combat veterans.
Only by seeing activists as the complicated people they were, possessed of the often tortuous loyalties of a long and complex struggle will we begin to understand their significance.
References
[1] Jane Shanahan Military Pension File 34Ref10154
[2] Irish Times https://www.irishtimes.com/culture/heritage/suffragettes-at-war-1.2427219
[3] Ruan O'Donnell, The Impact of the 1916 upon the nations, p.27
[4] Jane Shanahan Military Pension File 34Ref10154, all subsequent references are from her pension file unless otherwise stated.
[5] Helena Molony BMH WS
[6] Connolly's articles called for armed insurrection for Irish independence and against the British war effort, which he described as a 'capitalist, imperialist' war. Under the Defence of the Realm Act or DORA, his previous newspaper the Irish Worker had been suppressed and its presses seized.
[7] Helena Molony BMH statement.
[8] Molony BMH
[9] See Neil Richardson, According to Their Lights, Stories of Irishmen in the British Army, Easter 1916, p93-98..
[10] Molony BMH
[11] Molony BMH
[12] https://www.independent.ie/irish-news/1916/rising-memories/aunt-jennie-deserves-a-song-damien-dempsey-on-1916-heroine-34338610.html