The Strange Case of Lord Massy and the Killakee shooting, July 1922.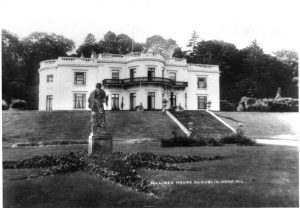 Murder, Michael Collins and the decline and fall of South Dublin Landlord family. By John Dorney
Late on Wednesday July 19, 1922, a lone man, Anthony Harmon of Piperstown in Tallaght, came to Killakee House, the palatial residence of the Massy Family in Rathfarnham, on the northern slopes of the Dublin Mountains, looking for money.
Killakee House was then four miles from the nearest tram terminus and was, in the words of Mrs Massey, 'a lonely place'. Times were very disturbed. It was less than a month since Dublin city had been rocked by a pitched battle on the outbreak of the Civil War. Anti-Treaty IRA guerrillas still roamed the Dublin hills and Massys' house had already been raided twice and their car taken.
Lord Massy shot dead Anthony Harmon at Killakee House, Rathfarnham on July 19, 1922.
According to press reports of the inquest, Anthony Harmon demanded money of the House's owner Lord Hugh Hamon Massy, but even after receiving £5, he 'became violent' and pushed his way into the study, where Massey kept his safe. A 'scuffle ensued' and Harmon, according to the Massys themselves, lunged at the man of the house. Lord Massey, produced a Webley revolver from a drawer and when Harmon advanced at him, shot Harmon dead.
His body lay in the study of the big house for over a day before it was discovered. A police officer[1], James Hughes heard a local rumour of a shooting in Rathfarnham and with another officer, Lynch, went to investigate. They found Harmon, a 'traveller', which at the time probably signified a travelling salesman, shot twice, once in the head once in the side.
About three yards from where the body was found was a safe with 'a considerable amount of money in it'. Massy handed a over Webley service revolver, containing two spent shells and one misfired cartridge, indicating he had attempted to fire three times but got off two rounds, both of which had hit Harmon.
Mr and Mrs Massy were said to be 'in a distressed state'. The investigation was handed over to the Joe Kinsella of the CID, the armed detective unit of the Irish Free State, mostly composed of former IRA men. Kinsella found a £5 note on the dead man and a skeleton key.
The inquest jury found that the death was caused by a bullet wound 'accidentally inflicted by Lord Massey'.[2]
The Massys and Killakee house
The Massys were, from a number of points of view, in quite a vulnerable situation. For one thing, they lived in an isolated 'Big House' on the edge of the mountains in a lawless time. But for another, as members of the one-time 'Protestant Ascendancy' they could well be taken by Irish republicans as political enemies.
The Massys were a family of Cromwellian origin, their ancestors coming over to Ireland with Cromwell's army in 1649, and after the Cromwellian conquest, they were granted extensive lands in County Limerick. In the nineteenth century they married into the White family (reputed to be the richest in Ireland) and acquired, through marriage, the land and 'Big House' at Killakee in the Dublin Mountains, in the 1820s. John Thomas Massy, the 6th Baron of his line, who held the estate through most of the nineteenth century, led an extravagant lifestyle and by 1915, when he died, leaving the estate to his grandson Hugh, the family was heavily in debt. [3]
The Massys were a family of Cromwellian origin who had inherited the estate at Killakee in the nineteenth century through marriage.
John Thomas Massy, the 6th Baron, had been a firm opponent of Home Rule and the family's status as Anglo-Irish gentry and presumed unionists, meant that they were prime targets for IRA raids for arms and motor transport, both before and during the Civil War. That Hugh Massy, much to his family's displeasure, had married a Catholic made little difference. In 1920, Hermitage House in County Limerick, one of the family's seats, had been burned by the IRA to prevent the British Army using it as a garrison[4].
Now during the Civil War, the likes of Massys had few protectors. Elsewhere in south County Dublin, for instance, the house of Sir Henry Robinson, a prominent Dublin unionist, was raided in August 1922 and after a prolonged gun battle, the IRA men seized the weapons and ammunition at his Foxrock house. His neighbour on Brighton Road in Foxrock, John Jones, was shot dead in his own house the following week during another raid for arms.[5]
As we have seen, the Massys testified that they had already been raided on numerous occasions before July 1922 and their car taken. The night before the break-in, their telephone wires had been cut. And like other men of his class, Lord Massy did have weapons on his property.
As a result, the shooting at Killakee, though it does not seem to have been linked to the political struggle, inevitably had political overtones.
 Collins intervenes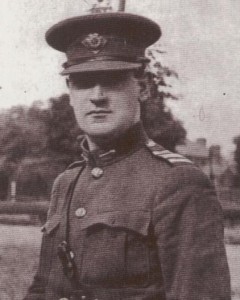 Michael Collins himself, the Commander in Chief of Free State forces and de facto head of the Provisional Government, dealt with the case of Lord Massey, personally, writing on July 21, 1922 to his Director of Intelligence Liam Tobin that he wanted a personal report on Massey, who had been arrested by the CID and charged with murder.
Collins wrote again to Tobin on July 28, reminding him to present a report – both indications of how seriously Collins took the case, despite him administering over a precarious government in the midst of a civil war. [6]
The case was due to go ahead on July 29, but on the 31st of July, Eamon Duggan, the Minister for Home Affairs instructed the Irish Republican Police 'not to proceed any further in this case'.[7]
Why this was so was, on the face of it, something of a puzzle. There were many inconsistencies in Massy's story. According to Massy's version of events, his revolver had gone off accidentally when Harmon had 'lunged' at him and his wife. But Harmon had been shot twice and inspection of his Webley revolver shows that Lord Massy had attempted to shoot him three times. And Massey had, apparently called a priest and doctor, but had not called the authorities at all, but left the body in his study for over a day before it was found by the police. This may well have simply been down to 'shock and distress' on Massy's part as the inquest heard. But the questions remains: why did senior government officials step in to protect him?
British intervention?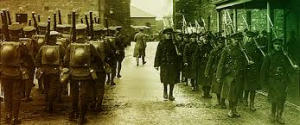 One possible reason was that the remnants of the British administration in Ireland represented by the Under Secretary Alfred Cope and general Neville Macready, who commanded a garrison of 6,000 British troops in Dublin, needed to be placated. The Free State's apparent inability to protect landed gentry and former unionists like Lord Massy from the 'Irregular' IRA looked bad to the Provisional government's main suppliers of arms and money.
Michael Collins intervened to halt the prosecution of Massy, perhaps due to British intervention.
There is no direct evidence for British intervention in the Massy shooting case. But in another similar case, British intervention was overt.
Also in July 1922, two brothers, the sons of Sir William Taylor, another prominent Dublin unionist, were arrested, by 'Oriel House people' (CID) in possession of revolvers. They were former Black and Tans, and were thought to have been involved in several armed robberies in the Dublin area since the 'Tans' were demobilised in early 1922. Alfred Cope, Under-Secretary for Ireland, called Michael Collins personally and asked for them to be allowed to leave the country rather than face prosecution.
Collins duly wrote to Liam Tobin the Director of Intelligence saying that he had guarantees from both the Lord Mayor of Dublin, Laurence O'Neill, and William Taylor that his sons would be put on a boat and would not return to Ireland. The CID were told to let them go.[8]
While it is speculation, it seems likely that similar pressure was exerted to have the case against Lord Massey dropped.
One group of people who did not believe in Massy's innocence, however, were the anti-Treaty IRA. On July 29 1922, it was reported to Free State Intelligence that 'a large body of Irregulars gathered at the ITGWU [Transport workers' union] hall in Rathfarnham village to hold a trial for a local man who shot a robber some time ago'.[9]
However, there does not appear to have been any IRA retribution directed against Lord Massy or his house and estate at Killakee for the shooting of Anthony Harmon. This was despite the fact from December 1922 onwards, in reprisal for the execution of their men, the anti-Treatyites embarked on a nationwide campaign of destruction of the houses of former unionists, 'imperialists' and Free State supporters, in which many Dublin unionists and gentry were targeted.
It turned out that Lord Massy did not need any external help to see the ruin of his house.
The fall of the house of Massy
In 1924, the year after the Civil War had ended, Lord Hugh Hamon Massy was declared bankrupt. It seems the debts left to him by his father and grandfather finally caught up with him. To Hugh was left the ignominy of being evicted by bailiffs from Killakee House.
He declared himself ill and had to be lifted out of bed and deposited, like a pauper, on the road. He and his family took up residence in the gatehouse while their mansion was repossessed by a bank in lieu of their debts.
Debt, not Civil War, eventually destroyed Killakee House.
Unable to find a buyer who wanted the expense of refurbishing the house, the bank sold off the once magnificent, but now derelict, Killakee House in 1941, whereupon it was demolished and sold for scrap. Today nothing remains of the House except the remnants of its own ornate gardens, which are known locally as Massy's Wood. Lord Massy lived in his former gatehouse with his wife until his death in 1958.[10]
Perhaps on cold dark nights they would recall the grim deed done in Killakee House in July 1922.
References
[1] It is not quite clear which police force, in this time of chaos and flux, that these two men belonged to. The Royal Irish Constabulary or RIC had been disbanded in early 1922. They may have been members of the Dublin Metropolitan Police, though the DMP did not usually operate so far outside the city, or they may have been part of the Irish Republican Police, established during the War of Independence but now being phased out, or conceivably they may have been members of the nascent Civic Guard, ancestor of today's Garda Siochana, but in July 1922 there were few Guards deployed, most of them were still in a training camp in County Kildare.
[2] Irish Times, Shooting Affair at Rathfarnham, July 22, 1922.
[3] Frank Tracy, If Those Trees Could Tak, The Massys of Kilakee https://localstudies.wordpress.com/2013/04/24/the-massys-of-killakee/
[4] Tracy, If Those Tree Could Talk, p.62
[5] Irish Times August 26, 1922.
[6] National Army Intelligence, Mulcahy Papers UCD  P7/B/4, initial report 21 July 1922, 28 July,
[7] National Army Intelligence, Mulcahy Papers P7/B/4, Home Affairs Order 31 July 1922
[8] Ibid. 22/ July 1922
[9] Mulcahy Papers P7/B/109 29 July 1922
[10] Frank Tracy, The Masseys of Kilakee https://localstudies.wordpress.com/2013/04/24/the-massys-of-killakee/ See also, Tracy, If Those Trees Could Speak, The Story of an ascendancy family in Ireland, http://source.southdublinlibraries.ie/bitstream/10599/4924/2/If%20Those%20Trees%20Could%20Speak.pdf