History Wars – Interview with John Regan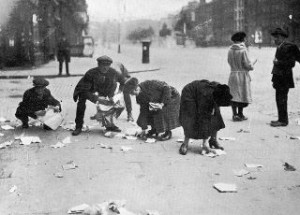 We speak to historian John Regan on how the history of the Irish revolutionary period in 1916-23 has been written in the light of the political climate of late 20th century Ireland. Questions by John Dorney
Civil War
In the 1990s, the consensus in Ireland on the Civil War of 1922-23 was that it was contest between democrats, on the pro-Treaty side and would be dictators on the anti-Treaty or Republican side.
Here Regan argues that this interpretation not only reduces a complex event to a simple, 'good versus bad' scenario, it also involves ignoring the British threat of war should the Treaty not be implemented.
Sectarianism
Similarly, since the 1990s, a highly fraught and contested debate has arisen over whether the violence of Irish republicans in 1916-23 was sectarian. Regan, speaking mainly about the work of Peter Hart, argues that no evidence was presented for this and that evidence to the contrary was ignored.
Conclusions
What ties these two points together is the need of many in Ireland to delegitimize the tradition of Irish republican political violence in order to bring the conflict in Northern Ireland to a close. The question John Regan poses is has compromised the writing of history in Ireland.
Other schools of thought exist on these issues.
For other perspectives see;
Our series on sectarianism in the Irish revolution, parts one, two and three.
The Irish Civil War -A Divisive Memory.
David Fitzpatrick on Terror in Ireland.
Peter Hart and the Dunmanway Killings Controversy, by John Dorney.
About John Regan
John Regan teaches history at the University of Dundee. His major work is, 'The Irish Counter Revolution 1921-1936'. Recently he has published a number of influential articles, including Michael Collins, General Commander in Chief as a Historiographical Problem' and 'The Bandon Valley Massacre as a Historiographical Problem.
Podcast: Play in new window | Download