David Fitzpatrick on "Terror in Ireland"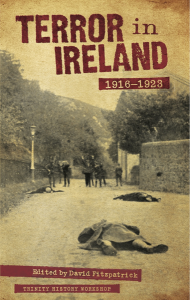 Recently we reviewed the new book 'Terror in Ireland 1916-1923' -a collection of essays on revolutionary and state violence in Ireland in that period for the Near Fm History Show. (you can listen to the whole show here).
Here Cathal Brennan and John Dorney interview the editor of the collection David Fitzpatrick of Trinity College Dublin on the subject of political violence in Ireland.
We discuss among other things,
What is terrorism?
Are states as well as insurgents guilty of it?
Was British state violence in Ireland counter productive?
Did the IRA concentrate on 'soft targets'?
Was sectarianism a factor in political violence?
Podcast: Play in new window | Download