Discussion of the Easter Rising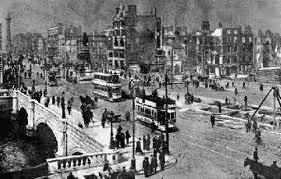 Our final piece of Easter week material for 2012, a radio discussion on the insurrection. 
This is Episode 5 of The History Show on Near 90fm. On this episode, Cathal Brennan is joined by Fearghal McGarry, Róisín Higgins and John Dorney to discuss the 1916 Rising in Dublin.
We discuss;
*Why the Easter Rising has such an enduring hold on people's imaginations?
* What was Ireland like under British rule? What were nationalist responses before the Rising?
* Why did some separatists feel the need for a resort to arms?
* Was the Rising a serious military affair or armed propaganda?
* How has it been remembered and commemorated?
You can listen to the discussion here.