The Story of The Irish War Of Independence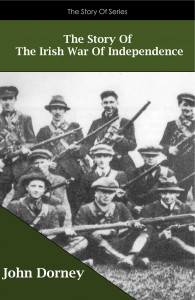 Author: John Dorney
Extent: 64 pages | Formats: KINDLE/APP
ISBN: 9781907694110
Price: $3.99 (Plus VAT + Delivery)/ €2.39
BUY THIS BOOK AS AN APP – AVAILABLE NOW
BUY THIS BOOK IN AMAZON'S KINDLE EBOOK FORMAT – AVAILABLE NOW

---
Description
Following several decades of increased tension and radicalism in Ireland centring on land reform and home rule, Irish desire for independence erupted into full-scale violence in 1916, but following that defeat, the forces pursing independence did not give up.
After the general election of 1918 the Sinn Fein members of parliament created their own government of Ireland and a campaign both political and military began in an effort to liberate Ireland from British rule.
From the bloody Soloheadbeg Ambush in January 1919, the same day the first Dail met, to the passing of the Treaty and the coming into being of the Irish Free State, John Dorney, brings the story of the Irish War of Independence to life in this short but information filled account of the events before, during and after the war.
About The Author
John Dorney is the author of The Story Of The Easter Rising, 1916, The Story of The Irish War Of Independence and The Story Of The Irish Civil War