Podcast: Irish Revolutionary Women with Liz Gillis and Mary McAuliffe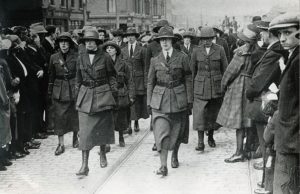 Cathal Brennan and John Dorney speak to Liz Gillis and Dr Mary McAuliffe on the republican women and Cumman nn mBan, the Irish Citizen Army and others. First broadcast on The Irish History Show.
Who were the women of the Irish revolution?
What were their demands?
Were they perpetrators or victims of violence, or both?
Listen to our podcast for answers to these questions and more.