Canon James McFadden – The fighting priest of Gweedore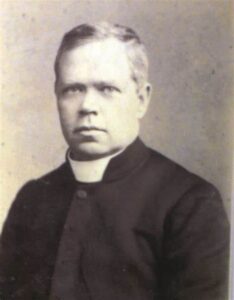 By John Joe McGinley
Canon James McFadden was a man of deep faith  who fought for the rights of his parishioners against unjust landlords also known as the 'fighting priest of Gweedore' he was a key member of the Land league, Educator, Parish Priest and a man who was tried for the murder of RIC inspector William Martin.
The making of a priest and protester
James McFadden was born in December 1842 to hard working farming stock in Dunmore Carricart, in northern Donegal. He had 4 siblings: John, Michael, Margaret and Grace.
His brother Michael would eventually immigrate to America where he became a rather eccentric Fire inspector in Tennessee, famous for his daily patrols on his trusted steed 'Maggie'. No doubt named after his sister, back in Donegal. (1)
Margaret married in Donegal while Grace would emigrate to Australia but later return to become the future Canon McFadden's housekeeper. His brother John also found a vocation and spent his life as Brother Norbert McFadden, a member of the Congregation of the Passion of Jesus Christ.
James McFadden was born in December 1842 to hard working farming stock in Dunmore Carricart, in northern Donegal.
Whilst from a relatively prosperous background, a young James lived through the traumatic years of the famine. The tales he was told growing up of the devastation laid waste in Ireland would have a profound impact on him and instil a burning desire to improve the lives of his fellow Irishmen and women.
He also witnessed the harsh treatment meted out to those that survived the famine by 4 notorious landlords. Lord George Hill, Lord Leitrim, John Olphert and the most notorious and vicious of the quartet, John George Adair, a wealthy land speculator from Co. Laois. John Adair was to incur everlasting infamy throughout Donegal and Ireland by ruthlessly evicting some 244 tenants in the Derryveagh Evictions.
James had a deep faith which would lead to the priesthood, but he also had a strong sense of injustice and distrust of the landlord system so prevalent in Donegal of the late 1800's. It would be this faith and his determination to fight this pernicious system that would guide his life.
James was ordained on the 1st of January 1871 in St Patricks Cathedral, County Armagh by his uncle the most reverend Dr McGettigan who had recently become the primate of all Ireland.  Father McFadden started his pastoral career as the curate of the parish of Upper Templecrone.
Nearly 5 years into his priesthood in late 1875, he would move to the parish where he would make history and have such a major impact, that of Gweedore.
Tragedy in Gweedore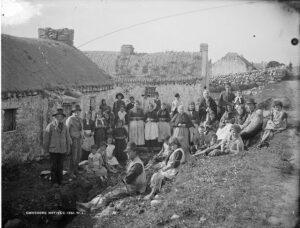 James McFadden found the parish of Gweedore struggling to escape the impact of the famine with many tenant farmers just one bad harvest away from starvation and the choice between the workhouse or immigration.
He energetically went about trying to improve the conditions of his parishioners. He obtained many relief grants and used these to build up the local infrastructure. To ensure as much of the money as possible went to his people, he often acted as unpaid secretary, timekeeper, cashier and even engineer, for many of the relief works.
In August 1880 tragedy struck the parish of Gweedore.
The 15th of August was feast of the Assumption of Mary and the local church of St Mary's in Gweedore was full with many parishioners standing around the chapel. On that fateful day, a freak storm broke out and a deluge was thrown from the heavens as thunder rang out. The church was built in a ravine where mass had been said in secret during the penal laws which outlawed the Catholic rites, and a mountain stream ran under the floor of the church.
In August 1880 tragedy struck the parish of Gweedore. The local church of St Mary's in Gweedore was flooded and a deadly torrent that engulfed the worshipers. Five parishioners died and over 100 were injured.
Soon that stream was overflowing and within minutes of the storm, the water rose up through the floor and the masonry gave way to a deadly torrent that engulfed the worshipers.
The doors became jarred by the rising tide and people began scrambling out of the windows. Water levels inside the church rose to an estimated 12 feet. Father McFadden was aware that fatalities had taken place began to give general absolution to the congregation and then made his own escape jumping from the altar smashing a window and making to safety. Sadly five parishioners died and over 100 were injured.
The youngest who died was 13-year-old altar server Séamus Ó Fearraigh of Stranacorkra, Derrybeg. The others who were drowned were Grace McGarvey, Carrick, Derrybeg, Conal Boyle, Inishmaan Island, and Enrí Ó Gallchobhair and Neil Doherty, both of Magheraclogher, Bunbeg. The Irish Times would describe the flooding as the Gweedore Catastrophe (2)
To fully understand the tragedy, it is necessary to look at the history of Ireland and Gweedore to see why the Chapel of St Marys was built where it was in a remote ravine over a river and susceptible to flooding.
This unsuitable location ensured that the deluge which engulfed the unfortunate parishioners whilst a freak event of nature created more damage than was necessary to both parishioners and the building. This was because of two things, firstly the restrictive penal laws imposed on Irish Catholics and secondly the stubbornness of successive protestant landowners in Gweedore.
Not only did the freak storm damage the Church but the surrounding countryside was devastated, houses rendered uninhabitable, livestock killed, and crops ruined. An appeal was sent to the British parliament for aid.
£100 was sent on the 18th of August as an initial amount with several members of the government contributing.
The original St Mary's closed in the early 1970's with the opening of a new chapel on higher ground close-by. A memorial stands on the grounds of the old chapel in honour of those who perished in the flood. A mass is offered every year for those that died as Gweedore will never forget the great flood of 1880.
The agitator priest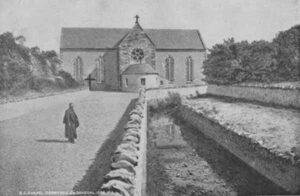 Perhaps aware of his own mortality McFadden now threw himself into a whirlwind of activity to improve the lives of the people of Gweedore.
A great believer in the power of education he began a program of building local schools to ensure even the poorest child had a chance in life. He also set about campaigning against the prevalence of alcohol abuse which he believed held back the native Irish and was having a detrimental impact on his parishioners.
Prior to McFadden's arrival poteen was made throughout Gweedore and as such drunkenness was a scourge, he was determined to stamp it  out. He quickly formed a branch of the Temperance League and set about a campaign of closing down the "shebeen's".
He would visit these, often chasing out any parishioners he found there. He was also not averse to knocking heads together and smashing them with his trademark blackthorn stick. He was short in stature but strong in will and he soon gained the nickname of 'An Sagart Mor': 'The Big Priest'. (3)
McFadden was also a great supporter of the Irish National Land League launched in 1879 by  Michael Davitt and Charles Stewart Parnell.
McFadden was also a great supporter of the Irish National Land League launched in 1879 by  Michael Davitt and Charles Stewart Parnell.
Father McFadden took a leadership role in the League's Gweedore chapter, which challenged the landlord Lord George Hill who died in 1879 and his heir, Captain Arthur Hill, and other local landlords.
McFadden did not believe the existing system of justice favoured his parishioners, so he set up his own system of district courts. He appointed local people of good standing to act as justices and the decisions of the court soon proved popular. These courts were in direct defiance of the local landlord and a tactic copied by other land league activists.
McFadden set up his own courts and urged his flock to boycott the state ones.
So popular that the Petty Session court held at Bunbeg every month would convene and immediately adjourn as it had no business to discuss. Woe betide anyone who would seek a hearing in the British legal system as they would soon find themselves with a boycott placed upon them. (4)
Gweedore was now a hot  bed of anti-landlord activity as Father McFadden encouraged his parishioners to resist the modernisation plans of the local landlord and fought for fairer rents. This unrest was even discussed in parliament when in July 1885 the chief secretary for Ireland Sir William Hart Dyke announced that:
"Owing to the disturbed state of the locality it has been found necessary to send four extra constables to Gweedore". (5)
The situation further deteriorated when in 1887 a detachment of soldiers was despatched to Gweedore and stationed in Bunbeg.
In January 1888, at a Land League meeting organised by Michael Davitt the British arranged to have an Irish speaking Royal Irish Constabulary (RIC) Sergeant Owen Mahon from Bunbeg in Gweedore attend to monitor Canon McFadden. When he announced to the crowd in Irish "I am the law in Gweedore", the authorities were now worried that McFadden was establishing a strong power base in Gweedore. They feared this could encourage other areas of Donegal and Western Ireland to heighten resistance to the landlord system. Encouraged by Captain Arthur Hill they decided it was now time to act and reduce the influence of this powerful priest. (6)
A warrant for the arrest of McFadden was issued on the charge of 'inciting tenants to withhold their rents under the Land League Plan of Campaign'. But McFadden was not in Gweedore but in Armagh where he had gone to celebrate the month's mind Mass of his uncle Archbishop McGettigan.  Undeterred the authorities transferred the warrant to Armagh and expected the local RIC to carry this out.
A warrant for the arrest of McFadden was issued on the charge of 'inciting tenants to withhold their rents under the Land League Plan of Campaign'. He served six months in jail.
One local Constable McBride decided he was not a priest hunter and resigned from the force. However, not all the RIC men were as religious as McBride and Canon McFadden was soon arrested and transferred to Derry Jail.
As he was led up the steps to the jail McFadden shouted to the large crowd "Keep the flag flying". He was accompanied in jail by the MP for South Armagh, Mr Alexander Blane a prominent member of the Land League who had been helping McFadden in Gweedore and who had been arrested with him on the same charge.
Rioting in support of McFadden soon broke out and local Orange Order members began to attack the crowd, aided by a company of Dragoons on horseback.
The authorities fearful of continuing rioting transferred McFadden on the morning of 30th January 1888 to stand trial in Dunfanaghy Donegal.
A large crowd had gathered to see him off, they sang the Fenian anthem God save Ireland and cheered for McFadden and his fellow prisoner Blaine. The authorities, once again fearful of unrest, discharged a cannon shot, hoping the noise would create panic and disperse the crowd. It worked to a certain extent as many left Derry to accompany McFadden and support him at his trial.
When McFadden appeared in court, he was charged on two counts:
Inciting the people to take part in an unlawful conspiracy, to wit, to refuse to pay their rents.
Taking part in a criminal conspiracy, namely, the plan of campaign.
Both offences were as a result of his speech at the Land League event witnessed by Sargent Mahon who was the chief prosecution witness. He gave evidence in court reading out the shorthand notes he had taken as McFadden had spoken.
The second day of the trial had barely begun when a bizarre incident took place. Father Stephens of the nearby townland of Falcarragh a supporter of McFadden was arrested in court charged with coercion.  This was a strong sign from the magistrates that  McFadden faced a hard task to avoid conviction.
Despite an impassioned closing statement from McFadden's lawyer who extolled the good deeds of the past few years and the fact that he was held in such high regard by his parishioners. The magistrates wanted only one verdict, guilty.
Canon McFadden was duly found guilty and sentenced to 3 months in jail.
He decided to appeal his sentence but was unlucky to come across County court Judge Webb who was vehemently anti Land League and a staunch supporter of the landlord system. Not only was the appeal unsuccessful, but Judge Webb also increased the sentence to six months and ruled out any further right of appeal.
McFadden was finally released on the 16th of October 1888 and his journey from Derry to Gweedore was a great celebration. He was feted by great crowds along the way and given a reception in Letterkenny by Bishop of Raphoe Dr O'Donnell.
If the authorities believed that Canon McFadden would stop his agitation against the landlords, they were mistaken. At a meeting in Magheraclogher in Gweedore on the 19th December 1888, he gave another rousing speech imploring his parishioners to resist the landlords and join the Land League.
The police note takers were again in attendance and another arrest warrant was issued against McFadden however this would only lead to bloodshed, tragedy and murder.
The Murder of Inspector William Martin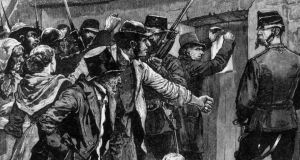 Canon James McFadden had just been released from Derry jail after serving six months for membership of the Land League and inciting his parishioners to withhold their rents, but his fight against what he perceived as harsh landlord practices and the British system in Ireland was not yet over.
When he became the parish priest of Gweedore in 1875, McFadden encouraged farmers not to pay rent, and rallied his parishioners to challenge alleged improvements of local landlord, Lord George Hill. He was also known to hate heavy drinking and was often seen chasing locals out of Shebeen's with his blackthorn stick.
After another rousing speech in December 1888, the authorities decided that they had sufficient evidence to charge Canon McFadden under the Criminal Law and procedures Act 1887.
A summons was issued and served on him on the 15th of January 1889, but he had no intention of attending a court system he did not acknowledge as legitimate or fair.
McFadden was charged again in 1888 with inciting disorder. A riot broke out when the RIC attempted to arrest him after he had celebrated Mass.
When he did not appear, a warrant was issued from the court for his arrest.
On the 28th of January, the RIC went to arrest McFadden, but were denied entry to the parochial house. The following morning, he celebrated mass in St Mary's chapel and returned to his home. A large RIC contingent surrounded his residence, and a standoff was now in play.
That night fires were lit around the parish of Gweedore calling men to defend McFadden. Over 100 assembled, determined to defend their priest. Canon McFadden addressed the crowd from his window, imploring them to go home as he was in no danger. He obviously didn't believe this, as he used the commotion to slip out of his home. He was sheltered by his loyal parishioners as he evaded the RIC over the next few days.
Despite the risk of arrest, he refused to abandon his parishioners and returned to St Marys on Sunday the 3rd of February to celebrate mass.
That morning had seen a gathering of the Royal Irish Constabulary travel to the chapel to intercept Fr McFadden, who was charged with conspiracy under the Criminal Law and Procedure (Ireland) Act, 1887. That legislation granted greater power to police in relation to agrarian crimes and agitation associated with the Land War. The priest's supposed crime was "conspiracy to induce persons not to pay their rents". He had been served a summons to appear at the Petty Sessions on January 28th – which he ignored. (7)
The RIC surrounded the Chapel and after the mass ended RIC District Inspector William Martin and 42 RIC men attempted to arrest McFadden.
Inspector Martin drew his sword, approached McFadden who was still in his vestments and demanded that he surrender himself into his custody.
RIC District Inspector William Martin was hit on the head and subsequently died from his injuries
The congregation was horrified, seeing a sword drawn on their parish priest and a group of men rushed to his aid. Inspector Martin was soon surrounded and heavily beaten.
Six RIC went to Inspector Martin's aid and a battle began; the RIC armed with swords and cudgels and the parishioners with granite rocks. One man pulled a paling post and began to beat Inspector Martin about the head, dealing what would prove to be a mortal blow. All the RIC men present received a heavy beating with four seriously injured.
An armed reserve force of police arrived and prepared to fire on the parishioners. They were only stopped by McFadden's pleas and his promise that he would ensure the crowd would disperse and that the parochial house could be used to tend the wounded RIC men. None of McFadden's parishioners were severely injured or killed.
Inspector Martin was brought into McFadden's study where he died at 2.30pm. A riot had now become a murder and an uproar began as the RIC began arresting those, they felt responsible.
In the confusion, some of the men involved escaped to the surrounding mountains and bogs and managed to avoid the police. Others took flight to Derry and would later sail to America.
The killing sent shock waves all through Ireland. Reporters descended on the area in the aftermath of the death. They were shocked by the remoteness and lack of transport links in Gweedore.
"Bunbeg is at any time a difficult place to reach, it being at the nearest thirty 'long' or Irish miles from civilisation – that is, civilisation as judged by a railway station." (8)
The Trial of Canon McFadden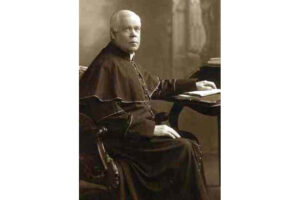 At a hearing in Bunbeg, on Monday February 11th, the charge of conspiracy was formally withdrawn in court, in place of a murder charge against Fr McFadden.
Dr Houston, QC, for the priest, criticised the Crown; first, it had brought a "baseless" charge of conspiracy it knew would fail, then dropped it immediately at the sight of a more serious "invented" charge of murder.
"Oh, what a position!" the lawyer exclaimed in court. "I wonder under what inspiration, Press or otherwise, that charge has been trumped up . . ." (9)
McFadden was returned to Derry Jail in a carriage under heavy escort.
McFadden was charged with murder for the death of RIC District Inspector William Martin
The British authorities knew it would be highly unlikely to secure a conviction against a Roman Catholic priest in Donegal, so they moved the trial to Maryborough (Portlaoise).  Canon McFadden and 35 other men and women were eventually arrested charged with murder and sent to Maryborough Gaol (now Portlaoise Prison).
On the 31st of March McFadden and 19 of his parishioners were returned for trial at the summer assizes and charged with rioting and the murder of Inspector Martin. This surprised many who had not expected McFadden to be included in those charged with the death of Inspector Martin.
The trial created headlines throughout the world and was even debated in parliament. Thomas Sexton MP, who would later be Lord Mayor of Dublin raised the matter in the House of Commons on the 12th of April 1889 saying:
"Father McFadden called out in English and Irish to the people to preserve peace and return to their homes. We have it from Father McFadden himself that in the course of his 10 years administration of the parish he had never before in many crises found the people escape from his control, and the only occasion on which they failed to respond to his appeal was when he was powerless, because the people saw him made the victim of outrage. "I appeal to every Member, no matter what his political opinion, what is the possibility of convicting such a man, who all his life has behaved in the interests of peace and for the welfare of his people, of such a crime?" (10)
The Irish Attorney General Peter O'Brien QC also known as 'Peter the Packer', proceeded to ensure a packed jury of 12 men that had no connection to the Land League, or the supporting efforts were chosen to prosecute Canon McFadden. Eleven of these were Protestant, who O'Brien believed would be more amenable to convicting a priest.
The trial was now news all over the world and yet again McFadden found friends in the unlikeliest of places when another member of parliament, James Stuart MP read out a letter from a Donegal landlord.
He wanted to show the injustice McFadden and the people of Gweedore were fighting against. He read the following into the House of Commons record:
"It is useless, to deal kindly any longer with these tenants. I am going to clear out the two townlands, and it is my land I want now. Remember, they are merely living on my land as long as I let them, and I will not regard cost in carrying out my plans. In doing this I am only following out the Scriptural precept that 'a man may do what he likes with his own.' I am determined on this, and in five or at the most ten years' time there will probably not be a single family left there." (11)
Stuart warned the house:
"Father McFadden has been a rock of defence, and it is an example of the unjust system which the Donegal peasantry have been taught by our administration to identify with the Government of the Queen." (12)
On the 15th of October 1889, 150 men and women from Gweedore walked the 51 kilometres to Letterkenny train station and began the train journey to Dublin. 2 days later the trial began on the 17th of October.
The British authorities were shocked by the worldwide positive reaction to Canon McFadden and wanted a quick resolution and the matter put to rest.
With the first defendant, Jack Gallagher, in the dock, defence Barrister Tim Healey argued that the Gweedore community believed it was a grievous crime to attack a priest in his vestments and were only defending McFadden from attack.
The jury were also shown photographs from James Glass showing the grinding poverty and distress suffered by the people of Gweedore.
After 2 weeks the jury failed to agree on the guilt of Jack Gallagher and with the prospect of a long trial ahead, a compromise was sought to ensure the trial did not collapse.  The defence team met with the Attorney General and a plea bargain was agreed for all of the men and women on trial.
There were 4 conditions mandated by the prosecution:
First, all prisoners would plead guilty.
Second, no prisoner would be sentenced to death.
Thirdly, Canon McFadden would be released immediately.
Finally, 30 years prison sentence would be divided amongst convicted prisoners. The convicted served between 6 months to 10 years with hard labour in Mountjoy jail.
All the accused agreed to these conditions, except Canon McFadden, who wanted to share the fate of his parishioners. He was reluctantly convinced that this was the best deal available and he was set free on a bond of £50.
Those who were still imprisoned in 1892, were released by the new Liberal government.
The exiled Priest
Canon McFadden returned to Gweedore but was soon sent to America to help raise funds for the new cathedral in Letterkenny. When he arrived in the United States in the spring of 1897, he received a rapturous welcome from his fellow Irish men and women who hailed him a hero of the land war campaign.
McFadden pled guilty in return for lenient sentence to his parishioners. However he was sent away from Ireland by the Church.
He spent a total of nearly three years in America over two periods visiting towns and cities all over the US. His fund-raising activities where so successful the building of the Cathedral was now assured.
On his return he was promoted to the parish priest of Inniskeel in Glenties Donegal. In 1901 he left the Parish of Gweedore for his new home.
He spent 17 years working tirelessly for his parishioners but without any further conflict or controversy with the authorities.
Education remained his great passion and in his new parish he was responsible for the construction of three new national schools and the renovation and upgrading of others.
In early 1917 he attended a Home Rule conference in Belfast and shortly after his return he fell ill. He died aged 74 on the 18th April 1917.
Canon McFadden was a complex man with strong views and short on patience with those whom he disagreed with. However, to this day he is viewed as a man who fought for the poor against injustice and who spoke up for the voiceless.
He is remembered by many as a hero who stood against the landlords and the British establishment and deserves the name the 'fighting priest of Gweedore'.
Sources:
1 Canon James McFadden The patriot priest of Gweedore Martin McFadden
2 Irish Times August 1880
3 The Dictionary of Ulster Biography (newulsterbiography.co.uk)
4 Canon James McFadden The patriot priest of Gweedore Martin McFadden
5 HC Deb 27 July 1885 vol 300 cc47-8
6 www.irishcentral.com/roots/history/canon-james-mcfadden-fighting-priest-gweedore
7 Irish Times August 2019
8 Irish Times February 16th, 1888
9 Canon James McFadden The patriot priest of Gweedore Martin McFadden
10 HC Deb 12 April 1889 vol 335 cc374-422
11 HC Deb 12 April 1889 vol 335 cc374-422
12 HC Deb 12 April 1889 vol 335 cc374-422