Podcast: Bram Stoker and the Cholera Epidemic of 1832
Dr Marian McGarry and Dr Fiona Gallagher speak to Cathal Brennan and John Dorney about how the great cholera epidemic of 1832 inspired the author of Dracula, Bram Stoker.
Eerily reminiscent of today's coronavirus pandemic, in 1832, Ireland was gripped by an outbreak of cholera, imported from the far east, which ripped through the country and killed tens of thousands of people – at least 50,000. It had a terrifying death rate of some 70% of patients.
Sligo, a town of some 15,000 people, was disproportionately hard hit. At least 700 people died there and this was after most of the town's population had already fled to the countryside. (See also Epidemics in Ireland, a Short History).
One of those who survived the pestilence was a 14 year old girl, Charlotte Blake Thornley mother of future novelist Bram Stoker, author of Dracula. Charlotte later wrote a striking account of the experience of the cholera epidemic, in 1873. Among the terrible sights witnessed in the town were people dying while bleeding from the mouth, some people being buried before they were dead and apparently 'rising from the dead'; all elements of Charlotte's son's famous novel.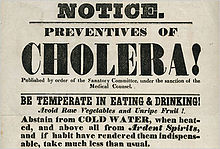 In those days before the germ theory of infection was understood, it was thought that disease was spread by 'foul odours' and that its arrival in Sligo was presaged by an unseasonable storm. This again parallels Bram Stoker's description of Dracula's arrival in an English coastal town in his novel.
Naturally, people turned to religion and to doctors to try to fight the cholera epidemic of 1832, as also do the characters of Stoker's Dracula.
We discuss the cholera epidemic of 1832 in context and its impact on the work of one of nineteenth century Ireland's most famous writers. This  podcast was first broadcast on the Irish History Show. See also this page on Bram Stoker and Sligo.