Podcast: Belfast violence 1920-1922 with Kieran Glennon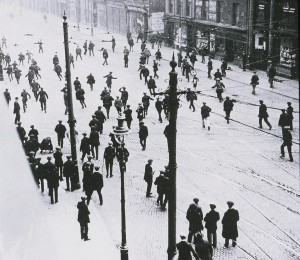 Cathal Brennan and John Dorney here talk to Kieran Glennon, author of From Pogrom to Civil War, on the 'Belfast Pogrom' of 1920-1922.
We place the eruption of violence in Belfast in the context of the Irish War of Independence and of the long history of sectarian rioting in that city.
There were disturbances in 1912-13 but large scale violence began in July 1920 with the mass expulsions of Catholics and left wing Protestants from their job in the Belfast shipyards by loyalists militants.
Further deadly rioting followed in August of that year, with dozens of fatalities. Over the following two years about 500 people lost their lives in that city.
We discuss the role of state forces in particular the Ulster Special Constabulary and loyalist paramilitaries such as the Ulster Protestant Association.
The Truce of July 11 1921 coincided with some of the worst violence in the city, including Belfast's Bloody Sunday of July 10, 1921.
We also talk about Michael Collins and the abortive IRA Northern offensive of May 1922.
Finally, Kieran talks about how the violence of the 1920s fed into the later Troubles that broke out in the late 1960s.