The Dalkey column – An Irish Civil War Story
South east Dublin has, since the railways of the 19th century made it into the city's first outer suburb, always been associated with an upper class and unionist character.
Even today it still has its statues of Queen Victoria and other relics of British rule.
It is certainly far from where Irish Republican legends are usually built. And yet, in the Irish Civil War of 1922-1923, the area from Dun Laoghaire to Bray saw many of the most vicious episodes of the war in the Dublin area. Two anti-Treaty IRA columns were active in the area and both were ultimately destroyed by Free State forces.
This part of County Dublin had, during the War of Independence, been designated as the responsibility of the Sixth Battalion of the IRA Dublin Brigade. When the guerrilla army expanded greatly during the period of Truce with the British, it was split off to form a Second Dublin Brigade, that included all of south Dublin as well as parts of Counties Wicklow and Kildare.
South east Dublin saw two active anti-Treaty IRA columns during the Civil War.
When the IRA split over the Anglo-Irish Treaty, virtually the whole of the Second Brigade, in south County Dublin, was against the settlement. [1]
There were a number of shootings in the Dun Laoghaire (or Kingstown as many residents still preferred to call it) before pro and anti-Treaty factions finally came to blows. A British soldier, Private Taylor was shot in the port town on 12 April, in one of a series of clandestine attacks by anti-Treatyites on the remaining British Army garrison in Dublin.[2]
After fighting did break out on June 28, 1922, local anti-Treatyites in Dun Laoghaire attacked the National Army or Free State post. In the ensuing gun battle, on June 29 a civilian John McCormack, a labourer, who was shot in the chest and killed.[3]
There followed a period of relative calm, but in August 1922, with guerrilla warfare flaring up around the country, the anti-Treaty IRA Second Dublin Brigade got a small flying column up and running in south east Dublin.
A false start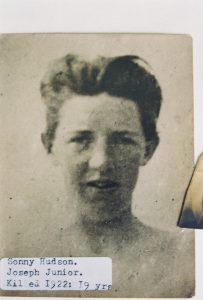 On 10 August, one of its members, an 18-year-old IRA man named Joe 'Sonny' Hudson was shot dead in a raid on his home at Glasthule, County Dublin. Hudson was shot in the stomach, allegedly with his hands in the air. Though an automatic pistol was found with him, it had ammunition of the wrong calibre, meaning that he could not have fired it.[4]
For several weeks, though a Second Brigade column led by Leo Murray and Rodney Murphy in the South County wrought havoc in the coastal region around Dún Laoghaire.
They raided the house of prominent Free State supporter Henry August Robinson; burnt down Errigal House mansion, lest it be occupied by the new Civic Guard police force, destroyed bridges and sniped at National Army posts.
They were nearly cornered the week before their deaths, at Rodney Murphy's house, but got away, in the process shooting three CID detectives, one fatally. [5]
The following week though, in early September 1922, the unit was decapitated when Rodney Murphy and Leo Murray were killed and two others captured in a National Army raid on their safe house in Stillorgan. [6]
D'Arcy's column
Another anti-Treaty column however, led by Paddy D'Arcy, was back up and running in the area by late September of 1922. D'Arcy was a veteran of 1916 Easter Rising, where he had served, at the age of just 17, at Jacob's Biscuit Factory under Thomas McDonagh.
Following internment, he lost his job in the British Civil Service in 1918 and served as Quartermaster in the Dalkey company of the IRA Dublin Brigade Sixth Battalion, until he was again interned by the British May 1921.
In the Civil War, he took the anti-Treaty side and was involved in fighting at Blessington and Bray as the anti-Treaty Republicans made their chaotic retreat from the Dublin area in July 1922. Thereafter, Paddy Brennan, the commander of the Second Dublin Brigade made D'Arcy the commanding officer of the Active Service Unit (ASU) or flying column in the Dalkey area.
Three leading members of the IRA Second Dublin Brigade were killed early in the war, but anotehr column based on Dalkey was up ans running by September 1922.
He later claimed, rather vaingloriously, that the column was, 'one of the best and most active columns in Ireland… I have no doubt that if the remainder of the country had shown a fraction of the resistance to the enemy as my column… the Republican Army would have been victorious in the struggle.'  [7]
Certainly D'Arcy's small column, (he thought he might have had thirty men 'at a push' but no more than a dozen were ever involved in operations) was very active. He recalled that they attacked the Free State military post on Killiney Hill over 20 times.
The Dalkey column claimed at least 20 attacks on pro-Treaty troops, including a successful ambush in November 1922.
Most of the these attacks were ineffectual, involving quite a bit of shooting but few casualties on either side. On September 10, 1922, for instance, the National Army post on Killiney Hill was fired on by snipers and in response its garrison opened up with a machine gun, firing 600 rounds into the night air but causing no known casualties.[8] Such attacks became a regular occurrence.
The anti-Treaty column was also involved in a considerable amount of material destruction and armed robbery. On 23 October, 1922, for instance, Killiney Telephone Station was 'smashed up' by D'Arcy's men and the Dun Laoghaire Urban District Council accountant held up and robbed of £350. [9]
In ordinary times such activities could perhaps have been handled by the police, but the IRA made sure that the civil police, as opposed to the military, could not function for most of the Civil War. On 27 October, 1922 the Dalkey column successfully neutralised the local Dublin Metropolitan Police station. While the Garda Siochana the Irish national police force, later made its name as unarmed body, at this point policemen were still armed. The IRA reported holding up the station and seizing three automatic pistols, three service rifles and two small calibre 'rook' rifles from the police. [10]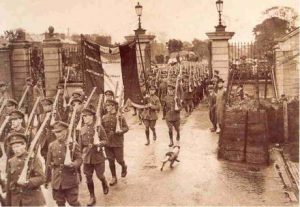 Inevitably the string of small scale attacks eventually began to cause casualties. On 13 November a seven-man National Army foot patrol was ambushed at Ulverton road, Dalkey, County Dublin. D'Arcy led 12 men, armed with rifles revolvers and grenades. When the convoy appeared the anti-Treaty fighters opened fire and threw five grenades, three of which exploded.
The IRA reported that the 'FS troops ran in all directions' when the firing broke out. The Army reported that two men were hit in the initial volley and 'the remainder ran in the direction of the Police station after firing about 7 shots'.
When Free State reinforcements arrived, they scoured the area, but the guerrillas had already gone. Left behind were four casualties. One soldier, Corporal Samuel Webb, a veteran of the Royal Navy, was killed outright and two others badly injured, one of whom Michael Sharkey, was shot through both legs and the other Leo Treston, an informer who, the Army stated, 'had pointed out Irregular arms dumps to us', was shot in the foot.
A civilian named Henry Manning was also killed in the crossfire, shot in the head. [11]
Ten days later, there were three more ancillary casualties of the ambush. One Free State soldier Private Grehan was killed and another two badly injured when their truck crashed in Dalkey, while driving too fast close to the scene of the ambush of November 13. [12] 
Sabotage and spies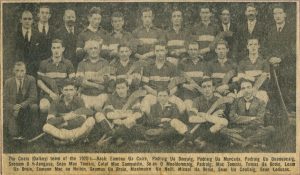 Attacks fell off somewhat thereafter as the Dalkey column mainly engaged in sabotage, such as ripping up the railway line that ran along the coast and cutting down telegraph lines.
IRA Chief of Staff Liam Lynch complained to Second Dublin Brigade in December that 'operations appear to be of a very minor nature and almost entirely confined to destruction of communications.'[13]
There was however another gun attack on 19 January, 1923 a small column, 5 men led by Paddy Brennan and Mick Meaghan, attacked a National Army post at Dalkey Railway station. A gun battle ensued but there were no casualties on either side.[14]
Meanwhile, the Free State began to get the upper hand, not so much by killing anti-Treaty fighters as by locking them up in large numbers – in Dublin alone over 3,500 were interned. Of these, any man captured with arms after October 1922 was liable for execution and a total of 81 men were shot by firing squad, including 18 in Dublin.This led to a great deal of fear and paranoia among the anti-Treaty IRA Second Dublin Brigade. No one knew who was an informer and who might be the source of Free State intelligence.
Suspicion fell on Joseph Murray, the brother of Leo, the Volunteer killed in September 1922. Joseph Murray was arrested, released and then attempted to re-join the anti-Treaty IRA. Liam Lynch ordered Paddy Brennan, the OC of Second Brigade that 'owing to the circumstances of his brother's death, you may not take extreme action [i.e. kill him], but order him out of the area.'[15]
A frightened Cumann na mBan woman, Roisin Ni Flanagan from Blackrock felt compelled to write to the leadership of the women's movement protesting her innocence of the charge of spying: 'A rumour has come forth that I am a spy. I cannot say how far this rumour has circulated but it has now reached me through one of my own girls'. She put the rumour down to 'personally evil motives' of someone in the movement and asked for immediate action to quell the rumours.[16]
The last stand at Albert Road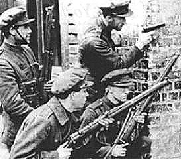 Whatever the source, there is no doubt that the pro-Treaty forces did have excellent information about their 'Irregular' enemies. And in the end this led to the demise of the Dalkey column in March 1923.
On March 23 1923, half the column, five men and two women, were cornered in a house at 68 Albert road Glenageary. According to the Army statement to the press, a cycling patrol from Loughlinstown came upon the house after interrogating a young man named Terence O'Brien. The IRA report says that the raid occurred at 9am, and when the soldiers advanced on the house, the guerrillas came out firing.
Heavy firing broke out, in which one man on either side was killed; Corporal Michal Baker of the National Army and anti-Treaty Volunteer Michael Neary. The Free State troops however, had both numbers and firepower in their favour. When the order to cease fire was given, and the troops entered the bullet pitted house, two more anti-Treatyites, Mick Meaghan and Patrick Thomas as well as Cumman na mBan activist Lilly O'Brien, were lying wounded, the latter shot in the neck.
The Dalkey column was corner and after a shootout, captured in March 1923.
The IRA alleged that the soldiers wanted to summarily execute the wounded fighters but Lilly O'Brien's mother, whose house it was, 'stopped the savage butchery'. According to the IRA report, Meaghan was 'brutally beaten about the head with revolvers and was spitting up blood'. This was an internal report rather than propaganda intended for the public, but we should nevertheless treat it with caution. The remaining fighters were arrested and their weapons; 3 rifles, 4 hand guns and 200 rounds of ammunition were seized. [17]
Paddy D'Arcy himself escaped from the scene, in his own words, 'by providence'. But the Free State authorities made it known that if he and the remaining guerrillas in the Dalkey column did not surrender, their comrades captured at Albert Road would be executed.
D'Arcy himself did not surrender and remained on the run until well into 1924. However he ordered three other young men to surrender with their weapons.
His IRA superiors were informed on 23 March, 'in order to try to save the lives of Meaghan, Neary and Thomas, from execution, Paddy Darcy, OC 1 and 2 Battalions Dublin 2 Brigade IRA surrendered 3 men of G Company with arms'. Paddy D'Arcy reported to his superiors that 'they [the men who surrendered] were unwilling but it was the only way to save these good lives for Ireland'. [18]
This was a grave breach of IRA discipline, punishable by court martial and death in the guerrilla army, but D'Arcy does not seem to have been punished. It was symptomatic of the state of the anti-Treaty forces in the spring of 1923. Everywhere demoralised guerrillas were either being rounded up or surrendering. While some remained defiant even after capture, others signed a form pledging not to take up arms gain against the government.
Paddy D'Arcy, the commander of the column, surrendered men and arms so that those captured would not executed.
It was the effective end of the Civil War in south east Dublin. Liam Lynch's death on April 10, 1923 and Frank Aiken's subsequent 'ceasefire' and 'dump arms' orders only formalised the end of the hostilities that were happening in most areas anyway.
Paddy D'Arcy did not return home until July 1924, when 'Mr Cosgrave said that anyone who had not committed murder could return to their homes'. Like many anti-Treaty Republicans, he found the Free State an unwelcoming place, until he was, after his fellow anti-Treayites in Fianna Fail came to power, reinstated in the Civil Service in the 1930s.[19]
He lived out the rest of his life in Dalkey, where one his column had operated both as hunters and hunted, in 1922-23.
References
[1] Army Inquiry, 1924 J.J. O'Connell testimony Mulcahy Papers UCD P7/C/3.
[2] Irish Times, April 13, 1922
[3] Irish Times, 4 July 1922.
[4] Irish Times, 15 August 1922.
[5] Second Dublin Brigade Ops reports, July–September 1922 National Army captured Documents, Lot 28 ie/ma/cw/capt. The dead CID man was John J. Murray.
[6] Irish Times, 12 September 1922.
[7] Patrick Darcy Military Pension file MSP34REF21161
[8] Mulcahy papers UCD p/7/b/6.
[9] National Army archive Cathal Brugha Barracks CW/OPS/01/02/07 GHQ Misc. reports.
[10] For the National Army report, CW/OPS/01/02/07 (GHQ Misc. reports) and for the IRA report  (Dublin 2 Bde reports to AACS p69/77) All IRA reports from Moss Toumey Papers, UCD.
[11] IRA Dub 2 Bde reports UCD Twomey p69/22, NA report CW/OPS/07/01, also Samuel Webb, pension application, W2D160
[12] NA report (CW/OPS/07/22)
[13] IRA Dub 2 Brigade reports, Twomey Papers UCD P69/22.
[14] IRA Dub 2 Bde reports UCD Twomey p69/22
[15] CS to Brennan, 27/11/1922 Twomey Papers UCD P69/22.
[16] NA Captured Documents Lot 34 Cumann na mBan IE/MA/CW/Capt.
[17] IRA Dub 2 Bde reports UCD Twomey p69/22
[18] Capt Docs IE/MA/Capt/Lot 131
[19] Patrick D'Arcy Pension file