The War of Independence in Kerry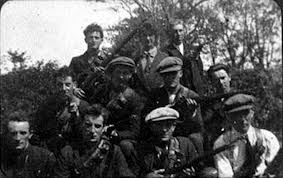 By Thomas Earls Fitzgerald
Curiously, for all its republican heritage a conception has existed for some time of Kerry being inactive in the 1919-1921 Irish War of Independence. Tom Barry would say that all Kerry did was to shoot a decent police inspector and his colleague at the Listowel races.[1]
Perhaps this conception comes from the cautious nature of some I.R.A. leaders in the county, together with an evident lack of unity among other Kerry I.R.A. leaders. Outside of Tralee few in Kerry No.1 Brigade got on with Brigade Commander Paddy Cahill. I.R.A. intelligence officer Tadhg Kennedy recalled that 'Paddy was very difficult to get on with' unless you became close to him.[2]
The IRA in County Kerry was dogged by personal disputes.
But having a prickly or difficult disposition was not the sole reserve of Paddy Cahill.  In the Civil war the Kerry No.1 Commander Humphrey Murphy did not get on with the Kerry No.2 Brigade Commander John Joe Rice,[3] John Joe Rice, O/C Kerry No.2, also recalled that disputes and disagreements were not the sole reserve of the leadership but occurred at lower levels within the I.R.A.'s structure in the County. He remembered that he had to spend 'all my time tramping from one company to another fixing disputes and squabbles'.[4]
Andy Cooney, a representative from IRA G.H.Q assigned to Kerry wrote a report from 23rd June 1921 on the state of the Kerry No.1 Brigade, he commented that 'no systematic training' took place, less than 10% of Volunteers knew how to use a rifle, no efforts were made to developing engineering or first aid, the intelligence service was  poor and communications between battalions was poor.[5]
Policing Kerry
In 1920 the I.R.A.'s main concern was in relation to policing. In 1919-20 as the R.I.C.'s power diminished and they abandoned more isolated barracks much of the country was left without a regular police force – in reaction to this much of Kerry experienced an increase in crime. In response the I.R.A. main activities related to policing – agrarian crime, the returning stolen goods and patrolling towns at night were the primary concerns of the Kerry I.R.A. in the spring and summer of 1920 together with implanting the decrees from the Dáil courts.
However, there were other less laudable dimensions to republican policing at this time in Kerry such as forcibly preventing emigration and restricting the movements of the Irish Travelling Community.
In the first half of 1920 the conflict was of a relatively low key nature in the county – military operations displayed a lack of bitterness.  In one memorable incident on 19th August, a military party traveling between Tralee and Dingle, was ambushed just outside of Annascaul. Four troops received light wounds but the military party surrendered shortly after the shooting began. The nine other troops who had surrendered were given their tea in a nearby farmer's house. They were then taken to Dingle where they were let go.[6]
In 1920 Kerry saw the development of guerrilla tactics, but also the consistent suppression of perceived civilian opponents. In fact, in 1920 the I.R.A., in Kerry, were more likely to attack  perceived civilian opponents than their armed opponents – usually business people or farmers who continued to trade with the Crown forces who would receive threatening letters or be named in public notices and occasionally beaten. In Kerry a number of young women had their hair cut off for being 'friendly' with members of the Crown forces. This occurred more frequently in Kerry than any other county.
Any men suspected of wanting to join the R.I.C. or British army were targeted together with the relative of members of the Crown forces and former members of the Crown forces. For instance, on 13th July Andrew Quirke, an ex-soldier, was lured to Moyderwell Cross  in Tralee, where he was dragged by a number of men to Barrack Lane and told 'You want to join the Police, but you won't join them now'. Quirke was badly beaten and left unconscious.[7]
The arrival of the Black and Tans and reprisal warfare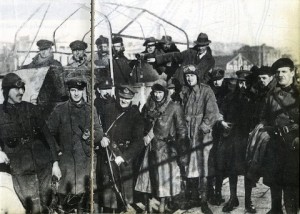 The dynamics of the conflict were to change with the arrival of the Black and Tans in the county in July 1920. On arrival they began to engage in wholesale intimidation and violence against civilians without any provocation.
For instance, on 22nd September, the Cork Examiner was reporting that the people of Tralee, 'are being nightly subjected to ill-treatment at the hands of the English police stationed here. Their victims included those coming out of late Mass, and workers doing overtime.
The Black and Tans and Auxiliaries engaged in wholesale intimidation and violence against civilians without any provocation.
The next night the same process was repeated. 'A volley of shots rang out from some motor lorries passing through the crowded streets at nine o'clock. The people fled in terror shortly after a batch of these English police came out of the barracks'.. There was no apparent provocation for any of these incidents. The Cork Examiner noted that 'Tralee has been singularly immune from any trouble recently and there is not the slightest pretext or justification for the provocative tactics of these police'. Dingle, Listowel, Cahirciveen and Kilorglin also fell victim to these unprovoked attacks.
In early November after the I.R.A.  co-ordinated series of attacks on the R.I.C.,   in response a series of reprisals began across Kerry, but perhaps most notably in Tralee in what was dubbed 'the siege of Tralee'.
These first large scale reprisals, were in response to concerted I.R.A. actions. However, the reprisals were more aggressive, long drawn out and indiscriminate than the actions to which they were responding. Certainly the November reprisals can be regarded as a type of over-reaction. David Fitzpatrick has correctly written that 'the reprisal(s) (were) always more vicious than the incident provoking it'. [8]
The Cork Examiner described the scene 'hellish cries (by the Crown forces), ( who) kept up a fusillade of fire throughout the night'.[9] That evening John Conway, was shot on Upper Rock.  Conway was a 57 year old painter, with six children, was shot while returning from mass.[10] The County hall was burned together with the shop of Mr Thomas Clifford. Business was suspended in the town for a week.
On 3rd November there were a number of burnings. The Cork Examiner reported 'passing through the lane ways this morning, people – men, women and children- were fleeing taking with them mattresses, bed steads and everything they could conveniently remove to make shelter for themselves for the night'. [11] Many of the people whose property was burned were described as having connections to Sinn Féin, but it does not appear that any victims were senior members of the local I.R.A.
The Cork Examiner reported that on the Saturday Black and Tans were posted outside of bakeries 'and at bayonet point sent famishing women and children from their doors'. One Black and Tan was heard to remark "You wanted us to starve, but we will starve you.' Merchants in the town made two deputations to the Military who maintained that they were powerless to intervene with the civil authorities.[12]
This would suggest the British military in the town were not particularly exercised about the reprisal. They were involved in putting out fires on 3rd November, but curiously the worst reprisals only occurred after the military patrols had withdrawn and they made no attempts to stop the Police leaving their barracks. If not actively involved the military were certainly willing to turn a blind eye.
There were also smaller and less long drawn out reprisals reported in Abbeydorney, Ballyduff, Kilorglin  and Dingle.
The next large scale reprisal was in February.  On Tuesday 22nd after the shootings in Ballybunion and Ballylongford, major reprisals took place in both towns. On 5th March The Manchester Guardian reported that exactly seventeen properties had burned in Ballylongford.
The paper named the following properties; John Collins' licensed grocery stores and creamery, M Collins' public house, E. Sullivan's hardware store, M. Bambury's drapery store, S. Barrett's grocery store, J. Mccabe's bakery, and the private houses of Edward Brandon, (ex-policeman) John Farrell and a Mr Heaphy, John Moran, Mrs Kennelly's house together with 'several labourer's houses' that were also burned.[13]
Curiously, none of the victims, of the north Kerry reprisals of early 1921, are described, in the available documentation, as having any connection with Sinn Féin or the I.R.A. , it seems to have affected all strands of people. Essentially anyone could be caught up in Crown forces' reprisals.
Flying columns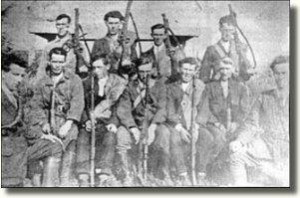 If it was calculated to terrorise the population away from supporting the republicans and to cow the guerrillas, in many respects the reprisal policy had the opposite of the desired effect. I.R.A. men  fearing for their lives and property left their homes and went into the hills to become full time guerrillas.
Indeed, it was only after the large scale reprisals in November that professional I.R.A. flying Columns formed. It can be argued that the reprisals acted as a major incentive and made the Kerry I.R.A. being more willing to kill.
On 21st March Headford junction in south Kerry, came the largest military confrontation of the entire conflict, not only in County Kerry but quite possibly in the entire country. At 3.50 in the afternoon thirty 1st Royal Fusiliers coming from Kenmare, were about to disembark at Headford, to continue their journey on to Killarney in a train expected from Mallow.
The IRA columns in Kerry mounted number of successful large scale ambushes of Crown forces in 1921.
The Kerry No.2 Column under Dan Allman and Thomas McEllistrum had taken up ambush positions in the station and opened fire. Eight regular British troops were killed, and eleven wounded. Two I.R.A. men Allman and Jim Bailey and two civilians were killed in the crossfire. John Breen, a cattle dealer from Killarney, was found dead in the station's waiting room, Patrick O'Donoghue, also a cattle dealer from Killarney, was shot in the train and died of his wounds. Another man Timothy McCarthy, a merchant from Loo Bridge, was shot in the foot.
His three year old daughter was also wounded.[14] The early arrival of a second train from Mallow, with another party of military, caused the I.R.A. flying column to withdraw in good order. Andy Cooney that ' I had considerable difficulty in convincing the Chief of Staff ( Richard Mulcahy) that it was this (South Kerry) flying column and not a Cork one' which had carried out the ambush.[15]
In early June the Kerry No.1 Column had its most noticeable success, just outside of Castlemaine. On 1st June 1921 an R.I.C. cycle patrol from Kilorglin was ambushed at Glanmere, near Castlemaine. District Inspector McGaughey, Sergeant Collery and Constables Quirke and Cooney were shot dead. Three other constables were wounded. [16] The fighting lasted about half an hour. Four other R.I.C. constables managed 'by running' to get back to Kilorglin. The I.R.A party succeeded in capturing all their opponents' bicycles as well as the arms and ammunition from the dead and wounded.[17]
The Kerry No.2's next major operation was in Rathmore in east Kerry. The planning and execution of this ambush remain disputed as both Cooney and the captain of the Rathmore Volunteers Manus Moynihan claimed credit for it.
The results are not disputed though. On 4th May nine R.I.C. men were effectively lured to the Bog Road, just outside of Rathmore, where an I.R.A. party led by Humphry Murphy, Andy Cooney, Manus Moynihan and Séan Moylan and the north Cork Flying Column ambushed them. Five were killed and three others died of their wounds. The I.R.A. party succeeded in taking all their arms and ammunition. [18]
An ambush at Rathmore in May 1921 killed eight RIC officers.
The R.I.C. described the ambush as 'a particularly brutal crime' as the body of a murdered 'informer' had been used as 'bait 'to get the R.I.C. to visit the scene. Only one constable managed to escape.[19] The Bog Road ambush was  the most successful ambush in the 1919-21 conflict in Kerry.
The use of the informer (which will be discussed below), however, seems to have muddied the waters as the ambush is not included in the, otherwise comprehensive, Kerry's fighting story 1916-1921. The exclusion frustrated Cooney who, rightfully, described it as 'in many ways quite the most successful (ambush) in the County during this particular period'.[20]
In contrast the British Army 6th Divisional records report felt the ambush was 'the lowest point of treacherous savagery to which the rebels ever descended'.[21]
The police noted 'a particular brutal crime was committed near Rathmore on the 3rd/4th May a harmless ballad singer over 70 years of age was murdered to bait a trap for the police'.[22] On the 6th May the Cork Examiner reported that the man was named Michael O'Sullivan who was a street singer and an ex-soldier.[23]
Informers
The actual intimidation of civilians by the I.R.A. that was very commonplace in 1920 was not as common in 1921, but by 1921 the I.R.A. were more willing to use lethal action against civilians they believed were opposing them or speaking to Crown forces.
Nine civilians were killed by the I.R.A. in Kerry.  In Tralee the I.R.A had a tight intelligence system and of the three informers killed in the town, most I.R.A. men remembered the circumstances and reasoning behind each killing in a similar fashion. For the more rural units there was a less developed an intelligence system and a whole series of conflicting narratives emerge in regard to the circumstances around these killings.
Nine civilians were killed by the I.R.A. in Kerry as informers.
Manus Moynihan, who was captain of the Rathmore Company of the I.R.A., told the Bureau of Military History that a Fred Crowley, whose brother Eddie was in the I.R.A., had recently been arrested by the Black and Tans in Killarney. 'On being released he told us that he saw an old man coming in and out to the Tans. He had recognised him as Thomas O'Sullivan, a travelling man. Thomas O'Sullivan was known as 'old Tom'. I don't know where old Tom came from.'
According to Moynihan O'Sullivan was picked up by the I.R.A. just across from Rathmore, in north Cork, and at the same time two British army deserters were picked up near Rathmore. 'They ( the deserters)  were brought to the place where old Tom was being held. Old Tom was questioned but he would give no information. But the two deserters when brought face to face with old Tom identified him as a man who was brought in and out to the Tans'.
Moynihan then arranged for a trial of Old Tom, two weeks later, that was presided over by Humphry Murphy O/C Kerry No.2, Dennis Reen O/C Rathmore Battalion and Jerome O'Riordan O/C Kerry No.3
After hearing evidence of Eddie Crowley and the two deserters the court found Old Tom guilty and he was sentenced to be shot. The prisoner was left in my custody and I was given discretion as to where and when he was to be shot. After thinking things over I decided that when I executed Old Tom I would use his body as bait in an attempt to draw some of the police out of Rathmore barracks… On the night of 3rd May 1921 I sent one of my men…to the presbytery in Rathmore for a priest to give Old Tom spiritual consolation.
The next day Old Tom's body was laid out on display, labelled a spy, on the Bog Road outside Rathmore. According to Moynihan the two deserters were eventually sent on to the Barraduff Company, where they were executed. Moynihan did not know why they were executed.[24] Denis Prendville, who was in Thomas McEllistirm's Column that was then operating in the Kerry No.2 area also said that the idea to use O'Sullivan's body as bait was Moynihan's idea.[25]
Curiously I.R.A. organiser in the County Andy Cooney recalled a different series of events leading to O'Sullivan's execution. Cooney, told Ernie O'Malley, that when he and Humphry Murphy were passing though the Rathmore area, after a meeting of the 1st Southern Division, the local I.R.A informed them that they had three prisoners; two British Army deserters and a tramp.
The deserters said
They could give information about a spy in Killarney who used to come to bottom of the garden in the International Hotel.
'How could we believe that' we asked 'or how could they prove it'?
We'll recognise this man anywhere by his voice' they said 'and he's a tramp'.
Cooney then related how the two British deserters were brought into a room and kept under a blanket. Then he and Murphy questioned three men not including O'Sullvian. The deserters said none of the three was the man in question. Then when Cooney and Murphy interviewed O'Sullivan they said he was the man they were looking for.
Cooney said O'Sullivan was 'a local tramp…he was tried and sentenced to death'. Cooney then said he came up with the idea to use O'Sullivan's body as bait. Cooney apparently shared the idea with Murphy and the two, together with Denis Reen, planned the Rathmore ambush.[26]
Curiously Cooney is not mentioned in Moynihan's account, and Moynihan is not mentioned in Cooney's account.  John Jones, from the north Cork Flying Column, in a different story again, said the Rathmore ambush was planned by the O/C of the Rathmore Battalion – not the company captian –  and nine men from the north Cork Flying Column.[27]
Regardless of who was responsible for the idea, O'Sullivan also becomes a bystander and of whether he was an informer or not the use of his body as 'bait' reveals that the I.R.A. were capable of a startling ruthlessness.
For instance, on 14th June 1921 the R.I.C. reported that the dead body of James Keane, a fishery inspector, was found near Listowel, with a label attached to him declaring he was a 'convicted spy'.[28]
North Kerry I.R.A. officer and Flying Column member Denis Quille would later tell Ernie O'Malley that when General Cummins was killed in the Clonbanin ambush in March 1921, a document was found on him signed by Keane giving the names of those involved in the shooting of D.I Tobias O'Sullivan, in Listowel, in January.[29] Thomas Pelican, of Listowel, also maintained the story about a document being captured at Clonbanin.[30]
The Clonbanin ambush 5th March, on the Killarney – Mallow road, was a joint venture of Sean Moylan's Flying Column and the Kerry No.2 Column. The I.R.A attacked two Lorries containing regular British Army troops, the fight lasted well over an hour and resulted in the death of General Cummins.
However, the I.R.A. unable to deal with the fire power of a machine gun in one of the Lorries had to withdraw. In all the testimony by those involved in the ambush, no one recalled taking a document from Cummins.[31] Indeed, how could a document have been taken when the British retained the field and got nowhere near his body?
By the time of the Truce, on July 11, 1921, according to Eunan O'Halpin's figures in Terror in Ireland (2012), 136 people had lost their lives in County Kerry to political violence. Initially, the Kerry I.R.A. was defined by poor organisation, too cautious a leadership and divided loyalties. However, all of this was to change as Kerry I.R.A. units became the most aggressive, in the whole country, during the Civil war.
By 1923 the 1st Southern Division considered Kerry No.2 to be 'the best brigade in the division'.[32] Liam Lynch, civil war chief of staff, reflected that 'Kerry has given a lead to the division, and indeed the whole of Ireland'.[33]
Thomas Earls Fitzgerald is PhD candidate at Trinity College Dublin and is a recipient of a grant from the Irish Research Grant Council.
References
[1] Michael Hopkinson, 'Barry, Thomas Bernadine', Dictionary of Irish biography, James Maguire and James Quinn (eds), (Cambridge, 2009).
[2] Tadhg Kennedy, B.M.H., W.S., 1413.
[3] Kerry Command, General Weekly report, 1st May 1923, MA/CW/OPS/08/08.
[4] Charles Townshend, The Republic. The fight for Irish independence 1918-1923 (London, 2013), p. 295.
[5] Developing officers' report on Kerry No.1 Brigade, 23rd June 1921, P7/A/20.
[6] Cork Examiner, 20th August 1920.
[7] The Kerryman, 2nd October 1920.
[8] David Fitzpatrick, 'Ireland since 1870' in R.F. Foster (ed) The Oxford illustrated history of Ireland (Oxford, 1989), p.250.
[9] Cork Examiner, 2nd November 1920.
[10] Ibid, 3rd November 1920.
[11] Cork Examiner, 5th November 1920.
[12] Ibid, 8th November 1920.
[13] The Manchester Guardian, 5th March 1921 and Ibid, 14th April 1921.
[14] The Kerryman, 26th March 1921. See also Tim Horgan, Dying for the cause, Kerry's republican dead (Cork, 2015) , pp. 237-239, 281-283
[15] Michael MacEvilly, A splendid resistance. The life of IRA Chief of Staff Dr. Andy Cooney (Dublin, 2011), p.42.
[16] Weekly Summary, Week ended 29th May – 5th June 1921, CO 904/150
[17] Cork Examiner, 3rd June 1921.
[18]  Ibid, p.44.
[19] I.G., M.R., May 1921, CO 904/115.
[20] MacEvilly, A splendid resistance, p.45.
[21]The Irish rebellion in the 6th Divisional area after the 1916 Rebellion to December 1921 compiled by the General Staff of the Division, p. 104,  Strickland papers, Box P.363, Imperial War Museum.
[22]I.G., M.R., May 1921, CO 904/115.
[23] Cork Examiner, 6th May 1921.
[24] Manus Moynihan, B.M.H., W.S., 1066.
[25] Denis Prendville, B.M.H., W.S., 1106.
[26] O'Malley, The men will talk to me. The Kerry interviews, pp. 173-174
[27] John Jones, B.M.H., W.S., 759.
[28] I.G., M.R., June 1921, CO 904/115.
[29] Ernie O'Malley, The men will talk to me. The Kerry interviews, Cormac O'Malley and Tim Horgan (eds), (Cork, 2012), p.44.
[30] Thomas Pelican, B.M.H., W.S., 1109.
[31] Thomas McEllistrim, B.M.H., W.S, 828, Sean Moylan, B.M.H., W.S., 838, Denis Prendville, B.M.H., W.S., 1066, Thomas Culhane, B.M.H. W.S., 838, Daniel Coakley, B.M.H., W.S.,1406, Cornelius Meany, B.M.H., W.S., 787.
[32] O/C 1st Southern Division to C/S, N/D 1923, P69/25.
[33] C.S. to O/C 1st Southern Division, 17th September 1922, P69/25.