The Pearse Street Ambush, Dublin, March 14, 1921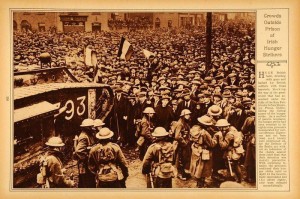 An episode of the Irish War of Independence. Thirteen people die in Dublin. By John Dorney
Dublin awoke on the morning to March 14th, 1921, to the news that six IRA Volunteers, captured in an ambush at Drumcondra two months before, had been hanged.
The gates of Mountjoy Gaol were opened at 8:25 am and news of the executions was read out to the distraught relatives of the dead. As many as 40,000 people had gathered outside and many mournfully said the rosary for the executed men.[1]
On the morning of March 14, 1921 six IRA Volunteers were hanged in Mountjoy Gaol.
The Labour movement called a half-day general strike in the city in protest at the hangings. The clandestine Republican government declared a day of national mourning. All public transport came to a halt and republican activists made sure the strike was observed. IRA officer Frank Henderson recalled;
I assisted Patrick Sweeney, Vice Commandant of the 2nd Battalion, and other members of the Battalion in parading the Battalion area during the hours of public mourning to ensure that shops were closed. With the exception of one or two public houses which had to be cleared, the order to cease work was loyally obeyed by the citizens.[2]
By the evening, the streets cleared rapidly as the British-imposed curfew came into effect at 9pm each night. The city must have been a fearful place, patrolled by regular British troops and the much-feared paramilitary police, or Auxiliaries, as people scurried home and awaited IRA retaliation for the hangings.  This was not long in coming.
Pearse Street, or Great Brunswick Street as it then was, nestles just south of the river Liffey, running from Ringsend, an old fishing port, to the city centre. Number 144 housed the company headquarters of the Dublin Brigade IRA's 3rd Battalion at St Andrews Catholic Hall. It had been used for this purpose since before insurrection of 1916.[3]
On the evening of March 14, their captain Peadar O'Meara sent them out to attack police or military targets. As many as 34 IRA men prowled the area, armed with the standard urban guerrilla arms of easily-hidden handguns and grenades. One young Volunteer, Sean Dolan threw a grenade at a police station on nearby Merrion Square, which bounced back before it could explode, blowing off his own leg.[4]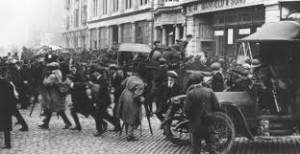 It was about 8 o'clock. The curfew was approaching. A company of Auxiliaries, based in Dublin Castle was sent to the area to investigate the explosion. It consisted of one Rolls Royce armoured car and two tenders (trucks) holding about 16 men.[5] Apparently the Auxiliaries had some inside information as they made straight for the local IRA headquarters at 144 Pearse Street. One later testified in court that – "I had been notified there were a certain number of gunmen there".[6]
But the IRA were also waiting. As soon as the Auxiliaries approached the building, fire was opened on them from three sides.
The ambush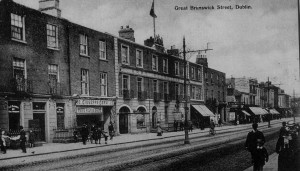 What the newspapers described as 'hail of fire' tore into the Auxiliaries' vehicles.  Five of the eight Auxiliaries in the first tender were hit in the opening fusillade. Two of them were fatally injured, including the driver (an Irishman named O'Farrell) and an Auxiliary named L. Beard.[7]
But the IRA fighters were seriously outgunned. The Rolls Royce armoured car was impervious to small arms fire (except its tyres, which were shot out) but mounted a Vickers heavy machine gun, which sprayed the surrounding houses with bullets. The unwounded Auxiliaries also clambered out of their tenders and returned fire at the gun flashes from street corners and rooftops.
A company of Auxiliaries was sent to Pearse Street to raid a suspected IRA meeting house but ran into an ambush.
Civilian passersby flung themselves to the ground to avoid the bullets but four were hit, by which side it was impossible to tell. The British military court of inquiry into the incident found that the civilians had been killed by persons unknown, if by the IRA then they were 'murdered', if hit by Auxiliaries the shootings were 'accidental'; which, aside from demonstrating the court's bias, shows us that no one was sure who had killed them.[8]
Firing lasted for just five minutes but in that time seven people (including the two Auxiliaries) were killed or fatally wounded and at least six more wounded. A young man, Bernard O'Hanlon aged just 18, originally from Dundalk, lay sprawled, dead, outside number 145, his 'bull-dog' revolver under him which had five chambers, two of which contained expended rounds and three live rounds – indicating he had got off just two shots before being cut down.[9]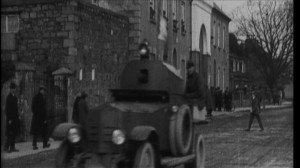 Another IRA Volunteer, Leo Fitzgerald was also killed outright. Two more guerrillas were wounded, one in the hip and one in the back. They, along with Sean Dolan who had been wounded by his own grenade were spirited away by sympathetic fire brigade members and members of Cumann na mBan and treated in nearby Mercer's hospital.[10]
Three civilians lay dead on the street. One, Thomas Asquith was a 68 year old caretaker, another,  David Kelly was a prominent Sinn Fein member and head of the Sinn Fein bank. His brother, Thomas Kelly was a veteran Sinn Fein politician and since 1918 a Member of Parliament. The third, Stephen Clarke, aged 22, was an ex-soldier and may have been the one who had tipped off the Auxiliaries about the whereabouts of the IRA meeting house. An internal IRA report noted that he was 'under observation… as he was a tout [informer] for the enemy'.[11]
In five minutes of intense gunfire, seven people were mortally wounded; two IRA Volunteers, two Auxiliaries and three civilians.
Two IRA men were captured as they fled the scene, one, Thomas Traynor a 40 year old veteran of the Easter Rising, was carrying an automatic pistol, but claimed to have had no part in the ambush itself. He had, he maintained, simply been asked to bring in the weapon to 144 Great Brunswick Street. The other was Joseph Donnelly a youth of just 17. [12]
As most of the IRA fighters got away through houses, over walls and into backstreets, the Auxiliaries ransacked St Andrew's Catholic Hall at number 144, but found little of value. Regular British Army troops quickly arrived from nearby Beggars Bush barracks and cordoned off the area, but no further arrests were made. Desultory sniping carried on in the city for several hours into the night.
Epilogue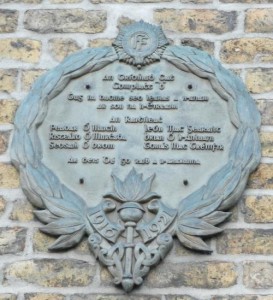 March 14th, 1921 was bloody day in Dublin. Thirteen people had died violently in the city by its close – six IRA Volunteers executed that morning, two more killed in action at Pearse Street, two Auxiliaries killed in action and three civilians in the crossfire.  It was the worst day of political violence in the city since Bloody Sunday on November 21st 1920 – when 31 had been killed.
The intensity of the guerrilla war in the city had picked up since late December 1920 with the formation of dedicated 'Active Service Units' in each of IRA's four battalions in Dublin in order to harass British forces there. Normal 'Company' units were also encouraged to mount aggressive patrols – of which the fire fight on Pearse Street was one result.
The IRA's reverse there was not serious. They had plenty more young Volunteers to take the place of those killed and few arms or papers had been lost.
Thomas Traynor, captured in the ambush, was hanged on April 25th. In reprisal the IRA in Tipperary shot an RIC Inspector they had been holding.
Attacks continued: the following day a British soldier was shot and killed at Rialto Bridge.[13] Three days later on Dorset Street north of the river, there was another ambush of British troop convoy.[14] The day after that, three British soldiers were killed and five wounded in a grenade attack on Wexford Street.[15]
The clandestine conflict rumbled on until the Truce of July 11, with a steady escalation of shootings and bombings – culminating the IRA raid on the Customs House in May. Some 300 people had died violently in Dublin by July 11 and hundreds more had been wounded.[16]
To the Pearse Street incident there was a particularly grim epilogue. Thomas Traynor, a 40 year old married man with ten children, originally from Tullow county Carlow, was put on trial for the murder of Constable O'Farrell in the gun battle. Traynor stuck to his story that he was no longer an active Volunteer and had merely been delivering the automatic pistol when he was arrested and had fired no shots. He was nevertheless convicted by a military court martial and hanged in Mountjoy on April 25th.[17]  John Donnelly, aged 17 who was also wounded and captured that day, was sentenced to death, but spared and released after the Anglo-Irish Treaty was ratified in early 1922.
In October 2001 the Fianna Fail government had those executed on March 14  in Mountjoy ceremonially re-interred in Glasnevin cemetery.
One more death can also be attributed to the fallout of the Pearse Street affair. In County Tipperary the IRA had captured an RIC Inspector, Gilbert Potter, and offered to exchange him for Traynor.  When Traynor was hanged, Potter was duly shot in revenge and buried in a remote spot in the Comeragh mountains.[18]
Finally many years later there was a somewhat incongruous sequel. In October 2001, The body of Traynor, executed for his part in the Pearse Street ambush, along with the six Volunteers executed on the morning of the ambush (and three others executed in 1920 and 1921) were formally  taken from Mountjoy and reinterred in Glasnevin Cemetery, in a ceremony involving full military honours and several thousand spectators. The more cynical viewed it as an election stunt, in the lead up to a general election, by then Taoiseach Bertie Ahern.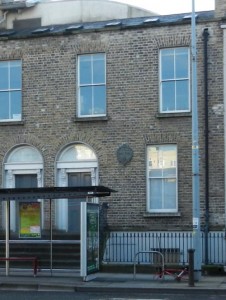 Crowds gently applauded the carriages as they wound their way through Dublin to the northside cemetery on a gentle autumnal day; a far cry from the fear-filled streets of Dublin, the executions, protests and sudden eruptions of violence of March 1921.[19]
References
[1] The executed Volunteers were Bernard Ryan (of Royal Canal Bank, Dublin), Thomas Whelan (Galway), Patrick Moran (Boyle Roscommon), Thomas Bryan (Sean McDermott St Dublin), Patrick Doyle (Mary's Place Dublin) ,Frank Flood (Summerhill Parade Dublin) The Last Post p 118. For details of the executions see Padraig Yeates, A city in Turmoil, Dublin 1919-1921, p234-236
[2] Frank Henderson BMH WS 821
[3] Sean O'Keefe,Dublin 3rd Batt WS188
[4] WH Kautt, Ambushes and Armour, The Irish Rebellion 1919-1921, p205
[5] Michael Noyk, solicitor, legal advisor to Arthur Griffith and Michael Collins BMH WS 707
[6] Noyk BMH
[7] See here for details of the Auxiliaries' casualties http://theauxiliaries.com/INCIDENTS/brunswick-raid/brunswick-st.html
[8]. Irish Times, April 25 1921
[9] Noyk
[10] Kautt p 207-208, see also Aine Herron BMH WS 293
[11] For casualties' names etc Irish Times March 15 1921, for IRA report, Kautt p208
[12] Noyk.
[13] He was Signalman Frederick De Orfe, see here http://www.cairogang.com/soldiers-killed/de-orfe/de-orfe.html
[14] Kautt, p209
[15] James Durney, 'How Aungier/ Camden Street became known as the Dardanelles', The Irish Sword, Summer 2010 No. 108 Vol. XXVII They were Lance Corporal Jarvis and Private G. Thomas and Private Whiting, died from his wounds two days later.
[16] The figure is from Eunan O'Halpin's 'Counting Terror' in Fitzpatrick Ed. 'Terror in Ireland' is 309 killed in Dublin. Though this may overestimate violence in Dublin a little as it includes those wounded elsewhere who died in hospital in the city. The death toll included at least 58 IRA members (per the Last Post), 25 British Army soldiers killed in action ( Per their report re-published in Wiliam Sheehan, Fighting for Dublin, p130 though more died there due to accidents, illness or suicide) and about 40 police, which would indicate well over 150 civilian fatalities in the city.
[17] Noyk BMH
[18] Kautt p206
[19] http://www.guardian.co.uk/uk/2001/oct/15/northernireland.ireland