The History Show Archive Part II: Episodes 8-16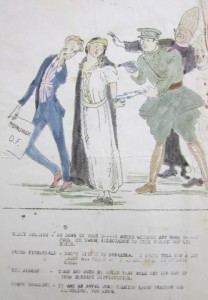 This is the second part of our archive of Near FM's History Show, presented by Cathal Brennan and John Dorney. The first part is here. Topics range from the 1913 Lockout to Ireland's 'History Wars' to Irish women and the First World War. Hopefully there will be something of interest to all.
Episode 8
This episode talks about he 1913 Lockout. We are joined by Padraig Yeates to discuss the most famous labour dispute in Irish history.
Episode 9
In the first part of the show, Alex O'Fhailghigh talks about radicalism in the Irish community in Scotland.
In the second part of the show, Pádraig Lenihan talks about the historiography of early – modern Ireland.
Episode 10
On this episode we talk to Dr. Conor McCabe of the UCD School of Social Justice about the southern Irish economy since partition.
Episode 11
In this episode, John Dorney speaks to Dr. John M. Regan of the University of Dundee about Revisionism, Peter Hart and the History Wars in Ireland.
Episode 12
In this episode we are joined by Aidan Beatty, a PhD student from the University of Chicago to talk about his research on the links between Irish nationalism and Zionism.
Episode 13
On today's episode we're joined by Dr. Brian Hanley of University College Dublin. In the first half of the show, John interviews Brian about the IRA during the Emergency (World War II). In the second half of the show John and Brian discuss the effect of the Troubles in Northern Ireland on southern society.
Episode 14
On this episode John interviews Fionnuala Walsh of Trinity College Dublin about Irish Women and the First World War. In Ireland, the First World War saw not only participation in the global conflict but also the beginnings of nationalist revolution. What did all of this mean for Irish women?
Episode 15
The Irish Revolution as a backdrop for historical fiction. On this episode of the History Show, Cathal Brennan and John Dorney talk to Irish – American novelist Kevin McCarthy about his novel Peeler and using the Irish Revolution as a back drop to his novels.
Episode 16
On this episode we are joined by Dr. Shane Kenna to discuss the Irish National Invincibles and the Fenian Dynamite Campaign of the 1880s.