The History Show Archive: Episodes 1-7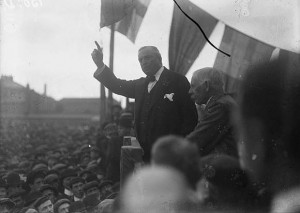 Readers of our facebook page will have been kept abreast of the History Show, which Cathal Brennan and John Dorney of the Irish Story do on Near FM radio. This is an archive (part one of two) of our shows to date. Our thanks once again to all our guests. Part II here.
 Episode One (after a short piece of inspiring music) looks at the Irish Civil War. Cathal Brennan speaks to John Dorney about the squalid details of the conflict in Dublin and John Borgonovo talks about the history and memory of the Civil War in County Cork.
Episode Two is about the history of municipal government in Dublin from the 19th to the early 20th century.  Cathal and John are joined Rhona McCord and Ciaran Wallace.
Episode Three looks at the recent research into the Irish War of Independence. Eunan O'Halpin talks about how many died, for the Dead of the Irish Revolution project. Eve Morrisson speaks about the new insights gained from the Bureau of Military History into the social world of the revolutionaries.
In Episode Four , Aoife MacCormac talks about the Spanish Flu and the Bubonic Plague and their effect on Ireland. James Durney returns to the War of Independence and talks about how Aungier Street in Dublin became known as the 'Dardanelles'.
Episode Five is about that seminal turning point in Irish history, the Easter Rising. Fearghal McGarry, Róisín Higgins and John Dorney to discuss the 1916 insurrection in Dublin.
In Episode Six, we are joined by Professor David Fitzpatrick of Trinity College Dublin. Professor Fitzpatrick has just edited a collection of essays called Terror in Ireland – 1916 to 1923 by the Trinity History Workshop.
In the second half of the show Micheál Ó Siochrú talks about the causes of another crucial fork in Irish history, the 1641 rebellion.
Episode Seven talks about a  time when Ireland had its own bout of the European inter-war clashing of rival ideologies. Brian Hanley and Fearghal McGarry discuss the Blueshirts, fascism and anti-fascism in Ireland.