Achill Island 1912: A Microcosm of Swirling Political Movements
Patricia Byrne looks at Scoil Acla, a summer school on Achill Island in the early 1900s and through it, at the changing nature of Irish society. Patricia is the author of The Veiled Woman of Achill: Island Outrage & a Playboy Drama.
Bring Your Gaelic Dress
A century ago, in the summer of 1912, two young Anglo-Irish protestant sisters, Cesca Chenevix Trench (also known by her Irish name Sadhbh Trinseach), and her sister Margot, travelled to Achill Island to attend the Scoil Acla summer school, then in its infancy, which ran from 18 July until 10 August. In addition to classes in conversational and written Irish, the programme offered figure dancing, music instruction, sporting activities and 'unrivalled scenery'. Those attending were encouraged to bring a 'Gaelic dress, or kilt, and any musical instrument you can. If a piper, do not forget the pipes. Also bring your bicycle.'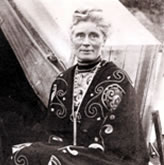 The Scoil Acla gathering, and wider events in Achill through 1912-1913, reflected in microcosm the swirling currents of political movements in Ireland in that period: Home Rule, the Gaelic League and the Irish language, the cultural revival, and the land ownership movement. For two of those present in Achill in summer 1912, there was, also, the vague stirrings of a romance that would reach a tragic ending a half-dozen years later.
Cesca and Margot Trench, who grew up in a Kent vicarage, were among an extraordinary group of intellectuals and artists who congregated in Achill that summer, including the artist Paul Henry who directed Douglas Hyde's play, Casadh an t-Sugáin (The Twisting Of The Rope), during the summer school. Also among the gathering was Diarmuid Coffey, a Dubliner, who would become a member of the Irish Volunteers and later marry Cesca Trench.
Advertisements for Scoil Acla instructed applicants to apply to Tomás O'Raghallaigh, the school's honorary secretary, who would 'teach when possible'; other teachers would include Oxford-born Claud Chavasse, 'Mr Pearse of St Enda's College', as well as Professor O'Máille and Dr Henry of Galway College. Visitors could travel on the Midland Great Western Railway train to Achill Sound, ten miles from Dooagh where the summer school was based.
Scoil Acla Beginnings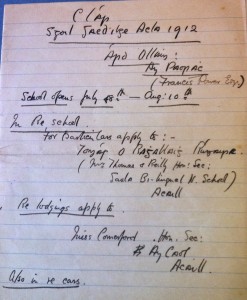 In a letter to An Claidheamh Soluis the previous summer, enclosing remittances from the Achill Gaelic league collection, one of the Scoil Acla founders, Emily Weddall – a nurse who had come to Achill five years earlier with her husband Captain Weddall – described how the Achill summer school had grown out of the activities of the Lower Achill Branch of the Gaelic League: 'We have built ourselves a much needed Gaelic Hall, and in a month's time we hope to open a little Summer School for Irish. I think that is quite a respectable for a little Branch that is hardly a year old yet … Our Secretary, Seaghan Mac Aodha, is at present away at the lobster fishing, and our Treasurer, Micheál O Máille, is also a very busy man, so I have undertaken to send off the money.'
Emily Weddall would later acknowledge how another attendee at Scoil Acla 1912 – Anita McMahon, who had worked in London as a journalist – would be influential in directing the attention of the Gaelic League to the economic plight of the people, and not just the to the Irish language: I am happy to tell you … that though I have been inactive with regard to the economic question in Achill, the Gaelic League has not been inactive. Anita Nic Mhathghamhna … has since she came here last summer done very wonderful things, both for the language and for the economic conditions of the place.'
Emily Weddall, Anita McMahon, and others associated with Scoil Acla 1912 such as the poet Darrell Figgis, and Claud Chavasse and his sister, would – within months – be actively immersed in the fierce land agitation sweeping Achill. They attended protest meetings, were present at the Achill Assizes that dealt with land agitation issues, and wrote strongly-worded letters to the newspapers about the severe economic conditions on the island.
Stirrings of Romance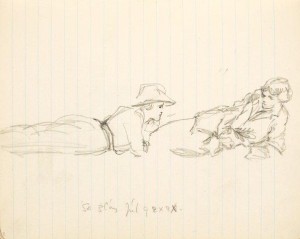 Cesca Trench sketched endlessly during her visit to Achill in 1912, and again in the summer of 1913: cottages, mountains, céilís, Scoil Acla participants in traditional dress, people lazing on Achill's fine beaches, and musicians – especially pipers.
She would not yet acknowledge any romantic attraction to Diarmuid Coffey and, even by late 1913, was reflecting in her diaries about her conflicting feelings for Claud Chavasse and Diarmuid: 'I'm sorry for Diarmuid naturally, but I don't feel for him in the same way that I do about Claud. Diarmuid will fall in love with somebody again and he will marry, and he'll be happy, but I'm afraid with Claud it's the real thing.'
The tall, gangly Diarmuid Coffey, for his part, wrote to his mother from Achill and described days filled with leisure pursuits: train trips to Castlebar for tennis matches; tacking around Clew Bay in a sailing boat; hiring an island horse for a half-day, and looking forward to meeting Miss Trench.
Diarmuid grumbled about his accommodation: 'small rooms without a single spot in which to put clothes and a bed full of hard lumps with straw mattresses underneath …' The life of the Scoil Acla attendees was in stark contrast to that of the Achill young people, many of whom had already set sail that summer for the harvest fields of Scotland and England on the annual Achill harvester migration.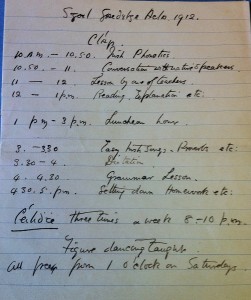 Cesca Trench and Diarmuid Coffey would not marry until April 1918, a couple of days after her brother's death at the western front. In the intervening years since her attendance at the early Scoil Acla summer schools, Cesca had become an energetic political activist through her involvement with Cumann na mBan, the Howth gun running, and the Easter Rising, which she regarded as a tragic mistake.
Just six months after her marriage, Cesca fell victim to the flu epidemic then sweeping Europe and died in Dublin on 30 October 1918. The last entry in her diary was for a Cumann na mBan meeting which she never attended.
Emily Weddall wrote a letter of condolence to Cesca's sister, Margot, from Dublin's Meath Hospital where she was then working as a nurse: 'It is so terrible and especially for you … We have it very bad here too … two nurses have died in the past week.' She asks Margot to pass on her condolences to Diarmuid: 'He came in here the other night looking for the doctor but I had no idea how bad things were. It is a terrible blow for him and for your poor mother and for you. She was so special and so young.'
For Margot Trench, Diarmuid Coffey and Emily Weddall, the elation and promise of the summer days of Scoil Acla a half-dozen years earlier must have seemed to them in 1918 like an idyllic bygone age.
Bibliography
An Chlaidheamh Soluis 8 July 1911 & 21 June 1913
Coffey & Chenevix Trench Papers (Mss 46,290-46,337) National Library of Ireland, Dublin
Pyle, Hilary, Cesca's Diary 1913-1916 (Dublin, 2005)
Scoil Acla web site www.scoilacla.com
Images
1. Emily Weddall, 1867-1952, Scoil Acla founder. (By permission of Scoil Acla www.scoilacla.ie)
2. Programme for Achill Summer School, 1912. (Trench Papers, Ms 46,329/3. By permission of National Library of Ireland)
3. Drawing by Cesca Trench at Keem, Achill, dated 9 July 1912. (Trench Papers, Notebook 2079 Tx. By permission of National Library of Ireland)
4. Timetable Scoil Acla 1912. (Trench Papers, Ms 46,329/3. By permission of National Library of Ireland.)