The Home Front – Dublin and World War I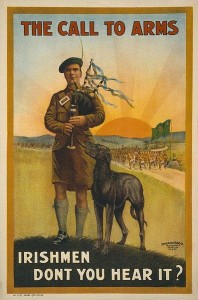 Padraig Yeates, author of, 'A City in Wartime', a new book on Dublin during the First World War, talks about the impact the war had on the city. (Our review is here)
Click on the link below to listen to the interview.
Padraig Yeates on WWI in Dublin
Among the things we talk about are;
Was the Irish Parliamentary Party's support for the war popular in Dublin?
Who joined the British armed forces and why?
Were the recuits men who had lost their jobs after the great Dublin strike or Lockout of 1913-14?
Were they"written out of history" after Irish independence?
What would have happened had the authorities attempted to impose conscription?
Padraig Yeates is journalist and historian.  He has written, Lockout: Dublin 1913, the history of the great Dublin strike of that year. He is currently public relations consultant to the trade union Siptu. Listen to previous interview with him here and here. 
Image Credit

Some rights reserved by infomatique
Podcast: Play in new window | Download