Historical Perspective | Croker – much more than just a stadium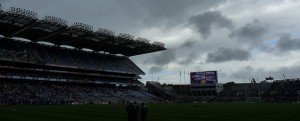 Interesting piece in The Irish Times today:
The queen might well be interested in the early history of that part of the ground because it illustrates how the precise history of these two islands' relationship is sometimes glossed over. Hill 16 was originally named "Hill 60" after the site of a battle fought over the course of a week during the Gallipoli campaign of 1915. At that time, the corner of Croke Park was being built up to provide a better viewing point for spectators. Some Dublin wag named it after the battle that was being reported on. It continued to be known as Hill 60 until after the Civil War when, in a new nationalist Ireland, a more suitable name, "Hill 16" was adopted, as was the dubious ex-post facto rationale that rubble created by the 1916 Rising had been used. However, the majority, if not all, of the hill, had been built up in 1915.
via Croker – much more than just a stadium – The Irish Times – Wed, May 04, 2011.
Image Credit


Some rights reserved by reillyandrew