Historical Perspective – the first day of the 31st Dail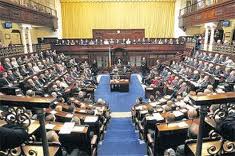 John Dorney looks at TDs' evocations of history at the opening of the 31st Dail.
 The opening of the 31st Dail marked a historical break in many ways. For the first time, the two largest parties in the state had entered government together and for the first time since 1927, neither of those parties was Fianna Fail.
The country, of course was also facing a major crisis in its public finances. (You can read more on that here).
Many of the TDs reached back into history in order to place their own appearance in parliament within the greater flow of Irish history.
History as signpost
For Fine Gael TDs, notwithstanding the multitude of problems they have inherited, the mood was of self-confidence and self-congratulation. Simon Harris, the 24-year-old TD for Wicklow announced;
 "Today, the period of mourning is over for Ireland. Today, we hang out our brightest colours and together, under Deputy Kenny's leadership, we move forward yet again as a nation".
The phrase was a subtle reference to Michael Collins, still Fine Gael's talisman, after whose violent death in the Civil War in 1922 George Bernard Shaw wrote to Collins' sister Joanna. "So tear up your mourning and hang out your brightest colours in his honour".
Enda Kenny himself dispensed with hereditary enmities and located his accession as Taoiseach within the tradition of other servants to the state from both Free State and Republican traditions;
"Today we think of all the good men and women who have gone before us in this place. We remember especially former Taoisigh like John A Costello, Liam Cosgrave, Eamon de Valera, Sean Lemass, Jack Lynch, Garrett Fitzgerald, John Bruton….. who had no priority other than the national good."
It may be telling though, that the most recent Fianna Fail Taoiseach Kenny referred to positively retired in 1979. Frustration at Fianna Fail's long and sometimes sordid recent past clearly rankles more deeply with modern Fine Gael than do the ghosts of Collins, Hales or O'Higgins.
What is interesting in Kenny's speech is that, although it places the current government within the sweep of Irish nationalist history, of collective adversity suffered but overcome;
"No nation in the world has such a history of courage in the face of adversity or resilience in the face of challenge",
it is for support for pre-existing institutions and policies that he seeks to mobilise them.
"Our task is to create a new context of confidence and drive. To free-up our entrepreneurs to create the next wave of great Irish businesses…To empower fresh thinking, rooted deep in our old traditions."
History as unfulfilled destiny
Gerry Adams, head of the current party undoubtedly most closely associated with the Irish republican insurrectionary tradition, had little enough to say about history in his maiden speech, instead pointing out his indignation at the proposed selling off of state assets to give money to the banks and at Labour's refusal to consider a left-wing coalition with Sinn Fein. But he nevertheless offered the new coalition, "congratulations and good luck".
The most potent evocation of the Irish revolutionary tradition – at once nationalist and populist – was to be found among the five new TDs of the United Left Alliance. Joe Higgins compared the incoming government to John Redmond, who "100 years ago dragooned a generation of Irish people into the First World War".
Redmond, Higgins continued, had "gone down in infamy", as would the current government for their "shameful betrayal" in accepting the Irish banks' debts to foreign banks.
"That great socialist James Connolly wrote that he would light a torch  in Ireland that would not go out until it had burned the last throne and the last debenture holder in Europe" but the Fine Gael-led coalition, "are burning not bondholders, but ordinary people".
Similarly, Seamus Healy, TD for Tipperary, said, "James Connolly wrote about the re-conquest of Ireland by its people, the current leader has overseen the humiliation of Ireland", by "groveling to the European banks". He concluded with a quote he attributed to Connolly, "The great are only great because we are on our knees, let us arise".
(In Ireland it has become commonplace to attribute this to either Connolly or James Larkin, in fact it originated with Louis-Marie Prudhomme, the 18th century French revolutionary. See here)
For those who still believe in revolution, the millennial struggle to right past wrongs, to overthrow injustice and give birth to a better world, history is still alive. Connolly, for instance, is invoked not just as a comforting reference point but as a prophet, scorned and betrayed, whose work must be continued.
'Making Ireland Great Again'
But revolution was far from the minds of most TDs, even those, such as Luke 'Ming' Flanagan, who were elected for the first time with the votes of those disgusted with the workings of politics-as-usual.
After noting that he would have preferred Labour's Eamon Gilmore to Enda Kenny as Taoiseach, Flanagan nevertheless promised to vote  for the government when he agreed with their policies.;
"We all have one thing in common, namely, our wish to make Ireland great again. That great Irish man, Seán Lemass, once said that Irish people are capable of doing things just as well as anywhere else in the world – if not better, then equally well. I believe that and I hope the new Government believes it. If we follow through on it Ireland will become great again."
'Making Ireland Great Again', sounds like a 19th century nationalist ballad, but looked at a little more closely, the speech provides a useful insight into the historical and present-day priorities of most Irish citizens.
Sean Lemass is celebrated (almost uncritically) not for his role in independence struggle – although he found himself both in the GPO in 1916 and the Four Courts in 1922 – but for his economic policies of the 1960s, which opened Ireland up to foreign investment and triggered steady economic growth, stemmed emigration and raised the standard of living.
Making Ireland great, in this context means not heroic sacrifice, nor class struggle, nor 'Ireland united Gaelic and Free'. In short, it means making Ireland rich again.