Historical Perspective: Patrick Geoghegan On Ireland's Greatest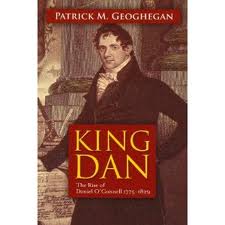 RTÉ's Ireland's Greatest has drawn fire almost since its inception a few months ago. Not least among the problems are tiny representation of women among the last five, with just former President Mary Robinson making the list(1). Today's Irish Times carries a great piece by historian and broadcaster Patrick Geoghegan on the shows failings:
Where, for example, is William Rowan Hamilton, one of Ireland's greatest scientists whose work on dynamics influenced quantum mechanics in the 20th century and whose contribution to mathematics and physics is still cited 200 years later?

Where is James Joyce, who transformed the English literary tradition? Where is Theobald Wolfe Tone, who reshaped our concept of the nation and how we should view people on this island? And what about Jonathan Swift, the man who turned the English language against injustice, oppression and inhumanity? And that's only extending the search to the last 300 years.

The option was always there for RTÉ to bring together experts from the arts, humanities and sciences and prepare a list of candidates which reflected the diversity and richness of this country's history. Programmes could then have been made about each figure which educated and informed, and taught us things we did not know.
The Irish Times | Friday 22nd September 2010 | RTÉ's populist pantheon reflects our historical myopia

The rest is well worth reading because it hammers home the point with clarity and verve. What's more, Geoghegan does exactly what this section of The Irish Story hopes will become more regular in our thinking, offers some Historical Perspective.
---
(1) For an interesting corrective to this male bias, try Nicola Depuis' Mná na hÉireann or Marian Broderick's Wild Irish Women