Today In Irish History – James II Lands At Kinsale, 12 March
~1689~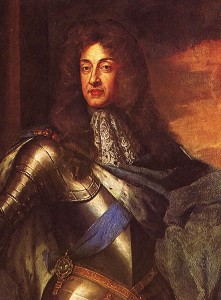 The Stuart dynasty plunged Ireland into conflict on several occasions and resulted in both the Cromwellian invasion as was mentioned yesterday and the Battle of the Boyne an event which to this day creates tension and conflict and is seen as a totem in inter-community relations. The legacy of the Boyne is now at least being engaged with by both sides of the conflict and the complexities of the battle and its role in the much wider struggle that convulsed Europe at the time is being recognised.
On this day in 1689, James II landed at Kinsale setting in train a conflict that resulted in another change to the structure of Irish society. The text below describe his arrival (FROM: A history of Ireland From The Earliest Times To The Union with Great Britain By Elizabeth Blacket):
James II was a Catholic. His own subjects had deposed him the previous year in a combined coup and invasion orchestrated by leading figures and carried out by the Dutch Prince William of Orange who was married to his daughter, Anne. The events became known as the Glorious Revolution and reflect again the impact of the wider world on Irish affairs.