The Story Of The Easter Rising, 1916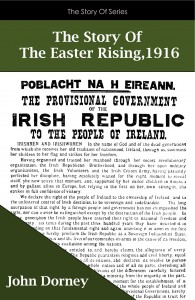 Author: John Dorney
Extent: 64 pages
Format: PDF/PRINT/KINDLE
ISBN: 9781907694004/9781907694042/9781907694011
Price: €3.99/$6.99 (plus P+P)/ $3.99 (plus VAT + Delivery)
CLICK HERE TO BUY THIS BOOK IN PDF
CLICK HERE TO BUY THIS BOOK IN PRINT
CLICK HERE TO BUY THIS BOOK IN AMAZON'S KINDLE FORMAT
BUY AS AN APP

---
Description
The Easter Rising is THE seminal event in Irish nationalism and one of the key turning points in Irish History. No event captures the imagination as this does. It is a story populated by idealists, poets, union activists and soldiers.
In this short history, John Dorney tackles the complex happenings of the event itself and, by putting the conflict in context, offers a lucid explanation of the passions and motives that drove Irishmen into arms against Britain when their fellow Irishmen fought on the fields of Flanders in British uniforms.
About The Author
John Dorney is the author of The Story Of The Easter Rising, 1916, The Story of The Irish War Of Independence and The Story Of The Irish Civil War.
John was born in Dublin in August 1980 and grew up in the southern suburb of Rathfarnham. He studied history and politics in University College Dublin and completed a Masters Thesis on the 16th century Irish chieftain Florence McCarthy entitled, Florence MacCarthy and the conquest of Gaelic Munster, 1560-1640.
Sample