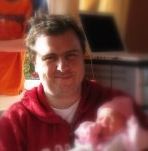 Fin Keegan's latest play The Last of the Vegas Magicians appeared in the 2010 Las Vegas Fringe Festival. Previous plays appeared in Dublin at, among others, the Project Arts Centre, FilmBase, and the Samuel Beckett Theatre as part of 100 Minutes. His novel Utopia Closes was a semi-finalist for the Amazon Breakthrough Novel Award 2008. Other work has appeared on the BBC World Service, in the Dublin Review of Books, and at TheSecondCircle.net, a literary review which he edits.
Born in Dublin, he lived 14 years in the United States where he produced a daily current affairs show for Nevada Public Radio, taught at the University of Nevada, interned for the Literary Department of The New Yorker magazine, and gained a Masters at Columbia University. Returning to Ireland in 2007, he now lives in Westport with his family and runs, with his wife, Fiona Keane, the literary workshop SixPens.com
His ebook, Dubliner: The Story Of James Joyce will be published by The Irish Story in May 2012.
Follow his work at finkeegan.com or on Twitter @ finkeegan