Book Review: The Military Archives: A History
By Daniel Ayiotis
Published by Wordwell Books, 2022
Reviewer: Daniel Murray
How much work goes into the making of an archive? Rather more than one would might think, it turns out, particularly if the institution in question has to struggle for even the most basic respect.
When J.J. 'Ginger' O'Connell was appointed Officer-in-Charge of the newly-established Military Archives in 1935, set in Griffith Barracks, Dublin, this seems to have been more the consequence of a career slump than meant as a promotion. So starved of resources were the fledgling Archives that O'Connell had to resort to borrowing vital reference material from the Royal Dublin Society (RDS), on his own membership card no less, leaving him personally liable for overdue fines.
The Irish Military Archives suffered badly from under-funding at their inception.
What funding the Archives did (grudgingly) receive could become a source of drama in itself, such as when O'Connell felt obliged to assure his superiors in the Department of Defence that he was "prepared to give the fullest accounting satisfaction as far as concerns the portion of the £5 expenditure" – less than €300 in today's money, as the author, Daniel Ayiotis (serving Commandant in the Irish Defence Forces and Staff officer of the Military Archives today), dolefully notes.
On another occasion, O'Connell was practically on bended knee, if the tone of his letter is anything to go by, as he bemoaned how:
We are forced to beg and borrow books from private sources and public libraries in order to get material for our files and for the preparation of reports, memoranda etc. All this material should be available in our office because it is an essential part of our source of reference and, as you will readily understand, having such sources on hand, we would be saved a considerable amount of time spent in the National Library and elsewhere.
Even the use of essentials had no guarantee. O'Connell's primary mission was to record the experiences of those who had, like himself, participated in the independence struggle of 1916 to 1921, only a couple of decades earlier. After a few months into his new task, O'Connell found himself deluged with the amount of typing this entailed, especially since each interview needed to be typed up, submitted to the individual concerned for approval and then retyped.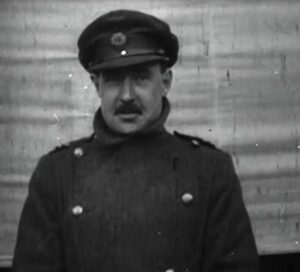 "All this takes time, but it is essential to ensure historical accuracy," O'Connell explained in a letter to the Chief of Staff in November 1935 – the most help he could currently call upon was a charitably-minded typist already employed in Griffith Barracks who was willing to squeeze in whatever work they could during their spare time.
In this case, O'Connell got what he needed, albeit with niggardly caveats: the Archives could have the official service of a typist but only between 2 pm and 5 pm daily, and not outside the room where the typewriter already was to save on the hassle of carrying it back and forth. Still, a win is a win, and an emboldened O'Connell would later go on to request a second typewriter.
Alas, readers of this book do not learn if the Archives received this but considering their treatment in general at the time, the answer is probably in the negative. O'Connell may have thrown himself into his work with the "same initiative and zeal that had characterised him as a leading figure during the revolutionary period," as Ayiotis describes – O'Connell had been there since the start, serving as Chief of Inspection of the Irish Volunteers from 1915 to 1916 – but he struggled against the reality that the rest of the Irish military, let alone the Irish state, did not take the maintenance of its historical records all that seriously.
Though his assignment to draw up general defence plans for the country during the Second World War, or Emergency, may have showed the trust his superiors had in him, it left O'Connell overstretched and overworked between that and the Archives. After his death by a heart-attack in 1944 at the premature age of fifty-six, worn out and depressed, no one else seems to have known what to do with the Archives – or really cared. Tellingly, when the institution received some original papers concerning the Volunteer Executive from 1914, it was on the grounds that they were considered "museum specimens" as if that was all the place was good for.
If O'Connell is the tragic martyr of this book, then Commandant Peter Young was the conquering hero who finally set things to right
If O'Connell is the tragic martyr of this book, then Commandant Peter Young was the conquering hero who finally set things to right, although only after a considerable amount of time had passed between the two men's tenures. Young was initially appointed keeper in 1981 to an archive that did not then exist, having fallen into official disuse for the past twenty-two years. His superiors were not even planning on a full-time archive, intending at first to have it back on an ad hoc basis until Young strongly – and successfully – protested otherwise.
Young was determined to hit the ground running. In an article to An Cosantóir, the magazine of the Defence Forces, in 1983, he outlined his vision for his charges:
The purpose of any archive is to protect the past so as to understand the present and to plan for the future. A Military Archives is more important than most as by knowing our past history, we attain a greater sense of identity with an understanding of our own unit, and so improve morale and esprit de corps which are essential elements of military life.
Not everyone shared his enthusiasm. A year later, a concerned and no-doubt considerate Chief of Staff suggested that Young be transferred to a new command post, lest spending too long in one role prove damaging to his career prospects. It was only thanks to a lack of a successor at hand that Young was able to stay on and the Archives saved from the stagnation they would inevitably have returned to.
"Vague rumours about an elusive Military Archives began to take concrete form," wrote Denis McCarthy, a vocational teacher and fellow contributor to An Cosantóir, "and it transpired that once upon a time such a body had come briefly into existence, and was in the process of being resuscitated." With tongue firmly in cheek, McCarthy added: "The Army even acquired a qualified Archivist and probably by mistake, appointed him to the Archives."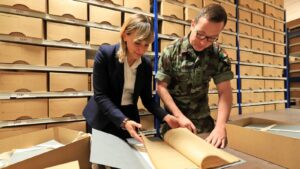 This was, of course, far from the end of Young's trials and tribulations, and his struggles to keep the Military Archives intact, housed and up-to-date would be worthy of – appropriately enough – an armed campaign. An attempt by the Department of Defence for a depository of its own, which would have meant the removal of its papers from the Military Archives, was seen off only after strident resistance on Young's part; even so, it took the intervention of the Taoiseach, Charles Haughey, in 1990 for the matter to be resolved in the Archives' favour.
Another coup was nine years later, when the Government bestowed the Bureau of Military History files to the custody of the Archives for public inspection. This was a cause close to Young's heart, against which he and his staff had been facing "the essential cautiousness of the Irish State around the Revolutionary period," he wrote. "No mention of the War of Independence or the Civil War for quite a long time. So we were anxious that these precious records be brought into public domain."
By 2012, it was no longer even necessary to visit the Archives to see the precious records in question, each being released online through a dedicated website. Adding to what the Archives have to offer today are the Military Service Pension Collection (described as "the single most important archival collection relating to Ireland's revolutionary period"), the Brother Allen Collection (comprising approximately 13,000 historic items), the Oral History Project (recording the memories and traditions of the modern Defence Forces) and the Uinseann Mac Eoin Collection (102 audio cassette interview recordings as well as nine boxes of papers and photos).
Not bad for a place people before could often struggle to remember.
Tragically, Young never saw this vindication of his life's work, dying only a week after the official decision to release the Bureau of Military History files was made, in October 1999. Much like with O'Connell, Young's was an early death, at only forty-nine. Archiving, as Ayiotis makes abundantly clear, is not for the faint of heart.