'One Irregular was killed': The death of John Lawlor of Ballyheigue, Co. Kerry, 31 October 1922.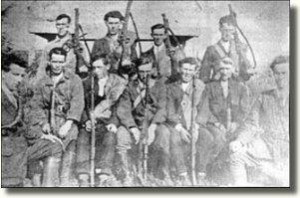 By Bryan MacMahon
Ballyheigue, Co. Kerry, has received very little attention from national or even local historians of the revolutionary years of 1916 to 1923. But significant events took place there and in the surrounding area, one of which was the execution of John (Jack) Lawlor during the Civil War, on 31 October 1922.
Aged twenty-two years and two months, Jack was the only person from the parish to die a violent death in the years of conflict. The man who ordered his execution, Michael Hogan, was aged twenty-three years and eleven months. Such was the tragedy of those days – it was a war of young men, a war of former comrades.
Jack Lawlor's execution, though officially unauthorized by the Government, was the first to take place since the passing of the Public Safety legislation allowing for the execution of those captured with arms by State forces.
Jack Lawlor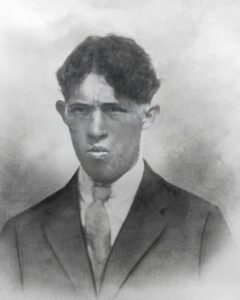 Jack was born on 4 September 1900, the sixth child of John and Joan Lawlor and the first to be born into the 20th century, with all the hopes and dreams that evoked for his future life. He was aged fifteen when he heard of the Easter Rising in Dublin.
It was around the firesides of his townland of Glendahalan, on the north coast of the promontory of Kerry Head, overlooking the Shannon estuary, that he first heard the names of Pearse, Connolly, McDonagh and McBride and their idealism and self-sacrifice for Irish freedom. For the next six years, Jack and many of his age cohort were swept along on a wave of national pride and patriotism, lifted out of the drudgery and drabness of daily life on the stubborn, stony soil of Ballyheigue and Kerry Head.
Jack took his lead from the Captains of Ballyheigue and Kerry Head Companies of the 2nd Battalion, Kerry No.1 Brigade of the IRA. They were Michael Pierce and William Leen. He was also influenced by his older brother David (Dave) and his friend and neighbour, Thade Paddy Reidy. The Commanding Officer of the 2nd Battalion (Ardfert Battalion) was Thomas Clifford of Caherciveen, who was a veteran of the 1916 Rising. He was based in the College of Surgeons during Easter Week and was afterwards imprisoned in Frongoch, Wales.
While the IRA was active in Ballyhiegue in 1919-21, including David Lawlor, his younger brother Jack Lawlor appears to have joined during the Truce period.
During 1920, the IRA in Ballyheigue set up ambushes of RIC patrols and burned their barracks in the village. In May 1920, as part of concerted attacks on Coastguard Stations, the one situated on the coast west of Ballyheigue village was attacked and burned. There were no serious injuries in any of these incidents.
In March 1921, Ballyheigue Castle, an impressive building on an elevated site above the village, formerly the residence of the Crosbie landlord family, was occupied by the military.
Following a sweep of north Kerry, when hundreds of young men were rounded up, they were held in the outbuildings of the Castle for five days or so. In May 1921, the Castle was unoccupied, having been sold by the Crosbie family to a local farmer.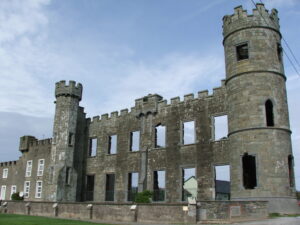 An auction of contents was held on 25 May 1921 and on the 27 May, the Castle was destroyed by fire by a small group of IRA members.  In the course of an insurance claim heard in a London courtroom in 1923, Tom Clifford gave an account of his role in the burning, saying that he had received an order to carry it out.[1]
Although he did not explicitly say so, the belief was that the historic building was burned by the IRA in order to prevent it being used again as a detention centre.
Jack Lawlor's name does not appear in the Brigade Activity Reports held in Military Archives, which give lists of those involved in Ballyheigue actions, but his brother David participated in several of them.[2] Neither does Jack's name appear in the lists of those who served in the IRA, but David is recorded as 1st Lieutenant of Kerry Head Company in 1921 and again in 1922-3. David was also a member of the Active Service Unit or Flying Column led by Michael Pierce.[3]
It could be inferred from these records that, while Jack was following in the footsteps of his older brother, he did not play as significant a role, perhaps because of his age.  When the Civil War began in July 1922, the great majority of the men in Ballyheigue and Kerry Head companies sided with the anti-Treaty republicans, or Irregulars, as they were termed by the Free State and in the press.[4]
National Army arrests, October 1922 and action at the Glen Farm

There was intense military action in and around Ballyheigue during the last two weeks of October 1922. The National Army swooped on several houses arresting at least eight men. Two of these were later executed in Ballymullen barracks, Tralee. They were James Hanlon of Causeway, executed in January 1923, and Reginald Hathaway, an Englishman who had deserted from the British army to join the IRA, executed on 25 April 1923.
Two others arrested were under sentence of death but were reprieved by General W.R.E. Murphy. They were Patrick Joseph O'Halloran of Ballyheigue and Patrick O'Connor of Causeway. These were among the men described in the press as 'the other eight', who were destined to be executed at the same time as Erskine Childers, but who were reprieved.[5]
A compensation claim reveals more details about military action in Ballyheigue at the end of October 1922. Mary Supple, owner of the Glen Farm since 1919, applied for compensation for the loss of a heifer shot dead in crossfire between the two sides on 25 October 1922. The Glen Farm had formerly been a 'model farm' of the Crosbie landlords of Ballyheigue in their heyday in the late 19th century, and it was surrounded by trees. In response to Mary's claim, Col. Stanley Bishop of the National Army denied that there was any indiscriminate firing by his men:
The fact that reinforcements had to be sent from Tralee with the 18-pounder to dislodge the Irregulars from the wooded heights in the neighbourhood of Ballyheigue is sufficient evidence that the firing was not indiscriminate. Gen. Murphy, then G.O.C. Kerry Command, was personally in charge of the operation.[6]
A significant gun battle took place at Ballyheigue in October 1922. The Natonal Army simply stated that 'one irregular was killed and three captured'.
An 18-pounder was a field gun used in World War One and by the British in Dublin during Easter Week 1916. The same type of field gun was used to bombard the Four Courts in June 1922, marking the beginning of the Civil War.  The soldiers' sardonic nickname for the 18-pounder in Ballymullen was 'The Rose of Tralee'.[7] It seems that the National Army brought it to Ballyheigue to intimidate the republicans, rather than for actual use, as there were no big buildings to be attacked and stormed. Still, Bishop's phrase 'to dislodge the Irregulars' suggests that they were deeply entrenched.
This was the context in which Jack Lawlor was killed. In military archives, his death was recorded without reference to his name: 'On Tuesday 31 October the sweep on Kerry Head was concluded and one Irregular was killed and three prisoners taken.'[8]
The Cork Examiner recorded: 'Rounding up operations were carried out on an extensive scale in Ballyheigue, north Kerry, on Monday and Tuesday. During the operation, one Irregular was killed and three arrested. A Ford motor car and two shotguns were captured.'[9] The four blunt words, 'one Irregular was killed' are misleading and incomplete because they suggest that there was an exchange of fire or a military engagement in which Jack was killed. That was not what happened and this report could be described as a cover-up.
The execution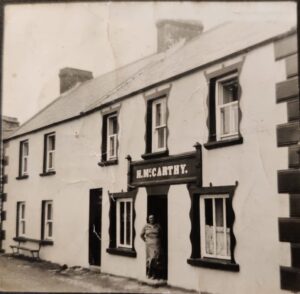 In 1924, just two years after the event, Dorothy Macardle, the republican historian, wrote an account of Jack's death in her short book, Tragedies of Kerry. It is accepted that Macardle sometimes embellished the facts, but her short account is revealing:
John Lawlor was an adventurous boy and a good soldier; his few years of manhood were full of action and enterprise. He joined the Volunteers in 1918. The Treaty and the subtle arguments of those who claimed that it was not surrender were intolerable to John. He was in arms for the Republic again in 1922.

On the night of 30th October a division of the Free State troops surrounded Ballyheigue. John had good luck and bad luck on that night. Having helped to extricate two companies of Volunteers he went with a couple of comrades to secure arms. They were captured, they disarmed their guard and dashed away over the fields with the rifle, in triumph.

They headed by mistake into an enemy post and were seen and fired on. The others escaped but John fell wounded and was taken prisoner. They condemned him to death that night and killed him in the early morning. They left his body in the street of Ballyheigue, outside the church gate.[10]
This suggests that Jack's body was left on the village street, but in fact it was left where he was executed, on a little-used pathway leading to the secluded Protestant church of St. James, which was surrounded by the parish graveyard. According to local memories, after his capture, Jack was taken to the boarding-house of Hanora McCarthy in the village where he was court-martialled. He was held overnight in the lock-up of the former RIC barracks.
Jack Lawlor was executed after capture by pro-Treaty troops, for reasons that remain unclear.
Folklore says that he could easily have been rescued from there, but it was likely that his comrades expected him to be taken to Ballymullen as a prisoner and had no reason to anticipate his death.
Local man Michael O'Halloran in later life recorded his memories of those days, when he was a boy of twelve years old. He wrote that Jack's body was attended by two local women who brought him to the village forge and laid him out there with candles around him. Members of his family then came by horse and cart to bring Jack home, with his grieving sister cradling him in her arms.[11]
The precise reasons, if any, for Jack's execution are not known. Perhaps he had provoked the ire of the Free State troops by seizing one of their weapons, or perhaps his death was to show Mike Pierce and Willie Leen and their followers the strength of the government's determination to stamp out IRA resistance. Or perhaps his death was intended to get back at his older brother Dave, who had the rank of 1st Lieutenant of Kerry Head Company.
The circumstances of Jack's death were shocking and inhumane. He was a wounded prisoner, summarily executed after a so-called trial, and his body left lying in a secluded lane for his family to find. Local memory records that Jack's hands were badly beaten when he held tightly to the gate at the entrance to the lane, and a ballad asserts that his request for a priest was refused:
It was on a Tuesday evening that this brave boy was caught,

Court-martialled at McCarthy's and sentenced to be shot.

Colonel Hogan passed the sentence just as the clock struck eight,

And in the churchyard avenue Jack Lawlor met his fate.

As they brought him to the avenue, he asked them for a priest,

Those cowardly brutes refused him and he then went on his knees.

A few short prayers he breathed, his own poor soul to save,

He nobly died a martyr, a hero bold and brave.
Public Safety Bill
On 27 September, the Free State government had passed a Dail resolution known as the Public Safety Bill which stated inter alia that anyone caught with weapons would be executed. This extreme policy was an attempt to effect an end to IRA resistance. But the regulations allowed for an appeal to be made, the death sentence had to be approved by a superior officer and forty-eight hours had to pass before the sentence could be carried out. Jack was allowed none of these rights.
According to legal historian Seán Enright, Jack Lawlor was the first republican to be executed after the new law was passed, though not under its terms. Enright concludes: 'This trial was not authorized by GHQ and the rudimentary safeguards laid down in the regulations were not adhered to.'[12]  In the remaining months of the Civil War, many more prisoners would die by execution. Traditionally, the figure of seventy-seven executions has been given, but Enright's research has established that the total was eighty-three.[13]
While the government had passed legislation allowing for executions in September 1922, Lawlor was not tried or convicted under its terms. It was a summary execution.
Diarmaid Ferriter also acknowledges Enright's figure of eighty-three, 'if four men executed for armed robbery and two summarily shot by firing squad in Cork and Kerry before the legislation was passed are included.'[14] The Kerry execution refers to Jack Lawlor, although there is no clear evidence that he was given the military formality of death by firing squad.
There were also somewhere between 133 and 153 summary executions of anti-Treaty fighters in the field during the Civil War, of which Lawlor could be counted as one.[15]
On 17 November, four prisoners in Kilmainham Goal were executed, and these are regarded as the first official executions under the Public Safety Act. Erskine Childers was executed on 24 November, two weeks after he was captured. He was allowed to make an appeal through the courts, but was shot before the appeal had run its course.
There were more executions to follow during the Civil War in Kerry, seven of them 'official', but about forty more 'unofficial'. Nearby Clashmealcon, in the parish of Causeway, was the location of one the final tragedies, in April 1923. Republicans took refuge in a sea-cave at the base of a cliff, and, in an attempt to penetrate the cave, two Free State soldiers were killed by IRA gunfire. Soon afterwards, two republicans died by drowning while attempting to escape.
The leader of the IRA column, Timothy 'Aero' Lyons, was killed by National Army gunfire as he lay injured at the foot of the cliff. Three remaining republicans were taken prisoner and, on 25 April, they were executed in Ballymullen barracks Tralee. They were James McEnery, Reginald Hathaway and Ned Greaney. All eight deaths were needless: the republicans hiding in the cave had no food or drink and would have had to surrender eventually, if the National Army had simply waited.
There was already speculation at this time about a ceasefire, and on 27 April, Frank Aiken, chief of staff of the IRA, declared that it would come into effect on 30 April.
Colonel Michael Hogan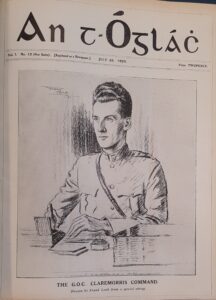 The National Army officer who ordered Jack Lawlor's death was Colonel-Commandant Michael Hogan, a native of Kilrickle, near Loughrea, Co. Galway. He had been studying law in University College Dublin at age seventeen, but he left to join the Irish Volunteers.
He and his two brothers, Patrick and James, were prominent in the War of Independence. Patrick served as Minister of Agriculture from 1922 to 1932 and James became a professor in University College Cork at the age of twenty-two.
Michael Hogan was once captured by the Black and Tans and went on hunger strike.[16] Because he was well-known to the crown forces in the west, he moved to Cork to serve in Tom Barry's Flying Column.[17]
In November 1921, he was sentenced to two years penal servitude in England as a result of daring raids for arms that he and two others carried out on Chelsea and Windsor army barracks. Cathal Brugha initiated this high-risk operation, which threatened to undermine the Treaty negotiations underway in London at the same time. Hogan was released following representation by the Free State government in April 1922.[18]
Michael Hogan supported the Treaty, as did his two brothers. On 3 August 1922, he led the 1st Western Division of the Free State army, the National Army, in the Tarbert landing. This was the day after Paddy O'Daly landed at Fenit as head of the Dublin Guard. Hogan was on board the Corona which sailed from Kilrush with 140 men, while a hundred more were in smaller boats. They proceeded to take over Tarbert, Ballylongford and Listowel and then linked up with O'Daly, who had taken Ballymullen barracks in Tralee.
Michael Hogan was highly regarded by his comrades in the National Army, as shown by his rank of Colonel at the age of twenty-three
Michael Hogan was highly regarded by his comrades in the National Army, as shown by his rank of Colonel at the age of twenty-three. His commanding officer, General W.R.E. Murphy, wrote that 'Hogan is an excellent officer and is worshipped by his men', who referred to him as their 'Big White Chief'.[19]
But, by October 1922, it seems that Michael Hogan was battle-hardened and ruthless, as happens men in war conditions. His close friend, Captain James Burke, had been killed by republicans in Castlemaine. Hogan believed that John (Jack) Galvin of Killorglin was the man responsible and when Galvin was later arrested, he was killed while in custody. It is believed that Hogan was responsible for the death of Jack Galvin on 30 September, as a reprisal for the killing of his friend.[20]
Niall Harrington, a National Army soldier in Kerry in 1922, did not identify Hogan by name, but wrote that Galvin was killed 'no doubt by officers whose duty it was to guard him.'[21] In 1949, Johnny O'Connor of Farmer's Bridge gave a republican view of Colonel Hogan: 'Michael Hogan was a terrible murderer. He was a devil.'[22]
Michael Hogan's army career
Michael Hogan spent over twenty years in the Irish Army, with one interruption in February 1933 when he was dramatically arrested for a breach of the Official Secrets Act. Inspector Edward M. O'Connell of the Garda Síochána was also arrested. Under the headline: 'Two officers arrested and in Mountjoy Jail', the Irish Press reported that 'nothing less than a sensation was created in Dublin yesterday.'[23]
The nub of the charge was that Hogan had stolen official documents to give to his brother James, who was writing a book on communism in Ireland, titled 'Could Ireland Become Communist?'. When the case was heard in court in March, both men were found not guilty of all charges and Hogan resumed his military career.[24]
Hogan held the position of Director of Infantry and he was credited with co-founding the Army Equitation School, which soon earned an international reputation. He was O/C of the Local Defence Force (LDF) during the Emergency. His last post was Commandant of McKee Barracks, Dublin. On retirement in 1945 with the rank of Major-General, he joined Aer Lingus and became its assistant general manager. He died suddenly in 1950 at the age of fifty-one and was buried with full military honours in Deansgrange cemetery, Dublin.[25]
Remembering Jack Lawlor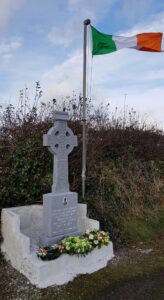 There were eleven children in the Lawlor family by 1922 and Jack was the middle child. His father and his mother and their ten children carried the trauma of his loss all their lives. For Jack's father, it was not a long life, as he died in 1926, another great loss to the family.
Two of the Lawlor boys became priests in the USA:  Monsignor James (1913-1969) served in the diocese of San Diego, California and Fr. Michael (1904-1969) served in the diocese of St. Paul and Minneapolis, Minnesota. Helen Lawlor (1894-1985) had left home in 1911 to join the Order of St. Joseph in St. Paul, Minnesota. She devoted her life to education.[26]
In 1933, when Jack's brothers, James and Maurice, applied for compensation for his death, it was discovered that there was no official record of his death and no death certificate could be issued, something that was not unusual for victims of the Civil War. Their application was not accepted as it was ruled they had not been dependent on Jack at the time of his death.[27]
In 1933, when Jack's brothers, James and Maurice, applied for compensation for his death, it was discovered that there was no official record of his death and thier application was not accepted.
On the fourth anniversary of Jack's death, his comrades posted a memorial notice stating that he was 'cruelly bayonetted to death' but this is the only such reference found.[28] In the 1930s, schoolchildren were asked to write about local memories and traditions and several recorded accounts of Jack's death. The tragic event would have been a vivid memory among the people at this time.
Peggy Walsh in Bouleenshere National School wrote an account in 1938 under the heading 'Sad history of Jack Lawlor': 'It so happened that an ambush took place in Tiershanahan, not far from Ballingarry,  this November night, and a youth named Jack Lawlor who took part in the ambush fell into the hands of the Free State soldiers. They bound him and dragged him along and he received several blows and insults before they reached Ballyheigue village, which is about three miles from where he was captured.' Nicholas Higgins in Glenderry National School added the detail that, as he was being taken to his death, Jack grasped on to the iron gate of St. James' churchyard and would not let go: 'They got a red-hot iron then and put it to his hand and he let go and after that they shot him.'[29]
Local folklore remembered the execution as particularly cruel and alleged mistreatment of Lawlor before he was shot.
Jack Lawlor was buried in St. James's graveyard, close to where he was shot, and his comrades erected a memorial over his grave. It has no military emblems, just a carving of a lily, the symbol of Easter Week. The inscription carries a simple tribute: 'He gave his life that his country might be free. Honour to the Brave.' Another memorial was later erected at the place where he was killed.
The execution of Jack Lawlor was commemorated in Ballyheigue on 31 October 2022, with his niece Joan, nephew John and other members of the Lawlor family in attendance.[30]
Author:
Bryan MacMahon's book Ballyheigue in Arms: Profile of a Kerry Parish, 1914-23 will be published in 2023. His most recent books are: Faith and Fury: the evangelical campaign in Dingle and West Kerry, 1825-45 (2021) and The Great Famine in Tralee and North Kerry (2017).
References
[1] Evening Herald, 14 June 1923.
[2] Military Archives (MA), Cathal Brugha Barracks, Dublin: Brigade Activity Reports, MA/A6/B/1.
[3] Nominal Rolls, MA/RO/90.
[4] Ibid.
[5] See, for example, Freeman's Journal, 21 November 1922 and Belfast Newsletter, 25 November 1922.
[6] National Archives, FIN/COMP/2/8/119.
[7] Doyle, Summer Campaign, p. 36.
[8] MA/CW/OPS/08/02.
[9] Cork Examiner, 4 November 1922.
[10] Dorothy Macardle, Tragedies of Kerry (1924), p.16.
[11] Handwritten account held by Micheál Ó hAllmhuráin, Ballyheigue.
[12] Seán Enright, The Irish Civil War: Law, Execution and Atrocity (2019), pp 29-30.
[13] Ibid., p. 120.
[14] Diarmaid Ferriter, Between Two Hells (2021) p. 5.
[15] See: John Dorney, 'Executions during the Irish Civil War', The Irish Story. https://www.theirishstory.com/2022/11/17/executions-during-the-irish-civil-war/#_edn13
[16] Irish Independent, 18 February 1933.
[17] Connacht Sentinel, 3 October 1950.
[18] Ibid.
[19] Karl Murphy, General W.R.E. Murphy and the Irish Civil War, 1922-3, unpublished MA thesis, NUI Maynooth, p. 31 and p. 27.
[20] Tim Horgan, Dying for the Cause (2015), pp 335-7. See also Macardle, Tragedies of Kerry, pp15-16.
[21] Niall Harrington, Kerry Landing, August 1922 (1995), p. 141.
[22] The Men Will Talk To Me: Kerry Interviews by Ernie O'Malley, edited by Cormac K.H. O'Malley and Tim Horgan (2012), p. 233.
[23] Irish Press, 18 February 1933.
[24] Irish Press, 31 March 1933. James Hogan's book Could Ireland become Communist? was published in 1935. It has been described as 'a jeremiad against communist infiltration of nationalist organisations such as the IRA'. (Colman Cassidy, Irish Times, 7 July 2021.)
[25] Irish Independent, 3 October 1950.
[26] For more details on these missionaries, see Micheál Ó hAllmhuráin, Going Global for God: A Portrait of Ballyheigue's Missionary Movement (2016).
[27] MA/DP5318.
[28] An Phoblacht, 29 October 1926.
[29] National Folklore Collection, University College, Dublin: Schools Collection, Vol. 0417, p. 375ff and Vol. 0417C, p. 02/037. Online at www.dúchas.ie.
[30] Reports in Kerry's Eye, 3 November 2022 and Kerryman, 9 November 2022.