The last commandant-general of 1916? Sean McLoughlin's Easter Rising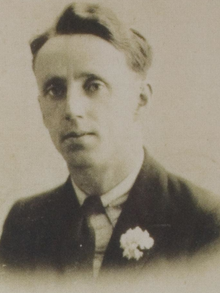 By John Gibney
Was Sean McLoughlin the most senior surviving commandant of the Easter Rising?
Given that independent Ireland was governed for the first decades of its existence by veterans of the revolution, for whom service in 1916 was often the foundational event of their careers, the question of the precise roles they played during the Rising had an enduring relevance. McLoughlin's life had many facets, as any life will, and is explored more fully in Charlie McGuire's full-length biography. [1]
The subject of this essay is McLoughlin's role in the Easter Rising, and why it has come to be his claim on posterity above all else. [2]
Early life
Sean McLoughlin was born in Dublin's North King Street on 2 June 1895, the second son of a coal carter, Patrick McLoughlin, a founding member of the ITGWU who was later active in the 1913 Lockout, and his wife Christina. McLoughlin attended school at North Brunswick Street and North Richmond Street.
Around 1911 he joined the Colmcille Branch of the Gaelic League, based in Blackhall Street, and subsequently Na Fianna Éireann (the organisation that he was perhaps most closely associated with). Between these he met various individuals with whom he would be associated, such as Michael Staines and Seán Heuston.
McLaughlin was born into a working class background in Dublin's north inner city and from a young age became involved in separatist activism
Like many young nationalists, he became involved in the Irish Volunteers' following their foundation in November 1913; he claimed to have set up a company, and to have opposed Redmond's call to support the war effort (although his eldest brother, Danny, did join the British Army). McLoughlin also joined the Irish Republican Brotherhood and was apparently a marshal at Jeremiah O'Donovan Rossa's funeral in Glasnevin Cemetery in August 1915.
In the days prior to the Easter Rising McLoughlin was involved in moving weapons around Dublin's north inner city, and on 24 April 1916 joined D Company of the Dublin Brigade of the Volunteers, led by Heuston, as they occupied the Mendicity Institution, a charity for Dublin's poor and homeless based in a Georgian townhouse on Usher's Island (located beside the house that was the setting for James Joyce's short story The Dead).
Mendicity Institution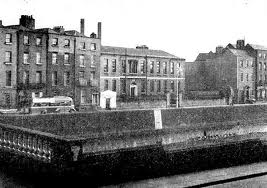 Heuston and those under his command were to use the building as a vantage point from which to ambush soldiers who might be mobilised from the Royal Barracks (now Collins Barracks) on the other side of the River Liffey. The purpose was to enable Volunteers under Edward Daly to establish positions around Church Street and the Four Courts without fear of attack.[3]
McLoughlin helped to build barricades around the Mendicity Institution before being despatched to collect homemade bombs and food from a number of locations. One of these was Heuston's family home on Fontenoy Street near Broadstone, where he collected more food and ammunition. According to Heuston's younger brother Michael, before doing so McLoughlin produced a pistol and trained it on Heuston's aunt, informing the family that: 'We're expecting the Germans; there'll be 50,000 here by Saturday, or Monday at latest'.
Prior to his departure (having apparently been given Heuston's dinner), he told the family that 'now I have to climb back over the wall into the Mendicity, and I may be shot doing so. I had to shoot a soldier in the lane behind it when coming out. Then a lot of soldiers' wives and people followed me. I led them up a lane and turned round to them took out my pistol and pointed it at them. 'Now', I said, 'it's your life or mine'. A girl fainted and I left them there'. [4]
There is no mention of the latter details in either of McLoughlin's later accounts of his conduct in 1916.
During Easter week 1916, McLaughlin initially acted as a go-between between the rebel post at the Mendicity Institution along the river Liffey and the rebel headquarters at the GPO.
McLoughlin continued on to the GPO on Sackville (O'Connell) Street with a message from Heuston to the Rising's main leaders Patrick Pearse and James Connolly. He returned to the Mendicity Institution at around 6pm, where his comrades 'were eager to hear all I had to tell' and were 'put in great spirits' by his news.[5].
One of the volunteers present, P.J., Stephenson, recalled McLoughlin reporting that 'we had won hands down, the whole city was in our hands…the Germans had run a cargo of guns into Kerry and were sailing up the Shannon to land troops in Limerick, and march on Dublin. The British had been taken completely by surprise and had been beaten off everywhere they attacked. The Irish Volunteers were now the Irish Republican Army… he would have made a great minister of propaganda, with his mixture of truth and near lies'. [6]
Others present were apparently more skeptical of his wilder claims. But McLoughlin's announcement galvanised the small group of Volunteers, who greeted his disclosures with euphoria; prior to this, Heuston had contemplated abandoning the building, as he feared the rebellion had collapsed. On Tuesday and Wednesday McLoughlin, who knew the north inner city intimately, continued to shuttle between the GPO and the Mendicity Institution, delivering messages and helping to guide a small number of reinforcements sent to assist Heuston's garrison.
As he and Stephenson returned from the one of these errands on Wednesday, however, they realised that Heuston's small garrison had surrendered; after being spotted by onlookers on Church Street, near Hammond Lane, McLoughlin beat a hasty retreat. McLoughlin claimed to have visited the nearby Richmond Hospital before encountering his mother, who was unimpressed that McLoughlin's younger sister Mary was also in the GPO.
In the GPO

He made his way to the GPO, and later recalled the eerie atmosphere of Henry Street: 'it gives you a curious impression to find yourself solitary in a street you have always been accustomed to associate with crowds, to walk between its rows of smashed shop windows, and over the litter of boxes and wrappers and abandoned loot'.[7] Having arrived at the GPO, McLoughlin helped to seize the Irish Independent offices on Middle Abbey Street, to verify reports that British troops were approaching. The view from roof of Irish Independent offices, published in Irish Worker in 1924, offered a vantage point of chaos:
In front was a roaring sea of flame leaping to the sky, with the crackle of musketry and cannon pealing the accompaniment. Behind was another terrific blaze from the Linen Hall barracks, which had also gone up. It was apparent now that we were doomed. No stories of landing Germans would be believed. It was a handful of daring men against the wrath of a might Empire, with the odds on the Empire.[8]
He and his colleagues returned to the GPO around 6am and Connolly, whom McLoughlin had been reporting to earlier in the week, recommended him to Seán MacDiarmada. According to McLoughlin, MacDiarmada wanted to keep McLoughlin with them as the evacuation of the GPO became inevitable and mentioned that Williams & Woods factory on Kings Inns Street was their next destination. McLoughlin disagreed with this; he had been moving through this area and had some sense of the disposition of British troops in the locality.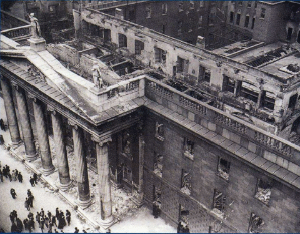 McLoughlin claimed to have organised the members of the garrison who had gathered in Moore Lane and Moore Street after abandoning the GPO.
His demeanour, and his intimate knowledge of the area impressed both Connolly and MacDiarmada, who insisted that he be given the responsibility of leading a prospective escape from the terrace of buildings on Moore Street in which they had found themselves; consequently, McLoughlin, as he claimed himself, was promoted to 'commandant-general' – the rank and position held by James Connolly – and to this end was given a yellow insignia to wear on his tunic.
At least two volunteers, Joe Good and Seamus Robinson, both noted the presence of this insignia, and Good confirmed that McLoughlin obtained them in Moore Street. [9]
Commandant General?
Can this claim to command be trusted, given that McLoughlin was deemed by some to be prone to exaggeration, and that there are occasional discrepancies between his version of events and those of others?
Based on some of what his comrades saw and heard, McLoughlin's claim is credible. James Kavanagh explicitly recalled Pearse telling McLoughlin that 'I've been instructed, Seán, by the Executive Council to inform you that they have appointed you Commandant General of all the Dublin forces vice James Connolly who is wounded'.[10] Michael Staines confirmed that he received the rank of commandant (though not commandant general) from Connolly. [11]
McLaughlin seems to have helped to organise the escape of the rebel garrison from the burning GPO to Moore Street and claimed then to have been promoted to Commandant General.
Frank Henderson  agreed that McLoughlin had acquired some unspecified rank; Henderson, James Carrigan and Oscar Traynor recorded that McLoughlin himself made the claim at the time (as opposed to after the fact), and that he behaved as it he was indeed in command. [12]  According to Good, McLoughlin was the only one to provide what he described as 'aggressive leadership…he entered and freely discussed his plans with the members of the staff and seemed to have authority by their collective consent'.[13]
There were various discussions about what the next move should be: could the republican forces escape from the terrace of houses on the east side of Moore Street in which they had sought refuge, and what might be the best means of doing so?
McLoughlin himself was in doubt that they were in a very precarious situation. 'I was quite convinced that we should never emerge from this place intact. It was only a question of hours with the British assuming activities later in the day when we would be completely smashed to pieces. The nerve of most would be broken: those who were not immediately killed would either be captured of surrender and only a small handful, of which I hoped to be one, would ever reach the objective – the markets in the Four Courts alive'.[14]
McLoughlin suggested drastic action to escape from Moore Street. One of his suggestions was that flammable liquid could be poured across Moore Street to act as a diversion to facilitate a charge towards Williams & Woods; according to Joe Good, 'it appeared to me that headquarters staff were deliberating on this plan, because he [McLoughlin] came back on more than one occasion asking for their consent'.[15]
Given that they could not cross the street without coming under intense fire from a British barricade at the north end of the street, McLoughlin also suggested that 20 or 30 men –  a 'death or glory' squad, as he put it – should rush the barricades. McLoughlin would throw a bomb, and the others would rush across the street, leaving the wounded, with the exception of Connolly, behind in the terrace. They would then work their way through a network of lanes (most of which are long gone) towards Capel Street and, hopefully, the Four Courts.
McLoughlin assembled his men in a yard, complete with bayonets, only to be called back inside by MacDiarmada, as Connolly asked him to explain himself. Pearse had reservations about McLoughlin's idea for what would almost certainly be a suicidal attack on the British barricades and persuaded him to delay it by an hour; the eventual surrender that came soon after ensured that it never took place.
Surrender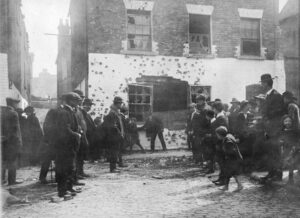 McLoughlin organised the members of the GPO garrison as they marched out of Moore Street in formation to surrender; he advised them to get rid of any incriminating material, and also insisted  -'most carefully', according to Joe Good – that their weapons be unloaded.
They marched via Henry Place towards the Parnell Monument, where McLoughlin threw a sword he had obtained from somewhere at the feet of an indignant British officer – seemingly Major-General William Lowe, the most senior British officer present – who had objected to McLoughlin issuing orders.
The members of GPO garrison were detained overnight in the Rotunda Gardens before being marched out to Richmond Barracks, where McLoughlin had his encounter with an officer who tore off the insignia after noting that 'you are young to be an officer'; an act that McLoughlin later viewed as a stroke of good fortune, as it prevented his being singled out as a member of the rebel leadership.[16]
Apparently stopped from leading a suicidal final bayonet charge, McLaughlin was put in charge of the final surrender of the GPO garrison at Moore Street
He and the others were then marched down to the quays, and were sent to Knutsford Prison near Manchester. McLoughlin was then detained in Frongoch in Wales. He was released in December 1916 and remained active in the independence struggle thereafter, helping to reorganise the Irish Volunteers in various counties.
Socialist activist and IRA guerrilla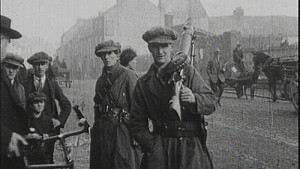 He later spent time in Scotland seeking weapons for the IRA, and while there gravitated towards socialism (his family background, as the son of an ITGWU member, may also have inclined him to lean leftward).
McLoughlin eventually arrived at a position very close to that of Connolly: that the emancipation of the working class was inextricable from the Irish struggle for independence and, furthermore, that the struggles of the British and Irish working classes were equally intertwined.
McLoughlin was involved in founding the Irish Communist Labour Party and fought in Limerick and Tipperary during the Civil War, in which he took the anti-Treaty side, hoping that the IRA could become a vehicle for class politics.
McLaughlin later became a socialist and Communist Party activist.
Having been imprisoned by the Free State in December 1922, McLoughlin became an active trade unionist after his release , and as a senior member of the Larkinite Worker's Union of Ireland oversaw a strike in 1924 aimed at improving pay and conditions for workers at the Great Southern and Western Railway's Inchicore rail works.
His role here brought him into acrimonious conflict with James Larkin himself, who came to an agreement with the railway that undermined  McLoughlin (and sacrificed the jobs of 107 members of his own union). A disillusioned McLoughlin emigrated to England soon after, eventually settling in Sheffield.
A struggle for recognition
In the decades following the struggle for independence came a struggle for recognition. In 1949 McLoughin was awarded an Irish military service pension at the level appropriate to the rank of lieutenant. He appealed it in 1951 on the grounds that it had not recognised the rank that he held at the end of the Rising (nor aspects of his post-1916 career), claiming furthermore that obstacles were placed in the way of a proper recognition of his service.
He accepted that some of what he was stating in pursuit of his claim might sound 'astonishing, some of them attacking, in a sense, the established popular view of what took place in 'Easter Week' and at other periods', for 'I finish up as commandant-general HQ forces in O'Connell St, and there is where the trouble commences; for political reasons and prestige reasons opposition is made to that simple statement of fact'. [17]
McLaughlin fought for many years for public recognition of the role he had played in the final hours of the Easter Rising and that he was  the most senior surviving officer.
Two of the republican commandants, who had commanded a battalion apiece,  avoided execution after the Rising: Thomas Ashe, who died while being force fed on hunger stroke in 1917; and Éamon de Valera, whose lengthy career was inextricably linked to his service in 1916, especially his presumed status as the most senior survivor. But de Valera had been a commandant; McLoughlin's claim was to a unique and more senior rank.
It seems reasonable to suggest that McLoughlin believed his claims were politically embarrassing to senior figures such as de Valera; after all, they would have been. In later correspondence, McLoughlin also explicitly stated that his association with organisations linked to Russia whilst in Britain had counted against him, which could be taken as shorthand for saying that he felt that hostility to his left-wing politics was another barrier to obtaining the recognition that he felt was due.
He suggested that a number of individuals (such as James Ryan, Frank Henderson, Oscar Traynor, Sean McGarry, Joseph Reynolds, and Diarmaid O'Hegarty), be contacted to confirm his claims. But while virtually all agreed that McLoughlin was in command at the final surrender of the GPO garrison, none of those who responded definitively confirmed his rank, though some had heard him claim it.
McLoughlin's efforts were in vain: the conclusions of the pensions board were unchanged. He appealed again, unsuccesfully, but in 1958 was forced to accept the pension that was on offer, two years before his death in Sheffield in 1960.
What does all of this mean, and why does it matter? Would this recognition have somehow changed the trajectory of Ireland's modern history?
Almost certainly not. Does it correct a misapprehension? Almost certainly yes, and perhaps it is enough, at this remove, simply to set the record straight. Given the emphasis on rediscovering neglected or forgotten stories in the course of the 'Decade of Centenaries', even a skeptical eye cannot ignore the fact that at the end of the Easter Rising Sean McLoughlin was at the centre of its most significant events; posterity surely owes him that recognition.
John Gibney is Assistant Editor with the Royal Irish Academy's Documents on Irish Foreign Policy series: www.difp.ie. An earlier version of this article was presented as a lecture at Glasnevin Cemetery Museum on 3 May 2017. The author would like to thank Tommy Cooke and Charlie McGuire for their assistance.
References
[1] Charlie McGuire, Seán McLoughlin: Ireland's forgotten revolutionary (Pontypool, 2011).
[2] McLoughlin left two accounts of his role in the Easter Rising: Sean McLoughlin, 'Memories of the Easter Rising, 1916', Camillian Post, vol. 13, no. 1 (Spring 1948), pp 1-21; and his statement to the Bureau of Military History, dated 26 August 1949: Military Archives, Dublin, Bureau of Military History Witness Statement (hereafter BMH WS) 290.
[3] See John Gibney, 16 Lives: Seán Heuston (Dublin, 2013), pp 95-37.
[4] Military Archives, Dublin, Bureau of Military History Contemporary Documents (CD) 309/1, ff 20-21.
[5] McLoughlin, 'Memories of the Easter Rising, 1916', p. 7.
[6] National Library of Ireland, MS 36,147: Patrick J. Stephenson, 'Heuston's Fort: the Mendicity Institute Easter Week 1916' [1966], p. 22.
[7] McLoughlin, 'Memories of the Easter Rising, 1916', p. 9.
[8] Cited in McGuire, Sean McLoughlin, p. 29.
[9] BMH WS 165 (Seamus Robinson).
[10] BMH WS 899 (James Kavanagh).
[11] BMH WS 284 (Michael Staines).
[12] BMH WS 249 (Frank Henderson); BMH WS 340 (Oscar Traynor); BMH WS 613 (James Carrigan).
[13] BMH WS 388 (Joe Good).
[14] BMH WS 290 (Sean McLoughlin).
[15] BMH WS 388 (Joe Good).
[16] BMH WS 290 (Sean McLoughlin).
[17] Military Archives, Dublin: Military Service Pension Collection (MSPC) WMSP34 REF61056 (Sean McLoughlin).