Bill Dwyer -The King Of The Rum Runners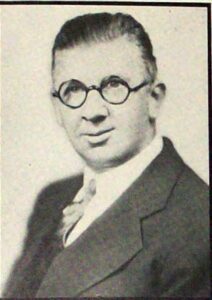 By John Joe McGinley
Bill Dwyer was one of a number of Irish American figures to rise to prominence through organised crime in the 1920s and 30s.
Unlike many others who ended their careers with violent death or imprisonment, Dwyer reinvented himself as legitimate businessman and owner of professional sports teams, before the authorities, in particular the tax man, finally caught up with him.
Although he took to organised crime late in his life at the age of 37, Bill Dwyer became famous as a leading gangster and sporting promoter in the era of prohibition. He believed the prohibition of alcohol in the United States of America was a business opportunity and saw its unlimited earning potential.
'Big' Bill Dwyer, known as the 'King of the rum runners' never saw himself as a gangster.
Through treating crime as a business, he took the New York Irish mob from the practice of anarchic violence and moulded them into a multi-million-dollar operation. This made him, for a time, one of the richest men in America, if not the world and became known as the 'King of the Rum Runners' (1)
Early life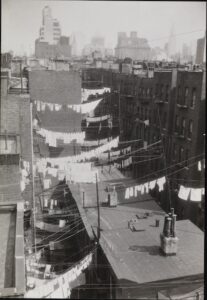 William Vincent Dwyer, known as Bill, was born to Irish immigrant parents in New York's Hell's Kitchen on February 23rd , 1883. His parents were determined that he would not fall into the hands of the two gangs prominent at the time in the area, the Hudson Dusters and the Gophers. He, unlike many of his friends, finished public school and began working life without a criminal record.
He started his adult life as a cinema usher and then became a longshoreman, or docker, on the Chelsea piers on the New York waterfront, which would open his eyes to business opportunities in the future.
He met and married a local girl, Agnes Frances Cassidy, and they soon started a family. They would eventually go on to have five daughters.
It was to provide for his growing family that Dwyer used his education and natural intelligence to start his own back street illegal bookmaking operation, which would prove to be highly lucrative and gave him the capital and desire for a greater involvement in the criminal world.
Dwyer came from a working class but respectable and educated background. He turned to crime quite late in life, first bookmaking and then smuggling alcohol.
In 1919 the Volstead Act was enacted bringing in the prohibition of the sale and consumption of alcohol in the United States. Bill Dwyer now sensed a new business opportunity.
George J Shevlin, a childhood friend from his days in Hell's Kitchen, was the owner of a string of working men's bars around the New York waterfront. He was now struggling to stay in business, even with a flow of illegally made bootleg beer. The substandard (and in some cases dangerous) quality of the beer was driving away even the hardest of drinkers. On some occasions, it was even killing them. (2)
However, Dwyer thought of a solution, informed by his experience working on the docks. The American government stored vast quantities of confiscated alcohol in the many warehouses that surrounded Chelsea pier. Once Prohibition began, there were some small-scale attempts to steal this alcohol, but they were clumsy and largely unsuccessful.
Dwyer knew that a more subtle solution was needed and not just violence. Dwyer firmly believed that violence was unnecessary and bad for business.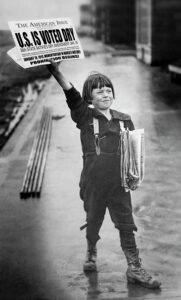 Dwyer and George Shevlin, the erstwhile publican, became partners and gathered together a small group of longshoremen, all Irish and natives of Hell's Kitchen, forming them into a criminal gang with the aim of acquiring the alcohol stored on the docks by whatever means were in their power.
What set Dwyer apart from his peers, however, was that he and Shevlin largely pursued a policy of non-violence in their attempts to obtain the liquor stored by the authorities.
They began bribing key employees and forging false permits to withdraw huge quantities of industrial alcohol which they then sold on to other bootleggers. Dwyer was never drawn to the flamboyant lifestyle of other bootleggers and, as his business grew, he instead reinvested his profits into warehouses, trucks and experienced men to guard his operation.
As his success grew, so did the violence, as inter gang warfare sprang up and the authorities increased security, forcing bootleggers to use a mixture of bribery and violent coercion. Bill's business partner George Shevlin thought the escalating violence was not for him and decided to take his share of the money they had made and leave New York. Before he did though, he left Dwyer $2,500 to use in an emergency.
It was not long before he needed those funds.
Dwyer was a hands-on bootlegger who often drove his own trucks. This was to prove foolhardy and soon after Shevlin left the city, Dwyer was pulled over by two police detectives, not like other police officers by this time, on Dwyer's own payroll.
They demanded immediate payment and Dwyer used the money Shevlin had left him. Word spread among the police force and soon Dwyer was inundated with offers of assistance in return for bribes. (3)
Dwyer thereafter created a bribery network that included officers of, the New York Police Department, the federal prohibition department, the New York political establishment and the US Coast Guard.
Though personally disliking violence, Dwyer knew that he needed the protection of organised crime from both the police and other criminals.
Dwyer soon found himself at the head of a multi-million-dollar operation which he treated like a business. An undertaking he knew he could not run on his own.
Bill Dwyer's problem was he was now the largest distributor of illegal alcohol in the United States and while he controlled the New York area, once one of his trucks left to distribute bootleg booze to other parts of the country, he was subject to numerous hijack attempts. He needed protection and allies.
Dwyer decided he would engage with both the Italian and Jewish mafia and seek to forge a partnership. Protection was a necessity for his operation by this point, but Dwyer had always considered himself a businessman and not a gangster. He needed a partner who had the connections and who could speak the language of the underworld.
Fate would supply a solution.
Working with Owney Madden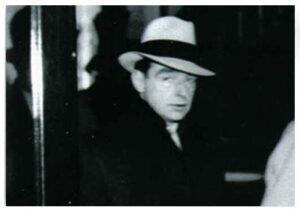 In 1924, after two shipments belonging to Dwyer were hijacked, he used policemen on his payroll to identify the culprit. He was a man he was well acquainted with, fellow Irishman, Owney Madden.
Madden was the leader of the Hell's Kitchen gang the Gophers and was just out of prison after a stretch for the murder of fellow Irish gangster, Patsy Doyle.
Madden was an immigrant of Irish descent and was nicknamed Owney 'The Killer' Madden and with good reason.
Once he knew who was responsible for the hijacking, Dwyer sent out a message to the underworld: "Get me Owney Madden. I want to talk to him. I've got a business proposition for him." (4)
Madden met Dwyer at his lawyer's office in Times Square and an alliance was established to build America's largest bootlegging operation.
Madden would supply the muscle and underworld connections, in essence Madden overseeing the violence that Dwyer so despised but knew was now essential if his criminal empire was to survive.
The rise of the Combine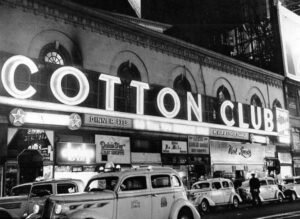 Dwyer also sat down with the Italian Mafia boss Frank Costello and representatives of the Jewish mob. Soon a nationwide network was established, which was to be known as the 'Combine.'
By 1927 the Dwyer-Madden- Costello Combine wielded unprecedented influence in New York City. With Dwyer's business acumen, ward boss Jimmy Hines' political influence and Madden's muscle, the Irish Mob was the most powerful of all the criminal organisations in New York.
An interesting aspect of the Irish mob's organisational structure was that you did not have to be Irish to be a member. Unlike the restrictive Italian Mafia, the Irish mob was open to anyone who was useful to them. This meant Jews, Italians and African Americans worked hand-in-hand with the Irish Combine bosses.
Unlike the restrictive Italian Mafia, the Irish mob was open to anyone who was useful to them. This meant Jews, Italians and African Americans worked hand-in-hand with the Irish
The ranks of the Combine were swelled with up-and-coming gangsters from various backgrounds like Francisco Castiglia, Arthur Flegenheimer, Frank Costello, Dutch Schultz and Salvatore Lucania, better known to history as Charles 'Lucky' Luciano, who would help to extend its power throughout New York and all across America.
Feeling secure, Bill set to work using millions to create the Phoenix Cereal Beverage company. This was located on 26th Street and 10th Avenue right in the heart of his old neighbourhood of Hell's Kitchen. Madden was the front man, brewing what was to become known as 'Madden's No 1 Beer'.
Madden encouraged Dwyer to bring in another partner, fellow Irishman and former taxi firm owner, Larry Fay. He would become the front man to distribute Madden's Number 1 Beer and the rum, whiskey and vodka the Combine was bringing into New York.
Madden and Dwyer also partnered with former bootlegger Sherman Billingsley at the very fashionable Stork Club on East 53rd Street.
The two Irish gangsters spread their business operations into the north part of Manhattan when they bought the Club De Luxe from former heavyweight boxing champion, Jack Johnson. They inserted their associate, Big Frenchy De Mange, as their operating partner, and changed the name to the Cotton Club, which would become one of the most famous venues in New York City.
At the Cotton Club, De Mange instituted a 'Whites Only' admittance policy, despite the fact the waiters, dancers, and headline entertainers, like Cab Calloway, Duke Ellington, Louis Armstrong, Lena Horne, Bill 'Bojangles' Robinson, and the Nicholas Brothers, were all black.
The Cotton Club was wildly successful and became a cash-cow for Dwyer and Madden, whilst allowing them to clean the massive profits they were making from their illegal activities.
Bill Dwyer however did not rest on his laurels and was always looking for ways to improve his bootlegging business. He travelled to Canada, England and the Caribbean to develop links with anyone who could supply him with liquor, which he could then smuggle into the US.
King of The Rum Runners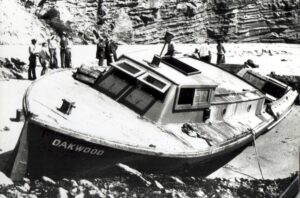 Bootleggers known as Rum Runners had been smuggling bootleg booze into America almost from the first day of Prohibition. This success forced public outcry and needed a response from the authorities.
This came in 1924 from both the coast guard and the federal government with increased investment to stop the inflow of illegal alcohol.
The US authorities sanctioned the construction of new, faster Coast Guard ships specially equipped to halt the alcohol trade.
Undeterred, Dwyer had the resources to adapt to this evolving landscape. Using his Longshoreman connections and the wealth he now had at his disposal, he purchased a fleet of ships that would rendezvous with the supply ships miles out at sea. The booze would then be safely transferred to Dwyer's ships.
Dwyer used his Longshoreman connections and wealth to purchased a fleet of ships that would rendezvous with the supply ships miles out at sea. The booze would then be safely transferred to Dwyer's ships.
Once his vessels reached US waters and in reach of the US coast guard, the booze was transferred to a fleet of high-powered speed boats which then delivered the illegal cargo at night.
In a bid to evade the Coast Guard, Dwyer turned to another old friend who helped him purchase hundreds of airplane engines left over from World War 1. Dwyer arranged for them to be outfitted onto his existing speedboats, to create a fleet of ships now faster than any of those available to the authorities in America. The Coast Guard might see them, but they couldn't catch them. (5)
Just in case they did catch them, Dwyer arranged for his boats to also have steel plating and high-calibre machine guns fitted.
Once his booze-laden boats reached land they were unloaded at docks which were protected by the Local 791 of the International Longshoreman's Union, which was controlled by Dwyer and Madden.
From the docks, the liquor was moved to several warehouses, again owned by Dwyer in the New York area. When the time was right, trucks filled with illegal alcohol, and protected by convoys of Teamster members, transported the booze all over the country.
His network supplied Florida, St. Louis, Kansas City, Cincinnati, and as far away as New Orleans. Dwyer was able to smuggle large amounts of booze into New York City because he knew one simple fact: you had to bribe the police and the Coast Guard if you wanted to be successful in the bootlegging business. And that Dwyer did, handing over thousands of dollars to anyone who would accept his generosity and who was willing to turn a blind eye in return.
Paying off New York City cops was easy. The police who didn't have their hands out for bribe money were rare. However, Dwyer was especially skilful in recruiting Coast Guard members to look the other way, when his speedboats were entering New York waters.
This success of this fleet helped Bill to acquire the lifelong nickname of 'King of the Rum Runners.' (6)
Soon the Combine was making hundreds of millions of dollars and even the well-bribed authorities were forced to act.
The Arrest of Big Bill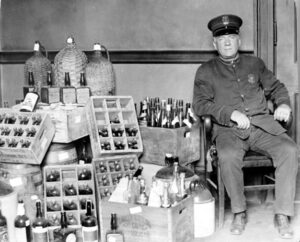 In 1925, Dwyer was arrested for attempting to bribe Coast Guard members during a sting operation headed by the Prohibition Bureau.
Being convicted and imprisoned was a great shock to Bill Dwyer. He had always looked upon himself as a businessman and never considered himself a gangster.
While he was in prison, a despondent Dwyer said to one of his cell mates.
"I wish I had never seen a case of whiskey. I spent years in daily fear of my life, always expecting to be arrested, always dealing with crooks and double-crossers, and now look at me. My wife is heartbroken, and I am worse than broke."
While in prison, Frank Costello and the Italian Mafia eased Madden (who was already under suspicion for the murder of Mad Dog Coll) aside and took over Dwyer's operation.
Leaving organised crime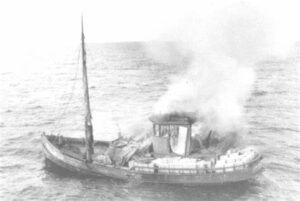 After 13 months in prison, Dwyer was released for good behaviour. He recognised the landscape had changed and the Italian Mafia was now on the ascendancy. He was a realist and slowly began to withdraw from bootlegging, instead investing his money into legitimate businesses including sports teams, owning a football and two ice hockey teams.
Bill first purchased the Hamilton Tigers of the National Ice Hockey league and moved them to Madison Square Garden, renaming the franchise 'The New York Americans.'
With his vast wealth from bootlegging and being accustomed to paying for success, Bill's strategy for sporting success was simple — pay massive wages to attract the best players and bribe officials to win at all costs.
After a 13 month spell in of imprisonment, Dwyer reinvented himself as sports team owner.
For example, in 1927 the average hockey player was earning around $1,500 a year. Bill gave one star player, a certain Billy Burch, a three-year contract worth $25,000 a year. (7)
Dwyer also paid off line judges to award goals if the puck touched the goal line instead of passing over the line, which was the rule.
His involvement in fixing games was legendary, a fallout from his days of bribing state and federal officials.
A story is told that at a game in 1927 in Madison Square Garden, the goal judge, whom Dwyer had on his payroll, for some unknown reason started taunting Ottawa goalie, Alex Connell. Connell responded by butt-ending his hockey stick into the goal judge's nose. Dwyer became incensed at the Ottawa goalie and Connell was told to leave town quickly after the game.
A police car took Connell to the train station and protected him until the train was safely out of town. After the train left the station, a man asked Connell if he was the Ottawa goalie, Alex Connell. Connell, afraid for his life, told the stranger no. And, as a result, he lived to play another day. (8)
Bypassing a league rule that a person could not own two hockey teams, in 1929, Dwyer, using ex-lightweight boxing champ Benny Leonard as his front man, purchased the NHL's Pittsburgh Pirates.
In 1930 he bought the Dayton Triangles National Football League side and moved the team to Ebbets Field in Brooklyn and renamed them the Brooklyn Dodgers.
After three years of vastly overpaying his players, Dwyer began haemorrhaging so much money that he was forced to sell the Brooklyn Dodgers to two former New York Giants players, Chris Cagle and John Simms, for $25,000.
Even though he sold the team for 10 times more than he had paid for them, Dwyer estimated he still lost $30,000 in the three years he owned the team.
In 1934 Bill bought the famed Tropical Park Horse Racing Track in Miami, Florida.
The authorities — sick of Bill's record of sporting bribery — came after him and in 1935, Dwyer was indicted on a gambling charge. But Bill was able to beat the case by using expensive and clever lawyers.
The Taxman's revenge
However, the authorities wanted to see the end of Bill's reign of interference in the American sporting world.
They decided to revert to a tactic that had worked with another figure in the criminal world, Al Capone, and they filed a case of tax evasion against Bill Dwyer. This time the expensive legal advice was to no avail and the sporting career of the King of the Rum Runners was soon to be over.
The charges were upheld, and Dwyer was stripped of all his assets except his family home in Belle Harbor, Queens and the hockey team, the New York Americans. With no other assets, Dwyer could no longer afford the running costs of the New York Americans. This led the National Hockey League to take temporary control of the club.
Like the more famous Al Capone, Bill Dwyer was eventually brought down as result of unpaid taxes.
Ever the fighter, Dwyer borrowed $20,000 from Red Dutton, the manager of the team. With this he hoped to show the National Hockey League he was solvent and regain control of his club. However, instead of paying his team's salaries, a desperate Dwyer decided to try to multiply his money in a 'craps' game. He lost the lot. (9)
Unable to pay his team, and with no other way to raise any more capital, the NHL expelled Dwyer permanently, and took final control of the New York Americans. Broke and despondent, Dwyer retired to his Belle Harbor home.
On December 10, 1943, Big Bill Dwyer, the King of the Rum Runners, died at the age of 63. Dwyer was reportedly penniless at the time of his death, his only asset being the roof over his head.
So ended the life of a man who viewed himself as a businessman and not a gangster, who passionately believed organised crime could be more effective if it was truly organised as a business.
A template that more violent and ruthless men would follow in the future.
You can read all about Bill and other Irish American Gangsters in Irish Wise Guys available here www.irishwiseguys.ie
Sources:
English, T.J. Paddy Whacked: The Untold Story of the Irish American Gangster. New York: HarperCollins, 2005.
com. 2008-10-08.
English, T.J. Paddy Whacked: The Untold Story of the Irish American Gangster. New York: HarperCollins, 2005.
Fox, Stephen. Blood and Power: Organized Crime in Twentieth Century America. New York: William Morrow and Company, 1989
com
com
Frayne, Trent (1974). The Mad Men of Hockey. New York, New York: Dodd, Mead and Company
Frayne, Trent (1974). The Mad Men of Hockey. New York, New York: Dodd, Mead and Company
com