Podcast: Dublin in the War of Independence with Liz Gillis and James Brady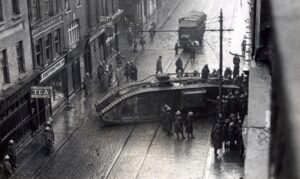 John Dorney speaks to Liz Gillis and James Brady about the IRA in Dublin city and County during the Irish War of Independence, first broadcast on the Irish History Show.
Liz speaks about the IRA Dublin Brigade in the city itself from 1919-1921, organised in four battalions (and fifth of engineers) and closely linked with IRA GHQ which was also based in the city, via the Squad and the Intelligence Department. The city came relatively late to the fight but from late 1920 its daily life was disrupted by clandestine urban guerrilla war, punctuated by major attacks such as Bloody Sunday in November 1920 and the raid on the Customs House in May 1921.
James speaks about the sixth battalion in South County Dublin, roughly the area encompassed by Dun Laoghaire Rathdown County Council today. In the early twentieth century, this encompassed both the suburbs such as Blackrock, Dun Laoghaire (or Kingstown) that had crept down the coast following the railway lines and a larger rural area stretching into the Dublin mountains. In some respects therefore the Sixth Battalion's experience was more akin to rural IRA units than their comrades in the city.
Listen to our conversation below: