Podcast: Youth culture and Loyalist paramilitaries with Gareth Mulvenna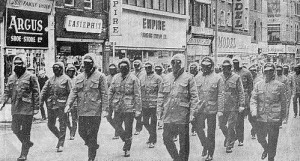 Cathal Brennan and John Dorney interview historian Gareth Mulvenna on his work on how 1960s 70s Protestant youth culture in Belfast – football supporting, Tartan gangs and neighbourhood gangs, morphed into loyalist paramilitarism in the context of the Troubles.
Gareth has interviewed many of the participants in the violence of those years and discusses their range of motivations for becoming involved in political violence in the early 1970s.
We discuss what their political understanding was, if any and how many later came to support the peace process of the 1990s.
Gareth is the author of Tartan Gangs and Paramilitaries: The Loyalist Backlash. His podcast, Hidden Histories of the Northern Ireland Troubles, is available on most podcast platforms and his blog is available here.
This was first broadcast on the Irish History Show.