Book Review: Markievicz: Prison Letters & Rebel Writings
By Constance Markievicz (edited by Lindie Naughton)
Published by Irish Academic Press (Newbridge, 2018)
Reviewer: Daniel Murray
"It is awfully funny being 'on the run'!" wrote Countess Markievicz to her sister Eva, in January 1920. "I don't know what I resemble most: the timid hare, the wily fox, or a fierce wild animal of the jungle." For three months, she had been a free woman, since leaving Cork Jail, on the 18th October 1919, in time for a police constable to be shot dead in Dublin later that evening.
The British authorities claimed a connection between that and her release; in any case, the situation was sufficiently unsettled in Ireland for a state crackdown on the burgeoning Republican movement, with house raids, arrests and, for some, deportations, hence the necessity of Markievicz staying one step ahead of the foreign foe.
Not that she appeared terribly concerned, at least in another letter to Eva: "I go about a lot, one way or another, and every house is open to me and everyone is ready to help." When she felt like stretching her legs, she took a bicycle around Dublin, the startled expressions of policemen at the sight of a notorious rebel as she whizzed by amusing her considerably.
"There are very few women on bikes in the winter, so a hunted beast on a bike is very remarkable," she pointed out.
"There are very few women on bikes in the winter, so a hunted beast on a bike is very remarkable," she pointed out.
But then, Markievicz was far from an ordinary individual. With a flourish, she signed the letter with the initials 'I.C.A, T.D.' after her name, the first set from her time in the Irish Citizen Army, which she had helped lead during the 1916 Rising, and the other due to her Dáil Éireann seat. Whatever her commitments, she took them seriously. When municipal local elections were held in January 1920, Markievicz publicly spoke on behalf of several female candidates, despite her outlaw status and the threat of capture. At one such rally, as she related:
I wildly and blindly charged through a squad of armed police, sent there to arrest me, and the crowds swallowed me up and got me away. The children did the trick for me.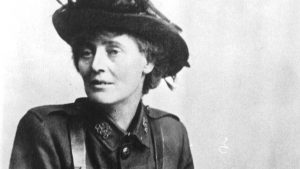 But luck and pluck could only take her so far, and she was finally caught in September 1920, while driving back with Seán MacBride from a trip to the Dublin mountains. After all the close shaves, it was an absurdly minor oversight that undid her:
The police pulled us up because of the tail lamp not being there: they asked for a permit; [MacBride] had none, so they got suspicious and finally lit a match in my face and phoned for the military.
Confinement to Mountjoy did little to stem the flow of her correspondence. It was not all business; Markievicz thanked her sister for the fruit sent to her in prison. Eva was holidaying in Florence, and Markievicz was eager to hear the details. "You'll be glad to hear that I am not on hunger strike at present," she added near the end, almost as an afterthought.
To read her words is to be yanked back into the cut and thrust of Irish politics and war at a time when a thin line, at best, existed between the two. Despite the hardships, Markievicz thrived, and her letters show a remarkable range of interests, from cosy family chitchat to the finer points of literature. But a hunger for current affairs was never far from the surface, whether Ireland's or elsewhere; Russia, for instance, pricked her notice. "I haven't given up on the Bolshies yet," she wrote. "I believe that they will greatly improve conditions for the world."
Few voices from the era were as loquacious or engaging as Countess Markievicz's, as this book shows.
On that particular point, the two siblings were not entirely in accord, though Markievicz sought to mollify the other somewhat: "I agree with you disliking the autocracy of any class, but surely if they have the sense to organise education, they can abolish class." While she admitted the possibility of Communism becoming another tyranny, "it would be worth it in the long run. After all, as she blithely put it, "the French Revolution gave France new life, though all their fine ideas ended in horrors and bloodshed and wars. The world, too, gained."
Quite what the Bolsheviks would have made of the aristocratically-born Countess is another, unasked question. But then, Markievicz wasted little time worrying about what society thought. Her life was her own, and she lived it with scant regrets. In January 1924, barely a month out of her latest spell in prison – courtesy of her fellow countrymen this time – she explained to Eva her approach to the challenges in her life, such as the hunger strike she and the other Republican prisoners had just undertaken.
"I always rather dreaded a hunger strike," she admitted:
But when I had to do it I found that, like most things, the worst of it was looking forward to the possibility of having to do it. I did not suffer at all but just stayed in bed and dozed and tried to prepare myself to leave the world.
The good news was that the prolonged starvation had alleviated her rheumatism. "Now, old darling, I must stop. Writing on a machine always tempts one to ramble on and on."
Judging by the rest of her letters collected here, the typewriter was hardly the one to blame. Not that the reader, whether a learned historian or neophyte seeking to know more, is likely to mind. Few voices from the era were as loquacious or engaging as Countess Markievicz's, as this book shows.