Today in Irish History, 9 July 1917: The Death of Muriel MacDonagh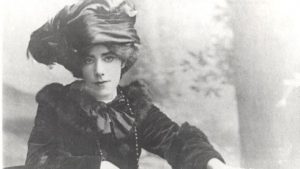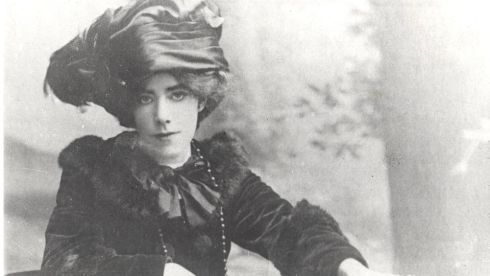 Muriel MacDonagh, wife of executed 1916 leader Thomas MacDonagh, outlived him by just one year. By Gerard Shannon
On 9th July 1917, just over a year following the execution of Thomas MacDonagh for his part in the Easter Rising, the MacDonagh family would be rocked by another tragedy with the sudden death of Thomas' widow, Muriel that would leave both their children suddenly orphaned.
Muriel MacDonagh nee Gifford, died accidentally just a year after her husband Thomas was executed.
Muriel was an activist in her own right, with strong family ties with the radical politics and cultural revival of the period, and had herself been active in Maud Gonne's radical nationalist women's organisation, Inghinidhe na hÉireann ('Daughters of Ireland)'.  
Muriel's sister Grace was the widow of rebel leader Joseph Plunkett whose ill-fated marriage became a powerful symbol of the loss in the aftermath of the executions, her sister Nellie fought with the Irish Citizen Army in St. Stephen's Green, while her sister Sydney would become a prominent journalist and activist for the movement in Irish-America under the pen-name 'John Brennan'.
 Who was Muriel?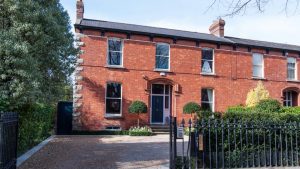 In 1885, Muriel Enid Gifford was born to parents Frederick and Isabella Gifford. Muriel was the eight child of the couple's twelve children.[1]
Frederick and Isabella Gifford were both of upper middle-class origin and of unionist-leaning politics. The family home by the time of Muriel's birth was a house built to the couple's specifications known as 'Temple Villas' located on the Palmerstown Road, Rathmines.
The Giffords were a-typical of families of a similar class residing in the southside of Dublin city in the early twentieth century. Theirs was a mixed marriage, Frederick being Catholic and Isabella being Protestant. Though the custom known 'Palatine Pact' determined all children of a mixed marriage be raised Catholic, it is clear from family accounts that all the Gifford children were raised Protestant.[2]
Muriel Gifford came from an upper middle class background with both Catholic and Protestant parents.
The favourite parent of the Gifford children was Frederick, as Isabella was recalled as a stern matriarch, and much of the raising of the children was left to their nannies. Though remembered as a serious and humourless woman in written accounts, there is little doubt that Isabella took a keen interest in the happiness and well-being of her children.
One of the trips would involved summer visits to the beach in Greystones, where each of the children became adept at swimming. While Frederick took to teaching the boys, Isabella appointed a woman called Ellen, who ensured the girls, Muriel included, would all become strong swimmers. [3] This was in spite of the fact that Muriel had survived girlhood rheumatic fever with a weakened heart. It would be later, in 1915, when she became hospitalised with the dangerous blood clotting condition, phlebitis.[4]
Growing into adulthood, Muriel was described as a tall, striking woman with long red hair. It was generally felt she was the quietest individual amongst a family who were considered quite sociable and out-going. [5].
Thomas MacDonagh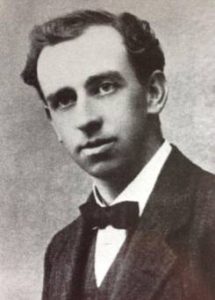 A London-born journalist, called Mrs. Nora F. Dryhurst, would befriend the Gifford girls and bring them into a wider social circle ensuring that, as a result, the six Gifford sisters: Katie, Nellie, Ada, Grace, Sydney and of course Muriel became noted figures in the social and artistic life of the capital in the midst of the cultural revival.
Through functions, events and parties, Muriel and her sisters would come to meet John Butler Yeats, and his son Willie and Jack, Arthur Griffith, Countess Constance Markievicz, the journalist James Stephens, and many others.
A running joke with their father Frederick was the frequent comment when he would see them at home was: "What is the matter? I hope you are not ill." [6]
Muriel met Thomas MacDonagh through their shared involvement in cultural nationalism.
Mrs. Dryhurst was keen to take them to a new school that had opened in 1908, and was first located on Oakley Road, Ranelagh – and later moved to Rathfarnham. This was 'St. Enda's', a bilingual private school for boys, founded by the journalist and cultural nationalist Patrick Pearse. On the day it opened, the Gifford girls would meet Pearse, and also another one of the teachers, Pearse's assistant and friend, Thomas MacDonagh.
Thomas McDonagh was born in 1878, originally from Cloughjordan, Co. Tipperary and had studied to become a priest, before eventually opting to become a teacher, a profession shared his parents. After teaching at several schools, in 1908, he was to join his friend Patrick Pearse at St. Enda's. Through this period, right up the 1916 Rising, Thomas McDonagh would write plays and poetry of a nationalist theme, and many essays on Irish writing.
Described as short, but sturdy, with grey eyes and brown curly hair, Thomas McDonagh was known for his engaging personality and good humour; something that was certainly on display when he first met the Gifford sisters that included Muriel.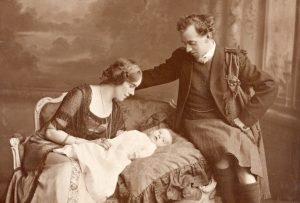 In a well-recalled anecdote on this first meeting, Mrs. Dryhurst advised Thomas that he 'should fall in love with one of these girls and marry her!'
Displaying a quick wit, Thomas responded with: 'That would be easy – but the only difficulty would be to decide which one!'[7] There is an alleged exchange with Patrick Pearse at this meeting, in which Pearse remarked to Thomas, "you should marry one of these girls", to which Thomas replied, "I'll have the beautiful one!"[8]
However, it was not until 1911 after an array of a social meetings that a romantic relationship between Thomas and Muriel would finally develop. Thomas for some time, was reeling from an earlier romantic rejection from a nationalist activist called Mary Maguire, who would later marry his friend, Padraic Colum. Muriel herself would also break off an engagement with another suitor to begin a relationship with Thomas.[9]
Their wedding took place on 3rd January 1912, at a temporary chapel later replaced by 'Church of the No Name' on Beechwood Avenue in Dublin. The ceremony was deliberately low-key, due to the 'mixed' nature of the marriage (i.e. Muriel being Protestant, Thomas being Catholic).
Muriel and Thomas' son, Donagh MacDonagh, was the couple's first child, born on the 12th November, 1912. Their second, Barabra, was born nearly three years later on the 24th March, 1915. The family would reside at their home on Oakley Road, in Raneleigh.
However, as much as these were happy times for the family, Thomas was being drawn into events that would forever change the political and social direction of the country. Unbeknownst to many who knew him – including his wife – over the two years priors to 1916, he had become drawn into a conspiracy involved the Irish Republican Brotherhood that sought to overthrow the British administration in Ireland with the use of the nationalist milita, the Irish Volunteers.
The Rising and Execution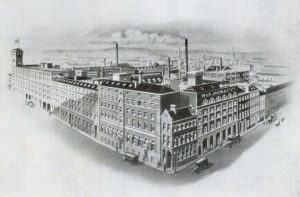 Muriel left behind an account of the last time she saw Thomas before the outbreak of the Rising:
"For about a fortnight before the Rising my husband did not sleep in our house, No. 29 Oakley Road. There had been some detectives watching the house for some time previously. For the last week he would run in in the morning and say that he would not be able to stop for breakfast. I saw him for some time every day.… On Saturday my husband took a whole suit-case of things with him, including his uniform and emergency rations.
I saw my husband on the following day (Easter Sunday) about 4 o'clock. He came to the house at that hour. Five minutes after he came the two Pearses arrived and remained with him for about twenty minutes. After that my husband got a taxi and went to John (Eoin) MacNeill's. He came back about 8 o'clock. I only saw him the presence of friends who were with us. He left the house about 10 o'clock. He had the taxi waiting for him at the door. He said: 'I may or may not see you tomorrow – if possible, I will come in the morning.' He did not say anything about the Revolution. I never saw him afterwards.
Thomas MacDonagh was a signatory of the Proclamation of the Republic and commandant of the rebel garrison at Jacob's factory.
… A friend of ours saw him in Jacob's, and said that the Volunteers they were in great form – that the only complaint they had to make was that they need not have needles for their gramophone, and that the soldiers did come out to fight."[10]
Under Thomas's command was the Jacob's biscuit factory, which he and a group of 150 men seized on April 24th. Jacobs was a huge building, much larger than the Dublin City University and the National Archives Office buildings which occupy the site today. It is clear that its central location was why it was chosen by the insurgent, but after it's seizure by the Volunteers by the end of Easter Monday, the garrison under Thomas saw little action in the week ahead.
After the surrender of the rebels, in the early hours of 3rd May, from his cell in Kilmainham Gaol, Thomas composed a final statement. Towards the end of this document, he addresses Muriel directly:
"My dearest love, Muriel, thank you a million times for all you have been for me. I have only one trouble in leaving life – leaving you so. Be brave, darling, God will assist and bless you. Goodbye, kiss my darlings for me. I have sent you the few things I have saved out of this war. Goodbye, my love, till we meet again in Heaven. I have a sure faith of our union there. I kiss this paper that goes to you. I have just heard that I have not been able to reach you. Perhaps it is better so…. God help and sustain you, my love. But for your suffering this would be all joy and glory. Goodbye. Your loving husband, Thomas MacDonagh."[11]
In her account of the period, Geraldine Plunket Dillion, Joseph Plunkett's sister, relates a story about Muriel on that fateful Tuesday of May 2nd. Having being brought a message by a private soldier that Thomas was to be shot, Muriel was not given a pass and was stopped at the cordons each time on the way to Kilmainham Gaol to see her husband.
Muriel learned of her husband's execution in one of the stop-press editions of the daily newspapers.
She then attempted to get a message to administration in Dublin Castle. A sympathetic doctor named Hennessy helped Muriel find a phone located at a residence on Oakley Road, but the occupants refused to let her use it. [12]Another account suggests Muriel was unable to be collected to visit Thomas because there was still intense sniping by the Volunteers going on throughout the city on May 2nd.[13]
Perhaps due to a combination of all these obstructions, Muriel's sister, Sydney would later suggest that because it would have taken Muriel three hours from the Oakley Road residence to reach the Gaol, the military authorities were simply unwilling to wait. In any case, Muriel learned of her husband's execution in one of the stop-press editions of the daily newspapers.[14]
In a press interview in the aftermath of the executions, Muriel is recorded to have remarked to a reporter: "Someone told my little son… that the soldiers had killed his father – that was very unwise. Now the child screams at the sight of a soldier, and hides his face. He worshipped his daddy. I shall tell him the true story when he grows up."[15]
Widowed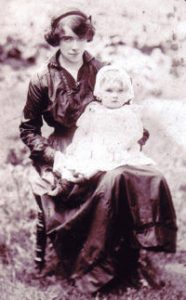 One of Thomas' pressing concerns was how Muriel would be provided for after his death. Immediately after the Rising, financial support came pouring in (particularly from organizations in the United States), to make sure the co-dependents and children of the Rising leadership were not left broke and destitute.

This soon led to the creation of an organization to co-ordinate the stream of these donations, known as the 'Irish National Aid Association' and the 'Volunteer Dependents' Fund' (INAAVDF), also referred to as the National Aid Association.
This organization did much to shape the popular memory of the 1916 Rising, transforming it from outright hostility to the rebels to a more sympathetic stance. It also ensured a steady stream of funds to families of the executed leaders, Muriel included.
Despite this assistance, Muriel had to move the family from Oakley Road to a flat at Marlborough Road, Donnybrook. Her mother, Isabella, once visited to give her £5.00. Isabella commented on how Thomas had left the family destitute. Muriel then handed the money back and told her mother she was not going to accept her money if she bad-mouthed her husband.[16]
In May 1917, Muriel converted to Catholicism.
In early 1917, there was a dramatic development involving her son, Donagh. Muriel had taken her two children to sit for photographs at Switzer's department store in the city centre. These photographs were to be used by the National Aid Association as part of a pamphlet to raise money for the dependents of the Rising leaders and those imprisoned. Muriel and her two children were photographed together, and as Muriel and Barbara were being subsequently photographed, Donagh wandered off. As he did so, he fell down several flights of stairs and injured his back in several places.[17]
On May 3 1917, a year to the day since Thomas was executed, Muriel had an important development in her life, converting to Catholicism, the religion of her late husband and receiving Holy communion. She had grown close to Thomas' sister, Sister Francesca, and had requested her attendance at the ceremony. On 3rd May, 1917 Muriel was received into the Catholic Church and received First Holy Communion.[18]
In July 1917, the National Aid Association had rented a house in the town of Skerries for the use of relatives of the Rising leaders for a short holiday. Muriel was reluctant to place Donagh in hospital, recalling her brief time as a nurse and the potential to catch infections. However, it was her sister Grace, the widow of Joseph Plunkett, who persuaded her to go to Skerries, saying she would not go unless Muriel did too. Muriel reluctantly agreed, and had Donagh put in hospital. She requested that the Capuchin priests, Father Albert and Father Aloysius, check on him from time to time.
At the time, dramatic events were unfolding in the electoral constituency of East Clare. The sole surviving commandant of the 1916 Rising, Eamon DeValera, was running as a Sinn Féin candidate in an important by-election that would determine if the republican ideals of Easter Week held sway over the Irish electorate.
He was also running on an anti-conscription platform, as it was feared that conscription would be enforced on the Irish populace as Britain was still engaged in the Great War. Joseph Plunkett's father, George Noble Plunkett, had already won Sinn Féin's first electoral victory in a by-election in Roscommon-North earlier that year, so DeValera's prospects were seen as promising.
Skerries
On the trip to Skerries that July, the group included Muriel, her daughter, Barbara, Muriel's sister (and Joseph Plunkett's widow) Grace, Lillie Connolly (James Connolly's widow) and their children Roddy, Fiona and Ina, Aine Ceannt (Eamon Ceannt's widow) and her son, Ronan. Agnes Malin (Michael Malin's widow) and her five children: Seamus, Sean, Una, Joseph and baby Maura. (In a latter recollection, Joseph Mallin would recall one of Pearse's sisters also present, who was "wheeling me in a chair" around Skerries during the trip).[19]
Miramar have been a large holiday home based on Strand Street in the town centre, the structure later being demolished for what was a time the local Ulster Bank, and today the Rockabilly Restaurant stands at 41 Stand Street.
Though she enjoyed the surroundings and good weather, Muriel's thoughts were very much directed towards her recovering son. She kept up a flurry of postcards to the recovering Donagh: "Dearest Don, this is a lovely place…" "Babbily came to meet me at the station with Aunt Grace"… "Babbily was in the sea today"… "Babbily is getting quite brown"… "I have a lovely surprise for you when I come home. Babbily is having a lovely time getting dipped in the sea." Intriguingly, one postmarked on 8th July states: "Dearest Don, I had a lovely big swim today, and nearly got over to the island. [author emphasis] I'll have some lovely seaweed and sea shells when we go back."[20]
Several days into the holiday, on Monday, July 9th, 1917, the party of women and children assembled on the South Strand beach in the glorious weather. Just directly across from them was Shenick Island with it's Martello Tower. Muriel and Grace took Barbara around the beach to collect shells, which Muriel placed in a cosmetic box for the daughter.
Shenick Island lies to the east of Skerries, and largest of the islands off the coast of the town. The Martello Tower on the island dates from the 19th century, when the British built defensive forts throughout the Empire. It's name Shenick comes from the Irish for 'sionnach' meaning fox.
It was around 4.30pm that Muriel left the beach for her swim.[21]
Muriel died in a swimming accident off the coast of Skerries, County Dublin.
Muriel's reasoning to set out that far has been the result of much rumour and conjecture. One account that is noted by a biographer of Muriel sister's Sydney is that it was a suicide, as she had been known to be a strong swimmer.[22] However, looking at contemporary accounts and the subsequent inquest suggest a somewhat less dramatic, but no less tragic, series of events.
Another well-known account that has held strong in the near-century since suggests Muriel wanted to raise the tricolour flag over the Martello Tower on Shenick Island. [23] Decades later, Grace later told a family member that the idea had come about when there had been a lot of Union Jacks flying along the beach, and the nationalist families had put a tricolour flag along the tent they were using. Two men of the Royal Irish Constabulary had arrived on the scene had told them to take it down, and when they left, Muriel told the group, "I'll put that flag where they can't get it."[24]
While not discounting Grace as an important eyewitness, it should also be noted the story of raising the flag was never reported at the later inquest nor in contemporary newspaper accounts. A tricolour flag was never mentioned to have been found near Muriel's body. One suggestion she had a bathing cap in the colours of a tricolour, however likely, this is only conjecture.[25] It is also possible that while the idea was talked about, it was not Muriel's intention as she set out on her initial swim.
Indeed, one recorded exchange between Muriel and Ina Connolly, as the former told her to look after Barbara was Ina joking with Muriel: "I will not [look after Barbara] unless you promise not to swim to the island." Muriel smiled and promised she would not.[26]
In any case, as Muriel swam out, she was pulled out by the strong tidal current in front of Shenick Island. Ina Connolly would recall at the inquest that the crowd on the beach, herself included, called out for Muriel to return.[27] While Muriel waved back to indicate she as fine, it soon became clear she was in some sort of distress. Her sister Grace would recall saying to the group, "My goodness! She's an awful distance out!" Moments later, Muriel disappeared beneath the water.[28]
Pandemonium immediately set in amongst the group on the beach. A screaming Barbara, having witnessed her mother disappear, was removed from the scene into a house nearby.[29] Grace, and several men, went to another nearby house to commander a boat to head out towards the Island. At the house in question, they were refused the use of oars by a servant.
At the later inquest, an RIC Constable John Burke, said the homeowner (one Sir John Griffith) and his family were not in the house at the time and the servant said that she had not understood what the lady wanted the use of the oars for. The servant also informed the constable that a lady wearing a soldier's badge – likely Cumann na mBan – asked for the oars but was again refused. Grace said at the inquest she did not feel the oars were refused due to ignorance.[30]
A rowing boat eventually set out for the direction of Shenick Island eventually commandeered by Noel Lemass, a young Volunteer recovering from his wounds suffered during Easter Week in Skerries, as well as an off-duty British officer who accompanied him.[31]
After other boats and search parties set out, Muriel's body found was found at around 7.30am the following morning about a quarter of a mile away from where she was last seen. It would be an old friend of her husband's, Commandant Rory O'Connor of the Irish Volunteers, who later arrive in Skerries and identify her body. [32]
The later inquest would say "When the body was found, it was lying face downward with the hands crossed." A Dr. Healy would state at this inquest, that because of the position of the hands and no water in the lungs, he concluded that heart failure due to exhaustion was the cause of death.[33] When she died, Muriel was 31 years old.
As Barbara later told her family, in the confusion and panic over her mother, she had gone missing. Though later located, a peculiar aspect of this tale tells that the young Barbara somehow found her way to house and was later found banging on the door of the locked room where her mother's body was located, screaming over and over for her 'Mammily'.[34]
An inquest was held by the Deputy Coroner, Mr. Thomas Early, on the afternoon on locating the body in Skerries. Ina Connolly and Muriel's sister, Grace, were among the witnesses called. Before the jury retired at the inquest, Grace made the suggestion that there should be lifebuoys or boats placed on the strand. On returning, this inquest would go on to determine that the deceased had died of heart failure, due to shock or exhaustion.
The inquest ended with an expression of deepest sympathy with Muriel's family and friends.[35]
Funeral
The radical newspaper The Irish Citizen, recalling Muriel's activism in nationalist politics, would remark that "this intensely tragic death… has removed another ardent suffragist from our ranks." Many years later, the feminist activist (and Rising widow herself) Maude Gonne would recall in a letter that Muriel "was such a lovely girl."[36]
The arrangements for the funeral fell to Rory O'Connor, Fathers Albert and Mr. Fred Allen, Secretary of the National Aid Association.[37]
In a letter found in the MacDonagh papers, Mr. Allen outlines the plans for the burial site. The National Aid Association had looked to a site in Glasnevin cemetery near the burial place of the Fenian O'Donovan Rossa, in what would become known as the Republican Plot.
Much of the desired burial site for Murial and Thomas was owned by the O'Rahilly family, as the Volunteer organizer, Michael O'Rahilly or 'The Rahilly', killed during the 1916 Rising was buried there. Mr. Allen then states ownership of the part of the plot designated for Muriel and her husband was now in the ownership of Thomas' brother, Joseph.[38] The funeral was set for the 12th July, 1917.
A contemporary news report described the scene as Muriel's coffin departed Skerries: 'The chapel bell tolled the moment the remains left Miramar until it reached the station. Behind the hearse walked Father Albert, followed by the Volunteers of North Dublin, then came the children from Miramar carrying wreaths and near relatives and friends… the coffin covered with the tricolour was placed on the train and as it steamed out you could hear the sobs and lamentations of the vast crowd that thronged the little seaside station.'[39]
Up to 4,000 Irish Volunteers marched at her funeral.
A larger contingent of Volunteers met Muriel's coffin at Amiens' Street Station from Skerries on the 11th July, and from there to the MacDonagh family home at Marelborough Road, Donnybrook. The next evening, around 9.30pm the coffin was removed. Draped ina tri-colour flag, Muriel's coffin was then carried by a group of Volunteers to the horse-drawn hearse, the hearse then made it's way to the Pro-Cathedral. Crowds thronged the streets for the funeral, while a large group of Muriel's family and friends followed the hearse carrying wreaths.[40]
A contemporary article described what was perhaps the most striking sight of all, a contingent of up to 4,000 of the Irish Volunteers marching behind the hearse in perfect formation, about four deep.[41]
Many members of the Republican Movement were expected to attend, despite it being the aftermath of the famous by-election for Sinn Féin in East-Clare, which saw Easter Rising veteran Eamon DeValera elected. An article covering the election victory made note that Countess Markiveicz was leaving the celebrations early to return to Dublin for the funeral.[42]
As the funeral mass was conducted, the Volunteers assisted in keeping the roads and thoroughfares clear for the coffin's final journey to Glasnevin. A family account says that as the mile-long funeral passed by the children's hospital in the thousands, a nurse brought the still-recovering Donagh to the window and said, "That's your mammy going by."[43]
Now orphaned, Barbara and Donagh would find their custody being fought over by the MacDonagh and Gifford families in the years that follow. The Giffords would help raise the children until the death of Muriel's father, Frederick, and then the MacDonaghs took the children. Thomas' sister, Sister Francesca, was anxious that the children should receive a Catholic upbringing felt it would be best they would be raised by a family in foster care. The surviving Gifford sisters would try to take the MacDonaghs to Court over custody, however they would lose the case. In any event, Grace herself would remain close to Barbara and Donagh until her death in 1955.[44]
Donagh MacDonagh himself would become a famous playwright and poet, as well as a distinguished judge.
While attending UCD, Barbara would study to be a librarian, and while at the college, met her husband, Liam Redmond. They would marry, and Barbara from then on, was devoted to raising her family.[45]
For the rest of Barbara's life, she kept the little eau-de-cologne cardboard box containing the seashells she collected with her mother in Skerries in 1917. This was later provided on loan to Kilmainham Gaol Museum by Barbara's daughter, where it can be seen as part of the 'Last Words' exhibition specifically in the display related to Thomas MacDonagh; a poignant symbol of what became a devastating double-tragedy for the young MacDonagh children.
Gerard Shannon is a historian residing in Skerries, Co. Dublin. He is currently expanding on his research into the life and death of Muriel MacDonagh for an installment of the Kilmainham Tales series. He can be found on Twitter at: https://twitter.com/gerry_shannon
References
[1] See Clare, Anne, Unlikely Rebels: The Gifford Girls and the Fight for Irish Freedom, Mercier Press, Cork (2011), page 30
[2] See O'Neill, Marie, Grace Gifford Plunkett and Irish Freedom: Tragic Bride of 1916, Irish Academic Press, Dublin (2000), page 4; author conversation with Muriel McAuley, granddaughter of Muriel MacDonagh, January 2013
[3] Clare, page 45
[4] Redmond, Lucille, article entitled 'The Lady Vanishes', Skerries News Vol. 19, No. 8, Dublin (October 2008)
[5] Parks, Edd W. and Aileen Wells, Thomas MacDonagh: the man, the patriot, the writer, University Georgia Press, Athens (1967), page 27
[6] Clare, page 67; Czira, Sidney Gifford, (edited, Hayes, Alan), The Years Flew By: Recollections of Madame Sidney Gifford Czira, Arlen House, Galway (2000), page 30
[7] O'Neill, page 10
[8] Short biography of Muriel MacDonagh, written by Muriel McAuley and kindly given to author, early 2013.
[9] For a detailed account of the courtship and marriage between Thomas and Muriel see McCoole, Sinead, Easter Widows, Doubleday Ireland, UK and Ireland (2014), pages 191 – 225
[10] Newspaper cutting of Muriel's account of last seeing Thomas, National Library of Ireland Manuscript 20,646/2
[11] Mac Lochlainn, Piaras F., Last Words: Letters and Statements of the Leaders Executed After the Rising at Easter 1916, Office of Public Works, Dublin (2001), pages 61 – 63
[12] Geraldine Plunkett Dillion, All in the Blood: A memoir of the Plunkett family, the 1916 Rising and the War of Independence, A. & A. Farmar Ltd, Dublin (2006), pages 230 – 231
[13] Bateson, Ray, They Died By Pearse's Side, Irish Graves Publications, Dublin (2014), page 145
[14] Czira, page 22
[15] McCoole, page 263
[16] Short biography of Muriel MacDonagh, by Muriel McAuley, donated to author.
[17] In conversation with Muriel McAuley, January 2013.
[18] Short biography of Muriel MacDonagh, by Muriel McAuley, donated to author.
[19] Video interview with Father Joseph Mallin, written and directed by Marcus Howard, see: https://www.youtube.com/watch?v=hzaET7zxZy8
[20] Postcards from Muriel to Donagh MacDonagh, the MacDonagh Papers, MS 44,321/5
[21] Redmond, Lucille, 'The Lady Vanishes', Skerries News, Vol. 19 No. 8
[22] Hayes, The Years Flew By, page xx
[23] Clare, page 200
[24] Short biography of Muriel MacDonagh, by Muriel McAuley, donated to author.
[25] In conversation with Lucille Redmond, June 2013.
[26] McCoole, page 286
[27] Nenagh News. (See previous)
[28] Redmond, Lucille, 'The Lady Vanishes', Skerries News, Vol. 19 No. 8
[29] Same as previous.
[30] Nenagh News. (See previous).
[31] McCoole, page 287
[32] Nenagh News. (See previous).
[33] Nenagh News. (See previous).
[34] Redmond, Lucille, 'The Lady Vanishes', Skerries News, Vol. 19 No. 8
[35] Nenagh News. (See previous)
[36] Both referred to in Hayes, As The Years Flew By, page xx.
[37] Nenagh News. (See previous)
[38] National Aid Association plan for MacDonagh family plot, NLI MS 24,376
[39] From an Irish Times newspaper report, partially transcribed at McCoole, page 288
[40] Article from unknown newspaper published on Saturday, July 14th, 1917 donated to author by Muriel McAuley.
[41] Newspaper clipping (with photograph) from unknown newspaper published Saturday, 14th July 1917 donated to author by Muriel McAuley.
[42] 'The East Clare Result', Nenagh Guardian, July 14th 1917, page 3
[43] Redmond, Lucille, 'The Lady Vanishes', Skerries News, Vol. 19 No. 8
[44] In conversation with Muriel McAuley, January 2013
[45] In conversation with Muriel McAuley, June 2013