Book review: Ireland's Call: Irish Sporting Heroes who Fell in the Great War
By Stephen Walker
Published by Merrion Press, Sallins, 2015
ISBN: 978-1-78537-018-2
Reviewer: Gordon O'Sullivan
"I felt more nervous before playing an All-Ireland than an attack on the Germans', Letter from Jimmy Rossiter, GAA player, 1915.
It is perhaps not surprising that sportsmen were prime targets for the recruiting sergeant in the First World War. They were men already in good physical condition; in better condition than some of the portly shopkeepers who poured into the recruiting offices. Sportsmen would have also been highly prized by the military authorities for their leadership capabilities and ability to think strategically.
This book tells the story of prominent Irish sportsmen who were killed in the Great War.
As a consequence of those attractive qualities the British military machine actively targeted sportsmen in their recruitment drives and these tactics proved very successful with many teams joining up en masse in both Britain and Ireland. Many of the sportsmen profiled in Ireland's Call had in fact played together before joining up and of course sport remained an important part of military life from inter-divisional matches to the famous football match of the Christmas 1914 truce. It is therefore all the more surprising that it has taken the intervention of BBC journalist Stephen Walker with his new book, Ireland's Call, to shine some much needed light into this hitherto neglected corner of Irish First World War history.
Some GAA clubs were unable to field teams during the war period as so many of their players had in fact joined up
Ireland's Call is a collection of the sporting and martial feats of forty Irishmen from all over the island who played seven different sports. They all played their sport at the highest level possible and they all died during the war years; there are no happy endings here. These sporting heroes played the sports that were most popular with the burgeoning Irish middle class of the time with rugby, cricket, hockey and golf all well represented. However, more working class sports such as football and GAA are by no means neglected and athletics is also included.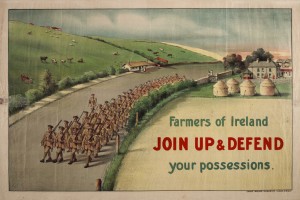 The sport of rugby dominates the opening sections of Ireland's Call with the first chapter detailing the career of Basil Maclear. A white-glove-wearing Englishman playing for Ireland, Maclear scored what "would go down in history as one of the finest tries ever scored by an Irish player" against South Africa.
He also played against the All Blacks on their first ever European tour in 1905 losing not once but four times in the colours of Blackheath, Bedford, Munster and Ireland. Ironically the tour captain for the All Blacks was himself an Irishman, Dave Gallagher, and he too died on the Western Front. Basil Maclear, his rugby career well over by this time, was killed near Ypres and his body was never recovered.
Rugby was a big part of Frank Browning's life in his position as president of the IRFU. He was also a recruiter for the British Army during the First World War, even drilling recruits on the Lansdowne Road pitch, but it is for his first love, cricket, that Browning is included in this collection of sporting heroes. He scored many runs for Trinity College Dublin before going on to become cricket captain of Ireland playing against greats like W.G. Grace and batting against the touring South Africans and Australians.
Unlike most of the other sportsmen included in Ireland's Call, Browning didn't die on the Western Front, dying on the Home Front when gunned down by rebels on the corner of Haddington Road during the Easter Rising in 1916 as he led the so-called Gorgeous Wrecks unit.
Jimmy Rossiter and the other GAA players featured in Ireland's Call enlisted in the British Army despite the clear antipathy that that organisation held towards military enlistment. While it is unclear what his motives were in joining up in 1915, it is clear that he wasn't the only GAA player to enlist.
In fact, as Stephen Walker convincingly points out, some GAA clubs were unable to field teams during the war period as so many of their players had in fact joined up. Walker also highlights the reluctance of the GAA to commemorate their players who were killed in the First World, at least until the very recent past. Rossiter was a very well-known Wexford sportsman who featured in two All-Ireland football finals in 1913 and 1914. His GAA career was permanently interrupted when he was shot dead in 1915 on the Western Front.
While Michael Moran is the only golfer included in Ireland's Call, he was perhaps the greatest loss in terms of international sporting fame. According to American Golf magazine, "he was by all odds the greatest golfer in Ireland."
Stephen Walker's Ireland's Call is very well researched and methodically presented
Not only was Moran the very first Irish golfer to win prize money in the British Open when finishing third at Hoylake in 1913 but he also won the Irish professional championship a record-breaking five times in a row and battled with the very best of the international golfing greats including Harry Vardon. The outbreak of war put what seemed a temporary halt to his golfing progression but he never returned to the professional circuit again, dying in 1918 in France. Harry Vardon believed Moran would have gone on to have become great, "If Moran had been spared, he might have been Ireland's first world champion."
There are many more interesting stories amongst the 40 sportsmen that Stephen Walker has chosen for his book. You could pick from Lady Gregory's cricketing son, Robert, who inspired the famous W.B. Yeats poem, 'An Irish Airman Foresees his Death' or the hockey playing vicar, Robert Morrison or Barney Donaghey who played for Manchester United. All the sporting tales told here are individually fascinating.
Stephen Walker's Ireland's Call is very well researched and methodically presented. Walker has trawled through the archives for personal letters and memoirs while also making extensive use of newspaper reports of pre-war sporting feats to create a memorial of sorts for the forty sportsmen whose race through the muddy fields of Picardy and the sun-baked sand of Gallipoli was run by the end of 1918.
While Walker is clear in his introduction that "This is not intended to be a comprehensive account of all those Irish sporting stars who served in the Great War", the detail of those newspaper reports, his journalistic style and the inclusion of multiple stories within each chapter does, at times, blur the individual stories. For some of the men too there is, perhaps inevitably for young men, a lack of detail about their personalities and their personal lives which makes it difficult to differentiate the man from the sportsman. Perhaps there could also have been a chapter discussing in more detail some of the themes that Walker sketches in the book.
There is an inbuilt poignancy in Ireland's Call as none of these sportsmen survived the war years.
There is an inbuilt poignancy in Ireland's Call as none of these sportsmen survived the war years, dying on the battlefield, dying from wounds received during the fighting or like Jasper Brett, the first Munster scrum half to play for Ireland, taking their own lives. However, Walker refrains from ladling on unnecessary sentiment and lets the bare facts speak for themselves. He also manages to maintain a tricky balancing act between the political and military contexts and the personal narratives.
Finally, Stephen Walker has done a real service by bringing these mostly forgotten sporting figures back out into the light. This is an important starting point for historians interested in sport and the First World War and an intriguing collection of historical sporting achievements that is perfectly accessible for the general reader.