Walking with Yeats on Cave Hill: Alice Milligan and the Irish Cultural Revival – NLI Exhibition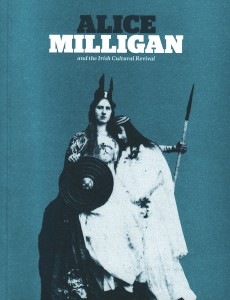 Patricia Byrne reviews the National Library's exhibition on Alice Millgan and the Irish Cultural Revival.
Extensive archival resources from the National Library of Ireland have been marshalled in the exhibition Alice Milligan and the Irish Cultural Revival. In her fine essay accompanying the exhibition Catherine Morris says: 'The extensive archival journey required to bring Milligan's story to light is a reflection of the complexity of one of Ireland's most intriguing and politically engaged cultural practitioners.' Alice Milligan (1866-1953) was a prolific writer for six decades, put Northern Ireland on the Irish Revival map, and placed visual culture at the centre of that revival.
Early Years
Born into a northern Protestant Unionist family, Alice was educated at Belfast's Methodist College and later King's College London. She and her father were members of the Belfast Naturalist Field Club and it was on field trips that she learned about early photography and transferring images onto glass slides for public projection using gas-powered magic lanterns. This was a technology that she later used in her work as a Lantern Lecturer with the Gaelic League throughout the country.
1891 'Political Epiphany'

In 1891 Alice moved to Dublin to continue her teacher training, to take Irish language classes at the Royal Irish Academy and to read Irish literature and history at the National Library. In May 1891 she noted in her diary: 'While in the train going up O'Connell Street I turned into a Parnellite.' The sudden death of Parnell in October that year completed her conversion into an Irish literary, cultural and political activist.
Tableaux Vivants and Irish National Theatre

Alice Milligan's career, says Catherine Morris, 'is a portal to the earliest days of the Irish national theatre movement,' and one of her remarkable achievements was the connection she made between national theatre and the Irish language. Her aim was to bring theatre to diverse communities across Ireland. She exploited the tableaux vivants (living picture) form where actors remained frozen in character for several minutes while an offstage narrator described the story depicted in the still scene.
Later Years

After the 1916 Rising Alice Milligan campaigned for the release of Roger Casement and attended each day of his trial. After the formation of the Irish Free State she continued to write, lecture and campaign for Irish cultural causes. In 1941 she was awarded an Honorary Doctorate from the National University of Ireland, part of the citation for which read: 'She gave exceptional work to the Gaelic League, lecturing under the auspices of the League throughout Ireland on Irish history, and her Lantern Talks and Tableaux Vivants are well remembered in aiding the movement for national culture…..'
Lantern Lecturer Recalled

To reflect Alice Milligan's innovative work in promoting the Irish language and culture through images from a magic lantern, the NLI exhibition includes a series of projected images related to Alice Milligan's life: Parnell's funeral in 1891; the Wolfe Tone convention of 1898; the reading room of Dublin's National Library where Alice Milligan studied in the 1890s. Included also is a photo of Cave Hill, Belfast – with its symbolic association with Wolfe Tone – and where Alice Milligan and W B Yeats had walked together.
Discover Your National Library

The Alice Milligan exhibition is one of a series of rotating and linked temporary exhibitions designed to open up the rich NLI archives to the public. The format of having an expert curator provide an overview on video, together with multimedia exhibits of the NLI archives and an accompanying in-depth curator essay, all combine to provide an accessible and rich insight into the life of a unique Irish cultural and political activist.
Image Credits
All images by permission of National Library of Ireland
Alice Milligan
Cave Hill, Belfast (1880-1914)
Essay Cover for Alice Milligan Exhibition