Today In Irish History Hill – The Battle Of Vinegar Hill, 21 June
~1798~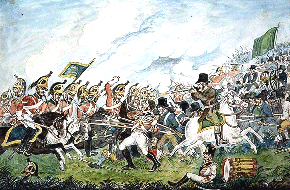 212 years ago today the Wexford based forces of the insurgent Irish army was engaged by General Lake's (an intriguing character and a talented commander) British army and defeated bloodily during a battles at Vinegar Hill and Enniscorthy.
Lake had split his forces into four columns, three of which attacked the Rebel Camp at Vinegar Hill. The fourth under General Johnson attacked Enniscorthy. Johnson encountered some of the worst of the fighting as he tried to take the bridge over the River Slaney. The column under General Needham entered the battle late and was the cause of many rebels escaping the closing pincers of the British attack.
The defeat was not, as traditionally depicted, the end (as is nicely demonstrated in (the recently reviewed) Battles Fought On Irish Soil) but it was decisive and it did mark the end of the rebels willingness to challenge British armies in the field.