Flash From The Past: A Very Nice Initiative From The National Library
The National Library has been using Twitter to share images of Ireland's past for a little while now. The images are incredible and the sheer diversity is one of the massive joys of this little daily treat. Yesterday's examples were particularly fine ones and can be seen here and here.
But the best image based project they have engaged in to date is certainly Flash From The Past. This project sees old image of the country placed in new pictures and creates a wonderfully disjointed vista that draws the viewer into the possibilities and the sense of a difference time, if not a totally different place. It is both beautiful and wonderful. The Library has created a Facebook photo album and is asking for people to controbute to the project:
Our old pictures meet your new pictures (and your thumbs!) Please join in – full information on how to snap your own FFTP shots can be found in our 'notes' page.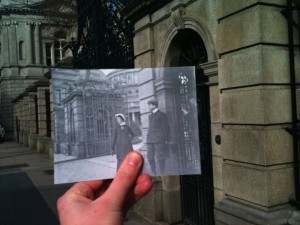 I like nothing so much as when one of our wonderful state institutions does something clever and this is a wonderful example of that.