The Story Of The 1798 Rebellion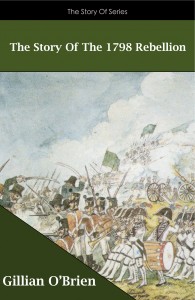 Author: Gillian O'Brien
Extent: 64 pages | Formats: KINDLE/APP
ISBN: 9781907694059
Price: $3.99 (Plus VAT + Delivery)/ €2.39
BUY THIS BOOK AS AN APP – Available Now
BUY THIS BOOK IN AMAZON'S KINDLE FORMAT – Available Now

---
Description
The 1798 Rebellion forms a central part of the narrative of modern Irish History. It marks at once the formation of a unified catholic and protestant movement for independence and the beginning of the end for the home rule experiment of the Grattan's parliament.
Like much of Ireland's history it also encourages debate and discussion. In this short history of the rebellion, Gillian O'Brien explores the context, the characters and the progress of the rebellion as well as looking at the aftermath.
O'Brien explores the formation of the United Irishmen, the growth of radicalism within the society and the eventual outbreak of revolution. She also examines the fighting itself and the final defeat of the rebels despite various attempts by foreign powers to intervene, the sad aftermath including the passing of the Act of Union in 1800 and Robert Emmet's Rebellion in 1803.
About The Author
Gillian O'Brien has a BA and MA in history from University College Dublin and a PhD from the University of Liverpool. Her MA is a study of the newspaper of the United Irishmen, The Northern Star and her PhD is an examination of Anglo-Irish relations around the time of the 1798 Rebellion and the Act of Union. She is currently writing a history of Irish Republicanism in America in the late-nineteenth century. The main focus of this work is the brutal murder of an Irish doctor, Patrick Cronin, in Chicago in 1889.