Clashmealcon Caves and Ballymullen Barracks: Tragedies of Kerry, April 1923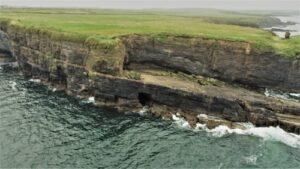 By Bryan MacMahon
The promontory of Kerry Head featured prominently in the opening act of the 1916 Rising and in one of the closing acts of the Civil War seven turbulent years later. On the gentle shore of the south side of the promontory, Banna Strand entered the history books with the arrival of Sir Roger Casement on Good Friday 1916.
At Clashmealcon in Causeway parish, on the rugged steep cliffs on the north of the promontory, the events which unfolded in mid-April 1923 led to the deaths of eight men.
At Clashmealcon cliffs the events which unfolded in mid-April 1923 led to the deaths of eight men.
Six of the dead were anti-Treaty republicans who took refuge in Clashmealcon Caves on 14 April 1923 and two were soldiers of the National Army, the army of the Free State government, which was located at the top of the cliff above the caves. The stand-off which ensued could have ended peacefully purely by waiting for hunger, thirst and cold to force a resolution, but the National Army officers made the fateful decision to attack the men in the cave. Three of the six anti-Treaty IRA men died at Clashmealcon and three by execution in Ballymullen Barracks, Tralee, a week later.
These eight deaths over ten days in April 1923, just weeks after the tragedies at Ballyseedy and elsewhere in the county, caused shock and trauma to families, friends and comrades that lasted for decades.
To the bitter end?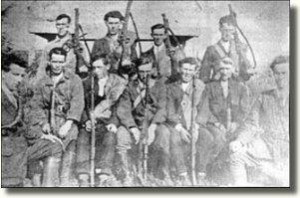 In February 1923, Michael Pierce and Tom O'Driscoll, leaders of IRA columns in Ballyheigue and Kilmoyley, followed the initiative of Liam Deasy and accepted the terms of surrender offered by the Free State government. Members of their columns who were already in custody in Ballymullen were also released under the same terms, chiefly that they would not resume armed opposition to the Free State.
All who accepted the terms were allowed to return to civilian life with no further legal consequences. Historian Tom Doyle wrote that this showed 'a willingness to let bygones be bygones and evidence of a high degree of magnanimity on the government side in their desire to bring the war to an end in Kerry.'[1]
However, a small group of Republican 'die-hards' chose to continue fighting in the Causeway/Ballyheigue area, and some who had previously accepted the terms of surrender joined this group.  They were led by Timothy 'Aero' Lyons, a native of Garrynagore, between Lixnaw and Abbeydorney. He had been active in attacks on Crown Forces during the War of Independence and he took the anti-Treaty side in the split of 1922.
Many anti-Treatyites in the area surrendered in February 1923, in exchange for an offer of amnesty, but a column under Tim 'Aero' Lyons continued to fight.
He was imprisoned in Limerick for a period after the outbreak of the Civil War, but managed to escape.  His nickname 'Aero' or 'Aeroplane' came from his ability to strike suddenly and depart swiftly from military engagements. He acquired a reputation for daring, and he chose to continue the military campaign against the Free State even when other local commanders decided to lay down their arms in February 1923.
Lyons and his column were responsible for attacks on Post Offices and on the newly established Civic Guards, forerunners of the Garda Síochána. On the weekend of 7 April, they attacked the building occupied by the Civic Guards in Ballyheigue, burned the building and took away some uniforms. This attack was 'a major setback' to government plans for establishing the new police force in the area.[2]
The official report of this incident commented that the incident cast doubt on the surrenders: 'This outrage occurred in a district which has figured prominently in the recent surrenders, and the suggestion has been made by the civil population that a small percentage of the members of the column who surrendered are not playing the game.'[3]
A few days later, on 10 April, the Chief of Staff of the anti-Treaty IRA, Liam Lynch, was shot in the Knockmealdown mountains and died that night in Clonmel Hospital. Historians agree that this was effectively the end of the Civil War. Austin Stack and Dan Breen were also taken into custody soon after. Discussions were already underway among the remaining IRA leaders about how to end the conflict and there was an emerging acceptance on all sides that a cessation of anti-Treaty IRA activities was imminent.
Taking refuge in the cave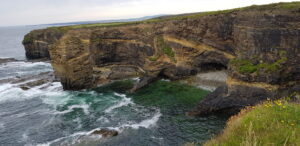 On Saturday, 14 April 1923, National Army troops, on foot of a report that Aero Lyons and his column were in the area, headed out from Ballyheigue to Causeway.
At Meenogohane. they were ambushed by Lyons and his men, who were so widely spread out that it appeared that they had larger numbers, when they actually had sixteen men. The engagement went on until darkness, and when the National Army withdrew to Tralee, Lyons and five of his men took refuge in in a cliff cave known as Dunworth's Cave at Clashmealcon.[4]
Those who went to the cave with Lyons were: Thomas McGrath, Patrick O'Shea, James McEnery, Edward (Ned) Greaney and Reginald (Reg) Hathaway. When the National Army troops returned to search for Aero Lyons and his men near Clashmealcon, they arrested a local man named James (Jim) McGrath, brother of Tom, who was in the cave.
Lyons' six man column was pursued and besieged at the cave at Clashmealcon.
Jim was taken to Ballymullen Barracks in Tralee for questioning and en route, the troops stopped at Ardfert, where they ordered him to start digging a grave for himself. He was brutally treated in Ballymullen and eventually told his captors about a hiding-place in the caves at Clashmealcon, which had been used in the past. He had no idea that Aero Lyons had led his men into the same cave on this occasion. Jim was brought back to the area and obliged to lead four soldiers of the National Army down the treacherous cliff path to the cave. On 15 April, there were 200 Free State troops on the cliff-top at Clashmealcon and the siege began.
First engagement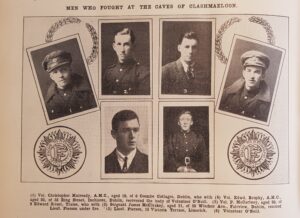 The four soldiers who descended with Jim McGrath were: Vol. P. McCartney of Tralee, aged 20, Sgt. James McCluskey of Dublin aged 21, Vol. James O'Neill of 14 Grenville St., Dublin, aged 20, and Lt. Henry D.E. Pierson of Limerick, an engineer and graduate of Trinity College, who was aged 28.[5]
A National Army report in Military Archives describe the operation with no mention of Jim McGrath's role as one of the five men who went down the cliff face:
'Five men including an officer descended the cliffs to the beach about one hundred feet below and were about to enter the cave when they encountered a stone barricade. They removed it only to find a second one inside the mouth of the cave. As they were proceeding to remove the second barricade, heavy rifle fire was opened from inside the cave.'[6]
James O'Neill was killed instantly and Henry Pierson was seriously wounded. The other two soldiers tried to retreat up the cliff path but they were unable to because of fire from the cave. After some hours, ropes were lowered to bring up the wounded Pierson, as well as McCartney and McCluskey, all the time under fire as they ascended. Jim McGrath then joined his brother and the others in the cave.
Two pro-Treaty soldiers were killed when they tried to storm the cave. Two anti-Treatyites were washed out to sea and drowned.
The Irish Times reported that all attempts to recover the body of Volunteer O'Neill 'were beaten off by hot fire from the cave'.[7] An eye-witness account by a Free State soldier, published in An t-Óglach, stated that 'Red Cross men then endeavoured to rescue the wounded officer, but every time they showed themselves, a volley of rifle fire crashed from the cave'.[8] This account, the first detailed one to appear in print, went on:
The body of Volunteer O'Neill lay on the sands, face downwards, with arms and legs outstretched. The morning was bright and clear and shafts of sunlight played on the green-clad form. A red patch of blood showed on the sands nearby. To the left was a moss-coloured rock, crimson-stained, On this rock, Lieut. Pierson had remained for hours, striving to staunch the flow of blood from his legs till he was rescued.   
The National Army unsuccessfully tried to smoke the men out of the cave by lowering burning bales of hay. On the night of 16-17 April, Aero and his men decided to move from one cave to another, as vividly described by Macardle:
The night was hung with thick impenetrable darkness; the tide at midnight was far out. The elements were with the men in the caves.

One by one they crept out, like snakes, from the narrow mouth of the cave and walked barefoot over the boulders to the right, along by the friendly, overshadowing rock wall. They moved stealthily for fear of stirring a pebble between the lonely pinnacles and the cliff, out of the creek and along to the flat rock over which hung, they knew well, a ledge they would be able to climb to, and above it, another cave.

They came to the flat rock and stood there, cold and wet, hungry and victorious, their ruse wholly successful, their going unheard.[9]
Patrick O'Shea of Ballinbranig, aged 22, and Thomas McGrath, of Clashmealcon, aged 23, attempted to escape by getting around the headland, but they were caught by a wave, swept out to sea and drowned. They were first cousins and both were single. Their bodies were never recovered from the ocean, and their families did not have the comfort of having a funeral Mass or Christian burial or of visiting their graves.
While the original cave was not fully penetrated by the sea, the new one was and the remaining men were saturated. A machine-gun situated at the cliff-top was trained on the mouth of the original cave, now empty. This is Macardle's description:
The bombardment of the cave went on all day. The crackle of the machine-gun and the thunderous concussion of bursting shells, the rending explosion of mines and grenades, shook the houses in Causeway and Ballywilliam, shook the listening people, fathers and mothers, wives and sisters of the besieged republicans to their hearts. All day it went on and all day there was no answer from the silent cave. Aero Lyons was laughing, no doubt.[10]
Surrender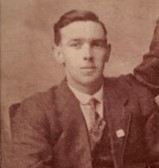 On Tuesday 17 April, a military report stated that the body of James O'Neill was finally recovered by two members of the Army Medical Corps carrying Red Cross flags. They were Vol. Christopher Mulready, aged 19, and Vol. Edward Brophy, aged 20, both from Dublin. They hauled the body up with ropes. This account by a National Army eye-witness was published in An t-Óglach:
The body of Volunteer O'Neill was still lying on the beach and at noon on Tuesday, two medical orderlies, Volunteers Brophy and Mulready, pluckily offered to go down to fetch it up. 'We will take our chances,' they decided and began the dangerous journey, carrying a Red Cross flag. They advanced slowly and warily along the slippery path – one false step and they were precipitated a hundred feet below on the sands.

A tense silence reigned on the cliffs as the two men drew nearer and nearer the beach. Every moment we expected a burst of gunfire from the cave, but they met with no opposition. The Irregulars at this time were in another cave, the location of which prevented them from firing on the Red Cross men. A rope was flung down to the beach and the body of the dead Volunteer was brought up. The two orderlies directed the course of the body, thus preventing it from striking against the rocks on the way up. They finally clambered up, breathless from their exertions.[11]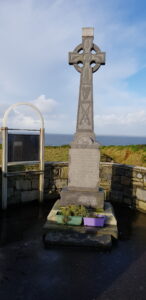 On the morning of Wednesday 18 April, Lieut. Pierson died in Tralee and later that day the siege came to an end, with the surrender of Aero Lyons. He emerged from the cave and signalled his intention to surrender. Notes were exchanged and Lyons accepted that he would be executed, but asked for a pardon for his companions. This request was not granted. As he was being hauled up by rope, it either broke or was cut, and he fell onto the rocks below.
He was then fired on by Free State soldiers and was killed. Some accounts state that he was running to escape when he was fired at, but the only point in running would have been to avoid the shots being fired from above. In any case, after his ordeal and the fall, it was unlikely that Aero could run. The remaining four men then emerged and surrendered.
The body of Aero Lyons, aged 27, was washed out to sea and was recovered three weeks later in a badly decomposed state. The shoemaker who had made Aero's boots confirmed the identity of the body.[12]
Tim Lyons was shot dead after surrendering. The other three men with him were captured
According to some sources, the National Army soldiers were incensed at the prolonged neglect of the body of James O'Neill and the way that the men in the cave had prevented the Red Cross from recovering it. Some accounts say that the rope was cut as Lyons was being lifted up, and the name of the man who cut it has been published, but it is noteworthy that Macardle did not corroborate this claim:
What happened on the cliff's edge is not known. Soldiers boasted afterwards to their prisoners that some of them cut the rope; other people say this is not true; the rope was thin and rotten, it is said. All that is known is this: when Lyons had almost reached the top the rope snapped and he crashed on the rocks below. The people heard a dreadful cry below and a wild yell of triumph above. Sea birds flew up madly into the air. Then came the sharp, rapid crackle of the machine gun.

Lyons lay on the ridge of the rock below, maybe a hundred feet down. Greaney and McEnery and Hathaway sprang to him out of the cave, but he was riddled with the gunfire while he lay. When they lifted him, he was dead.[13]
Fr. Cahill shouted at the troops: 'Savages! Stop shooting!' and he gave conditional absolution to Aero Lyons below. The military report simply states that Aero Lyons was killed and washed out to sea, with no reference to the rope. A press report stated that, according to a neighbour of the Lyons family, at the moment of Aero's death, an old clock in his home which had not been working for years, struck the hour. His parents saw it as a portent of his death and knelt to pray. 'Clock's Fateful Chime' was the headline in the Derry Journal of 23 April 1923.
Margaret Lyons, mother of Aero, passed away in September 1929. Since 1923, 'she was seldom seen in public, except when she strayed towards the little churchyard of Kilflynn' where her son lay.[14] In 1934, Aero Lyons's father Timothy received a gratuity of £112. 10s in respect of his son's death.[15]
James O'Neill
Private James O'Neill was buried in Glasnevin cemetery in Dublin. 'Poor Ginger', said one of his comrades, 'he insisted on coming out with us though he was not supposed to go out on stunts.' His usual duty was as an orderly in Ballymullen barracks, but he wished to see more action.[16] Before he joined the Curragh Reserve of the National Army, James worked as a labourer, earning £2 a week, of which he gave £1. 10 shillings to his mother Jane, who had occasional work as a charwoman in Dublin's inner city. The day rate for this work was three shillings, and her rent was two shillings and sixpence a week.
National Army soldier James O'Neill from Dublin was killed at Clashmealcon. His father had fought in 196 with the Citizen Army and in 19222 with the anti-Treatyites in Dublin.
James O'Neill's father John had fought with the Irish Citizen Army, under Countess Markievicz, in the College of Surgeons during Easter Week 1916 and had been imprisoned in Frongoch. He later fought alongside Cathal Brugha with the Anti-Treaty IRA and was in Hammam Buildings when Brugha was killed. John was traumatised by his experience and he spent some time in Grangegorman Mental Hospital, where he died in November 1923. The records do not reveal how James O'Neill came to join the National Army rather than follow his father's path.
Jane O'Neill lost her son and husband in the space of six months. In applying for a pension in 1924, she wrote that James was 'a very good son to me' and continued: 'I am at present very badly off and do not really know what to do, as I am his poor widow mother and solely dependent on what I can get from you.' She was awarded 15 shillings a week.[17]
Henry Pierson was from Limerick city and he was an engineer and a graduate of Trinity College. His Church of Ireland funeral was a solemn occasion with a military guard of honour. Three officers from Tralee accompanied Lieut. Pierson's remains to Limerick by train and the coffin was draped in the tri-colour. Archdeacon Waller of Limerick 'paid a touching tribute' to him and sympathised with his widowed mother on the loss of her only son. There were formal condolences from religious and business leaders of the city. Large crowds lined the streets and 'many business houses had their blinds drawn as the funeral passed.'[18] Henry Pierson was buried in the cemetery of St. Mary's Cathedral. 
Executions at Ballymullen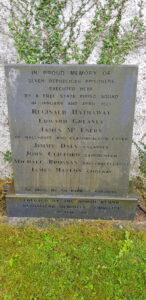 The four survivors – Jim McEnery, Ned Greaney, Reg Hathaway and Jim McGrath – were taken first to the Harrington house at Clashmealcon. A military report of 19 April stated that they were in an exhausted state and had been drinking sea water.
Two rifles and one Colt revolver were captured and three rifles had been swept out to sea. Uniforms which had been taken from the Ballyheigue Civic Guards were found in the cave.
Macardle wrote that the prisoners were treated humanely at first by their captors, being warmed at the fire, getting dry clothing, drinking tea and smoking. Jim McEnery met his wife and son while in the Harrington house.  Macardle wrote about the National Army troops: 'Their vengeance seemed to have spent itself on Aero Lyons. The soldiers were kind.' A Cork Examiner report corroborates Macardle's, stating that the prisoners were given 'refreshments' in the house.[19]
Jim McGrath was soon released but on 18 April, the other three men were taken to Ballymullen and sentenced to death by execution. The official military communiqué listed the specific charges against them as: taking part in an attack on National Army troops at Clashmealcon in which two soldiers were killed; robbing Ballyduff Post Office; burning the Civic Guards' station at Ballyheigue; stripping of Civic Guards; being in armed opposition to the government. The belief that the men had reneged on their pledge not to resume armed conflict against the government may have had a bearing on the sentence, but this was not made explicit.
Paddy O'Daly's response to petition for clemency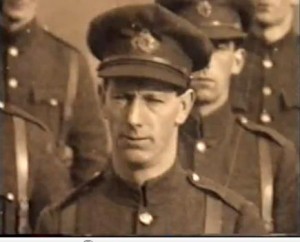 A petition from Kerry farmers and businessmen appealed to Major-General Paddy O'Daly, Commander of the Free State forces in Kerry, for clemency towards the men. As a result of atrocities such as Ballyseedy by his forces, he had acquired a reputation for ruthlessness and vindictiveness.
The Dictionary of Irish Biography describes him as 'battle-hardened', bluntly stating: 'O'Daly's troops engaged in routine and uncontrolled excesses, including mistreatment and beating of prisoners, and shooting to death men who were surrendering.'[20] O'Daly himself was reported to have said: 'Nobody had asked me to take kid-gloves to Kerry. So I didn't.'[21]
O'Daly is strongly suspected to have ordered the killing of anti-Treaty prisoners with explosives the previous month at Ballyseedy, Countess Bridge and Caherciveen.
His response to the petition shows how infuriated he was that people should plead on behalf of men whom he saw as murderers and robbers:
I am in receipt of your petition on behalf of the prisoners who were captured at Clash Cave recently, and who were the murderers of Lieutenant Pearson [sic] and Volunteer O'Neill, and am very much surprised that you should speak on behalf of the people of north Kerry, if you are in possession of the full circumstances of the cowardly murders which were perpetrated by a body of Irishmen whom you endeavour to defend.
O'Daly went on to describe what had happened at Clashmealcon and ended with this uncompromising and defiant defence of his actions:
You farmers and tradesmen, while praising me in the terms of your petition, appear to be quite oblivious of one point, and one on which I place a high value, namely JUSTICE. I can assure you that Justice will be meted out in this case. The day has passed when such men as the type you petition for can murder a fellow Irishman and go unpunished. The peace movement which you refer to in your petition is quite foreign to me…. A Government which would make peace with the murderers of Lieut. Pearson and Volunteer O'Neill would be unworthy of the sacrifices made by the army……

If you had the remotest conception of Justice, you would declare publicly that the country should be cleansed of such ruffians. You may put forward all the excuses possible, but the only inference I can take from your petition is that you are condoning murder and highway robbery.[22]
The executed men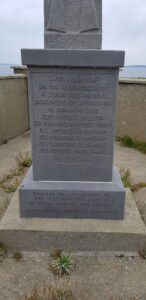 The three executions were carried out on the morning of 25 April 1923.
Edward 'Ned' Greaney, aged 29, was reared by the Quinlan family of Ballinbranig, Ballyduff, who were close relatives. His mother, Mary Dalton, had emigrated to New Zealand and she began a new family there. It is likely that she was unaware of her son's involvement in the conflict at home and that she was unaware of his death until later. Ned Greaney had been in Michael Pierce's flying column and was released from custody in Ballymullen as part of Pierce's terms of surrender. Soon after his release, he returned to armed resistance, joining Aero Lyon's column.
Reginald Hathaway, aged 20, was an English soldier based in Tralee who had deserted and joined the IRA during the War of Independence. He was described as 'an English youth who worked day and night to win freedom for our country'. Like Greaney, he was released from custody when Pierce surrendered, but soon joined Aero Lyons's column.
As well as the name Hathaway, he had used the alias 'Walter Stephens' while in custody, but his actual name was Reginald Stenning. He has always been known as Reg or 'Rudge' Hathaway in Kerry. His parents in England were unaware of his life and activities in Ireland. His mother Edith lived in Kennington in Oxfordshire and her application for financial support was rejected, after a prolonged correspondence, as she was deemed not to have been dependent on her son.
Jim McEnery, Ned Greaney, Reg Hathaway (aka Stenning) and Jim McGrath were executed on April 25 1923 in Tralee.
Hathaway is an enigma, a colourful character, whose good humour bolstered the spirits of his fellow prisoners in Ballymullen. While he was involved with the IRA, he was befriended by Michael and Johanna O'Sullivan of Ardagh, Causeway, and the couple later assisted Edith Stenning in her request for compensation.[23]
James McEnery, aged 28, was the only one of the eight men who was married and he had a young son. He is also the only one to have left written documents, the letters he wrote to his loved ones on the night before, and the morning of, his execution, now held by his descendants. He wrote the following letter to his beloved wife Hannah and their child Henry, known as Sonny:
My dear darling wife and child,

It is breaking my heart when I think of you both, but you have one thing to be proud of. I never did anything that would shame you or Sonny.

You were always the pride and joy of my heart and you can be proud that I am dying a soldier of the Republican army, and I am that since I swore allegiance in 1918 and as a soldier I have a clean record up to the present.

I am to be executed at 8 o'clock tomorrow morning. It is very hard. I would not feel it so much only for you and my lovely child, but cheer up darling and God will console you and some day we will meet in heaven.

Goodbye now, kiss Sonny for me. I am sending you a lock of my hair, give some of it to mother. It is the only token I have

Your fond husband

Jim
Hannah McEnery's life was changed utterly by her husband's death and she lost her home and farm and was obliged to move to another part of the parish of Causeway. She later wrote: 'I lost my place at that time. My life was not much after.'[24]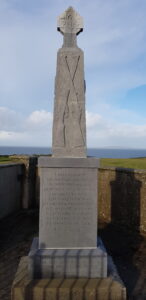 On 27 April 1923, just two days after the Ballymullen executions, Frank Aiken, who succeeded Liam Lynch as chief-of-staff, informed all anti-Treaty IRA officers that a cease-fire would commence on 30 April. A month later, Aiken issued the order to dump arms and the Civil War came to an end. Its reverberations continued for a century after.
The bodies of the three men (along with others) were exhumed in 1924 and re-interred in Rahaela Cemetery, Ballyduff. Jim McGrath lived until 1972, always haunted by his ordeal.  Today, two memorials stand side by side on the clifftop at Clashmealcon, both engraved with the names of the six anti-Treaty IRA members. Reginald Hathaway's name is rendered in Irish as Raghnall Hatabhae in Clashmealcon and as Raghnall de hAtabhuidhe in Raheala. The names of James O'Neill and Henry Pierson are not on any memorials.
Many songs and poems have been written about Clashmealcon, including these lines written in 1930:
'Beside a cliff in Kerry, there stands a wooden cross,

With Celtic writing on it, that tells of love and loss.'[25]
These simple words commemorate a dark incident of the Civil War without the rancour or recrimination evident in other compositions.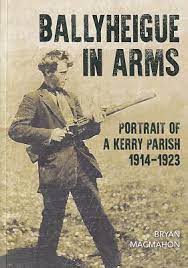 Bryan MacMahon's book Ballyheigue in Arms: Portrait of a Kerry Parish, 1914-1923, published in 2023, has more details on these events and the people involved. It is available from www.omahonys.ie.
References
[1] Tom Doyle, The Civil War in Kerry (2008), p. 266.
[2] Doyle, Civil War in Kerry, p. 295.
[3] MA/CW/OPS/08/15.
[4] In her book Tragedies of Kerry (1924), Dorothy Macardle and named this Dumfort's Cave, and so did some subsequent writers. However it was known locally as Dunworth's Cave, as recorded on a plaque in memory of the brothers Thomas and James McGrath, who lived nearby. The name Clashmealcon comes from the Irish 'Clais Maolchon', and the local pronunciation follows the Irish.
[5] 'The Caves of Clashmaelcon', An t-Óglach, 16 June 1923 and Freeman's Journal, April 20 1923. The spelling Clashmaelcon is unusual, but true to local pronunciation. Lieut. Pierson's name is spelled Pearson is some sources.
[6] Military Archives [MA], CW/OPS/08/03.
[7] Irish Times, 21 April 1923.
[8] 'The Caves of Clashmaelcon', An t-Óglach, 16 June 1923.
[9] Macardle, Tragedies, p. 79.
[10] Macardle, Tragedies, p. 80.
[11] An t-Óglach, 16 June 1923.
[12] Tim Horgan, Dying for the Cause: Kerry's Republican Dead (2015), p. 106.
[13] Macardle, Tragedies, p. 82.
[14] Kerry Champion, 14 September 1929.
[15] MA/MSPC/DP5530.
[16] An t-Óglach, 16 June 1923.
[17] MA/MSPC/W3D233.
[18] Cork Examiner, 23 April, 1923.
[19] Cork Examiner, 20 April 1923.
[20] Laurence William White, 'Patrick O'Daly', in Dictionary of Irish Biography, www.dib.ie.
[21] Calton Younger, Ireland's Civil War (1968), p. 288. This seems to be the original source of this frequently used quotation.
[22] Cited in Michael Guerin, Soldiers We Will Be (2020), pp 93-4.
[23] See Military Pensions blog: 'The Unusual Case of Reginald Walter Stenning, the Englishman among the 77', www.militarypensions.wordpress.com/09/08/2018.
[24] MA/MSPC/DP5905.
[25] Kerry Champion, 9 April 1930.