'A terror to the countryside': Civil War reprisals in Cork and Kerry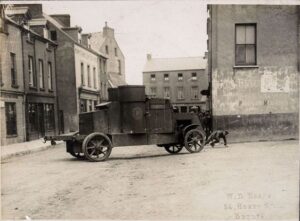 By John Dorney
It would have been difficult to convince members of the Irish Republican Army in July 1921, the time of the Truce with the British, that just a year later they would be divided into hostile factions a year later and seeking to kill each other.
Yet, Civil War broke out at the Four Courts in Dublin in June 1922 and rapidly spread around the country, as the Provisional Government forces attempted to wrest the territory of the prospective Free State from the anti-Treaty IRA, or as it called them, the 'irregulars'.
Initially Michael Collins and his colleagues hoped that the war would be over in a matter of weeks and at first, both sides attempted to fight with clean hands, forbidding the killing of prisoners or attacks on unarmed combatants or civilians.
Yet the war did not end quickly, but rather dragged on as a guerrilla conflict for many months and developed its own deadly momentum of killing and reprisal. Former comrades became demonised into a malevolent enemy who had to destroyed.
Together Cork and Kerry saw over 400 deaths in the Civil War and it was in south Munster where the war's worst atrocities took place. However the experience of the two counties was in some respects quite different. Kerry saw far more brutal and sustained reprisals by pro-Treaty troops than did County Cork. This article examines why.
A war that refused to end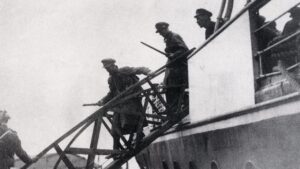 Initially, most assumed that the war had ended in the second week of August 1922, when around 1,000 pro-treaty troops, led by Paddy O'Daly and Emmet Dalton landed by sea, first and Fenit in Kerry and then at three points on the Cork coast.
Tralee and Cork city were rapidly seized and the anti-Treatyites retired in disarray into the hill county along the Cork-Kerry border. The seaborne landings also collapsed the anti-Treaty frontline in county Limerick, allowing pro-Treaty forces led by Eoin O'Duffy and W.R.E. Murphy to roll almost unopposed into north Cork and Kerry.
However the anti-Treaty IRA had been dispersed rather than destroyed and in the weeks that followed, on the direction of their Chief of Staff Liam Lynch, their columns took up a campaign of guerrilla warfare, destroying road and rail infrastructure and ambushing vulnerable columns of National Army soldiers.
Though the anti-Treaty IRA in Cork and Kerry were displaced from the towns by the landings of August 1922, wresting the countryside from them proved a long and bloody business.
More so than against the British before the truce of 1921, the guerrillas were capable of quite large-scale assaults on towns, including Kenmare, which fell to the anti-Treatyites in September 1922 and remained in their possession until December, and Killorglin and Bantry which just held out after prolonged assaults. Cork and Kerry columns often cooperated across county borders and IRA Brigade areas in such actions.
The capture of Kenmare also saw large quantities of arms and ammunition fall into the anti-Treatyites' hands and in its aftermath Kerry no. 2 IRA Brigade (South Kerry) commander, John Joe Rice, could write 'there are no idle rifles in the Brigade area' and 'there is no day that the hospital in Killarney does not receive its supply of [National Army] wounded and dead'.[1]
While around twenty pro-Treaty troops had died in the Cork and Kerry landings in early August, by the end of September 1922 their fatal casualties in Counties Cork and Kerry had reached nearly one hundred. As Orson McMahon has noted, whereas anti-Treaty guerrillas saw their ambushes, mines and sniping attacks as legitimate means of guerrilla war, the National Army saw them as cowardly 'sneak attacks' on Irish soldiers and were particularly outraged by the use of 'explosive' or expanding bullets.[2]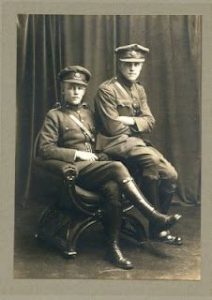 By September 1922 both National Army commander in County Cork, Emmet Dalton and his counterpart in Kerry, W.R.E Murphy were sounding an alarmed note. The former reporting that the situation in West Cork was 'very bad' with 'a large concentration of irregulars', and the latter, in Kerry, writing that 'we are fighting against very superior forces in a mostly hostile country'.[3]
In Cork and even more so in Kerry, the anti-Treaty IRA guerrillas were generally locals, whereas the occupying pro-Treaty troops were often outsiders, initially largely from the Dublin Guard, though also including Claremen from the First Western Division, and later some elements of the Northern Division from Belfast. John Joe Rice, a Kerry IRA leader recalled, 'the Dublin Guards treated South Kerry as a hostile country'. [4]
John Pinkman, a Liverpool-born ex IRA man in the Dublin Guards remembered, 'most of our lads were Dubliners and retained the Dubliners' traditional disdain for Irish country people'.[5]
It was no coincidence that many of the worst reprisals carried out on the pro-Treaty side followed the killing of men who had served in the IRA, particularly in Dublin, before the Truce and were now serving in the Dublin Guard. Many pro-Treaty soldiers, particularly veterans of Michael Collins IRA Intelligence unit the 'Squad', who largely officered the Dublin Guard, characterised their enemies as ' 'trucileers'; youths who had not fought the British but were now waging a cowardly guerrilla war against the men of the 'National forces' who had been in forefront of War of Independence.
On the other side, anti-Treaty republicans came to see the 'Free Staters', not simply as outsiders, but also as British forces in green uniforms, noting the preponderance of ex British soldiers in their ranks and characterising the others as mercenaries, bought for the wages provided by the Free State.
This mutual incomprehension deepened as the war went on and motives for revenge grew.
Killings and reprisals in Cork and Kerry in 1922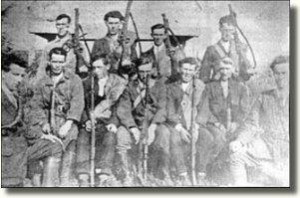 Among the pro-Treaty casualties in the autumn of 1922, famously, was National Army commander in Chief Michael Collins, killed in an ambush at Beal na Blath on August 22 but also former 'Squad' member, Tom Kehoe, blown up with a mine near Macroom along with six other soldiers on September 16. [6]
In Kerry, Captain Jim Burke of the First Western, again a former IRA officer, was among those killed in August as were two medics from the First Western, gunned down unarmed near Killarney while on a boating expedition.
Already by September 1922 a pattern of reprisal killing had become apparent in Cork and Kerry.
When the town of Kenmare fell to the anti-Treatyites on September 9, two brothers, the Scarteen O'Connors, local IRA men who had become officers in the National Army, were shot in their beds.[7]
This very quickly led to a rush of reprisals by pro-Treaty troops. The first such case, the killing of Timothy Kenefick in Cork on September 8 was 'a particularly brutal murder' by the Dublin troops, as Liam Lynch wrote, apparently involving torture before execution.[8] Another prisoner, James Buckley, was shot in reprisal for the mine that killed ex Squad man Tom Kehoe and six other soldiers and his body dumped in the hole created by the mine explosion.[9]
In Kerry, a 17-year-old prisoner Bertie Murphy, was shot dead in revenge for an ambush at Brennan's Glen, while another prisoner, John Galvin, was beaten and then shot by First Western troops, his body dumped at Ballyseedy Cross, in revenge of the death of their captain, Jim Burke.[10]
In both Cork and Kerry, however, locally recruited National Army troops mutinied in objection to these killings by outsiders.
Mutiny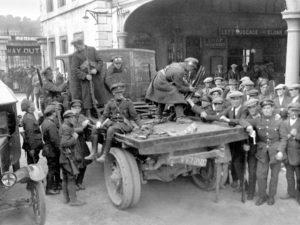 In Cork, locally raised troops refused to go back out on patrol until the culprits for the killings of Kenefick and Buckley were sent away. Emmet Dalton their commander wrote back to Army Commander in Chief Richard Mulcahy in Dublin,
'The shooting [of Buckley] was the work of the Squad. Now I personally approve of the action, but the men I have in my command are of such a temperament that they can look at scores of their companions being blown to atoms by a murderous trick without feeling annoyed but when an enemy is found with a rifle they will mutiny if he is shot. On this account I think it would be better if you kept the 'Squad' out of my area.'[11]
Most of the officers concerned were indeed duly sent back to Dublin.
This did not quite end National Army reprisals in Cork. Three anti-Treaty Volunteers were killed at Upton in October for instance, allegedly after surrender, according to Tom Barry, on the orders of an Army chaplain.[12] Nevertheless, the transfer of vengeful Dublin Guard officers out of the command area helped to keep a lid on revenge killings in Cork thereafter.
Whereas a mutiny by Cork pro-Treaty troops in objection to the killing of prisoners helped to limit reprisals there, a similar mutiny in Kerry was put down.
It may also have helped that Emmet Dalton resigned in late 1922 and was replaced by a local commander, David Reynolds in Cork.
In Kerry however, the response of Army Command to the objections of Kerry pro-Treaty troops to reprisals was different. Members of the Army's Kerry Number One Brigade, composed of pro-Treaty Kerry IRA men, led by Ned Horan, like their counterparts in Cork, raised an uproar over the killing of John Galvin. Horan stated that he had 'tried to preserve the honour of the National Army' but that such incidents 'only serve to incite public opinion against the Army… and if carried on we would soon find ourselves in arms against a hostile population such as existed against the Black and Tans'.[13]
W.R.E. Murphy however, the General Officer Commanding in Kerry, told Mulcahy that Galvin had been 'a scoundrel' and a 'terror to the countryside' and that Horan 'had best be removed' 'for his own safety'… I will not sacrifice any officer or man from the First Western, a splendid lot of troops, for his cheap heroics'. Indeed he threatened that if there were further mutinies by Kerry troops 'I will parade the lot of them in front of 1 Western Division and "Danny Boy' [an armoured car] and shoot them down'.[14]
Horan duly resigned. Not long afterwards, an anti-Treatyite John Lawlor was executed near Ballyheigue by Michael Hogan of First Western, the same officer involved in the killing of John Galvin.[15]
Whereas events in Cork had forced some degree of accountability on the National Army troops there, Murphy's response to Horan and his men's objection to reprisal killings had the opposite effect in Kerry. A pattern of impunity had been established.
Paddy O'Daly, the commander of the Dublin Guard, who succeeded Murphy as General Officer Commanding in Kerry in December 1922, is often blamed for the subsequent killing of prisoners there and it is true that the worst reprisals in Kerry, occurred under his command. But clearly the pattern of pro-Treaty revenge killing in Kerry had already been established well before he took over from Murphy.
A change of command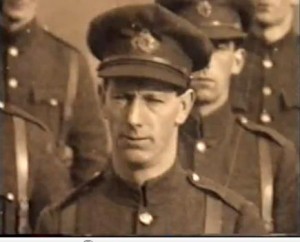 Nevertheless, it was not until after the turn of the year, when there was a change of command in Kerry that pro-Treaty reprisals there truly escalated.
Murphy, a veteran of the British Army, had intended to execute four anti-Treaty IRA prisoners in Tralee, in December 1922 but appears to have backed down and commuted the sentences when local anti-Treaty commander Humphrey Murphey threatened to shoot eight civilian pro-Treaty supporters in retaliation.[16]
O'Daly, on the other hand, on January 20 1923, immediately exhibited a new hardness. Not long after he took over command, O'Daly had four anti-Treaty prisoners executed by firing squad in Tralee. Under the harsh new legislation, the prisoners were sentenced to death on O'Daly's authority just the day before, without any meaningful trial, in retaliation for the IRA's destruction of a railway bridge, which caused a train crash and the death of two railway workers.[17]
W.R.E Murphy was replaced as Officer Commanding Kerry by Paddy O'Daly in December 1922.
By the end of 1922, the pro-Treaty troops, having been reinforced substantially, believed that they were getting on top of the anti-Treaty guerrillas in both Cork and Kerry. Large sweeps secured areas previously inaccessible to the Free State forces include the Dingle peninsula and Kenmare. There was a brief flare up of anti-Treaty activity in Cork led by Tom Barry, whose column captured the towns of Ballineen and Enniskeane in December 1922 and assaulted Millstreet, jointly with Kerry units, in January 1923. In general though, by the new year the guerrillas in Cork and Kerry had been reduced to a fugitive existence, mostly in remote and mountainous areas along the county border.
Nevertheless the war stubbornly refused to end. Kerry in particular was one of the few locations in the country where, by spring 1923, anti-Treaty units were still capable of large operations.
Kerry's 'terror month'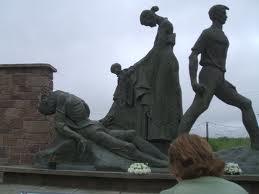 On March 5 for example a large party of anti-Treatyites attempted an assault on Cahirciveen, leading to an all-day fight at Gurrane in which at least three National Army and two anti-Treaty IRA combatants were killed. It was perhaps the frustration of the National Army at this continued and from their point of view futile, resistance that led to a ghastly series of atrocities in Kerry in March 1923.
The day after the fight at Gurrane came an incident which was to set off the worst series of reprisals, not only in Kerry but in the whole Civil War. Six National Army soldiers, led by Dublin Guard captains, Michael Dunne and Edward Stapleton, guided by a local Kerry officer Cadet Pat O'Connor, working on information gleaned from an informant, searched a field near Knocknagoshel for an IRA dug out. When they attempted to open the hiding place they triggered a trap mine which blew five of them (including the three officers) to pieces and grievously injured a sixth, blowing off his legs.[18]
March 1923 saw a series of infamous reprisals by National Army troops in Kerry.
Paddy O'Daly, once the commander of Michael Collins' IRA Squad, was now head of the Kerry Command. Both Dunne and Stapleton, he noted in his report of the Knocknagoshel incident, had 'brilliant pre-Truce [i.e. War of Independence] records' in the IRA in Dublin, the latter in the Active Service Unit there. Their killing by a 'cowardly trick' of the 'irregulars', to his mindset, demanded revenge. [19]
O'Daly afterwards issued an order that in future 'all mines will be lifted and all dumps cleared by irregular prisoners'. This was in fact cover for a series of premeditated reprisals. The following day, nine prisoners were taken from Ballymullen barracks in Tralee to Ballyseedy crossroads, where it was claimed that they were tasked with clearing a mined barricade, which subsequently exploded, killing all nine.[20]
In fact, one prisoner, Stephen Fuller survived, miraculously thrown clear by the blast, to tell the truth of the incident. The prisoners, all from IRA Kerry Number One Brigade, had been tied around a mine assembled by the pro-Treaty troops which was then detonated. It was, it is now clear, revenge for the bomb at Knocknagoshel.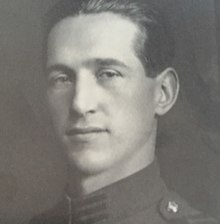 Over the following days further massacres were carried out of prisoners from Kerry Two Brigade at Countess Bridge near Killarney where four prisoners were killed and finally at Cahirciveen where five men from Kerry Three Brigade were blown up, this time having first been shot in the legs to stop any from escaping.
Richard McElligott has shown that there was also another, unsuccessful attempt to blow up a batch of prisoners near Scartaglin.[21] Several more anti-Treaty prisoners were shot in the following days and by mid March the Army claimed to have killed thirty four 'irregulars' in that month in County Kerry, including 'some of the most inveterate and irreconcilable opponents of the government'. [22]
Though some had died in combat, most, as the Army acknowledged, were killed in the series of reprisals that followed the bomb at Knocknagoshel, which they alleged were self-inflicted by 'the irregulars' on their own prisoners.
According to National Army officer Niall Harrington, who resigned over the incidents, the Army's version of events was 'completely untrue'.[23] The atrocities were planned by General Officer Commanding Kerry, Paddy O'Daly and head Intelligence Officer, David Neligan. Neligan, at one time a spy for Michael Collins in Dublin Castle, in his days as a detective ostensibly in British service, had developed a fearsome reputation in Kerry.
From information pieced together from Harrington and another National Army officer, McCarthy, the anti-Treaty IRA later concluded that it was Neligan who planned the reprisals but named further culprits also, all Dublin Guard officers and mostly former Dublin IRA men; Lieutenant Anderson took the prisoners out of jail in Tralee, Captain Clarke tied them together and placed the mine at Ballyseedy, Lieutenant Murtagh threw grenades at them, Captain Edward Flood detonated the mine and Commandant Joe Leonard shot the one survivor who they found. Other sources all name other culprits also, including another former Squad man, Ned Breslin.[24]
That Ballyseedy and the other mine explosions were in fact premeditated reprisals was never acknowledged by Army command, whose chief Richard Mulcahy exonerated O'Daly. When it emerged that Stephen Fuller had survived the blast at Ballyseedy, and was telling of what had happened there, the Army reported that 'it is stated that he [Fuller] has now become insane'.[25]
Local republican Patrick Allman posted notices in Tralee repudiating that the mines that had killed prisoners had been laid by anti-Treatyites, stating 'Kerry knows the truth'. The Army reported on 'disgraceful scenes' in the town when the mutilated bodies of the dead from Ballyseedy were handed back to relatives. The military coffins were smashed by the incensed relatives who transferred the remains of their loved ones to their own coffins. Cumman na mBan women disrupted mass services to lead prayers for the prisoners killed.[26]
The horrors of March 1923 would come to define the memory of the Civil War in Kerry.
Cork: a different pattern
County Cork had nothing like the same intensity of reprisals as Kerry, and indeed lethal violence dropped sharply there in 1923 compared to 1922. Liam Deasy, a Corkman and head of the IRA First Southern Division called for surrender of his forces after his capture in early 1923 and column leader Tom Barry became involved in behind the scenes peace talks with pro-Treaty forces.
But nor was Cork without brutality in the final months of the conflict. On February 3, 1923 in what was in some ways a precursor of the mine atrocities in Kerry, the National Army rounded up both prisoners and local civilians at Newcestown and ordered them to remove a road barricade than contained an IRA trigger mine. The mine duly exploded, killing one anti-Treaty prisoner and two civilians and injured seven more. [27]
Cork did see reprisals in 1923 but in general there violence declined sharply in 1923 in stark contrast to neighouring Kerry.
On the other side, the anti-Treaty IRA in Cork responded to the one execution that was carried out there with reprisal against civilians accused of being Free State supporters. After the execution of William Healy of Donoughmore, who was shot by firing squad on 13 March 1923 at Cork County Prison, the local anti-Treatyites shot two civilians: William Goff Beale, a Quaker, whose cousin was a judge, was shot dead in Cork city 'by two men saying it was reprisal for the executions'.  The following day, Ben McCarthy aged 16 of Bantry taken from his home by four armed men and shot dead, with the notice 'convicted spy', fixed on his body, 'shot as a reprisal for our four comrades executed this week'. [28]
They also burned many homes of pro-Treaty supporters, targeting among others Mary Collins Powell, the sister of Michael Collins and also targeted theatres and cinemas in Cork city, which they forbade to open 'in a time of national mourning'. Indeed the Cork IRA were far more likely than their Kerry equivalents to target 'enemy' civilian supporters.
In general however, the Civil War in Cork had effectively ended by the spring of 1923, with the remaining guerrilla columns mostly concentrated in the mountains of West Cork and simply avoiding arrest. This would appear to show us that it was mass arrests, occasioned by a helpful civilian populace that was considerably more effective in defeating the anti-Treatyites than the brutal reprisals seen in Kerry in March 1923.
The bitter end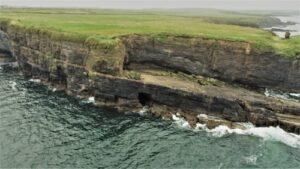 The anti-Treaty guerrilla campaign began to disintegrate in late April 1923, with the death in the Knockmealdown mountains of their leader Liam Lynch, which was quickly followed by an order by new IRA Chief of Staff Frank Aiken to cease fire and then to 'dump arms'.
By this time also some 12,000 anti-Treatyites languished in prisons and internment camps. In Cork and Kerry their final mountain strongholds along the county border were finally being penetrated by pro-Treaty troops.
There was a final incident in Kerry, however that would come to symbolise the merciless conclusion of the conflict there. An anti-Treaty column led by Tim 'Aero' Lyons was trapped in a cave at Clashmeacon on April 16 1923. After a siege in which two National Army soldiers and three guerrillas, including Lyons himself were killed, the latter reputedly was offered a rope to lift him to safety which was then cut by the pro-Treaty troops, the remaining three column members surrendered.
One of them was Reginald Hathaway, an Englishman who had deserted from the British Army in 1921 and then the National Army before finally ending up in the ranks of the anti-Treaty IRA. According to Army reports, he had already surrendered once by this point 'signing the form' pledging not to bear arms against government troops, but had afterwards re-joined Lyons' column. This time there would be no mercy for him. Hathaway volunteered to point out the remaining IRA dug outs in the area leading to several arrests. But despite this, he along with the two other men captured at Clashmealcon were executed by firing squad in Tralee on April 26. [29]
Well over half the anti-Treatyites killed in Kerry during the Civil War, compared to only one sixth in Cork, were killed after being taken prisoner.
Out of about 70 anti-Treatyites killed in Kerry in the Civil War, at least 41 were either executed or killed while prisoners. By contrast in Cork, only eleven out of about 65 deaths on the anti-Treaty side were due to execution, formal or summary, highlighting the stark difference between the character of violence in the two counties.[30]
The horrors of events in Kerry, however should not blind us to the fact that pro-Treaty troops in south Munster actually suffered higher fatal casualties than their opponents. Nearly 200 National Army soldiers lost their lives in Cork and Kerry. Between the two counties roughly 70 civilians also fell victim to the conflict between the summers of 1922 and 1923.
Paddy O'Daly, the author of some of the worst of the National Army's excesses in Kerry was never punished for them. He was however eventually forced out of the Army in 1924 for his role in the brutal assault on two young women in Kenmare late in 1923. The Attorney General said the evidence against him was 'strong' but 'to save the scandal of trying a GOC (General Officer Commanding), all three [officers concerned] should be given the alternative of resigning from the National Army or standing trial'. He concluded that the case was 'horrible and distressing'.[31]
David Neligan, the other probable author of the March 1923 reprisals in Kerry, by contrast, went on to a post as head of Military Intelligence before becoming head of the Special Branch detective division of the Irish Free State's police force, the Garda Siochana until the 1930s.
It appears surprising, that the Irish Civil War, a conflict between Irish republican former comrades, eventually provoked such savage violence and such bitter memories. A closer look however at the atrocities on the ground particularly in Kerry shows how the war developed its own bitter momentum. From their own perspective the National Army troops in Kerry were merely taking justified revenge on a wholly illegitimate and treacherous enemy, who were killed them, the true Irish soldiers, in significant numbers, long after the outcome of the war had truly been decided.
While in County Cork, the reaction of local troops to reprisals helped to limit their scope after September 1922, in Kerry the opposite pattern developed.
The impunity granted to the troops concerned, however cast a long shadow over the new Irish state, especially, though not only, in County Kerry.
If you enjoy the Irish Story and wish to support our work, please consider contributing at our Patreon page here.
References
[1] OC Kerry No. 2 Bde to OC 1 Southern Division [Liam Deasy] 21/09/1922, Twomey Papers, UCD P69/25
[2] Orson McMahon, MA Thesis, Civil War Violence in Kerry, A Necessary First Principle, https://studenttheses.universiteitleiden.nl/access/item%3A2701692/view
[3] W.R.E. Murphy to Commander in Chief 1/10/1922, National Army, Military Archives, Operations Reports, Kerry Command CW/OPS/08/01
[4] The Men Will Talk to Me, The Ernie O'Malley Kerry Interviews, p312 and 36 Ed.s Cormac O'Maley, Tim Horgan.
[5] Pinkman, In the Legion of the Vanguard, p97
[6] Sean Boyne, Emmet Dalton, p.262
[7] For a summary of these incidents, see Tom Doyle, the Civil War in Kerry (Mercier 2008), pp. 145, 158, 168.,
[8] Liam Lynch to Ernie O'Malley 16/9/22, in Anne Dolan, Cormac O'Malley eds. No Surrender Here, The Civil War Papers  of Ernie O'Malley p.185
[9] See John Borgonovo, The Battle for Cork, p.127
[10] Doyle, Civil War in Kerry p.186-187
[11] Boyne, Emmet Dalton, p.262-263
[12] Barry's allegations in Dependents pension application Patrick Pearse MSPC DP 1908. Also repeated in Todd Andrews papers UCD, P91/87, 'IRA Murdered in Custody' who also names the priest concerned as 'Jeffson O'Connell'
[13] Ned Horan Comdt Kerry No 1 Bde, National Army to commander in Chief 30/9/1922 MA, Kerry Command, cw/ops/08/01
[14] Murphy to CC 26/9/1922 cw/ops/08/01
[15] See Bryan McMahon, 'One Irregular was killed': The death of John Lawlor of Ballyheigue, Co. Kerry, 31 October 1922. https://www.theirishstory.com/2022/12/12/one-irregular-was-killed-the-death-of-john-lawlor-of-ballyheigue-co-kerry-31-october-1922/#.ZA5ir3bP3IU
[16] See Doyle Civil War in Kerry, p. 250
[17] Ibid.
[18] Reports from Kerry Command, 6 March 1923 MA cw/ops/08/03
[19] Ibid.
[20] Ibid. March 7
[21] Irish Times Fri March 2023 https://www.irishtimes.com/history/century/2023/03/10/free-state-attempted-fourth-atrocity-in-co-kerry-on-same-day-as-ballyseedy-massacre/
[22] Intelligence reports, Kerry command, 14 March MA cw/ops/08/08
[23] Niall Harrington, Kerry Landing, p.148-149
[24] IRA GHQ Intelligence report, 26/0/1924, Twomey papers P69/137. See also Owen O'Shea, No Middle Path the Civil War in Kerry, (Merrion 2022) p.86-97
[25] Ibid, March 14
[26] Kerry command reports 7-15 March cw/ops/08/03
[27] Irish Times Feb 10 1923, see also Patrick Murray Dependants pension application, DP8356
[28] Irish Times march 24, 1923
[29] Kerry Command reports April 19, May 7, 1923 cw/ops/08/03
[30] For deaths in Cork see John Dorney, Casualties of the Civil War in Co Cork https://www.theirishstory.com/2019/07/14/casualties-of-the-irish-civil-war-in-county-cork/ for Kerry' murders see Andrews papers 'IRA Murdered' P91/87
[31] Army Inquiry of 1924 in Richard Mulcahy Papers, UCD P7/C/7. Linda Connolly's article on the Sexual Violence during the Irish Civil War covers the 'Kenmare incident' in more detail. https://www.westcorkhistoryfestival.org/wp-content/uploads/2020/03/Sexual-violence-in-the-Irish-Civil-War-a-forgotten-war-crime_.pdf .