Perceptions of Richard J. Daley: Ireland and Irish America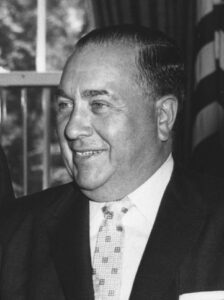 By Ray Esten
Richard J. Daley (1902-1976), the long-time mayor Chicago, was variously described in Ireland as a proud representative of the Irish in America and by others as a an apologist for police brutality.
Daley climbed the ladder of Chicago Democratic politics through hard work, persistence, loyalty, and the timely death of politicians above him.[1] Urban legend tells us that the office of mayor was all he desired.  Whatever the case, he was elected to this office in 1955, 1959, 1963, 1967 and finally 1975. The only mayor to outrun his tenure was his son Richard M. Daley.
As well as mayor, Richard J. Daley was chairman of the Cook County Democratic Central Committee. This made him the most powerful political figure in Chicago and for a time, the most powerful politician in the United States.[2]  His complex career could span several volumes. This article however is focused on Daley the Irish American, his relationship with Ireland and how they interrelate.
Introduction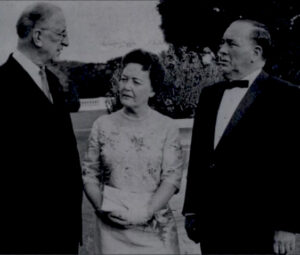 A particular day on the mayor's calendar was March 17th– St. Patricks day. Daley enjoyed the celebrations, and the present-day parade owes much to his mayoralty. It was in his time that the parade was moved from its south side heartland to downtown Chicago.[3] His third term saw the Chicago River dyed green, and this has endured.
The parade offered visiting Irish mayors and delegates the opportunity to converse with Daley who was generally glad to be of service.  However, it is not the figure of Daley and company marching north on Columbus Drive, a shillelagh in his hand, that is evoked when contemplating the events which transpired in 1960s Chicago. Had Daley retired early that image may have endured.
Richard E Daley was the long-time Irish-American mayor of Chicago. the city was beset by riots in 1968-69.
Instead, Daley's Chicago was the city which spawned the Chicago Freedom Movement who called for reforms like 'open housing' and asserted that white America had repeatedly failed black Americans.[4] They would continue to struggle -in the words of their advocate – civil rights leader Dr. Martin Luther King, jr ''…until justice rolls down like water and righteousness like a mighty stream.''[5]
Dr. King was assassinated in Memphis in April of 1968, his dream unrealised, and serious rioting broke out across American cities counting Chicago. Daley reacted malevolently by calling on the Chicago police to 'shoot to kill' rioters with Molotov cocktails.
Even more notoriously, after the anti-Vietnam War demonstrations outside the Democratic National Convention of 1968, Daly became the symbol of repression of youthful radicals in 1960s America. Critics condemned him for the use of excessive force and in particular the heavy-handed tactics of the Chicago Police Department (CPD).
It was not long before the Irish imagination was stirred. Certain observers believed the methods of the CPD, during the Convention (later dubbed a 'police riot) [6] echoed the Royal Ulster Constabulary's RUC treatment of Catholics in Northern Ireland. Others were simply appalled by the graphic images of police brutality.
Objections to Daley in southern Ireland generally manifested around his proposed visit in 1969, in particular the offer of Waterford Corporation to confer the Freedom of that city on the mayor. Again, agitation mostly stemmed from the Chicago Convention fiasco.
Daley weathered this small but significant storm of Irish criticism. Furthermore, he did not seem to be wholly dismayed by it. He continued to show an interest in Irish affairs and, for instance, helped to facilitate donations across the Atlantic, which included organising funds for displaced Northern Catholics, driven out of their homes in the rioting of Augst 1969.
Paradoxically, it was during this period that Daly achieved his greatest triumphs. In broad terms he was an Irish American of incomparable influence. The national powerbroker instrumental in securing the election of fellow Irish American Catholic John F. Kennedy. Undoubtably, a crowning moment for Daley. Yet, more importantly, he presided over the ''city that works'' while eastern and midwestern cities like Detroit declined. In fact, he made Chicago the best administered, most dynamic, and progressive of America's large urban centres.[7]
Daley: An Irish American
Richard J. Daley's ancestors hailed from the counties of Waterford and Limerick.
The famine of the 1840s had triggered a steady influx of Irish immigrants. The Daleys like numerous Irish Catholics came to the U.S with little more than their political perspectives, traditions, and a determination to make a better future. Throughout the next few decades, the Irish appeared to the casual observer to be predisposed to politics or as Fredrik Logevall described it in his study of John F. Kennedy, ''they saw meaning in politics, and they flocked to the banner of the Democratic Party.''[8]
The Chicago Irish finally got a firm grip on City Hall when  Edward J. Kelly[9] succeeded Anton Cermak as Mayor in 1933 and they kept control through Richard J. Daley.[10]
Background and career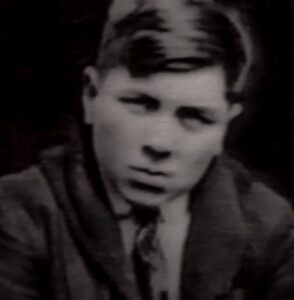 Daley's youth resembled that of a boy growing up in Catholic Ireland. He attended Catholic elementary school, enlisted as an altar boy, and was enrolled in the Christian Brothers De LaSalle High School.
Yet Daley was very much a child of the Chicago stockyards who spoke with what was said to be a dogged style and a back-of-the-yards accent. Later taking elocution lessons, however, his speech remained much the same.
Though sectarianism was manifest in Ireland in the 1900s, it was racism that perforated American society. While racism existed in Chicago, it was far less pronounced than in the Deep South. As a result, African Americans suffering under the Jim Crow laws that enforced segregation, were lured by the promise of employment and greater equality, to the cities of the north. However, in Daley's youth white Gangs attached to athletic clubs often enforced racial boundaries and this left the black community sandwiched into an area that became known as the 'black belt'.
The Irish gangs of Bridgeport used violence and terror to enforce their own Mason Dixie line and to contain African Americans within this area.[11] It was estimated by the Illinois commission of human Relations, which investigated the race riots of 1919, that 41 percent of the conflicts between whites and blacks occurred in the white neighbourhoods around the stockyards.[12]
The Irish American community, and possibly Daley himself, were involved in racially motivated rioting in Chicago in 1919.
This was Daley's neighbourhood, and he was a member of the Hamburgs Athletic Club who were instrumental in the riots. (Daley would have been around 17 years old in 1919 and was later installed as their president in 1924). Though Daley may have been involved at some level, he never spoke about it. That by itself was not an admission of guilt. He may have thought the idea so preposterous that he never felt the need to defend himself. The answer is subjective. However, his silence cast a shadow over Daley, and it would be utilised by his political opponents.
Daley started off selling newspapers on the corner of 36th and Halstead Street. After he graduated from De La Salle High School, he went to work in the famous stockyards, attended De Paul University at night. He received both his college and law school education there, graduating with LLB degree in 1933 and that same year, he was admitted to the bar and became a practicing attorney. He was elected to his first public office as a member of the Illinois House of representatives.[13]
This was a measure of his determination, and his political career was propelled in 1936, as state representative and senator. It was around this time that he married Eleanor Guilfoyle, whose ancestors came from Co. Limerick. The couple would have in total seven children. Daley held the position of clerk of Cook County (1950-1955) and following this he was elected as mayor of Chicago.
Ethnic politics
Black, and white conflict intensified in the 1930s and [14] racial violence was evident in Daley's first term, notably as the Black Belt spread west and south, and as blacks moved into white neighbourhoods. [15]
The Democratic 'machine' in which Daley operated was based on patronage, which was traded for political loyalty. This was open to all groups in society. However, it had an ethically and racially queued hierarchy[16] -and' if you're Irish come into the parlour.' Was its unofficial motto [17]Indeed, Daley surrounded himself at City Hall with working-class Catholics from Bridgeport and similar neighbourhoods.[18]
He also continued to reside in his beloved neighbourhood. For many supporters this meant that he had not turned his back on his working-class roots.
Daley spent his life in Chicago, like his father before him. Yet this did not diminish his sense of attachment to Ireland. This prompted an Irish columnist to ask, why does Daley love Ireland so much? To which one answer mused that it was strictly a matter of nostalgia. He was American first, American Irish if, you will, but Chicago-American first.[19]
Nevertheless, he remained an advocate to other Irish Americans and during his second term he was a key supporter of John F. Kennedy, in his bid to win the 1960 presidential election. Indeed, Daley provided Kennedy with the crucial delegates who helped secure the Illinois vote.
Irish relations – political homogeny
President Kennedy made his historic trip to Ireland in June of 1963; greeted by Taoiseach Sean Lemass as a long-lost son of Eire. Lemass would be in America soon afterwards and Daley rolled out the green carpet for the Taoiseach.
Daley received an official visit from Taoiseach Sean Lemass in 1963
A contingent of Black Horse Troop of colourfully uniformed horsemen escorted his limousine and the lampposts of Chicago's main street being decked out with shields and harps and decorated in green, white, and orange. On Daley's instruction, the Irishman was installed as an honorary citizen of Chicago[20]  Lemass must have marvelled at the spectacle.
Daley and Lemass shared common interests. Besides modernising their heartlands, they both allowed themselves the vice of fine clothes. Lemass, though, was not wholly accustomed to Chicago politics and especially the system of patronage that oiled the wheels of the Democratic machine.  Lemass's way of operating differed in that he had refused a relative help in securing employment in the transport business. Stating that he was not in the way of providing 'jobs for the boys' be they friend or not.[21]
Daley had not devised the system of patronage, but it was the world in which he had become accustomed and in which he operated.
Daley would have enjoyed conversing with Lemass. There was no political subject for them to disagree. For example, Ireland had no diplomatic relations with Communist nations. [22] Indeed, the Taoiseach's general attitude corresponded with a shift in Irish foreign policy which was very pro-Western and pro-American.[23]
Daley in Ireland 1964
A month later America was shaken by the assassination of John F. Kennedy in Dallas Texas. Daley was saddened by the death of the man he had backed so resolutely. During his second term in 1964 and while touring in Ireland Daley and his wife Sis called upon the ancestral home of the fallen president at Dunganstown, Co.  Wexford.[24]
Alongside this, they attended a dinner at the American Embassy in Dublin. Visited Drogheda and prayed at the shrine of blessed Oliver Plunkett. Feasted at a medieval banquet at Bunratty Castle Co. Clare and called on Limerick. [25]However, the focal point of the Daley's tour was Dungarvan and Old Church in Co. Waterford.
Thousands turned out to welcome Daley to the birthplace of his maternal grandfather and the home of living relatives; the descendant of a local man who presided over Chicago, a city that had a population greater than Ireland. Daley contributed to the cost of the local church, where he had stained glass windows and tablets dedicated in the memory of his grandparents.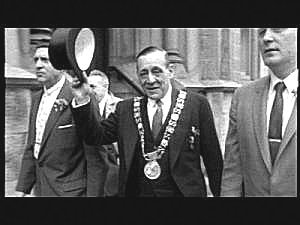 There was a memorial plaque unveiled at 10-acre plantation marking where Daley's grandfather resided before going to America.[26] Dublin's Lord Mayor Robert Briscoe who endeavoured to stimulate American interest in Ireland, unveiled the monument of red sandstone at the old homestead.[27]
Briscoe (son of Jewish immigrants to Ireland) and Daley had been compared often – both the descendants of immigrants who had become mayors of their respective cities. In fact, they had marched together at the Chicago St Patricks Day parade in 1962. Briscoe had also been a guest of John F. Kennedy at the White House and had visited Chicago once again during a trip to the U. S that lasted from March 26 to April 23 of 1963 [28]
Civil rights disturbances in Chicago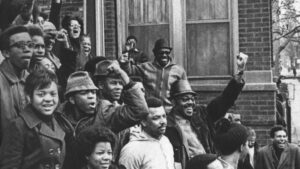 In January 1966 the black civil rights leader Dr. Martin Luther king brought his movement to the north and made Chicago his headquarters. Initially his campaign was focused on access to social housing but was soon expanded to other issues.
Mayor Daley, who did not want to be targeted as the enemy of black Chicago, heaped praise on King and his work and expounded on what the city was doing to address black concerns. Unable to attack the reigning power directly, King decided to launch a campaign to integrate Chicago's neighbourhoods by staging nonviolent marches into white neighbourhoods.[29]
Daley praised the civil rights and social activism of Martin Luther King, but took a hard line on rioting that broke out after King's assassination, urging police and troops to 'shoot to kill'.
Daley made concessions to Dr. King and their 'summit agreements' was hailed as a great victory for civil rights, but upon sober reflection the thoughtful wondered what had been accomplished other than presenting the appearance of progress on racial issues. [30]
Mayor Daley made his customary march in Chicago's St Patricks Day parade of 1968, this time in the company of the mayor of Galway. The next month Dr.  King was shot dead and serious rioting broke out on Chicago's West-Side. Daley's stance can only be described as malevolent.
His mayoralty will always be inextricably linked to the penetrating words "…Shoot to kill any arsonist … with a Molotov cocktail in his hand …shoot to main or cripple any looters'' [31]and this ensured for him a particular place in history.
The Irish Times dated April 08, 1968, reported that of the rioting across the cities of the United States, the heaviest toll of life had been in Chicago. Stating that 11 people are known to have died in what was described as ''an orgy of burning and looting.'' Clouds of smoke were said to have billowed over the city after, yet Mayor Daley reported the situation, '' much improved'' More than 1500 arrests had been made and over 300 people taken to hospital.[32]
The Illinois Daily dated April 16 recorded Daley's feeling that ''an arsonist is a murderer and should be shot …if anybody doesn't think it was a conspiracy, he should go out and take a look at it'' referring to burned areas on the West Side. [33] Instead of pent-up anger and frustration at the untimely death of Dr. King Daley believed the rioters had come out to destroy the city he had helped to build.
Daley seems to have struggled to come to terms with the magnitude of the situation. Possibly not in full acceptance that -the times were changing. What is more, his efforts to control ''his city'' had alienated many, especially African Americans, who previously supplied a solid block of electoral support for the Democratic Party machine. Add to that the historical tendencies of the police towards brutality and racism and corruption[34] it was an explosive situation.
The Democratic National Convention of 1969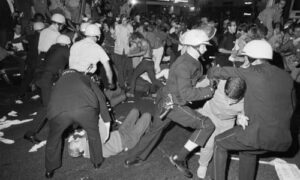 Daley was no supporter of the American war in Vietnam. Nevertheless, he publicly supported its chief proponent, President Lydon B. Johnson and when Johnson asked Daley to hold the Democratic National Convention in Chicago, he agreed.
However, on August 23, three days before the convention began, an advance guard of ''Yippie'' (Youth International Party) protestors convened at the Chicago civic centre to nominate their candidate a pig named ''Pigasus''On the eve of the convention, the 25th, the violence escalated, with protestors hurling rocks and bottles at police cars and the police indiscriminately attacking demonstrators.
The most violent episodes occurred at the Hilton Hotel. Dermot Ryan, an Irish hotel and car rental fleet owner who had travelled to Chicago as chairman of the ''Irish for America movement in support of Irish American anti-war candidate Eugene McCarthy in seeking the democratic nomination[35]  recalled that when McCarthy's young supporters were heading out through the hotel hallways, the police began attacking again: ''I saw a policeman's club raised high …it was descending in a gleaming arc with rapid and enormous force. I heard it hit a boy's head. It was sharper and louder than a door slamming.''[36]
Police badly beat anti-Vietnam War protestors at the Democratic Party Convention in Chicago in 1968.
The attack on McCarthy's staff did not dampen Daley's enthusiasm for his police and the public generally blamed the violence on radicals. However, later assessments had it as a police riot sanctioned by the mayor himself who had refused to grant permits to demonstrators and had instructed the police to defend the convention against extremists.[37]
Daley had turned the city into a virtual armed camp, mobilizing the entire police department and the Illinois National Guard.[38] 'In most other American cities these events may have discredited the police and would probably cost the mayor his job on next election. However, Daley had ridden every punch with rugged urbanity and seemed in no danger of being toppled.[39]
Irish eyes are watching
The events of Chicago were endlessly rebroadcast and are now a fixture of 1960s iconography. Indeed, they are part of every single documentary about America in the 1960s.[40] We are perhaps desensitised to these images today.
Yet the public at the time experienced an onslaught of horrific images including ones from the ongoing Vietnam war, the assassination of Dr. King in April of 1968 and events in Paris that May and on campus in American. Events across the world had also motivated the civil rights campaign in Northern Ireland. Then there was the assassination of Bobby Kennedy in June.
However, the Irish Press observed in late August of 68 that the Vietnam war had lost out as a source of fireside entertainment to the Czechs and Slovaks (the Prague Spring or anti-Soviet revolt in Czechoslovakia.) Furthermore, it stated that …''as far as Chicago, no amount of wishing is likely to wipe from our screens all the hokum that is being conveyed from that quarter.''[41]
However, the unfolding events north of the border may have taken some precedence, notably, the brutal suppression of the Derry protests in October of 1968. [42] Irish observers made comparisons between the actions of the Chicago Police Department at the Convention and the actions of the Royal Ulster Constabulary (RUC).
Daley's proposed visit in 1969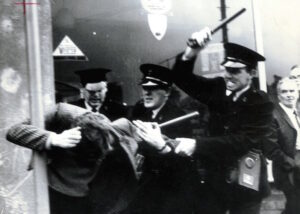 Yet it was not until Daley's proposed visit in July of 1969 and the decision to confer the freedom of the city of Waterford on him that things heated up in southern Ireland.  In opposition to Daley's visit was the Labour Party, Sinn Fein, and the Civil Rights Association.
Agitation mostly comprised of debates, protest, public meetings, and the newspapers were utilised by those who wanted to vindicate or accuse Daley of wrongdoing.
One of the first to make comparisons between the National Convention and Northern Irish police violence was made by Waterford's Sean Ryan. He considered the name Richard J. Daley to stand for police brutality, victimisation of political opponents attacks on the press and Tammany Hall type politics.  He thought the convention made the R.U.C.in Derry look 'like a bunch of boy scouts'. Adding to that that it would be better off to 'conveniently forget that Daley is of Irish extraction'.[43]
Some in Ireland objected to Daley's visit in 1969, drawing a connection between the Chicago Police's behaviour and that of the RUC in Derry, who beat civil rights protestors.
Daley himself expressed no surprise at the unfolding controversy. He thought that Waterford had been known for its dissent and freedom of opinion and that when he visited Waterford in 1964, I ''got dissent from my own relatives in their own homes.'' [44] However, Richard Walsh (who was more than likely a relative of Daley) Vice Chairman Dungarvan U.D.C felt a deep sympathy with Daley.
Walsh called the demonstrators the 'hoodlums and thugs of America who had converged on Chicago with the intention of preventing the convention. It will be to the eternal credit of the Chicago police and the iron discipline of the force that although provoked beyond human endurance, not one shot was fired by them'.[45] Another commentor thought Daley took the only course open to him ''belting the rioters down'' give them a good fright and that be an end to that.[46]  .
Writing in the Irish Press one critic had a strong message for Daley, should he come to Ireland, he should be told in clear terms that his brand of fascism is not admired and that anyone who makes him welcome should be regarded as the modern (Kidkun) Quisling (Norwegian Nazi collaborator) or (Dermot) McMurrough (who allegedly called the assistance of Henry II of England so that he could be High King of Ireland). [47]In other words, they would be traitors in welcoming Daley to Ireland.
There were a few small protests including six members of the National Civil Liberties League outside the Minister for External Affairs office at Stephens Green in May of 69. They called for Daley to be declared persona non grata because of the police brutality in Chicago.[48]
Other critical voices included that of Sean Kelly, a member of Sinn Fein. He felt that more information on Daley should be available to the public. Kelly particularly wanted the findings of the commission which had investigated the Chicago riots to be circulated in pamphlet form.[49]
One critic went so far as to say that by its decision Waterford had 'approved of police action in Derry and given its blessing in advance to whatever villainies the B Specials may get up to in the six counties'. The Irish Independent described this and related comments as 'idiocy and slavish imitation'.[50]
Irish America and Bernadette Devlin
There was American input, for instance, the Shamrock-American Club wrote to the Waterford News to assure the people of Waterford that despite biased news coverage that those close to the scene know that the mayor and the police force had maintained law and order.[51]
This somewhat reflected the view of Irish Americans who were upset not only by the anti-war agitation but also by the staggering social change of the 1960s. They worried about the increased crime or the riots that frequently accompanied civil rights and anti-war protests.[52]
Organisations like the Congress for Irish Freedom, Chicago Chapter noted that they fully supported mayor Daley in his handling of the demonstrations. They believed the people should have shown more concern for their fellow countrymen in Northern Ireland -in their struggle to secure one-man-one-vote, and to repeal the Special Powers Act and equal rights in the allocation of housing.[53]
That there were valid comparisons between the disabilities suffered by Irish Catholics in Northern Ireland and Chicago blacks in all of these areas appeared to be lost on them.
Northern Ireland civil rights activist Bernadette Devlin arrived in America in August of 1969 to find the Irish American community faction-ridden and confused. It seemed unsure what the civil rights struggle in Northern Ireland was about and divided on the question of civil rights nearer home. Devlin's visit to America would exacerbate these tensions, as she deliberately confronted Irish American double standards on civil rights, and repeatedly accused them of hypocrisy.
She was not the first to point out to Irish Americans the inconsistency of supporting civil rights in Northern Ireland while opposing them in America.[54]  While in Chicago, she refused to pay tribute to Daley's ruling political machine (which she had criticised in the wake of the violence outside the Convention), and instead visited Jesse Jackson's[55] controversial Operation Breadbasket Programme. [56]
In Ireland the controversy continues
There were accusations made against Aer Lingus Irelands national airline.  It was alleged at a meeting of the National Civil Liberties League in Dublin that Aer Lingus had invited Daley.  Aer Lingus responded by saying that Daley had in fact went out of his way to be helpful to the airline. However, it was not a fact, that they had invited him to Ireland.[57] This was no doubt in connection with O'Hare airport one of Daley's most impressive legacies[58] and a lucrative one for the Irish airline.
At a local level, for instance, groups like the Dungarvan Brass and Reed Band who had received donations from Daley came in support of the mayor. For instance, Mr. Power of the Thomas Francis Meagher Fife and Drum Band noted that ''Daley contributed towards the uniforms we have on us at the moment at a time when there was none of this Civil Rights business'' [59]
William Rosa Cole the grandson of O'Donovan Rossa wrote to the mayor of Waterford -to remind him that when his grandfather was in exile in America, he fought the notorious Boss Tweed of New York whose political machinations resembled those of mayor Daley.
Nevertheless, it was announced that Daley had to postpone his visit and was engaged in the affairs of Chicago. The controversy had passed. But would rare its head again in the 1970s when a documentary on Daley was made by an Irish film producer which was judged by some Daleyites to be biased against the mayor.
Funding for displaced Catholics
Playwright and Daley speechwriter Patrick Victor Power (who had first met Daley in Waterford during his visit 1963 when he was the acting parish priest) noted that Daley made several references early in the Troubles which caused a riffle of resentment in British Diplomatic circles because of his alleged anti-English stance. Objection was taken when he appealed for sectarian aid according to a British source and it looked like he had 'taken the IRA Catholic side', but he quickly backtracked when questioned by the Chicago Tribune.[60]
Interestingly, Daley contacted the Dublin based Northern Ireland Interdenominational Distress organisation. His telegram expressed his desire to become a sponsor ''I would be honoured to serve with former Prime Minister Lemass and other distinguished people.''[61]
Daley was outspoken in collecting funds for Northern Irish Catholics burned out of their homes in the Belfast riots of August 1969
In October of 1969 Mr. Dermot Ryan the chairman of the association received a cheque for 10,000 dollars from Mayor Daley. Also of interest is that it was the same Ryan had spoken out against the Chicago Mayor.[62] Most definitely, the Mr. Dermot Ryan mentioned earlier who was injured at the Convention and had threatened a ''assault and battery'' suit against Mayor Daley.[63]
However, Sinn Fein would not be so forgetful. They issued a statement that they had received information that Daley was to visit Waterford for the St. Patricks day parade. They expressed their determination to oppose the visit of …''yet another representative of American imperialism.[64] The information proved inaccurate. However, Daley did meet with more than 400 prominent Chicagoans at the Palmer House in Chicago in August of 1971.
The group consisted of political, business, labour, religious and civic leaders of many faiths and ethnic backgrounds. Mayor Daley and Mr. Patrick O'Malley president of the Canteen Corporation of America urged the group to raise ''one million dollars'' in the next ten days to aid refugees from Northern Ireland.
Also adopted unanimously, and with acclamation, was a resolution condemning ''the bigotry of the government of Northern Ireland which had resulted in blatant discrimination in jobs, housing, and voting, for a sizeable section of the people of Northern Ireland. [65] Evidently, comparisons in discrimination in the allocation of jobs and housing in black Chicago were not cited.
Colonel Jack Reilly a close aide of the mayor (who had accompanied Daley to Ireland in 1964) paid a visit to the Minister for Finance in September. Described as a 'social call' however the Colonel disclosed that he was in Ireland in connection with the Irish Relief Fund Committee which was headed by Mayor Daley. [66]
Irish newspapers in 1972 covered the assault on the British embassy in Dublin's Merrion Square after Bloody Sunday in Derry. The Irish examiner noted that the building had been under siege for the last three days and faced its final onslaught when some 40 petrol bombs were thrown, and it was gutted by fire. A small column beneath stated 'more aid for the North' as Mayor Daley announced that he is sending a further £ 19, 200 from a special Irish relief fund to help northern families.[67]
In fact, Children of the troubled areas of Northern Ireland received money from a fund collected by Daley and sent to the Red Cross in Dublin. It was reported that two clergy men from west Belfast the Rev. Kenneth Ruddock, rector of St Luke's, Lower Falls Road and Canon Padraig Murphy, St John's Catholic Church, Falls Road who availed of this fund have decided as a treat to a pantomime ''Cinderella''[68]
Conclusion: Daley untangled
Then as now, Daley divides opinion. This is perhaps why there has not been a biography of Daley since American Pharoah some twenty years ago. Most writers up until this publication either idolised Daley or portrayed him as a two-dimensional villain. A man of bad manners and bad grammar.[69]  This is perhaps the way he would be judged by his Irish critics. Yet, Daley was a contradictory character, a brilliant politician revered by many and reviled by others. If only people could be one dimensional -their lives would be so easy to reconstruct.
Daley was a contradictory character, a brilliant politician revered by many and reviled by others
Daley was a man of successes and failures. Neither Daley nor his machine, or course, invented inner-city poverty, the influx of blacks and Latinos into Northern cities, or the white exodus into the suburbs. Nor is it fair to lay the major blame for privation on a local administration, Daley's, or any others; the primary decisions affecting wealth and poverty are made in Washington.
However, Daley and his political cronies have had within their power the chance to soften the blow, to turn the poor, at least to an extent, from dependence independence. Instead, they continued to institutionalise segregation and misery, and it was done more efficiently during the post-war era than the political elite of any other city.[70]
On Dr. King's assassination he had called for the shooting of rioters.  These words scared Chicago's black community and antagonised some Irish critics who began to associated Daley with the CDP violence and the CDP with the RUC. There were few comments recorded be they good or bad on his donations to help distressed children in Northern Ireland. Evidently, Daley could be both Jekyll and Hyde.
He had a tendency to regard criticism and reform movements as tantamount to treason.[71] However, he could overlook past antagonisms and was able to compromise once they shared a common goal. This was evident when he connected with Dermot Ryan the chairman of the Interdenominational Distress Association and the man assaulted by the CPD at the convention.
Daley had an Irish American mind-set that saw his people (the Irish of history) as the greatest of sufferers.  In the 1960s, when he was turning a deaf ear to the civil rights movement, one liberal critic opined: ''I think one of the real problems [Daley] has with Negroes is understanding that the Irish are no longer the out-ethnic group. [72] This perhaps had untold effects on how he ran ethnic Chicago though the structure of race politics had old roots.
Yet his judgment of Irish affairs was not clouded by the romanticised Irish American nationalism evident in the period. He had no hatred for the British. Or if he did, he hid it very well. Indeed, he had a fine picture of himself, and Queen Elizabeth II painted after her visit in 1959.
However, in an interview with the Irish Press in June of 1975 Daley commented that ''My hope for Ireland is that the people of the northern counties will get their freedom, and that all Ireland will be united. [73] Daley usually looked at things in regards their economic worth and may have believed Ireland better as a unit. He kept himself informed on Irish affairs and questioned his Irish speech writer about the situation in Northern Ireland and inquired of him ''were the IRA communists?'' ; a dangerous word in Cold War American and for Daley who was frustrated by Chicago's Black Panther Party which was guided by Marxist -Leninism.
He could also be critical of Southern Ireland, for instance, the Emergency Powers Bill which gave the Garda powers of detention for up to seven days. The criminal law bill which inter alia empowered the defence forces to arrest without a warrant.
Daley described them before his death in 1976 as ''very undemocratic.'' Its is ironic that Daley who mobilised the CPD and the national guard in an over reaction to the anti-war demonstrations and had been mayor during the alleged assassination of Black Panther Fred Hampton, could find the Garda powers to be excessive.
Yet, Daley like many individuals' past  could find fault in others and justified in his own actions.
References
[1] Michael W. Homel Review Richard J. Daley Politics, Race, and the Governing of Chicago by Roger Biles The Historian Vol. 59, No. 2 (Winter 1997) p. 420.
[2] Irish Times 29 Sep 1977
[3] Bridget Houlihan Kennedy Images of America: Chicago's South Side Irish Parade (San Francisco 2010) p. 7
[4] Crowding in predominately black and Latino schools and other educational inequalities led to high profile protests and school walkouts in 1964, followed by a broader campaign for fair, or 'open housing'
[5]  ''I Have A Dream'' in Martin Luther King, Jr: A Documentary …Montgomery to Memphis with an introduction by Coretta Scott King edited by Flip Schulke (New York 1975) P 218
[6] It is interesting to note that of the eight officers accused with violating the civil rights of demonstrators in 1968 none of which were convicted.
[7] Laurence J. McCaffrey Irish-American politics: power with or without purpose? in Irish Studies 4 The Irish In America: Emigration, Assimilation And Impact edited by P. J Drudy (Cambridge 1989) P. 183
[8] Fredrik Logevall JFK Volume I: 1917-1956 (New York 2020) pp 14-15
[9] Edward J. Kelly -1933-1947 built the Democratic machine that Daley inherited. He was the Chicago mayor who allegedly let Chicago organized crime run rampant. However, it was his Enlighted views on race that signalled his downfall.
[10] Eileen M. McMahon What Parish Are You From? A Chicago Irish community and Race Relations (University of Kentucky 1995) P. 76
[11] John M. Hagerdorn Race Not Space: A revisionist history of gangs in Chicago. The Journal of African American history Vol. 91, No. 2 (Spring-2006) p. 197
[12] Eileen M. McMahon What Parish Are You From? A Chicago Irish community and Race Relations (University of Kentucky 1995) P. 122
[13] Irish Press June 06, 1975.
[14] Bruce M. Strave, John M. Allswang, Terrence J. McDonald and Jon C. Teaford A reassessment of the urban boss: An exchange of views The Historical Teacher Vol. 21 No. 3 (May 1998) p. 298
[15]  To understand the views of blacks and whites in Chicago on the topic of segregation an interesting comparison is that of Richard Wright's 1940 book Native Son which surrounds the fictionalised life of Bigger Thomas-a black boy who had killed a white woman. The prologue titled ''How, Bigger was born'' depicts intensely the despondency felt by blacks in the segregated South and the overcrowded slums on the South side of Chicago. Wright notes on the latter …''I began to see and understand the environmental factors which made for the extreme conduct. It was not that Chicago segregated Negroes more than the South, but that Chicago had more to offer, that Chicago's physical aspect-noisy, crowded, filled with the sense of power and fulfilment-did so much more to dazzle the mind with a taunting sense of possible achievement that the segregation it did impose brought forth from Bigger a reaction more strepitous than in the South.''
Yet, these sentiments were not replicated in the book Chicago Confidential by Lait and Mortimer. It offers the reader the inside track on the dangers of Chicago in 1950. However, what is of importance here is the chapter 'Black Paradise' it depicts a whitewashed and quite alternative view of black Chicago. The writers state that Bronzeville is a Negro heaven. ''Nowhere in the nation were Negroes so well off, so well treated and so well housed.''
What is more, it notes that hundreds of thousands of whites still live in Chicago slums and lebensraum problems are as drastic throughout as they are anywhere. Blacks, instead of being hemmed in by whites are hemming whites in. Calculating (no reference given) that there are 750, 000 Negroes, less than twenty-five percent of inhabitancy. Yet, they occupy 33 per cent of the land. Concluding that white citizens are concentrated into more constricted space or leave their choice of location and settle in the suburbs.
Much of the ethnic divisions depicted in these two books exploded in the 1960s. They had gone unchecked and Daley who viewed Chicago as not a 'city of slums' (especially regarding black Chicago) but a city with bad housing is also of interest. For Daley it not a city of segregated, but a city divided by parishes -each distinct. In modern terms he viewed the city of more of a salad bowl than a melting pot. This was how it functioned, and he did not see any reason why it should change. Though it could also be argued that it so fitted the Democratic machine that it remained so.
[16] .  John J. Betancur and Douglas C. Gills Community Devilment in Chicago: From Harold Washington to Richard M. Daley The Annals of the American Academy of Political, and Community Development in U.S, Cities (Jul.,2004) pp. 93-4
[17] The machine explains Charles J. Orbebeke was held together by an extraordinary complex and subtle network of personal loyalty, political obligations economic interests, ethnic and religious ties, civic pride, and a strong dash of duress for those tempted to stray from the fold. – Charles J. Orbebeke CDBG in Chicago: The politics of Control Publius Vol. 13, No. 3, The Community Development Block Grant Program (Summer, 1983) p. 58
[18] Adam Cohen And Elizabeth Taylor American Pharoah Mayor Richard J. Daley: His battle for Chicago and the Nation (America 2000) p 146
[19] Patrick Victor Power Mayor Daley's other home: The Irish connection Studies: An Irish Quarterly Review Vol. 69, No. 273 (Spring 1980) p. 85
[20] Irish Press Oct 15, 1963
[21] Michael O'Sullivan Sean Lemass: A Biography (Dublin 1994) pp 187-191
[22] Donald S. Connery The Irish (Great Britain 1968) p.38
[23] MCNAMARA P 83
[24] Evening Herald, May 19, 1964
[25] Irish Examiner May 19, 1964
[26] Irish Press May 19, 1964
[27] Irish Press December 21, 1976.
[28] Robert Briscoe Papers MS 26, 550
[29] Eileen M. McMahon What Parish Are You From? A Chicago Irish community and Race Relations (University of Kentucky 1995) P. 169
[30] Arrvarh E. Strickland The School Controversy and the Beginning of the Civil Rights Movement in Chicago: 1995 Presidential Address The Historian Vol. 58, No. 4 (SUMMER 1996) p. 727
[31] Watch ''News Item (04ad93dd-42e7-c91e-290-d128639s401c)'' on YouTube
[32] Irish Times 08 April 1968
[33] Daily Illinois 16 April 1968
[34] Dawn Rae Flood A panther in the great white north; Fred Hampton visits Saskatchewan 1969 Journal of the studies of Radicalism, Vol 1. 8, No. 2 (Fall 2014) p. 27
[35] Irish Times 11 Sep 1968
[36] Adam Cohen Elizabeth Taylor American Pharaoh: Mayor Richard J. Daley His battle for Chicago and the Nation (United States 2000) p 481
[37] Robert Dallek Lyndon B. Johnson: Portrait of a president p. 350
[38] Christian G. Appy Vietnam: The definitive oral history, told from all sides (Great Britain 2006) p 308.
[39] Irish Times 04 Nov 1969
[40] David Culbert Television's visual impact on decision-making in the USA, 1968: The Tet Offensive and Chicago's Democratic Convention Journal of Contemporary History Vol. 33, No. 3 (jul., 1998) p. 445
[41] Irish Press Aug 31, 1968.
[42] P. J. McLoughlin John Hume and the revision of Irish nationalism (Manchester, 2012) p. 13
[43] Irish Press April 15, 1969
[44] Irish Times May 01, 1969
[45] Munster Express May 02, 1969
[46] Munster Express May 02, 1969
[47] Irish Press May 10, 1969.
[48] Evening Herald May 13, 1969,
[49] Irish Independent 16 May 1969
[50] Irish Independent May 28, 1969
[51] Waterford News May 16, 1969.
[52] Robert McNamara Irish Perspectives on the Vietnam War Irish Studies in International Affairs Vol. 14 (2003) p 82
[53]  Irish Independent May 28, 1969
[54] Brian Dooley Black And Green: The Fight for Civil Rights in Northern Ireland and Black America (Chicago, 1988) P. 86
[55] Rev. Jesse Jackson. Operation Breadbasket targeted companies and corporations working in African American neighbourhoods that nonetheless refused to hire black employees.
[56] Matthew J. O'Brien Irish America, Race, and Bernadette Devlin's 1969 American Tour New Hibernia Review/ Iris Eireannach Nua Vol. 14, No. 2 (SAMHRADH/ SUMMER 2010) P. 85
[57] Irish Press May 19, 1969
[58] Adam Cohen And Elizabeth Taylor American Pharoah Mayor Richard J. Daley: His battle for Chicago and the Nation (America 2000) p. 237
[59] Evening Herald May 28, 1969.
[60] Patrick Victor Power Mayor Daley's Other Home: The Irish Connection Studies: An Irish Quarterly Review Vol. 69, No. 273(Spring, 1980)   P. 86
[61] Irish Press August 23, 1969
[62] Evening Herald Oct 20, 1969,
[63] Evening Herald Dec 21, 1976
[64] Irish Examiner Jan 05, 1971.
[65] The Irish Press Aug 31, 1971
[66] Evening Echo Sep 22, 1971
[67] Irish Examiner 03 Feb 1972.
[68] Ulster Herald 13 Jan 1973
[69] Irving Dillard Reviewed Works: Boss Richard Daley of Chicago by Mike Royko; Daley of Chicago: The man the mayor and the limits of conventional politics by Bill Gleason Journal of the Illinois State Historical Society (1908-1984) Vol. 65, No. 4 (Winter, 1972) p. 476
[70] Sidney Lens Mayor Daley's Last Hurrah in The Irish American's Class Selected and Introduced by James B. Walsh San Jose State University (New York 1976)
[71] John D Bunker Reviews Richard J. Daley by Roger Biles p. 176
[72] Adam Cohen And Elizabeth Taylor American Pharoah Mayor Richard J. Daley: His battle for Chicago and the Nation (America 2000) p. 21
[73] Irish Press June 06, 1975.