'Are You With Me'? Interview with Mike Chinoy on Kevin Boyle and Human Rights
First broadcast on The Irish History Show, Cathal Brennan and John Dorney speak with Mike Chinoy on human rights activists Kevin Boyle.
Mike Chinoy is a former journalist with CNN, now working with the US-China Institute. He has written a biography of Kevin Boyle, a longtime friend of his, but also an under appreciated figure in the history of both Northern Ireland of human rights internationally.
Kevin Boyle was a Professor in Law at Queens University Belfast in the 1960s when the Northern Ireland Civil Rights movement began.
Boyle was one of the first leading activists in the movement, using as he later said, the law, 'not to stifle or to mystify people, but to empower them'.
The initial impetus behind the Civil Rights movement, certainly as Boyle and like-minded activists were concerned, was not the removal of the border in Ireland, but the remedy of the grievances of Catholic citizens of Northern Ireland.
However, as discuss, the movement slid off into violence, first as loyalists attacked on of its marches at Burntollet in 1960, then by severe rioting in Belfast and Derry and finally by armed civil conflict which would not end until the late 1990s. Kevin Boyle, as Mike Chinoy describes, was both shocked and horrified by the descent into violence in Northern Ireland. He appealed unsuccessfully, Chinoy tells us, to figures in the Provisional Republican movement, to use peaceful methods.
He did his best to moderate the violence, attempting to mediate in the 1980 and 81 hungers strikes for example and in promoting the New Ireland Forum in the 1980s, which, Chinoy argues, set up the basis for the eventual peace process in the minds of the British prime minister Margaret Thatcher.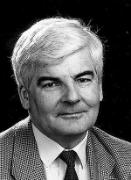 He was also however, a pioneer of using international organisations to advance human rights, taking the British government to the European Court of Human Rights over the treatment of internees in Northern Ireland in the 1970s.
He also represened Jeffrey Dudgeon, whose case Dudgeon Vs the U.K. was central to homosexuality being decriminalised in the U.K, Northern Ireland and also later in the Republic of Ireland.
And his involvement in human rights activism spread far beyond just Ireland. As law professor in Galway and in cooperation with Amnesty International, he exposed human rights abuses in places such as apartheid South Africa, Gambia and the Kurdish populated region of Turkey.
In the early 2000s he served as a special advisor to Mary Robinson when she was UN High Commissioner for Human Rights. He died in 2010.
Listen to the interview below