Interview: Tomas MacConmara on 1917 in Ireland and the death of Thomas Ashe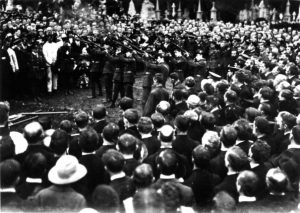 Tomas MacConmara has written a new book entitled Days of Hunger, the Clare Volunteers and the Mountjoy Hunger strike of 1917.
Here he speaks to John Dorney of the Irish Story on the events of that year, culminating in the death of Volunteer leader Thomas Ashe after force feeding while on hunger strike.
Tomas argues that the events of 1917, in particular the death of Ashe, crystalised and 'gave new meaning' to the Easter Rising of the year before. What emerged at the end of 1917 was a Republican movement that was 'more coherent' more popular and more politically astute than the disparate coalition that had launched the Rising.
Central to this was a form of passive resistance, whereby activists would openly defy the wartime ban on unauthorised military drilling or seditious speeches, get arrested in full view of the public and once imprisoned, hunger strike for political status. This culminated with the death of Thomas Ashe.
See also our interview with Padraig Og O Ruairc on the East Clare by-election of the same year, in which Eamon de Valera was elected, having just been released from prison.