The Manchester martyrs: From last letters to lasting legends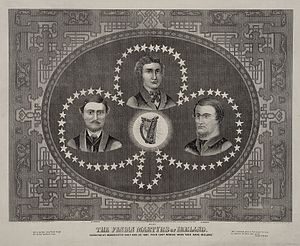 By Mark Holan
On 22 November 1867, Co. Cork native William P. Allen wrote his last letter "this side of the grave" as a prisoner in Manchester, England. He was hours from being executed by hanging, a death that would make him and others heroes of Irish nationalism for generations to come.
"I am dying an honorable death," the 19-year-old Allen wrote. "I am dying for Ireland, dying for the land that gave me my birth, dying for the island of Saints, and dying for liberty. Every generation of our countrymen is suffering, and where is the Irish heart could stand by unmoved?"[1]
"I am dying an honorable death," the 19-year-old Allen wrote. "I am dying for Ireland, dying for the land that gave me my birth, dying for the island of Saints, and dying for liberty
Queen Victoria's Tory government sentenced Allen and two others–Michael Larkin, 32, of Co. Offaly, and Michael O'Brien, 31, of Co. Cork–to the gallows for their roles two months earlier in helping two Fenian colleagues escape from a prison transport van. A police guard was shot and killed during the episode, which The Irish Story's John Dorney explains was part of the aftermath of a wider nationalist rebellion.
"I must say, much though I would like to live, that I cannot regret dying in the cause of Liberty and Ireland," O'Brien wrote to his brother in his "last letter" of 14 November. "I feel as confident of the ultimate success of the Irish cause as I do of my own existence."[2]
Such rhetoric wasn't new to the Irish cause. But these letters came from ordinary Irishmen suddenly thrust into making the ultimate sacrifice. But even as Allen and O'Brien made their lofty cries for Irish freedom, each man also evinced more everyday attachments to faith and family. The Nation said Allen's "touching" letter should be read with "mournful interest."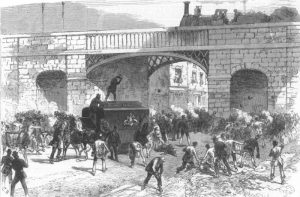 "I forgive them, and may God forgive them," Allen wrote to his Uncle and Aunt Hogan. "Give my love to all friends; same from your ever affectionate nephew."  Likewise O'Brien:
"When I leave this world it will be (with God's help) to go to a better, to join the angels and saints of God, and sing His praises for all eternity. I leave a world of suffering for one of eternal joy and happiness. … Give my love to father and mother, Mary, Ellen, John Phillips, Tim, Catherine, uncles, aunts and cousins."
Neither Allen or O'Brien (or Larkin, whose published letter to his wife did not contain nationalist themes) likely could have imagined the impact their letters, and their deaths, would have on the Irish cause.
Within days, however, newspapers in Ireland, London and the United States reproduced the letters,[3] together and separately, one under a headline, "A Voice From the Grave."[4] Though their words were not as memorable as the courtroom cries of "God save Ireland," first uttered by co-defendant Edward O'Meagher Condon, the letters helped spark the nationalist outpouring that would last for decades.
'God Save Ireland'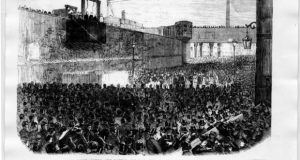 Soon, the correspondence and the courtroom "declarations" of others, appeared in "Speeches from Dock, or Protests of Irish Patriotism," an anthology of oratory and writing by Theobald Wolfe Tone, Robert Emmet and other nationalists.
Compiled by brothers Alexander Martin, Timothy Daniel and Donal B. Sullivan, more than three dozen editions of "Speeches" were printed over the next 20 years,[5] including the first U.S. release in 1878.
It was T.D. Sullivan who quickly turned "God save Ireland" into a nationalist tune set to "Tramp! Tramp! Tramp! The Boys Are Marching!", a battlefield ballad sung a few years earlier by Union troops in the U.S. Civil War.
The executions of Allan, Larkin and O'Brien touched off an avalanche of broadside ballads and poetry in the nationalist press.
The executions of Allan, Larkin and O'Brien "touched off a predictable avalanche of broadside ballads and poetry in the nationalist press," Gary Owens wrote.[6] Their deaths and un-ceremonial burial pricked deep feelings about Christian martyrs in particular and reverence for the dead in general. Journalism and other popular expressions also were seasoned with "generous dollops of anglophobia" to stoke Catholic/nationalist Ireland. "It was a case of familiarity breeding assent."[7]
Friedrich Engels immediately recognized the significance of the executions. In a letter to Karl Marx a day after the hangings,[8] he wrote the Tories had "accomplished the final act of separation between England and Ireland. The only thing the Fenians had lacked were martyrs. They have been provided with these. … [which] will now be sung to every Irish babe in the cradle in Ireland, England and America."
The words and music of the Manchester martyrs were soon shared in large public gatherings. "An outpouring of sympathy and protest arose as word of the Manchester executions spread around the world."[9] These expressions most often took the form of special Masses and mock funeral processions of mourners — wearing black and green ribbons in lieu of nationalists flags and emblems — queuing behind coffin-laden horses.
The Irish community in Manchester marched a week after the executions, and up to 5,000 people attended a similar protest in Cork city.[10] Closer to 50,000 marched in Dublin on 8 December 1867.[11] Large protest parades also stepped off in New York City and Philadelphia through the end of the year and into early 1868.[12]
Commemorating the Manchester Martyrs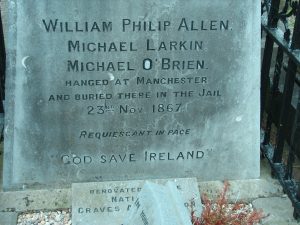 These demonstrations "set in motion the annual practice of publicly commemorating the martyrs on the anniversary of the executions every late November," Owens wrote. Such remembrances were typically scheduled on Sundays to coincide with people returning from Mass. Though "subsequent demonstrations never approached the scale or intensity of those in 1867 … they could still be impressive."[13]
The Manchester martyr demonstrations "went through many permutations" through the late 19th and early 20th centuries, and were frequently banned by government proclamations. They remained "permanent fixtures in the nationalist calendar for more than a century … the longest running and most consistently observed political anniversary in modern Irish history, apart from the Orange Order demonstrations."[14]
'The only thing the Fenians had lacked were martyrs. They have been provided with these. … [which] will now be sung to every Irish babe in the cradle in Ireland, England and America." Frederick Engels.
The demonstrations also resonated in America. Col. Thomas J. Kelly and Cpt. Timothy Deasy, the two Fenians freed from the prison transport van, had fought in the U.S. Civil War and returned to America after their escape. O'Brien and Edward O'Meagher Condon, whose conviction was commuted because of his American citizenship, also were Civil War veterans. Exiled Irish leader John Devoy attended Manchester martyrs commemorations in U.S. cities during the 1890s[15] as massive Irish emigration to America continued into the early 20th century.
On either side of the Atlantic, the annual demonstrations helped foster Irish nationalism. In 1887, during the Land War and Home Rule debates, journalist and MP T. P. O'Connor wrote "it is impossible to forget" the impression the original event produced upon the Irish people.[16] "… [T]he execution of the Manchester martyrs was a new birth of political convictions … this catastrophe came to crystallize impressions into conviction, and to pave the way from dreams to action."
The Manchester martyrs were the first Irish political executions since Robert Emmet in 1803.[17] The episode became a template for what happened 49 years later in Dublin.
Until the trio's deaths, many Irish had "stood aloof from Fenianism,"[18] just as many rejected the republicanism of the GPO proclamation signers. "Executions have always been good recruiting grounds for the cause they were calculated to extinguish and Britain was to repeat its error, fatally for the Union, in 1916."[19]
In November 1915, five months before the Easter Rising, about 1,000 people attended the annual Manchester martyr commemoration in Dublin, held at the Round Room of the Mansion House. T.J. Clarke, W.T. Cosgrave and Thomas McDonagh were in the crowd to hear Bulmer Hobson deliver the main address, also listened to by the Dublin Metropolitan Police Detective Department.[20]
The next year, the anniversary "was not observed in the accustomed way owing to military regulations," the Freemans Journal reported. Nevertheless, "about 2,000 people gathered at Glasnevin Cemetery and marched through the grounds and wreaths were placed on the Manchester martyr cenotaph … and on the graves of the men who lost their lives in connection with the insurrection during Easter week."[21]
Since the 50th Manchester martyrs commemoration in 1917, however, the event was diminished as the Rising anniversary ascended in importance. "It is clear that by the time of the Irish war of independence (1919-21), the executed leaders of the 1916 Easter Rising had virtually replaced the Manchester martyrs as icons of Irish revolutionary nationalists."[22]
That is not to say the trio are forgotten.
"We have every reason to be proud as we look back on what has been accomplished during the last one hundred years," The Irish Press wrote at the 1967 centenary.[23] "It would be an act of gross national ingratitude if the occasion were allowed to pass without some solemn recognition of the services they rendered to their country."
Manchester martyr mentions from 1917 to 1967 are nearly 47 percent of the 100-year total from 1867, according to my review of 74 titles in the online Irish Newspaper Archive. For this year's 150th anniversary, a number of events are planned in Ireland, but they hardly match the scale of last year's Easter Rising centenary.
In America, attention to the Manchester martyrs faded by the 1950s, well before the 1967 centenary. Only 7 percent of total mentions in three U.S. newspaper databases (The New York Times, The Washington Post, and the Newspapers.com collection of 5,600 titles) occur after 1917. By 1967, four years had passed since President John F. Kennedy's triumphal return to Ireland and assassination in Dallas. America was focused on Vietnam. Most thoughts of Ireland were more to the romance of "The Quiet Man," but soon turned to the troubles in the north.
In April 1967, however, Allen's letters to his family and other ephemera were transferred from Ireland to Pittsburgh, Pennsylvania, then an industrial city "very much like Manchester."[24] The Dungannon Observer (a County Tyrone weekly shuttered this April), reported the "hermetically encased" correspondence was handed over by Robert Gariby, Allen's great grandnephew, to representatives of the Irish Center of Pittsburgh. Ten years later, the Center donated the material to the University of Pittsburgh, which has scanned the papers for online viewing.
As of a few years ago, O'Brien's "last letter" was held at St. Patrick's Church, Livesey Street, Manchester,[25] near the prisoner escape that led to his arrest and execution, and one of the seminal events in Irish nationalist history. The National Museum of Ireland holds a copy that can be viewed online.
Through their compelling hand-written prison letters and deaths, Allen, O'Brien and Larkin went viral, and remained so for decades, long before the social media of today.
References
[1] 22 November 1867, letter of William Allen to Uncle and Aunt Hogan, from Allen Family Papers, University Pittsburgh ULS Digital Collection.
[2] "Speeches from Dock, or Protests of Irish Patriotism," T.D. Sullivan, A. M Sullivan and D.B. Sullivan, editors (23rd Dublin edition/1st American edition, Henry McElroy, Murphy & McCarthy, Providence, R.I., 1878) p. 45.
[3] Allen: Freeman's Journal, 22 November, p. 3; The (London) Observer, 1 Dec., p.7; The (Philadelphia) Evening Telegraph, 11 Dec., p. 1; Louisville (Kentucky) Daily Courier, 20 Dec., p.1; O'Brien: Louisville (Kentucky) Daily Courier, 18 Dec., p.1; The Guardian (London), 30 Nov., p. 5); Buffalo (N.Y.) Daily Courier, 13 Dec. p. 2; and others.
[4] Dundalk Democrat, 7 Dec., p. 7.
[5] Gary Owens, Constructing the martyrs: the Manchester executions and the nationalist imagination, chapter "Images, Icons and the Irish Nationalist Imagination," Lawrence W. McBride, editor (Four Courts Press, Dublin, 1999) p. 20.
[6] Owens, Constructing, p. 22.
[7] Owens, Constructing, p. 23 & 25.
[8] 24 November 1867, letter transcribed by Andy Blunden, from "Marx & Engels on Ireland"  (Progress Publishers, Moscow, 1971). Viewed online at  Marxist Internet Archive.
[9] Patrick Steward, and Bryan P. McGovern "The Fenians: Irish Rebellion in the North American World, 1858-1876," University of Tennessee Press, Knoxville, 2014, p. 186.
[10] "Irish Rebellion," p. 186
[11] Owen McGee, God Save Ireland": Manchester-Martyr Demonstrations in Dublin, 1867–1916, in Éire-Ireland, Volume 36, Number 3&4 (2001), p. 43.
[12] "Irish Rebellion," p. 187.
[13] Owens, Constructing, p. 31
[14] Owens, Constructing, p.31-32
[15] National Library of Ireland, John Devoy Papers, 7 December, 1894, letter.
[16] T. P. O'Connor, "The Parnell Movement," (Ward and Downey, London, 1887) p. 137.
[17] Mervyn Busteed, The Fenians: 150 Anniversary, in History Ireland, Volume 16, Number 6, (Nov. – Dec., 2008) pp. 25-37.
[18] Paul Rose, "The Manchester Martyrs, the story of a Fenian Tragedy" (Lawrence & Wishart, London, 1970), p. 116.
[19] Ibid.
[20] 23 November 1915, Dublin Metropolitan Police (DMP) Detective Department report on the movement of Dublin extremists on 22 November 1915.
[21] Freemans Journal, 28 November 1916, p. 8.
[22] McGee, God Save Ireland, p. 52.
[23] The Irish Press, 7 September 1967, p. 9.
[24] Rose, "Manchester Martyrs," p. 127.
[25] Rose, "Manchester Martyrs," p. 127, and Alan Hayhurst, "Greater Manchester Murders," (The History Press, Gloucester, 2012 ebook edition).