On the Trail of the War of Independence in Clare with Pádraig Óg Ó Ruairc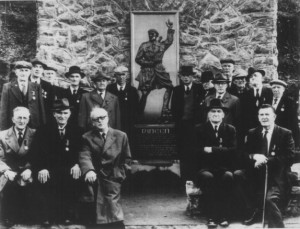 On August 15 2015, John Dorney of the Irish Story met up with Pádraig Óg Ó Ruairc in his native County Clare for a tour of the physical reminders erected to the War of Independence there in 1919-21. Pádraig himself has been to the fore in erecting memorials to victims of all sides in the conflict.

Our first stop was at the site of the Rineen ambush of September 1920, in which 6 RIC officers were killed.
Here we talk about the reprisals Crown forces carried out in retaliation.
Our next stop was deep in the hills and bogs to the lonely grave of Private Robertson, a British Army deserter, killed by the IRA in 1920.
A small area of east County Clare saw many deaths and injuries in the War of Independence. Here Padraig talks about the Cratloe ambush and nearby Cratloe bridge ambush of 1921. In the First two RIC officers lost their lives and in the second two IRA Volunteers.
Finally we end up near the outskirts of Limerick city, where there is a poignant memorial to  two innocent teenage victims of the conflict