The Curious Career of Herbert Moore Pim
Cathal Brennan looks at the eccentric political career of Herbert Moore Pim, Quaker, Catholic, Republican, loyalist, fascist, bohemian and occult fiction writer.
Herbert Moore Pim was one of the most unusual characters to have emerged from the revolutionary period in Irish history.  Although rarely mentioned in the works dealing with the period, his political trajectory took him into contact with many of the leading figures of the cultural, nationalist and unionist circles of the time.
Pim was born in 1883 to a distinguished Quaker business and philanthropic family in Belfast.  His father, Robert, was the secretary of the Friends Provident Insurance Company[1] and Pim followed his father into the insurance business. From the age of seventeen, he began circulating manuscripts of his poetry and short stories and developed an interest in the occult.[2]  In 1903 he married Amy Vincent Mollan, the daughter of a successful Presbyterian linen merchant.
Belfast at this time was heavily segregated along religious and political lines.  The vast majority of Belfast Protestants were Unionists who opposed Home Rule for Ireland while most Catholics favoured it.  Unlike the rest ofIreland, Belfast Conservatism and Unionism was strongly working-class and Ultra-Protestant, whereas in other areas it was led by the old Anglo-Irish ascendency.
Nationalism in the city was led by Joseph Devlin, the Irish Parliamentary Party MP forWest Belfast.  Devlin was a former bar man and labour sympathiser who had rejuvenated the Ancient Order of Hibernians in the 1890s.  His organisational skills had led him to the top of the AOH and the Irish National League bringing him to national prominence in the party.
 

Belfast of Pim's youth was highly segregated on sectarian lines but Pim's Quaker background would have exposed him to liberal influences
Pim's Quaker faith would have brought him into contact with more liberal and tolerant currents within the city.
Politically he was a unionist and conservative in his beliefs but 1910 saw a remarkable conversion.  He was received into the Roman Catholic faith by another convert to Catholicism, Father Hubert of Ardoyne.[3]
 Conversion to Catholicism
Pim adopted not just the religious but also the political and cultural traditions of Irish Catholicism. Shortly after his conversion he joined the Ancient Order of Hibernians and the United Irish League and became one of the 'Star lecturers' on their platforms.  At public meetings, and in Joseph Devlin's Irish News, he was a bitter critic of the Irish Unionists and all opponents of John Redmond and the Irish Parliamentary Party.  He was also an active member of the Dawn of Freedom branch of the UIL in Belfast.[4]
 

Pim became a Catholic and also a nationalist in a sudden conversion in 1910
In 1901 he wrote The Vampire of Souls and The Man with Thirty Lives followed in 1903.[5]  In 1914 he published a novel called The Pessimist, whose central character hopes to end suffering by the extinction of all life on Earth.  He published the novel under the pseudonym A. Newman (he had become a 'new man' following his conversion to Catholicism).  For years afterwards he would sign his writings 'A. Newman – Author of The Pessimist.[6]
Unknown Immortals, a collection of sketches of Belfast characters and scenes was published in 1917, while Selected Poems was published the same year.  In that era, publishing poetry and verse was quite common, especially among romantic nationalists.  Despite Pim's own belief that his writings were very important works of literature this opinion doesn't seem to have been shared by many other people.
In August 1914, with war in Europe a certainty, John Redmond addressed the Irish Volunteers in Woodenbridge, Co. Wicklow.  The Volunteers had been founded the previous year to enforce Home Rule when it was eventually passed by Parliament.  In his speech, Redmond urged the Irish Volunteers to join the British Army and support the British war effort.
This led to a split in the Volunteer movement.  Surprisingly, for such a partisan of Redmond and Devlin, Pim remained with the much smaller, IRB influenced, Irish Volunteers.  Those who supported the Parliamentary Party and the British war effort became known as the National Volunteers.  At the outbreak of war Pim declared himself a separatist and lost his job.  Patrick Maume has speculated that during this period Pim may have joined the Irish Republican Brotherhood.[7]
Separatist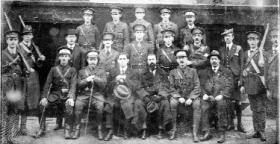 At this time, Cathal O'Shannon, the union activist and future Labour TD, became acquainted with Pim through the Irish Volunteers in Belfast.  O'Shannon stated that as, 'a Volunteer, anti – war, and anti – Redmond propagandist he was effective enough,' but, 'sometimes his super-egotistical exaggeration of facts and figures, his affectation in speech and manner, and his startlingly irresponsible proposals and schemes embarrassed more serious or more revolutionary colleagues.'[8]
Pim began writing for The Irish Volunteer and also published a series of pamphlets called Tracts for Our Times, which dealt with figures such as Robert Emmett and the Manchester Martyrs.[9]  In 1915, Pim, and leading IRB figures such as Denis McCullough and Ernest Blythe, received deportation orders under the Defence of the Realm Act.[10]  After refusing to follow the order they were arrested, tried before a Belfast magistrate, where they were defended by Charles Wyse Power, and jailed for three months in Crumlin Road Prision.[11]
In early 1916 Pim began publishing The Irishman in Belfast.  During this same period his marriage finally collapsed because of his consistent infidelities.[12]  O'Shannon described The Irishman as, 'a characteristic Pim product,' where, 'nearly every number was enlivened by some controversy.'[13]  One of Pim's contributors was Lord Alfred Douglas, the son of the Marquis of Queensbury and the former companion of Oscar Wilde.  Douglas had been a houseguest in Pim's Finaghy home in 1915 and they were to remain close for many years.[14]  Under Pim, The Irishman began to regularly publish Douglas's poetry.
Pim joined the volunteer muster at Coalisland, Co. Tyrone before the Easter Rising.  In part due to the conflicting orders Denis McCollough ordered the volunteers to return home without fighting.  McCollough's reputation didn't recover from what many in the movement in Ulster considered a disgrace and he lost his leadership role in the province.  In the aftermath of the Rising, Pim was arrested and deported to Reading Jail.[15]
 

Pim was arrested and interned for his role in the Easter Rising. On his release he briefly became the leader of Sinn Fein.
He was released in August of 1916 and immediately resumed the editorship of The Irishman.[16]  In September he began publishing it again as a weekly.  Because Arthur Griffith, and most of the Sinn Féin and Volunteer activists, were still interned Pim rose to the top of the separatist movement and began directing Sinn Féin affairs and speaking on behalf of the prisoners.  According to Michael Laffan he was a bad party leader who inspired little trust and needlessly provoked and bickered with potential allies such as the Irish National League.[17]
Griffith, writing to a friend from Reading jail, stated, 'My well-meaning but feather headed friend Herbert Pim seems to be muddling up Sinn Féin a bit.  However we must trust in God to take him in hand and show him how to unmuddle it.'[18]
By the time the prisoners were released in December Pim found himself out of any leadership position in the movement and he concentrated on the editorship of The Irishman.  The journal combined poetry and literature with Sinn Féin policy documents and articles.
It also campaigned against sexual immorality, in which Pim was enthusiastically supported by Lord Douglas.   Pim's campaign against 'unclean literature' earned the approbation of Cardinal Logue.[19]  The campaign highlighted Pim's continued hypocrisy in regard to his outward projection of himself as a devout Catholic despite his rather Bohemian lifestyle.
In April 1918, following the victories of the Irish Parliamentary Party over Sinn Féin in by – elections in South Armagh, Waterford and East Tyrone, Pim wrote to the editor of the Irish Independent to ascribe these victories to 'ignorance and intimidation' of a 'deluded majority.'  He stated that, 'If the English actually proceed about the application of conscription to Ireland… the disaster to this country will be the direct and logical result of gross national sin committed by the so – called Irish Parliamentary Party and their following of deluded national degenerates.'[20]
Conscription in Britain had come into effect in January 1916 but the measure was never extended to Ireland.  After the German 'Spring Offensive' in April 1918 Conservative politicians in Britain demanded that conscription should be applied to Ireland too.  The threat of conscription succeeded in uniting all strands of nationalist opinion in Ireland against the measure and saw a large increase in membership for Sinn Féin and the Irish Volunteers.  Although the measure was never introduced in the end it did lead to a rise in support for the separatist movement at the expense of the Irish Parliamentary Party.
In an article in the Irish Independent he urged Unionists that only Sinn Féin could prevent conscription from becoming a reality and if they wished to fight it they should leave their names and addresses with their nearest Sinn Féin branch and assured them this would not prejudice their views on the national question.[21]  How many Unionists took him up on this offer is hard to say.  In the same article he protested against any conference with the Irish Parliamentary Party blaming them as the, 'individuals deliberately responsible for the conscription menace.'[22]
Unionist
In June 1918 Pim had another abrupt political about face.  He and his mistress, Dorothy Hungerford, resigned from Sinn Féin and advocated conscription.[23]
Without apparent explanation he became an advocate of the most right-wing and chauvinist type of unionism.  'After painful experience,' he wrote, 'the conclusion was forced upon me that the representatives of an alleged national principle in Ireland were not endowed with qualities that would prove beneficial to any country, and that the welfare of Ireland would be safe only in the hands of the Unionists.  Now, after a few weeks observation, it seems perfectly evident to me that the integrity of Unionism should be maintained without a trace of compromise in face of the grave dangers which confront us.'[24]
In Jule 1918, Pim made another abrupt about-face – this time becoming a hardline unionist.
In an article for the Belfast Evening Telegraph, Pim wrote, 'In my humble opinion it is as sensible to point to France and Germany on the Map, and say "There is a nation for you!" as to "lump" Ulster and the rest of Ireland together and declare, "There is a nation for you!"'[25]
In 1919 he published Unconquerable Ulster with a foreword from Edward Carson.[26]  In it he argued that Ulster Unionists were of Gaelic descent and Nationalists were the descendants of a pre – Celtic slave race.[27]
Lord Douglas invited him over to Londonto assist with his journalistic endeavours.  Pim and Douglas campaigned against an alleged German plot to corrupt the British upper classes by homosexuality.  In 1919 Douglas established a weekly paper called Plain English with Pim as assistant editor.
Anti-Semite
The paper was ultra-right wing, anti-Semitic and anti-Sinn Féin.  In Plain English he serialised a personal memoir called Adventures in the Land of Sinn Féin.[28]  In 1920 Pim joined the far right Britons Society which had been founded the previous year by Henry Hamilton Beamish.  Pim was a fierce critic of the Anglo-Irish Treaty and accused the British government of betraying Irish Loyalists.[29]  Once again, with the zeal of the convert, Pim had gone from the extremes of Irish Nationalism to the extremes of 'Die-Hard' Tory imperialism.
Pim and Douglas' next journal, Plain Speech, published an article accusing Winston Churchill of manipulating war news to benefit Jewish speculators.  Unsurprisingly, Churchill took the matter to court in 1923 and Douglas was imprisoned for libel.
Pim wrote for extreme right newspapers in Britain and dabbled with fascism in Italy
Pim left for France and eventually took French citizenship.  He married Germaine Eleanor Dussotour and they had one child.  In 1927 his novel French Love was published.  It was a largely fictionalised version of his own life in which he accused his first wife of unspeakable perversions, portrayed himself as a devout Catholic and claimed to have spied on Germany during the war.
During this time he continued to publish far-right and anti- Semitic pamphlets.  After several years living in Italy, where he became involved in fascism, he returned to live in England in 1937 beside his old friend Lord Douglas in Hove.  He died in Sussex in 1950 at the age of sixty seven.
Pim was certainly one of the most interesting characters the separatist movement threw up in this period.  The correspondence in the Dublin newspapers following his death showed that few of his former comrades forgave him for abandoning republicanism in 1918 and becoming an ardent loyalist.
 Memory
Aodh de Blacam, one of his contributors at The Irishman, was one of his few colleagues who had some kind words for him, and even this prompted further letters to the papers reprimanding de Blacam.[30]  Cathal O'Shannon's obituary in The Irish Times painted a picture of an eccentric, buffoonish curiousity.[31]  Michael Laffan wrote that his brief leadership role in 1916, 'reflected the vacuum or lack of talent available to radical nationalists.'[32]
He simultaneously wrote religious tracts and pornographic literature under different pen names all the while proclaiming himself to be a devout Roman Catholic
There can be few Irish people who lived quite such an interesting life during these years.  From Unionism to the leadership of Sinn Féin and back to Unionism again.  From the far – right of the British aristocracy to flirting with European fascism.  Simultaneously writing religious tracts and pornographic literature under different pen names (according to his son) all the while proclaiming himself to be a devout Roman Catholic, while keeping several mistresses on the go.  Pim can be accused  of many things but he was certainly never dull.
References
---